Perhaps it's mystical. Or maybe it's just another one of history's dubious similarities.
On one hand, college football has been played longer than everyone reading this has been alive, so it makes perfect sense that history will eventually go into syndication and air familiar episodes. On the other...man, it's just a little too weird.
Have you noticed? The 2005 and 2006 Buckeyes as analogs to their contemporaries from the past two seasons, exactly one decade apart? There's a lot going on there. The armchair historians who connected Abraham Lincoln to John F. Kennedy would be proud.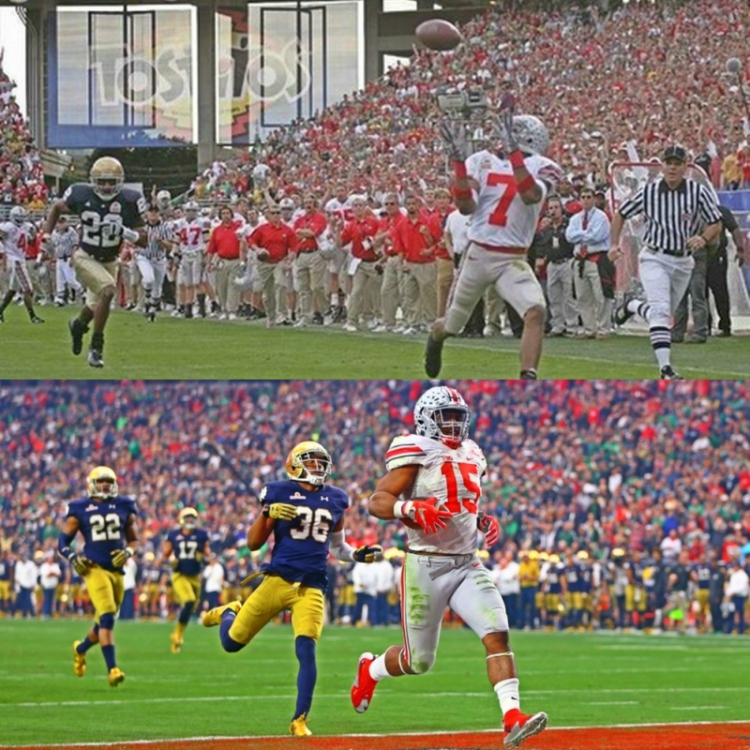 Start in October 2005, when Ohio State fell apart in State College and failed to do much of anything offensively, seemingly forgetting it had Troy Smith throwing to Santonio Holmes and Ted Ginn (just seven touches, combined - hashtag Tresselball). The following October it returned the favor in Columbus.
Ten seasons later this happened in reverse. The Buckeyes dominated the Lions in 2015 and then fell apart in State College on the return trip. Curtis Samuel had just two carries for 71 yards. So, like, 35 yards per run. Maybe he should have had more instead of throwing to current Virginia Tech Hokie James Clark. Debate that amongst yourselves.
You can skip arguing over if those two episodes were mirror images of each other because they objectively were. Let's continue.
The 2005 and 2015 Buckeyes were both led by redshirt quarterbacks who had earned their reputation for playmaking early on in their careers, with high marks against That Team. They were Troy Smith and J.T. Barrett respectively, both pictured above. Smith, with much embarrassment, was suspended a week that September after his transgressions made national news. Barrett's humiliating week-long suspension and journey through America's front pages happened in November. Both came out clean from their punishments to become deeply-respected team leaders.
They led their respective teams through maddening offensive outputs large and small, carried by defense all along of the way. They reached Ann Arbor and left as the victors, and both teams were rewarded with a trip to Arizona to play the Fighting Irish in the Fiesta Bowl.
Notre Dame's 2005 QB was native Ohioan Brady Quinn. Notre Dame's 2015 QB was native Ohioan DeShone Kizer. Both were highly-regarded NFL prospects who would later be drafted by the Cleveland Browns. 
Quinn passed for 286 yards against Ohio State while Kizer only threw for 284, though neither performance was game-changing. The Buckeyes dominated the Irish in both Fiesta Bowls and openly used those resounding victories as platforms for return trips to Glendale one year later, the site of the first BCS Title Game in 2006. Glendale was a site of the CFP Semifinal in 2016. Hey, that was fun - let's come back here when it means more.
Ohio State entered bowl preparation with plenty of rest, ready to head back to Arizona brimming with confidence.
The 2006 Buckeyes had a rebuilt secondary, plenty of youth everywhere else and a veteran quarterback, just like their 2016 analogs. Both teams dominated the Big XII favorite in September on their own home fields, which established them as serious national title contenders (both Texas 2006 and Oklahoma 2016 would quickly rebound from the loss, finish with double-digit victories and eventually win their bowl games, in domes).
The Buckeyes pitched their only shutout of the season against their homecoming opponents, Minnesota and Rutgers, respectively. Both Minnesota 2006 and Rutgers 2016 were coached by beloved OSU coordinators. Both defenses scored touchdowns at a feverish pace. The conference's top four teams in each season were the Buckeyes, Penn State, Michigan, and Wisconsin. There was quite a bit of separation after that.
In the season finale, Ohio State played Michigan in a nailbiter game in Columbus that became an instant classic. Both games featured controversial late calls that were both correct. Both ended as three-point victories for the Buckeyes that weren't decided until the very end. Jim Tressel and Urban Meyer each picked up their fifth wins against the Wolverines that afternoon.
Neither would be faced with playing a conference championship game heading into the postseason with a national title at stake, so Ohio State entered bowl preparation with plenty of rest, ready to head back to Arizona brimming with confidence.
The fans found comfort in the head coach's reputation in postseason games - multiple national championships, crisp football peaking in cohesion at exactly the right time - and just one loss in recent memory, to a team from South Carolina. But that loss could easily be explained away by the circumstances. Both of them.
This was the story for both 2006 and 2016. Ohio State's opponent in Glendale was imperfect and flawed. Nothing was going to get in the Buckeyes' way. Not this time.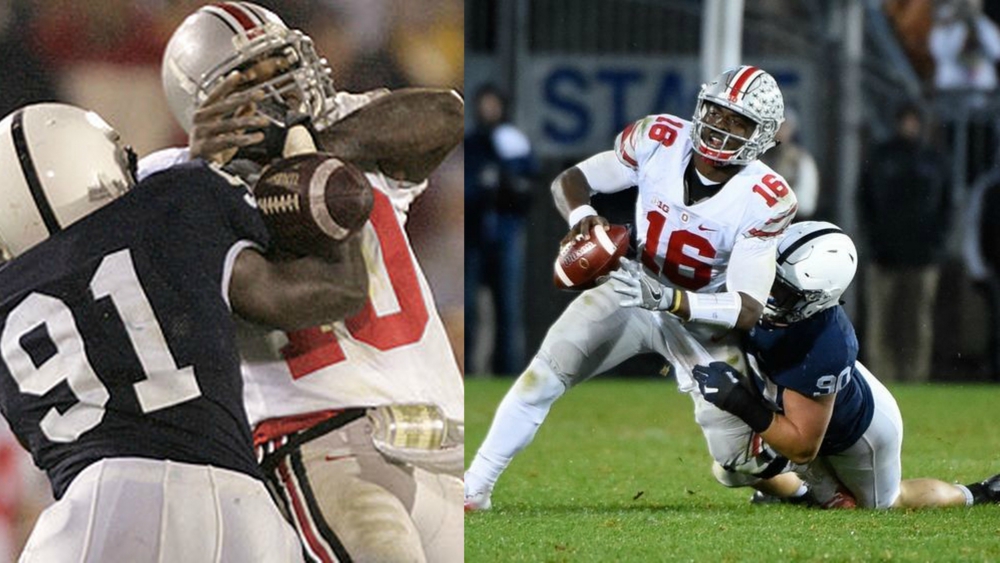 The Buckeyes rushed the ball 23 times against Florida in Glendale, the same number of carries they had against Clemson 10 seasons later. The offensive line, mostly serviceable for both seasons, was methodically picked apart in the Fiesta Bowl. Every snap brought the same orange nightmare with it.
Ted Ginn Jr, the Buckeyes' Michael Jordan who could score from anywhere and from any position was knocked out of the game in the 1st quarter, crippling Ohio State's offense. A decade later the Buckeyes' actual Michael Jordan was helped to the sideline in the same frame, and what was already a bad situation immediately fell into disrepair.
The game was essentially over by halftime. What the hell did they even practice between the Michigan game and now? How is this even possible? Meyer found himself on the receiving end of the same humiliating punishment that he had delivered on the same field a decade earlier.
So the Buckeyes were forced to limp into the offseason with that taste in their mouths, looking forward to a fairly manageable schedule concluding with Illinois on Senior Day and Michigan back in Ann Arbor. They were exposed and motivated to make it right.
The 2007 Buckeyes ended up back in national title contention, which is where the 2017 edition is projected and intending to finish as well. Perhaps it's mystical. Or maybe this season will emerge as another one of history's dubious similarities.