Cardale Jones finally produced a thoughtful, spontaneous masterpiece.
It seemed as though his Ohio State epitaph was destined to read He Ain't Come to Play School up until the moment the Buckeyes properly welcomed Maryland into the conference with a righteous trouncing.
This sent the Glenville native into the game for mop-up duty after J.T. Barrett's ruthless competence had again delivered a sufficient beating. That would be the same Glenville native whose social media infamy was so regrettable it's used as the example of what not to do in the conduct handbook Ole Miss provides for its incoming freshmen.
So Cardale entered the game and on his third snap unleashed the type of flashy QB run we had not seen from Ohio State since the connective tissue between Braxton Miller's arms and torso was functioning properly. He was the first Buckeye to take flight in live action since Carlos Hyde decided to show Astronaut U what his version of orbit looked like.
Watching a large fella - he's 6"5 and all of 250lbs - lift off like that in garbage time was a joy, not only for Buckeye fans growing accustomed to mundane, 4th quarter clock-killing offenses (#buckeyenationproblems) but a nice moment for Jones, who finally had a signature play to go with his infamous playing school comment. 
If that ends up being his singular highlight reel contribution - with Barrett's trajectory, that Braxton guy planning to return and no shortage of incoming QB competition obstructing his minutes - then he's in good company with one-and-done classics. That said, hoping Cardale receives more memorable mop-up duty and additional air time just feels good.
And if you don't see a crystal-clear parallel between 19th century English novelist Emily Brontë and 21st century American aviator Cardale Jones, well then you're just not thinking hard enough.
Welcome to The Situational. We're finished with bye weeks. Let's get after it.
---
The Meritocracy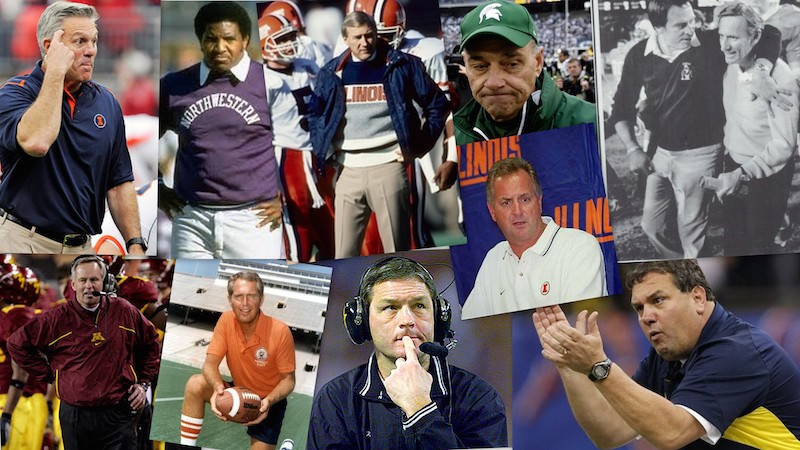 Speaking of not thinking hard enough, the Big Ten's Coach of the Year award is named for late Wisconsin coach Dave McClain. His career mark in B1G games was 32-34-3; a record that just screams excellence.
It's said that history is written by winners, and that's generally true - except for where the McClain award is concerned (it only became the McClain-Hayes-Schembechler Award in 2010 after the conference suddenly became infatuated with hyphenating everything).
The photo above contains just a few of the winners who have taken the award since Earle Bruce claimed Ohio State's most recent COY hardware his first year as head coach. You may notice four Illinois coaches in that collage - Mike White, John Mackovic and the Rons Turner and Zook - and you may ask yourself does any Illinois coach not win that award?
Yes, actually. Lou Tepper. Somehow he coached at Illinois for five seasons and didn't win the Dave McClain even once. Tepper is the unicorn of Champaign. Keep an eye on Tim Beckman's forehead.
Heismans are easier to win in Columbus than Dave McClain awards.
John L. Smith, Brady Hoke, three-time winner Kirk Ferentz and the guy you can't identify in the Purdue sweater have all won it too. By the way, that guy's name is Leon Burtnett - he won it in 1984 with a 7-5 record and six senior Boilermakers who would be drafted that spring (including #3 overall pick Jim Everett). Meanwhile, Earle's Buckeyes won the outright Big Ten title that season and went to the Rose Bowl. Pre-fedora Earle was too boring and consistent to win it twice.
It would be so easy to just award the B1G COY to the conference champion; that would give Ohio State a dozen of them since Earle's in 1979. But instead they have none. Heismans are easier to win in Columbus than Dave McClain awards.
Now, if the Buckeyes run the table the rest of this season Urban Meyer would conceivably take out all the candidates in the East: Kyle Flood, James Franklin, Mark Dantonio and then also Jerry Kill. He'd get to the title game with an entirely rebuilt offensive line and a fire drill at QB. Impressive enough, right?
Unfortunately, in Indy Urban might then be facing Ferentz, who is unstoppable in McClain competitions, or perhaps the Bo Pelini/Pat Fitzgerald/Gary Anderson three-headed never-won-it-before hydra. Despite the challenge, Ohio State's drought here probably won't be ending in 2014.
Earle could then quietly crack open some champagne and toast to himself, like those 1972 Miami Dolphins but without the insufferable sideshow. He just might be the last Buckeye to take home the prestigious McClain award.
---
The Scorned Lover
For those of you who don't follow recruiting too closely, the bye weekend produced a new verbal commitment addition for the class Ohio State hopes to sign next February:
I am flipping my commitment from Kentucky to THE Ohio State University. It has always been my dream to stay home and play for the Buckeyes 

— Alex Stump (@ShowTime_Stump) October 12, 2014
Alex is a rangy wide receiver who plays at Lakewood St. Edward, the same high school that sent Tom Cousineau, Rodney Bailey and Alex Boone to Ohio State (in that order). His path to this Buckeye recruiting class, as his tweet above indicates, is of the flip variety in that he was verbally committed to Kentucky until last weekend.
Stump isn't the first high-profile flip from St. Ed's involving Ohio State: Kyle Kalis originally verballed to Jim Tressel before abruptly bailing out of the 2012 class to join the burgeoning dynasty Hoke was building in Ann Arbor (and this is your reminder Tyvis Powell committed to a coach-less, cratering Buckeye football program right around the same time - which is why you should always love him unconditionally).
Now, back to the scouting report on Alex: His Twitter handle "ShowTime_Stump" is truly exquisite; a pseudonym that belongs on a marquee alongside the likes of Dirk Diggler and Chest Rockwell in Boogie Nights. Only "Rod Smooth" currently compares among current Buckeyes, and eligibility expires this season - so Stump immediately fills a position of great need.
But we need to set that aside and get right to the chorus of angry internet people taking offense with a high school kid choosing his dream school, once it finally came around and offered him the opportunity:
@ShowTime_Stump goodluck...you'll be a great blocker on the outside for Meyer's offense.

— BBN United (@goalsetter21) October 12, 2014
BBN, for the uninformed, is "Big Blue Nation." Speaking of uninformed, Ohio State is passing for more yards per game this season than Kentucky. That was also the case last season and the one before that as well.
But what about 2011, when Jim Bollman was running the offense? Those historically inept Buckeyes finished 115th in passing offense nationally. Kentucky was 114th in what you could call a "typical Kentucky season."
So sure, come to Columbus. Block your way to more receiving yards than if you played in Lexington.
@ShowTime_Stump good luck there is nothing like the #BBN and the #SEC c u later maybe

— Brad Robertson (@BradRobertson8) October 12, 2014
There's that S-E-C card being played in earnest. Hey, you know which program has the most SEC losses in history? Of course you do. SPOILER: It's not Vanderbilt.
@ShowTime_Stump @PatrickLoney I wish nothing but the worse for you at Shit State. Have fun riding the bench.

— . (@JRCBBN) October 12, 2014
Alex was a wide receiver at Kentucky, but he's now an outside blocker benchwarmer at Ohio State. The Wildcats dodged a bullet here. JRCBBN only seems angry; he's actually celebrating.
@ShowTime_Stump Big mistake. ......hope you like to block alot.!!!!!

— john m.richardson (@majicj2003) October 12, 2014
There's the blocking canard again. You'll have to forgive BBN for having no idea what happens outside of Rupp Arena.
@ShowTime_Stump We are getting Damien Harris you can keep this 3 star recruit their in Ohio.. #BBN

— Tiffany Ford (@TIPTIPBRADY) October 12, 2014
THEIR THERE IT IS: Our scorned lover. Now imagine if Harris eventually chooses Ohio State and on that day the tweet above is unearthed and goes viral, becoming Tiffany Ford's most notorious contribution to the Internet. 
Now, I'm not suggesting you remember to google "Situational Wuthering Heights" to conveniently locate Tiffany's tweet for retweeting if and when Harris commits to the Buckeyes; I'm just saying that's probably the easiest way to do it.
@ShowTime_Stump why commit to begin with if you know your waiting on another offer makes no since to me? But whatever goodluck

— cullmac11 (@CullenMcElroy) October 12, 2014
You owe him an answer, ShowTime. It's Cullen McElroy. The Cullen McElroy from the Internet. He deserves a prompt response.
@ShowTime_Stump thanks for using UK like a cheap whore. Good stuff my man.

— JT00 (@JA1329) October 12, 2014
..."he said, to the first high school kid to ever change his mind."
Oh, one last thing. Don't tweet at recruits. Ever. For any reason.
---
THE BOURBON
There is a bourbon for every situation. Sometimes the spirits and the events overlap, which means that where bourbon is concerned there can be more than one worthy choice.
I routinely get questions on Twitter from people asking everything from hey what's the situational bourbon for my neighbor's hamster's funeral to I have $50 to spend on my buddy for his housewarming but I need it to look like I spent more than that. This section mirrors those inquiries using a privately-held bourbon algorithm to determine an appropriate whiskey-based offering for the week.
Still, it's never been a suggestion box.
My cocktail of choice for Sat's OSU/SUNJ matchup: Bourbon, lemon juice, syrup, grenadine. Gents, the "Rutgers Sour." #Situational (@ramzy)

— Lazy-Assed Swami (@319E17th) October 13, 2014
Well, there's a first time for everything.
Let's do this - but without humiliating ourselves with just one cheap option: Whiskey sours are generally inelegant ways to make lesser whiskeys (cough Canadian cough) taste better. We'll offer up both Standard and Touring editions this week.
Standard Edition: The second you see grenadine you should immediately steer your eyes to the whiskey shelf that's no higher than your knee, so in honor of the previous section featuring ShowTime_Stump's former fans, find some change in your couch cushions and pick up some Kentucky Gentleman, which was profiled here several Situationals ago. The only good thing about KG that I've ever personally experienced is this heartfelt review:
It mostly smells like pancake syrup and alcohol.

pretty much like if you wrapped a drunk in Fruit Roll-Ups and then rolled him through cedar chips.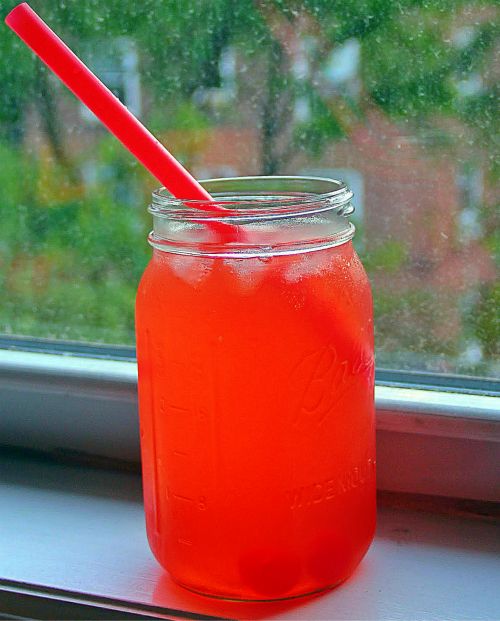 Use KG with the recipe the Swami has suggested above, and you can call that a "Rutgers Sour."
Touring Edition: First, make your own Maraschino cherries. It's as difficult as boiling water but with a significantly tastier payoff.
Now pick up an unconventional (but still thrifty) bourbon, like Rowan's Creek that you can cocktail-ify without feeling guilty or cheap. Muddle your homemade cherries and the bourbon in a shaker. If you made the cherries correctly you should have plenty of awesome red juice to pour in as well. Do that. Muddle wellm, add some neatly-sliced lemons that you've de-seeded, add rough-edged ice pellets and shake.
And that's it, really. You can either pour it wholesale into a mason jar - because everything tastes better in a mason jar - or get uppity and strain it into a martini glass. We also need to lose the Rutgers part of the name as part of the Touring Edition: Call that a Scarlet Sour instead, since color is one obvious trait Ohio State and Rutgers share, aside from having beaten Michigan recently.
Thanks for the suggestion, Swami. 
---
The Playoff
Over the summer I noticed a thread in the 11W Forum entitled WNBA which was started by a user handsomely named WhiskeyJuice. To my knowledge - outside of Buckeye basketball greats Katie Smith, Sam Prahalis and Tayler Hill who matriculated to the pros - it's still the only non-Buckeye context WNBA mention this site has seen.
With hundreds of millions of pageviews, the WNBA is a rarity here on par with Lou Tepper not winning the McClain at Illinois. WhiskeyJuice's contribution deserves a friend, so here's one more WNBA mention on 11W - now there are two.
This is Jack Black singing one of the better National Anthems you'll ever hear at a Los Angeles Sparks game. People being stunned that Black is a very good singer never gets old. It's such a solid gotcha that High Fidelity - which was based on a British novel - actually changed its ending and used it as the denouement. (It's a 14-year old movie, so no complaining about spoilers)
Black's vocal chops are inexplicably sneaky; he's been the lead singer of the rock opera band Tenacious D for 20 years. They've moved over a million albums/downloads with him carrying the melodies, yet somehow people are still surprised when he grabs a mic and reveals he isn't tone deaf. It's not unlike suddenly learning the tank-like Cardale Jones has both a cannon arm and insane leaping ability. 
There you have it. Enjoy your Rutgers and/or Scarlet Sours this weekend responsibly. Go Bucks.