If Ohio State doesn't make the College Football Playoff, Saturday's loss to Michigan may have been C.J. Stroud's final act as a Buckeye.
When Stroud was asked during Saturday's postgame press conference if he would play in a non-playoff bowl game, Stroud said he would have to think about that.
"I'll have to take it into consideration whatever happens," Stroud said. "I can't give you a final answer on whatever happens. This all has to happen over these next couple of weeks."
Regardless of Ohio State's postseason path, Saturday was almost certainly Stroud's final game at Ohio Stadium, as he is projected as one of the top picks in the 2023 NFL draft. And while his career in the Shoe ended sourly, he says he will have many fond memories of playing in front of Buckeye Nation.
"Honestly, I just don't know how to feel right now. It kind of just happened so fast. I don't know if this is my last time playing the Shoe, man, but I'm enjoyed every second I've gotten in there," Stroud said. "Came a long way, man, from the first game playing in the Shoe being booed, everybody not saying very nice things about me, and I think I've earned everybody's respect as time has gone on. And I've fallen in love with Columbus, Ohio and Buckeye Nation. So I've enjoyed every second of it."
Even if Stroud doesn't play another game as a Buckeye, he will go down as one of the most prolific passers in program history. Over his 24 starts as Ohio State's quarterback, Stroud has completed 69.5 percent of his passing attempts for 7,775 yards and 81 touchdowns – all numbers that rank second in program history.
Stroud also recognizes the reality, though, that his standing among Ohio State's all-time great quarterbacks will be impacted by his 0-2 record against Michigan, which makes him the Buckeyes' first starting quarterback to go winless against the Wolverines since Steve Bellisari suffered back-to-back losses in 1999 and 2000.
"People are gonna say I never won The Game, and I understand. People are gonna say I never won the Big Ten championship; I understand. When it comes to that, I just have to eat it. It's life," Stroud said.
Despite the loss, Ryan Day praised Stroud after the game, in which Stroud completed 31 of 48 passing attempts for 349 yards with two touchdowns and two interceptions.
"I thought he competed," Day said. "I thought he played hard all the way to the end. Made some good throws. And there's nobody who wanted to win more than C.J. Stroud."
Trayanum carries the load at running back
Going into Saturday, one of the biggest questions surrounding Ohio State was whether Miyan Williams, TreVeyon Henderson or Dallan Hayden would see the heaviest workload at running back.
As it turned out, the answer was a different running back entirely: Chip Trayanum.
With Henderson ruled out on Saturday morning due to the foot injury he's battled for much of the season, Williams started at running back against Michigan. After missing the Maryland game with an ankle injury, Williams carried the ball only eight times for 34 yards against the Wolverines.
Trayanum was the second running back into the game and took just under half of Ohio State's carries against Michigan, carrying the ball 14 times for 83 yards while also catching one pass for 14 yards. Hayden also saw occasional playing time but ended up getting just two carries, on which he gained seven yards, despite running for 146 yards and three touchdowns against Maryland one week earlier.
Day said after the game that Williams wasn't fully healthy and that the Buckeyes felt Trayanum could give them a boost even though he had just one in-game carry in an Ohio State uniform before Saturday after a midseason switch from linebacker to running back.
"Miyan was coming off of his ankle, and he gave it a shot, but there were some runs in there early that maybe he wishes he had back, I don't know," Day said. "But then, we felt like Chip could go in there and give us a little bit of a shot, even though he hadn't played. We had to play some depth, so Dallan got in there a couple of times, and then Chip as well. So good news is we had some pretty good depth there, but certainly, Miyan wasn't 100%."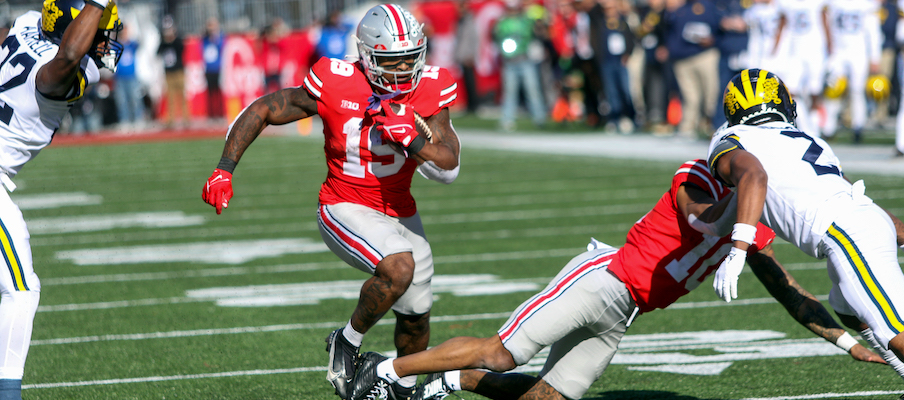 Penalties plague Ohio State again
Following Ohio State's final game before The Game against Maryland, Day pointed to penalties as one of the biggest things the Buckeyes needed to get fixed after committing a season-high 11 penalties for 97 yards against the Terrapins. But the Buckeyes ended up having nearly as many penalties against Michigan.
Ohio State committed nine penalties for 91 yards against Michigan, which played a role in the Buckeyes' 45-23 loss. Perhaps most notably, those penalties included an unsportsmanlike conduct flag about Gee Scott Jr. when he headbutted Michigan safety Rod Moore that combined with a holding penalty against Donovan Jackson and put Ohio State in a 1st-and-35, leading to a punt on a drive that started in Michigan territory when the Buckeyes were trailing 24-20 in the third quarter.
"We had too many penalties, and it got us off-schedule," Day said after Saturday's loss.
It was the second year in a row that penalties hurt the Buckeyes in their rivalry game, as they tied a season-high with 10 penalties that cost them 66 yards in their 2021 loss at Michigan.
Hicks, Brown injured
Ohio State entered The Game with one of its shorter status reports of the season, as only eight players were listed as unavailable. However, the Buckeyes ended up being without three more players by the end of the first half.
Matt Jones, the only Buckeye listed as a game-time decision on Saturday, did not end up playing against Michigan. Enokk Vimahi started the game in his place at right guard, though Josh Fryar also saw substantial playing time at the position as both saw snaps in a rotation throughout the game.
True freshman linebacker C.J. Hicks was injured on the very first play of the game when he collided with Xavier Johnson on his opening kickoff return. Hicks appeared to suffer a knee injury on the collision, had to be helped off the field and was no longer in uniform when the Buckeyes returned to the field after halftime.
Starting cornerback Cameron Brown was injured in the final minute of the first half when he hit Michigan quarterback J.J. McCarthy on a run that ended up being whistled dead. While the play didn't count, Brown – who missed five games during the regular season due to injury – exited the game after the hit, received medical attention on the sideline and did not return to the game. JK Johnson took Brown's place in the lineup and played the remainder of the game at cornerback opposite Denzel Burke.