An ankle injury didn't stop Marvin Harrison Jr. from returning and making an impact down the stretch against Notre Dame.
Ohio State's star receiver got his right ankle rolled up on by Fighting Irish safety Xavier Watts during a 61-yard touchdown run by TreVeyon Henderson in the third quarter and entered the Buckeyes' medical tent but returned to the sideline – then the field – on his team's next drive.
The play tonight on which Marvin Harrison Jr. hurt his ankle: pic.twitter.com/tIfnJDkx88

— Adam Schefter (@AdamSchefter) September 24, 2023
On his first play back in the game, the Pennsylvania native caught a pass from Kyle McCord on an in-breaking route and gained 6 yards.
Harrison later made a spectacular catch on Ohio State's game-winning touchdown drive, diving out in a full stretch to snag a 19-yard dart from McCord over the middle.
"I thought he showed toughness. He hurt his ankle pretty good, now. He was down there for a minute, to tape it up and play the way he did … you talk about toughness, right there, that was toughness by 18."– Ryan Day on Marvin Harrison Jr.
Harrison's impact reverberated beyond those catches, Ryan Day said. Most of Ohio State's receiving production came from other targets – Emeka Egbuka caught seven passes for 96 yards to lead the Buckeye receivers against Notre Dame, while Cade Stover also had a career-high seven catches for 52 yards – but that was partially due to the fact that Harrison drew so much attention from the Fighting Irish secondary.
"In a two-minute situation, if you're going to double him, somebody's in a one-on-one. And every time we talk about bracket (coverage), Kyle, what do we say," Day said, turning to McCord.
"Find the one-on-one," McCord said.
"So someone's going to be in a one-on-one, so they've got to win," Day said. "His presence made a huge impact on the game, and if he doesn't come back after he sprained his ankle, if he doesn't come back after that, maybe he doesn't draw the attention that opened up Emeka."
Harrison finished with three catches for 32 yards – two for 25 coming after his injury.
Defense bends but (mostly) doesn't break
Ohio State's defense found enough situational success to post a first-half shutout, keep the Buckeyes afloat in their contest with the Fighting Irish and ultimately win the game. Even if it wasn't pretty at times.
Notre Dame drove all the way down to Ohio State's 18-yard line on its first drive before coming up half a yard short on a 4th-and-1 play.
The Fighting Irish's next possession went 39 yards in seven plays only for kicker Spencer Shrader to miss a 47-yard field goal try. Notre Dame's opening drive of the second half reached Ohio State's 39-yard line but was stopped on 4th-and-1 when safeties Sonny Styles and Lathan Ransom stuffed Notre Dame quarterback Sam Hartman on a quarterback sneak.
"Sometimes, when an offense drives the ball, we'll talk about the next play and making a stop and in the red zone and winning those situations. It's just something that we emphasize. A defense has to be resilient. It's not all going to go your way."– Jim Knowles
Even with the long drives from the Fighting Irish that didn't result in points, Knowles still isn't preaching a "bend-but-don't-break" mindset with his defense, he stated. But the times when it didn't break made a huge difference in Ohio State's win.
"We'll never take that approach," Knowles said. "I feel like we gave up too many explosives tonight. I feel like coming out of this, defensively, 14 points is great. We made enough stops early on that kept our team in the game. But I know we can do better. I know we can do better. To me, it's a great team win all across the board and we've got to keep making the defense better."
Knowles' unit held up at the most important time it could, too. After surrendering touchdowns on back-to-back Notre Dame possessions of at least 11 plays in the second half, the Buckeyes yielded a first down before defensive end JT Tuimoloau blew up a Notre Dame run in the backfield for a 5-yard loss then swatted away an attempted screen pass, leading to a Fighting Irish punt that set the stage for the offense's game-winning drive.
"Last drive, we made some adjustments. We had to get more guys down in the box, it's just the way the game was going. But JT made a couple of great plays. You need the guys that are going to make the big-time plays at the end."– Jim Knowles
Cody Simon plays expanded role
The man who made the stop for Ohio State on the first of Notre Dame's two failed 4th-and-1 conversions was linebacker Cody Simon, who saw increased usage against the Fighting Irish on Saturday.
A big play for the @OhioStateFB defense stopping Sam Hartman on fourth down!

: NBC & Peacock pic.twitter.com/4FXbGA7ENq

— NBC Sports (@NBCSports) September 24, 2023
Not only did Simon get plenty of action against the Fighting Irish's heavier personnel when Ohio State decided to roll with three linebackers, he also spelled starting Will linebacker Steele Chambers throughout the evening's proceedings, marking the first time all season that Knowles has employed a linebacker rotation with the game on the line.
Simon finished with two tackles, both in the first half.
Streak of 20-point games ends
While Ohio State ultimately scored enough points to beat Notre Dame, it didn't score enough to continue its NCAA-record streak of games scoring 20 points.
The Buckeyes' 17 points against Notre Dame were the fewest they've scored in any game since they scored only 16 points against Oklahoma in their second game of the 2017 season. Ohio State had scored at least 20 points in 77 consecutive games since then; previously, the longest streak of consecutive 20-point games by an FBS team was 69 in a row by Oklahoma from 2016-21.
Ohio State has now scored only two touchdowns in two of its first four games and is averaging 34.5 points per game for the season. That's well below the pace of Day's offenses in previous years, as Ohio State has averaged more than 40 points per game in six straight seasons dating back to 2017, so the Buckeyes will certainly have plenty to work offensively heading into their bye week.
Six straight wins over Notre Dame
Although the number of points on the scoreboard was certainly fewer than expected for Ohio State, the only statistic that really mattered in a game of Saturday's magnitude was whether the Buckeyes won. By doing so, Ohio State has now won six straight games against Notre Dame dating back to 1995.
The Fighting Irish haven't beaten Ohio State since they won back-to-back games against the Buckeyes in 1935 and 1936. Seeing as Ohio State and Notre Dame don't currently have any future games scheduled against each other, it could be a while before the Fighting Irish get another chance to end their 87-year winning drought against the Buckeyes unless Ohio State and Notre Dame find themselves matched up against each other in a playoff or bowl game.
Javontae shines against former team
In five years as a Buckeye, Javontae Jean-Baptiste never recorded more than four tackles in a single game. Jean-Baptiste recorded twice that many tackles while playing against his former team on Saturday.
Now a starting defensive end at Notre Dame, Jean-Baptiste recorded a career-high eight tackles against Ohio State, tying for his team lead in tackles. Those tackles included a trio of stops on crucial downs. He stopped Miyan Williams on a 3rd-and-goal rush attempt from the 1-yard line in the second quarter that led to a turnover on downs by the Buckeyes, while he also made back-to-back stops on 3rd-and-1 and 4th-and-1 in the fourth quarter to preserve a 14-10 lead for his team with less than five minutes to play.
Jean-Baptiste wasn't the only player to see action his former team in Saturday night's game. Former Notre Dame wide receiver Lorenzo Styles Jr., who is now a cornerback for Ohio State, played on the Buckeyes' kickoff, kickoff return and punt return teams against the Fighting Irish in his second game appearance of the season.
Caden Curry plays fullback
On the aforementioned 3rd-and-goal rush attempt by Williams, Ohio State introduced an interesting wrinkle on offense when defensive end Caden Curry entered the game for the first offensive snap of his career as a fullback.
The play didn't work, but it nevertheless showcased the potential for an additional role going forward for Curry. The sophomore from Indiana saw playing time both in the defensive end rotation and situationally as a pass-rushing defensive tackle in Ohio State's first three games of the season, but played mostly on special teams against Notre Dame as the Buckeyes leaned heavily on starting defensive ends JT Tuimoloau and Jack Sawyer.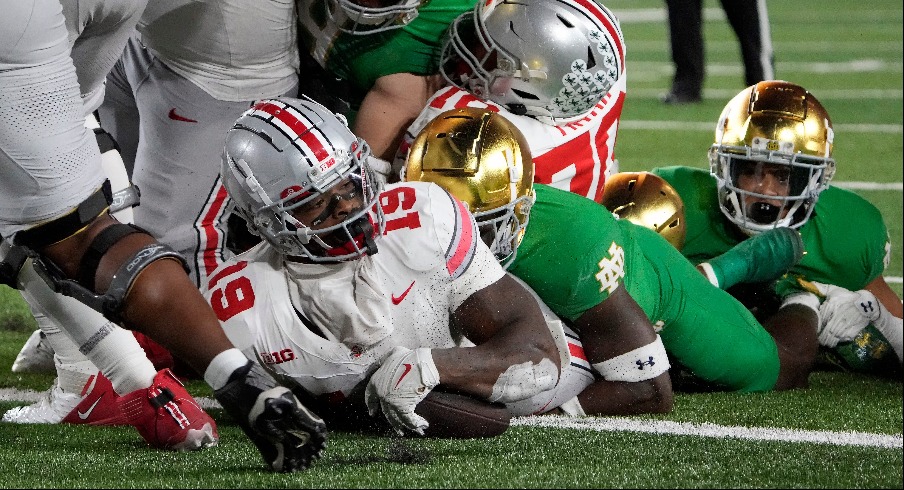 #6 Ohio State 17, #9 Notre Dame 14
Sept. 23, 2023 • Notre Dame Stadium • South Bend, IN