Ohio State's ninth annual game against Rutgers looked a lot like the first eight.
Just like every previous game since Rutgers joined the Big Ten in 2014, Ohio State cruised to a decisive victory over the Scarlet Knights on Saturday, winning 49-10 to improve to 5-0 on the season.
Miyan Williams ran for 189 yards and five touchdowns, tying Ohio State's single-game record for touchdown runs, to lead the Buckeyes to a home victory over their visitors from New Jersey.
 
Q1
Q2
Q3
Q4
 

#3

 Ohio State
14
14
14
7
49
RUTGERS
7
0
3
0
10
The game briefly started out well for Rutgers, who took its first-ever lead against Ohio State after a muffed punt by Emeka Egbuka was recovered by the Scarlet Knights at Ohio State's 18-yard line. Rutgers took advantage of the short field as Sean Ryan beat Denzel Burke to catch a 14-yard touchdown pass from Evan Simon, giving the Scarlet Knights a 7-0 advantage four minutes into the game.
The Scarlet Knights attempted an onside kick after their opening possession, which backfired when Jayden Ballard recovered the ball at Rutgers' 48-yard line. Williams, who made his first start of the season at running back with TreVeyon Henderson sidelined by an injury, quickly made the Scarlet Knights pay as he ran for a 32-yard gain and followed that up with a 2-yard touchdown run.
Ohio State took its first lead of the game on its next possession when Williams ran through a defender at the goal line from one yard out to score his second touchdown in as many drives, capping off a nine-play, 74-yard drive that includes 27- and 20-yard catches by Egbuka.
The Buckeyes got the ball back at midfield before the end of the first quarter when Mike Hall recovered a fumble forced by Zach Harrison. Ohio State extended its lead to 21-7 just nine seconds into the second quarter when C.J. Stroud and Julian Fleming connected for a 36-yard touchdown pass.
Offense COOKIN' @CJ7STROUD finds @julian_040 for another @OhioStateFB TD pic.twitter.com/jBY0yu19ns

— FOX College Football (@CFBONFOX) October 1, 2022
| OHIO STATE | METRIC | RUTGERS |
| --- | --- | --- |
| 413 | TOTAL YARDS | 187 |
| 252 | RUSHING YARDS | 107 |
| 34 | RUSHING ATTEMPTS | 36 |
| 7.4 | AVERAGE per RUSH | 3.3 |
| 5 | RUSHING TOUCHDOWNS | 0 |
| 161 | PASSING YARDS | 80 |
| 15-25 | COMPLETIONS–ATTEMPTS | 11-20 |
| 10.7 | AVERAGE per COMPLETION | 7.3 |
| 2 | PASSING TOUCHDOWNS | 1 |
| 24 | 1st DOWNS | 12 |
| 59 | TOTAL PLAYS | 56 |
| 7.0 | YARDS PER PLAY | 3.3 |
| 5-5 | RED ZONE | 2-2 |
| 5-10 | third down conv | 1-11 |
| 6-41 | PENALTIES | 10-61 |
| 26:55 | POSSESSION | 33:05 |
Ohio State took a 28-7 lead into halftime when Williams finished off a lengthy red zone trip – one that included Ohio State running nine plays inside the 20-yard line with Rutgers committing three penalties and calling two timeouts – with a 1-yard touchdown run on 4th-and-goal for his third score of the day.
The second half got off to an ugly start for the Buckeyes as Stroud threw a pass into quadruple coverage for his second interception of the season.
A 26-yard pass from Simon to Ryan got Rutgers into Ohio State territory, but the Scarlet Knights ended up settling for a 35-yard Jude McAtamney field goal in the red zone.
Williams promptly put the Buckeyes ahead 35-10 on their next play from scrimmage when he went straight up the middle and broke away from the defense for a 70-yard touchdown run.
SEE. YOU. LATER

RB Miyan Williams of @OhioStateFB gets his 4th TD today pic.twitter.com/NfkVuLA0Fz

— FOX College Football (@CFBONFOX) October 1, 2022
The home team's lead grew to 42-10 with 1:22 to play in the third quarter when Stroud capped off an eight-play, 55-yard drive with a 4-yard touchdown pass to Marvin Harrison Jr.
Steele Chambers, who also led the Buckeyes with 11 tackles and two tackles for loss in Saturday's game, forced the second Rutgers turnover of the day when he intercepted Simon with an assist from Zach Harrison, who got his hand on the pass first on a pass-rush from the defensive tackle spot.
11 tackles

2 tackles for loss
and now an INTERCEPTION

Have a day, @steeleC22!!! pic.twitter.com/BG8QH0otSu

— FOX College Football (@CFBONFOX) October 1, 2022
Williams tied Ohio State's single-game school record for rushing touchdowns with his fifth score of the day, on what would also be the final score of the game, when he punched the ball in from two yards out just 10 seconds into the fourth quarter.
PROGRAM RECORD

RB Miyan Williams ties the @OhioStateFB's program record with 5 TDs today pic.twitter.com/uTE3tP7eMG

— FOX College Football (@CFBONFOX) October 1, 2022
After Ohio State's second-team offense entered the game and went 3-and-out on Kyle McCord's first series in at quarterback, a skirmish broke out on the sidelines after Jesse Mirco turned a punt into a 22-yard run and was lit up on the sideline by Rutgers wide receiver Aron Cruikshank. Cruikshank was ejected from the game for his high hit on Mirco while Ryan Day and Greg Schiano were both assessed unsportsmanlike conduct penalties.
Rutgers/Ohio State players and coaches had to be separated on the field after this late hit. pic.twitter.com/NPZ0lN3lcy

— FOX College Football (@CFBONFOX) October 1, 2022
Ohio State now holds a 9-0 all-time record against Rutgers and has won every game it's played against the Scarlet Knights by at least 22 points, scoring at least 49 points in all of them.
The Buckeyes will complete their first half of the regular season when they hit the road for the first time this year next weekend to play Michigan State. Kickoff next Saturday in East Lansing is scheduled for 4 p.m. with ABC televising.
Game Notes
Miyan Williams' five touchdown runs tied Ohio State's single-game record for rushing touchdowns previously set by Pete Johnson (1975) and Keith Byars (1984).
14 Ohio State players were unavailable to play against Rutgers, including starting wide receiver Jaxon Smith-Njigba and cornerback Cameron Brown. TreVeyon Henderson also did not play after being designated as a game-time decision, though Emeka Egbuka did play despite being listed as a game-time decision.
Tanner McCalister left the game after suffering an apparent injury in the first quarter. He was replaced in the lineup at safety by Kye Stokes.
Defensive tackle Tyleik Williams left the game with an apparent leg injury in the second quarter.
C.J. Stroud, Tommy Eichenberg, Kourt Williams and Kamryn Babb were the captains for the pregame coin toss.
Denzel Burke wore No. 10 instead of the No. 5 he wore to start the season.
Longtime Ohio State women's golf coach Therese Hession was awarded an honorary jersey during the first quarter in recognition of her 30 seasons leading the women's golf program.
Former Ohio State players in attendance for Saturday's game included Brendon White, who played for both Ohio State and Rutgers, and Malcolm Jenkins.
Ohio State's 1972 team was recognized for its 50th anniversary between the first and second quarters.
Attendance at Ohio Stadium for Saturday's game was 104,245.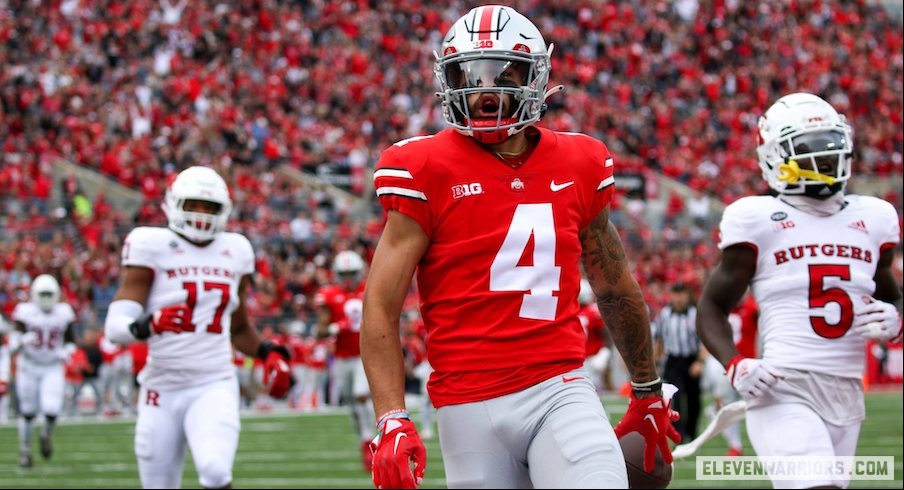 #3 Ohio State 49, Rutgers 10
Oct. 1, 2022 • Ohio Stadium • Columbus, OH