Last season, TreVeyon Henderson's breakout stardom was spurred on by early injuries to Miyan Williams. This year, it's the other way around.
With Henderson held out of Saturday's Rutgers matchup due to a lingering issue that reared its head in pregame warmups, Williams finally had the coming-out party he's always fallen slightly short of at Ohio State, rushing for a career-high 189 yards on 21 carries on a day that the Buckeyes didn't have their usual pep in the passing game.
Much like Henderson's record-setting 270-yard game in Williams' absence in 2021, Williams tied a record of his own on Saturday, rushing for five scores to equal the single-game program high mark set by Pete Johnson in 1975 and Keith Byars in 1984.
"They didn't tell me until after (that I tied the record). After I scored the last one, that's when I found out. … It wasn't like a jolt of energy (when Henderson went down), I just told him, I looked him in his eyes, I told Tre like, 'I got you. I got you today,'" Williams said after the game. "It's a blessing just to be up there with them names. Those are legends here, so yeah, it's definitely a blessing."
Until Saturday, Miyan Williams had never scored more than two touchdowns in a game, and he had never carried the ball more than 14 times. The third-year running back crossed both of those off his bucket list by halftime against Rutgers. Williams had more first-half rushing yards (91) than the Scarlet Knights totaled as an offense, and his three touchdowns in the first two quarters were two more than Rutgers managed all game.
Williams wasn't only a talented backup who played well when called upon to step up on Saturday. Given more leash than ever before, the Cincinnati native proved worthy of RB1 consideration moving forward – and not just because of Henderson's questionable health status.
"The most I scored in high school was six touchdowns in a game. I never would've thought," Williams said. "I never would've thought I'd have a game like this (in college)."
Week 5 wasn't the first time Williams has had the hot hand this season. In the season opener against Notre Dame, he punished the Fighting Irish defense on what would ultimately be the game-winning drive in the fourth quarter. Oh, and it was punctuated by a Williams touchdown.
He turns a three-yard run into five, keeps us on schedule and it was tough down there in the red zone. They kind of dug in a few times, we had to go for it on the fourth down, but Miyan had a really good day for us."– Ryan Day on Miyan Williams
Against Toledo, a Henderson injury on the first drive helped Williams rack up 77 yards on just 10 carries. Perhaps that matchup could've been his platform for a breakout showcase, but he never got the chance. Dallan Hayden and TC Caffey came in during the latter stages of the blowout to combine for 23 carries and 165 yards.
Williams was the standout rusher as Ohio State dominated Wisconsin early in the Buckeyes' Big Ten opener last weekend, rushing for 101 yards and two touchdowns on 11 carries in the first half alone. But he didn't get to tack onto those totals in the second half, as Henderson was rewarded with the bulk of the carries in the final two quarters.
This weekend, Ohio State wasn't splitting series at running back. It was all Williams early and often, and that strategy paid off big time.
On the Buckeyes' first drive, a 32-yard Williams rush set him up for a two-yard score just two plays later to tie things up with a touchdown on just 1:38 of possession for Ohio State. C.J. Stroud and the passing game did most of the legwork to set up the next Buckeye score, but Williams still made a statement by bulldozing a Scarlet Knight defender to the turf to emphasize the one-yard touchdown.
Things you love to see: pic.twitter.com/yxdZymma1G

— Ohio State Football (@OhioStateFB) October 1, 2022
Ohio State seemed destined not to cross the goalline on its final drive of the first half, as the Buckeyes started at the Rutgers 39-yard-line but still ran 10 plays and 4:48 of clock trying to get the ball in the end zone. But on 4th-and-goal from the 1-yard-line, Williams proved inevitable as he punched in another score to complete his first-half hat trick.
"It says a lot about the way he was running, especially in the red zone. I think our red zone numbers are really good, and a big part of it is our offensive line and the way we're running the football," Ryan Day said after the game. "But I just think overall, the tight ends, the wide receivers, everybody's involved in this run game. But Miyan was running really hard today and finished a bunch of runs. He turns a three-yard run into five, keeps us on schedule and it was tough down there in the red zone. They kind of dug in a few times, we had to go for it on the fourth down, but Miyan had a really good day for us."
Had Williams' day ended there, he still would have turned in a standout performance that led the Buckeyes to a lopsided victory in Big Ten play. But opportunities to do more than that have been taken from him before. By the start of the fourth quarter, Williams was still the lone Buckeye running back to see a carry, and 10 seconds into the frame, he tied the record mentioned above with his fifth rushing touchdown.
Miyan Williams. Program record.pic.twitter.com/tEh5TfXyPq

— Eleven Warriors (@11W) October 1, 2022
Perhaps the highlight run of the day for Williams came two drives before that, though, as the diminutive rusher dashed 70 yards to the end zone on the first play of an early third-quarter Ohio State possession. That was the run that truly launched Williams' evening into the stratosphere, signaling a signature performance from the redshirt sophomore.
"When I broke and I just seen green grass, I was just running. I was just telling myself, 'Don't get caught.' So I just kept running," Williams said. "It's not really important. It's just a blessing. It's just a blessing to break one."
Given the typical caliber of Ohio State's pass attack, the absence of Henderson didn't figure to be a dealbreaker against a 39-point underdog at home. But Stroud had one of the worst performances of his Buckeye career on Saturday, finishing with just 154 yards, two touchdowns and an interception – and many missed opportunities in the red zone – on 13-for-22 passing.
Luckily for Ohio State, Williams rendered a Herculean effort from Stroud and company unnecessary. Freshman running back Dallan Hayden didn't come on in relief of Williams until the latter stages of the fourth quarter, at which time the Buckeyes had things well in hand.
"That's definitely one of my best friends on the team. So it's just good, it's really inspiring to see him have a good game like that," Stroud said. "All the stuff he's been through, all the stuff he's still going through to this day, all the work he puts in and just how focused he remains. So it's kind of cool to see his work pay off."
While the Scarlet Knight defense had hardly played top-flight opposition entering the contest, it did possess the No. 2 national ranking against the run through four games. After Williams had his way with it on Saturday, that's sure to change overnight.
Henderson's health issues are certainly concerning for Ohio State, and Day said he was "kind of surprised" his injury situation from Week 3 resurfaced to force him out of Saturday's matchup.  But Williams' emergence as a back capable of torching Big Ten defenses to the extent he did Saturday was a revelation nonetheless. And if Williams and Henderson have a more contentious competition for reps moving forward, that problem is a good one to have if you're Ohio State.
"I definitely think that's something we need. … If we can run the ball that good and connect on some of the plays like we were doing in the pass game, it'll be a recipe for a win and success," Stroud said. "I definitely think that we'll continue to get better and better."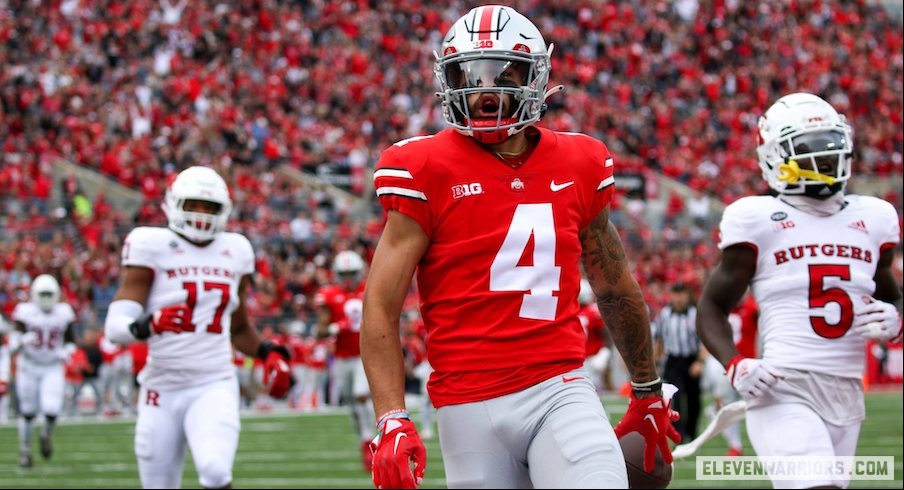 #3 Ohio State 49, Rutgers 10
Oct. 1, 2022 • Ohio Stadium • Columbus, OH