As Ohio State's defense struggled in 2021, no position group drew more scrutiny than the Buckeyes' linebackers.
This season, Ohio State's defense has held its first five opponents to only 14.8 points per game, and the Buckeyes' linebackers have emerged as one of their biggest strengths.
For much of the year, it's been Tommy Eichenberg who's shined brightest as the biggest star of Ohio State's defense. The Buckeyes' Mike linebacker had another productive game against Rutgers on Saturday, recording nine total tackles and a quarterback hit as Ohio State held the Scarlet Knights to only 187 yards – its fewest of the season for Rutgers and the fewest the Buckeyes have allowed all year.
Eichenberg continued to draw praise from his Ohio State teammates after Saturday's game when Zach Harrison called Eichenberg "one of the best defensive players in college football," echoing what Ronnie Hickman said about Eichenberg earlier in the week. Harrison said Eichenberg's leadership and reliability in the middle of the defense had enabled everyone around him to play at their best.
"Tommy's been that dude," Harrison said. "He's kind of like a quarterback out there for the defense. He's a leader. He's a guy that all 11 guys are like, 'Tommy's got our backs.'" 
Ronnie Hickman had lots of praise for Tommy Eichenberg tonight: Hes probably one of the better defensive players in the country right now. pic.twitter.com/qvh5QAUHZj

— Dan Hope (@Dan_Hope) September 28, 2022
Against Rutgers, though, it was Ohio State's other starting linebacker who had the biggest day for the Buckeyes' defense. Will linebacker Steele Chambers put his sideline-to-sideline athleticism, instincts and playmaking ability on full display as he recorded a team-high 11 tackles – including two tackles for loss – as well as his first interception of the season in Saturday's 49-10 win over the Scarlet Knights.
"There was some plays he made out there, it was like 'Damn, that's a good play for a linebacker to make,' like all the way getting out of bounds," Harrison said.
Together, Chambers and Eichenberg led the way for another dominant defensive effort for Ohio State on Saturday as the Buckeyes limited Rutgers to only 3.3 yards per play. And that's what they've been doing all year.
Eichenberg leads the Buckeyes with 42 total tackles this season (already nearly two-thirds of the 64 total tackles he had in 13 games last season) and 5.5 tackles for loss (only 1.5 fewer than he had in 2021). Chambers now has 30 total tackles in 2022 (only 17 fewer than he had in 13 games last season) and four tackles for loss (one fewer than he had in all of 2021).
While Ohio State's linebacker rotation was a revolving door a year ago with Cody Simon, Teradja Mitchell, Chambers and Eichenberg all starting games, Eichenberg and Chambers have solidified themselves as Ohio State's top two linebackers this season, with Simon mixing in for some plays at Will linebacker and as a Sam linebacker in three-linebacker sets. That's led to minimal playing time for Ohio State's backup linebackers but yielded better results on the field as Eichenberg and Chambers have consistently impacted games.
Ryan Day says he's noticed a big difference in how both of them have played this season compared to how they played a year ago.
"I think they are just playing faster. They're diagnosing plays faster. They understand how teams are trying to attack them," Day said. "I think it's twofold. One, it's a year under your belt of playing and figuring out how teams are attacking you. And in-game adjustments and just seeing things over and over and over again. You think about some of the best linebackers that we've had here in the last few years, it's usually guys who have played and seen things, You can flash when you're athletic, but it's the diagnosing of plays and understanding how teams are really trying to come after you. 
"But then also, I think they feel comfortable in the scheme. I think they really have a good relationship with Jim Knowles, who they meet with every day. He's their position coach. And so he gives a really good perspective on how he fits into the run, but also in the pass game. And that's huge. And you can just see it. I think they were playing that way. You just kind of feel it when you're on the sideline."
Chambers said Saturday's game was one of the best games he's had as a Buckeye and believes Knowles' defensive scheme has enabled him to play at his best this year.
"His whole thing is that we're playing offense on defense," Chambers said. "So we're just being really aggressive, and I feel like that's something I thrive at."
Of course, Chambers and Eichenberg aren't making plays by themselves. Chambers, whose interception came after Harrison tipped a pass by Rutgers quarterback Evan Simon, said the pressure Ohio State's defensive line generates up front has cleared the way for him and Eichenberg to make plays on the ball this season.
"That's where really our defense thrives at, because they just create chaos up front and then everyone in the back just kind of adjusts. And I mean, without them, we can't really do anything," Chambers said of the defensive line. "So I can't tell you enough how much I appreciate the D-line."
Have a day, Steele Chambers! @steeleC22 x @OhioStateFB pic.twitter.com/WIFRgQOAry

— Ohio State on BTN (@OhioStateOnBTN) October 1, 2022
That goes both ways, though, as Ohio State's defensive linemen say the confidence they have in Eichenberg and Chambers allows them to play faster up front, knowing they have linebackers behind them who can clean up their mistakes.
"When you see those guys flying around, it's really fun. Just knowing that you have that behind you constantly," Javontae Jean-Baptiste said after Saturday's game. "If you're doing your job, you expect your brothers to, and once you see that every day (the way Chambers and Eichenberg are playing), it's not hard to trust them."
A year ago, Ohio State's linebackers were often singled out as a reason why the Buckeyes weren't playing up to their potential on defense. Five games into the 2022 season, however, Eichenberg and Chambers have flipped that narrative on its head by becoming two of Ohio State's best and most consistently productive defensive players.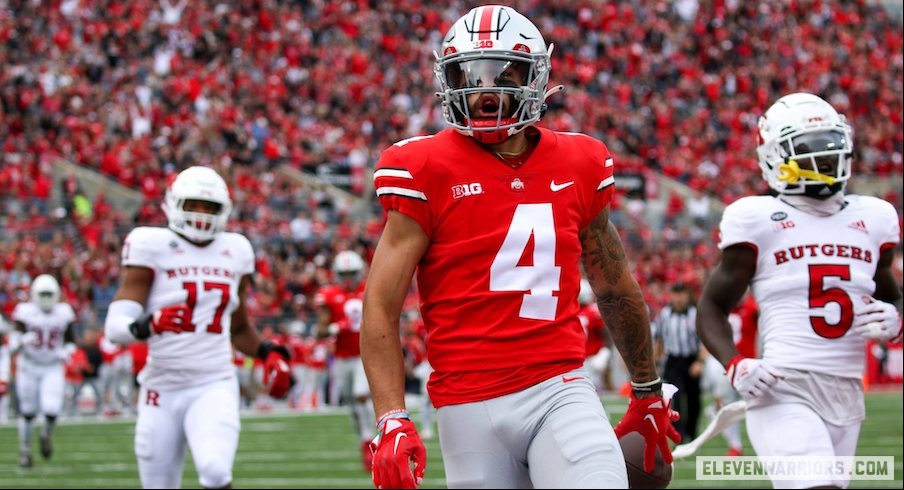 #3 Ohio State 49, Rutgers 10
Oct. 1, 2022 • Ohio Stadium • Columbus, OH