Oftentimes, Ohio State players and coaches talk about how some of their best matchups in college come in practice when they face off against each other.
Outsiders typically can't view those sessions in the spring and fall, so we're pitting them against each other in a different way. In order to get a different perspective on the Buckeyes, we're ranking the strength of each position group, comparing the 2019, 2020 and 2021 seasons.
Of course, we actually watched what happened last year, while we have to project what Ohio State will offer both this year and the following year. But the idea is to better understand what to expect both in the immediacy and in the near future when stacking it up against the recent past.
Ultimately, will each position group be better last season, this season or next season? Let's investigate.
Quarterback
2020
2019
2021
This one's fairly straightforward. There shouldn't be any dispute that the quarterback position this year will be stronger than it was last season or will be the following year. Justin Fields is a second-year starter, and he'll be backed up by CJ Stroud, Jack Miller and Gunnar Hoak. Not only is the 2020 quarterback situation better than the last two years, but it's arguably the best in the nation. There's a drop-off between the 2019 and 2021 quarterback situations, though, largely due to the unknown that will be Stroud, Miller or Kyle McCord taking over as a first-time starter in a post-Fields era. The gap at quarterback between 2019 and 2021 will likely be larger than the gap between 2020 and 2019.
Running back
2019
2021
2020
Last season, J.K. Dobbins set Ohio State's single-season record for most rushing yards in a season with 2,003. Along with Master Teague adding nearly 800 yards, it'll be difficult for the Buckeyes to match what they offered in 2019. Choosing between the 2020 and 2021 situations for the runner-up spot is exceedingly difficult. This year, Tony Alford will get a full season out of Trey Sermon, but the status of Teague and Marcus Crowley has been put into question as they rehab lower-body injuries. Next year, though Sermon will be gone, Ohio State should add TreVeyon Henderson and Evan Pryor to a group that includes Teague, Crowley, Steele Chambers and Miyan Williams. The numerous options might give the 2021 running back room a higher ceiling than the 2020 group, earning it an edge.
Wide receiver
2021
2020
2019
Unlike at quarterback and running back, there's no clear answer about which wide receiver group will be the best. It's not as simple. Because of the talent among the underclassmen, however, we're putting the 2021 season's receivers at the top. Since Garrett Wilson will return as a junior to go along with at least six underclassmen who were once ranked as top-100 recruits, it gets the No. 1 ranking. That, though, is totally based on potential. It'll be up to Brian Hartline and the touted prospects to develop as quickly as they hope. Since the 2020 group features both Chris Olave and Wilson, we're giving it the edge over the 2019 wideouts. However, led by K.J. Hill and Olave, there's an argument to be made last year's receivers deserve to be higher. 
Tight end
2020
2019
2021
If we're only looking at starters, Jeremy Ruckert would have a strong case that as a senior in 2021, he deserves the top spot. However, Ohio State could be thin elsewhere at the position the year, which drops it below the 2019 and 2020 tight end groups, both of which have three upperclassmen to utilize. Since both Luke Farrell and Ruckert will be paired for a final season this fall, they deserve the No. 1 ranking. Jake Hausmann will be in the mix, too. But last year's group of Farrell, Ruckert, Hausmann and Rashod Berry was consistently solid, helping pave the way for Dobbins to crack 2,000 rushing yards and adding a few key receptions. The gap between 2020 and 2019 is small.
Offensive line
2020
2019
2021
When in doubt, you go with the offensive line that features a third-year starting left tackle (Thayer Munford), returning first-team All-American right guard (Wyatt Davis), Rimington Trophy candidate center (Josh Myers) and two first-year starters who were once five-star recruits (Harry Miller and Nicholas Petit-Frere, most likely). And I'm very much in doubt. The 2019 offensive front was one of the best unit's in the country, so it says a lot that what Ohio State has this fall could be even better. Greg Studrawa will have a tougher job in 2021 when Munford graduates, considering Davis and Myers could also leave for the NFL draft. There'll still be ample talent, but the 2021 line ranks behind what Ohio State had in 2019 and what it should put forth in 2020.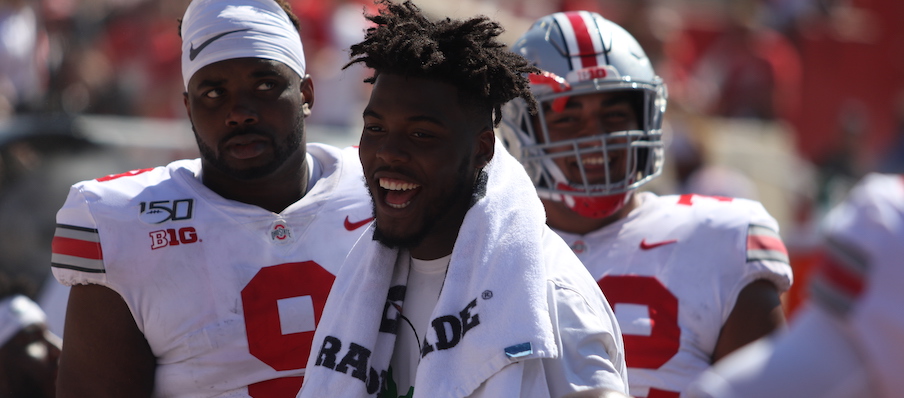 Defensive ends
2019
2021
2020
Only one of these three units had Chase Young putting together arguably the best defensive season in Ohio State history. Yes, the Buckeyes didn't have enough consistency across the line from him in 2019, but he's enough to get the No. 1 ranking. The 2021 defensive ends were a worthy second choice. They'll roll out Zach Harrison in his third year, along with Tyreke Smith, Javontae Jean-Baptiste, Tyler Friday and a few other talented underclassmen. Essentially, the Buckeyes will feature the same group of edge rushers they plan to have this season other than Jonathon Cooper.
Defensive tackles
2021
2019
2020
The ceiling of how Ohio State's defensive tackles impact games will be higher in 2021 than in either 2019 or 2020. Tommy Togiai and Taron Vincent will both be upperclassmen by that point, and they should be developing into high-round NFL draft selections. The depth won't be quite as strong as it was in 2019, which is why last year's group of DaVon Hamilton, Robert Landers, Togiai, Jashon Cornell and Haskell Garrett has a solid case for the top billing. But the potential is there for big seasons from Togiai and Vincent. This year's defensive tackles are a bit of a wild card since Togiai will be a first-year starter, Vincent's coming off an injury, Garrett needs to make a significant step forward and Antwuan Jackson hasn't played major snaps.
Linebackers
2020
2019
2021
I sat here staring at my laptop longer than usual to attempt to figure out how to rank the linebackers, and I'll be completely honest: I have no clue. Last year, Ohio State had a solid yet unspectacular unit that got its job done consistently as part of arguably the nation's best defense. This year, while Malik Harrison's gone, Al Washington will have a diverse set of options that includes seven upperclassmen. Next year, the Buckeyes will lose all three starters – Pete Werner, Tuf Borland and Baron Browning – to graduation, which will likely put Teradja Mitchell, Dallas Gant and K'Vaughan Pope in starting roles as seniors. The versatility of the linebackers in 2020, which should allow Washington to play each of them to their strengths, earns the No. 1 ranking. But this is the hardest position group to rank.
Cornerbacks
2019
2021
2020
The trio of Jeff Okudah, Shaun Wade and Damon Arnette in 2019 included three first-round NFL draft selections. While Kerry Coombs will do his best to develop the cornerbacks he inherited, it's unlikely that they reach what Ohio State had last season. Sevyn Banks and Cameron Brown are viewed as potential starters next season, and they'll likely be back the following year, which is why 2021 gets the bump over 2020. Tyreke Johnson will also be in the mix.
Safeties
2021
2019
2020
The way Ohio State runs its defense, with a single-high deep safety, this ranking essentially comes down to one player: the starter. Last year, Jordan Fuller manned the spot in his third year as a starting safety, serving as a steady stopgap at the back end of the defense. He rarely found himself out of position or unable to make an important tackle, yet he also wasn't a prolific playmaker. Josh Proctor, who's expected to be the starter in 2020 and 2021, is the complete opposite of Fuller. He's more of a risk-taker, which could both lead to both more turnovers and mistakes. That could lead to an up-and-down 2020 performance before a breakout 2021 season, which is what we're projecting.