The first question Ryan Day received from a reporter in his January press conference, the first time he spoke to the local media since Ohio State lost the Fiesta Bowl, didn't pertain to Clemson. It didn't center on the mental state of the team or wondering how the Buckeyes would move forward from the defeat.
It was about the defensive plans under Kerry Coombs.
The last time Coombs coached in Columbus, Ohio State utilized two deep safeties in a press man coverage-heavy defense. In 2019, however, Jeff Hafley and Greg Mattison typically lined up one deep safety, Jordan Fuller, with three cornerbacks – Jeff Okudah, Damon Arnette and Shaun Wade – on the field at all times. By hiring Coombs, Day was asked, will the Buckeyes primarily stick with a single-safety defense?
"Yeah, that's kind of our base," Day said in mid-January. "We definitely can get to a two-high look and we will. We're going to diversify a little bit more this year, but certainly we don't want to change our philosophy. We kind of built that this year. We thought we made some great strides there. Certainly not perfect. But we're going to keep the structure of what it is now, but we're going to diversify a little bit as we move forward."
As long as Ohio State runs a defense centered around a single-deep safety, the player at the back end will be arguably the most important on that side of the ball. 
In 2020, it'll likely be Josh Proctor.
Once a four-star defensive back out of Owasso, Oklahoma, Proctor has never started at the college level. He's never played more than 20 defensive snaps in a game. Had Ohio State stuck with a two-safety defense in 2019, he might have played a large role or ever started, but Fuller's presence plopped him onto the bench for all but 123 defensive snaps across 14 games.
Yet, he has already left one heck of an impression on his teammates. Ahead of last season, he garnered various comparisons to Malik Hooker, Jalen Ramsey and Ed Reed from Arnette, Wade and Okudah, respectively, that can only be described as unfair. Yet they also hint at some of the physical gifts and raw talent that he has showcased to his fellow defensive backs behind closed doors at practices.
"He's one of the most talented individuals you'll ever come across in my opinion, in a lot of people's opinion," Fuller said at the NFL combine.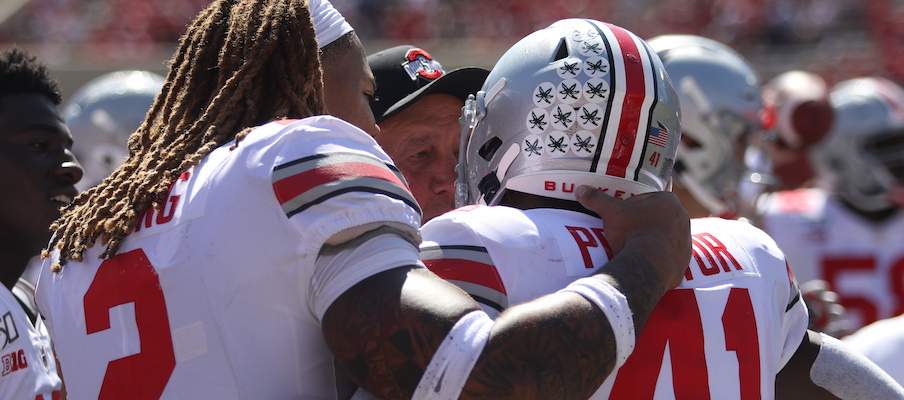 Interestingly, while he's expected to line up at the same position Fuller manned last season, he's a remarkably different player.
Fuller didn't wow anybody with his raw athleticism, rather impressing with his smarts and attention to detail. Hafley once called him "the eraser" of the defense due to his ability to make up for mistakes in front of him with his sure tackling ability. If anything, Fuller's lack of mistakes over his two and a half years as a starter stood out. No, he didn't force boatloads of turnovers, but he also didn't often get caught out of position or miss tackles at key moments.
Conversely, everything that's been said about Proctor the past couple of years is strikingly different. He's viewed as a turnover machine, having led the team in interceptions during the preseason last year. More than once, his ability to cross the field to pick passes off has led to people invoking Hooker's name. Proctor had one interception in 2019, though he got his hands on a couple of other passes and missed out on multiple other picks. Unlike Fuller, who's a safer option, Proctor's seen as a bit more of a risk-taker.
As a former top-100 overall recruit who stands 6-foot-2 and weighs 202 pounds, he's also extraordinarily athletic. Though he's not as consistent of a tackle as Fuller, Proctor can deliver a blow, which he showed by smashing Wisconsin quarterback Jack Coan on the final play of the Big Ten title game.
The last play of the 2019 Big Ten title game, then the ensuing celebration. pic.twitter.com/eNMiOF8O2L

— Colin Hass-Hill (@chasshill) December 8, 2019
"Just how big he is, how long he is but the speed and agility that comes with it and his competitive nature is off the charts," Fuller said. "Really can't say enough about him and this year especially, he's really focused a lot more on the playbook and I know that's gonna keep going in an upper trend so yeah, Josh Proctor, I expect big things and I know he expects big things out of himself too, so I'm really excited for him."
No one doubts Proctor's talent level. The numbers he eventually puts up at the NFL combine will surely top what Fuller did.
However, what made Fuller so proficient at the back end of Ohio State's defense also remains a question mark with Proctor.
The lasting memory of Proctor's performance against Clemson, when Hafley called on him as the second safety in some unexpected two-safety looks, is him diving at Trevor Lawrence's legs late in the second half during the quarterback's 67-yard touchdown run. No can say anything with 100 percent certainty, but based on how Fuller's season had gone, it's hard to imagine him missing the tackle that led to the longest run of the season allowed by Ohio State.
This fall, that's the type of tackle Proctor absolutely has to make.
If he's unable to do so, the Buckeyes would have to consider playing someone else as the sole deep safety – Marcus Hooker is another option at the position – or returning to a two-safety defense. Ohio State surely wants to get Proctor onto the field as often as possible. His turnover-hunting skills that his teammates have long hinted at seem to special to sit on the bench.
Yet in order to have the secondary humming, Coombs doesn't only need Proctor to act as a playmaker. He has to get the third-year safety to be an eraser, too, which is a combination that could make him the defense's most important player in 2020.