In the eight months between the end of one college football season and the start of another, it tends to be many of the same players who get hyped up over and over again.
By now, you've probably already read plenty of articles and heard plenty of chatter this offseason about Ohio State's established stars like Justin Fields and Shaun Wade and projected breakout stars like Zach Harrison and Garrett Wilson. Until the Buckeyes return to the field, there's only so much more that can be said about seasoned veterans like Wyatt Davis and Pete Werner, and even though they haven't played a college game yet, there's already been plenty of hype for the Buckeyes' top incoming freshmen like Paris Johnson Jr., Julian Fleming and C.J. Stroud.
Once the season actually begins, though, there will undoubtedly be some less heralded players who also end up playing significant roles for the Buckeyes. And given that Ohio State has only practiced three times this year due to COVID-19, the depth chart for the 2020 season remains wide open at many positions, leaving the door open for a multitude of under-the-radar Buckeyes to earn substantial playing time this fall if they perform well whenever they return to the field.
With that in mind, we take a look at one Buckeye (plus a few honorable mentions) at five position groups on offense and five position groups on defense who haven't done much yet in their Ohio State careers and aren't generating a ton of attention going into the 2020 season, but are among the sleeper candidates to emerge as contributors for the scarlet and gray this year.
QB: Gunnar Hoak
For obvious reasons, Ohio State would prefer that Hoak never has to take a meaningful snap in 2020. But although Fields never missed a game last season, there were a few injury scares – most notably at Michigan, where Chris Chugunov had to replace Fields mid-drive for seven plays before Fields came back into the game to throw a touchdown – and with Chugunov gone, Hoak is now the only other quarterback on the roster who has ever played in a collegiate game.
Outside of Fields, Stroud and Jack Miller have gotten most of the attention among Ohio State quarterbacks this offseason, as it's likely that one of them will be the Buckeyes' next starting quarterback after Fields. Given that both of them are true freshmen, though, Hoak's experience as a backup quarterback will be important in 2020. Stroud and Miller both offer more upside, and either of them could emerge as the No. 2 quarterback this year, but they still have to prove they're ready to play at the collegiate level. If they aren't by September, Hoak could be the next man up at least to begin the season.
RB: Steele Chambers
Chambers isn't as under-the-radar as he would have been before Master Teague got injured this spring, as that put the spotlight on him as Ohio State's only healthy scholarship running back at the time. But Chambers lost his chance to really take advantage of that opportunity when the Buckeyes' final 12 spring practices were canceled, and the spotlight quickly shifted to Trey Sermon when Sermon announced his transfer to Ohio State from Oklahoma.
Sermon will likely sit atop the Buckeyes' running back depth chart when they return to the practice field, and Teague and Marcus Crowley could potentially be ahead of Chambers in the running back pecking order too if they have recovered from their injuries. But Sermon has never practiced in an Ohio State uniform, and Teague (Achilles) and Crowley (ACL) are both coming back from serious injuries. Chambers still has a very real chance to earn a substantial role in Ohio State's running back rotation this season, and if he can do that, he could be a key contributor in the Buckeyes' offense for years to come.
Fifth-year senior Demario McCall is also a sleeper candidate to make an impact at running back this year, potentially in a situational capacity as a passing-down back, but he began the spring practicing at slot receiver.
WR: Jaylen Harris
With Olave and Wilson leading the group, Fleming and Jaxon Smith-Njigba coming in as five-star recruits and several other highly touted young receivers including Jameson Williams, Gee Scott Jr. and Mookie Cooper, it's easy to forget about Harris, who has caught just five passes in his first three years at Ohio State.
Yet with Wilson expected to move to slot receiver and Binjimen Victor and Austin Mack gone, the door is wide open for Harris to finally get on the field at X receiver. He's the biggest receiver on the roster at 6-foot-5 and 215 pounds and has been praised by his coaches for his emergence as a leader this offseason. As one of the most veteran receivers on the team, he's a real candidate to start at X receiver, and will at least get a shot to prove he finally belongs in the rotation this year.
Another wide receiver who would fit this category is Kamryn Babb, who appears to be finally healthy after missing his first two seasons at Ohio State with knee injuries. A top-100 recruit out of high school, Babb has the potential to explode onto the scene and make an impact for the Buckeyes in 2020 if he can return to his pre-injury form. Harris looks like the stronger bet to be in the rotation this year, though, simply because Babb remains a wild card from a health standpoint.
TE: Jake Hausmann
Unlike most of the players on this list, Hausmann actually saw fairly regular playing time last season – he played in all but one of the Buckeyes' 14 games – but his 235 total snaps in 2019 came quietly, as he caught just two passes for 13 yards with one touchdown.
While Hausmann arrived at Ohio State as one of the nation's top tight end recruits, his first four years with the Buckeyes have been forgettable, and he goes into his fifth-year senior season behind Luke Farrell and Jeremy Ruckert on the depth chart. That said, he should be in line for at least as much playing time as he had last year – offensive coordinator and tight ends coach Kevin Wilson likes deploying two-tight end sets – and though his upside as a pass-catcher in Ohio State's offense is limited at this point, he'll have the chance to earn at least semi-regular playing time this year and make an impact as a blocker.
OL: Matthew Jones
While Harry Miller looks like the frontrunner to be Ohio State's new starting left guard in 2020, Jones still has a chance to compete for that job. Offensive line coach Greg Studrawa said recently that Jones "opened my eyes a little bit" with his performance during winter workouts and the one week of spring practice that the Buckeyes did have, and he'll get his shot to try to beat out Miller in preseason camp. And even if Miller wins the job, Jones will likely be the first interior offensive lineman off the bench.
Because his first two years at Ohio State have gone without much fanfare or playing time, it's easy to forget that Jones – who has been at guard since last season – was the No. 1-ranked center in the recruiting class of 2018. But much like Wyatt Davis and Josh Myers last season, Jones has the talent to have a third-year breakout on the Buckeyes' interior offensive line if he gets a chance to play.
DE: Javontae Jean-Baptiste
While Chase Young was the clear-cut star of Ohio State's defensive ends last year, the Buckeyes' edge-rush production from that position is expected to be more by committee in 2020. Even so, Jean-Baptiste has been somewhat of an afterthought in the months leading up to the season, with Zach Harrison, Tyreke Smith, Jonathon Cooper and Tyler Friday expected to be Ohio State's top four at the position.
Perhaps he shouldn't be, though, considering that Jean-Baptiste was named by Ohio State's strength and conditioning staff as one of the team's most improved players after winter workouts. Jean-Baptiste didn't make a ton of plays last season, and his playing time decreased over the course of the year as a result, but he's very physically gifted at 6-foot-5 and 250 pounds and could be ready for a breakout now that he has a year of playing experience under his belt.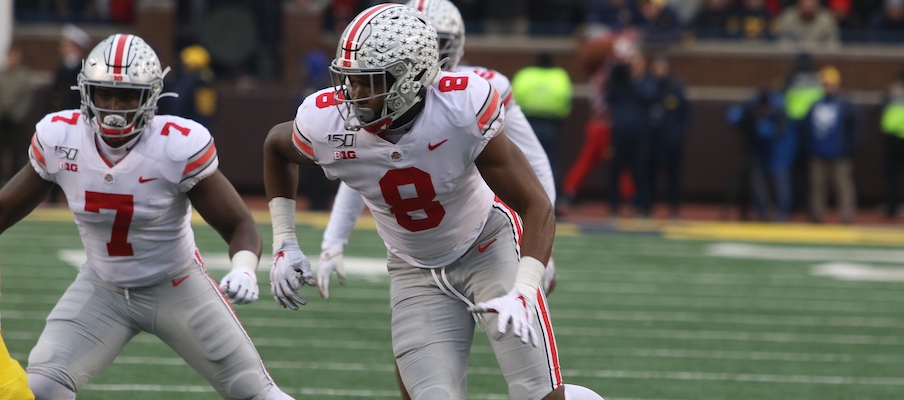 Second-year defensive end Noah Potter is another player who could potentially fit this category, but with the number of defensive ends still in front of him on the depth chart, his chance for a breakout season is probably more likely to come in 2021.
DT: Antwuan Jackson
Jackson, like some of the other players on this list, is a player who came to Ohio State with substantial hype – he was the No. 1 junior college recruit in the class of 2018 – but has faded into the background after a quiet start to his career. In his final season as a Buckeye, though, Jackson should have a big opportunity to remind Ohio State fans (some of who used to ask us beat writers for updates on Jackson as much as just about any other player) why he was once a player so coveted that Larry Johnson recruited him twice (out of high school and out of Blinn College).
Following the departures of DaVon Hamilton, Jashon Cornell and Robert Landers, Ohio State is suddenly a bit thin at defensive tackle, and Jackson has a big chance to finally become a significant factor in the rotation as a result. He likely projects as the No. 2 nose tackle behind Tommy Togiai, but he played snaps at both nose tackle and 3-technique last season, and that versatility could go a long way in ensuring he's on the field regularly in 2020. 
Hamilton and Cornell both emerged as NFL draft prospects with big improvement as fifth-year seniors last season, and it's feasible that Jackson could do the same if he can make a similar leap in 2020.
LB: Dallas Gant
Considering how similar their Ohio State careers have been to this point, this spot on the list really could have gone to any of the Buckeyes' third-year linebackers, including Gant, Teradja Mitchell and K'Vaughan Pope. Though they're not necessarily under the radar among Ohio State fans, they haven't yet had the chance to make names for themselves at the collegiate level, yet all three of them have the talent to potentially break through as impact players in 2020 if Al Washington finds a way to get them on the field.
Playing time aside, Mitchell has generated the most hype (and calls to play from Ohio State fans) among them by virtue of being the No. 44 overall recruit in the class of 2018. Yet Gant, who began the spring practicing as the second-team middle linebacker behind Tuf Borland, is as well positioned as any of them to finally see regular playing time in 2020, given that Baron Browning – who rotated regularly with Borland for the past two seasons – has moved to outside linebacker.
Another player who warrants consideration for this spot as a potential breakout player in 2020 is second-year linebacker Craig Young, who made enough of an impression on his coaches last year that Ohio State opted to burn his redshirt, but with seven upperclassman linebackers on the roster, it's likely he'll have to wait his turn for a bigger role until 2021.
CB: Marcus Williamson
Like several other players on this list, Williamson is entering his senior year at Ohio State and does so without having done much to make a name for himself yet in his Buckeye career. As a result, he hasn't been talked about a ton this offseason even with Ohio State needing to replace three starters in the secondary.
That said, Williamson might well be the frontrunner to start at slot cornerback in 2020, and he's certainly at least in the mix. With Wade moving outside, the Buckeyes have a big hole to fill inside, and Williamson – who was with the first team at that spot to begin spring – will likely get the first chance to seize that position whenever practices resume this summer.
Sevyn Banks, Cameron Brown and Tyreke Johnson have all been talked about more as potential breakout cornerbacks, and it's entirely possible Ohio State could move any of them inside to the slot to get them on the field. But Williamson might be the most natural fit in the slot among the Buckeyes' veteran DBs, and he'll certainly be motivated to earn that job with only one year of eligibility remaining.
S: Marcus Hooker
Few players in Ohio State history have ever made such a dramatic leap from unknown young player to national superstar in just one year as Malik Hooker did for the Buckeyes in 2016. Four years later, his younger brother Marcus will try to make a similar breakthrough.
Despite his impressive lineage, Marcus Hooker enters the 2020 season with far less hype than fellow third-year safety Josh Proctor, who's expected to succeed Jordan Fuller as the Buckeyes' starting deep safety. That said, Ohio State defensive coordinator Kerry Coombs has named the younger Hooker as a defensive back who he expects to play a significant role this season; it's unclear what exactly that role will be yet, but Hooker came on strong enough during the latter portion of the 2019 season to believe that's not just lip service.
Second-year safeties Ronnie Hickman and Bryson Shaw could also be sleepers to emerge as role players in 2020, but at a position where the Buckeyes typically only had one player on the field in 2019, Hooker is the one to watch behind Proctor that could start to make his own name for himself this fall.