In an alternate universe, Ohio State would be less than a week from finishing spring practices. Fans would be gearing up to see their team play its spring game in Ohio Stadium on Saturday.
Instead, the football team hasn't practiced in a month. 
Concerns about the coronavirus led to the Big Ten cancelling spring practices across the conference, including those in Columbus. The continually spreading virus has had a profound impact across the world, with effects being felt by just about everybody.
Since they've impacted the sports world, let's take a look at the players most affected by spring practices getting canceled.
Quarterbacks CJ Stroud and Jack Miller
The headline is a lie. There are more than 10 players on this list.
The reason why? Some of the freshmen didn't get a chance to separate from each other.
This spring would have been the first opportunity for both Stroud and Miller to go through practices with Ryan Day and Corey Dennis, and it also would've given them a chance to finally compete against each other. Justin Fields, back for his second season as a starter, certainly would have benefited from a full slate of spring practices. But the two quarterbacks most harmed by the cancellation are Stroud and Miller, the four-star freshman signal-callers who both enrolled early to try to get a jump on the battle to replace Fields in 2021.
Running back Steele Chambers
Part of Day and Tony Alford had to feel grateful for spring practices getting canceled. Nothing else traumatic could happen to their running backs.
Master Teague suffered a torn Achilles tendon on the first practice of spring. Marcus Crowley already wasn't practicing as he recovered from an injury. Miyan Williams won't enroll until the summer. Steele Chambers, before spring practices wrapped up, was the only remaining healthy running back.
The former four-star athlete from Georgia had a prime opportunity to showcase his skillset in his first-ever spring, after joining the team last summer then redshirting as a freshman. Rather than getting that chance, though, Chambers' spring stint with the first-team offense got cut short. The next time he takes the field with the Buckeyes, he'll have to compete with Oklahoma transfer Trey Sermon, along with whichever other running backs get healthy.
Wide receivers Julian Fleming, Jaxon Smith-Njigba, Gee Scott Jr., Mookie Cooper
By enrolling early, all four freshman wide receivers indicated they hope to play as freshmen, and they shined as a group in their first-ever practice together. Unfortunately for them, that was one of their only opportunities before having to head home.
Fleming, Smith-Njigba, Scott and Cooper will each have shots to grab spots in Brian Hartline's wideout rotation in August. All four were ranked as top-100 overall recruits, and both Fleming and Smith-Njigba were five-star prospects.
But since their next time working as a unit will come closer to the season, it could be harder to climb the depth chart.
Wide receiver Jaylen Harris
During the first – and only – week of spring practices, Harris ran with the first-team offense. He had the unenviable task of holding off a cast of fast-charging underclassmen hoping to overtake him. Since spring practices got cut short, though, they never jumped him on the depth chart. Whether or not that would've happened, no one truly knows.
But now, Harris will likely begin preseason camp as a first-team wide receiver with less time for someone to leap him. Though the senior only has five career catches, he'll probably enter August still running with the starters in practice.
Tight end Cade Stover
Though he enrolled at Ohio State less than a year ago, Stover has now played three positions and on both sides of the ball.
He began his college career last summer at linebacker, shifted to defensive end in mid-November then ended up at tight end during winter workouts. This spring was supposed to be when he settled into a position. That, of course, didn't happen. Instead, Kevin Wilson will have to wait until preseason camp begins in August to fully evaluate Stover at his latest position.
Ultimately, the latest bump in Stover's search for a full-time spot might not matter. But it's important for players to settle into a position as early as possible, and he had a chance to do so in March and April. However, he'll have to wait a few more months, at a bare minimum, to determine whether this will be his spot.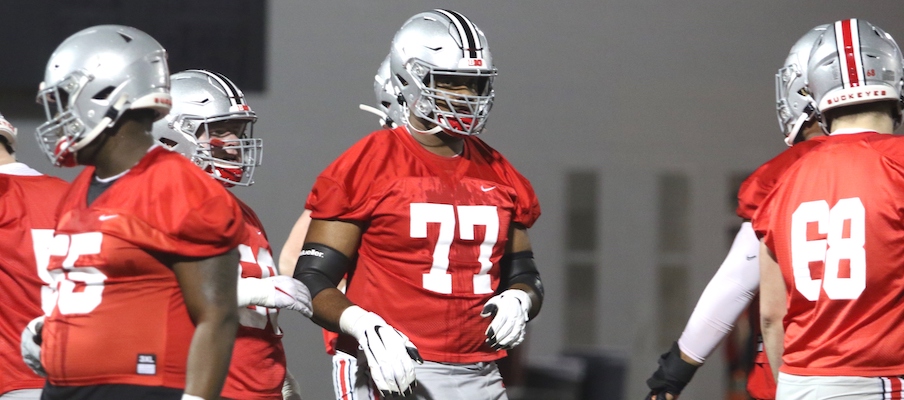 Offensive tackle Paris Johnson
It would be foolish to count Johnson out. He entered the program in January as the No. 9 overall prospect and the top-rated offensive line recruit. But without a full spring, his odds of overtaking Nicholas Petit-Frere and winning the starting right tackle job take a hit.
In December, Johnson told Eleven Warriors that he wants to own a starting spot by the time preseason camp concluded. That's still possible. When spring practices began, he was already splitting first-team right tackle reps with Petit-Frere, signaling that Greg Studrawa would give him a fair shot.
But while trying to be the first freshman offensive tackle to start at Ohio State since Orlando Pace, he already had a steep uphill climb that only got steeper.
Left guard Harry Miller
Last spring, Miller was successfully wrapping up his campaign to become Buford High School's valedictorian. This spring, he was supposed to wrap up his campaign to replace Jonah Jackson as Ohio State's starting left guard. Through no fault of his own, Miller couldn't make it happen.
Spring practices ended due to concerns about the coronavirus before he could even fully make his case to start.
The odds are in favor of the second-year Georgia native lining up between Thayer Munford and Josh Myers when the season opens in September. But he'll have until August, at the earliest, to secure a starting spot. Matthew Jones and Gavin Cupp will try to wrestle it from him.
Defensive Tackle Taron Vincent
For the first half of the 2019 season, Vincent looked as though he had a bionic arm. A torn labrum in his right shoulder necessitated preseason surgery that kept him out the entire year.
He was supposed to get back to the field this spring, but that didn't fully happen. The one-time five-star defensive tackle opened practices as a partial participant, deemed "limited" on the official status report. At some point in March or April, Vincent was expected to return to action. Spring practice got canceled before that became a reality.
Vincent's next chance to practice at full-go will come nearly a year-and-a-half since he last did so. Since he's expected to have a role in Larry Johnson's defensive tackle rotation and might even start, he certainly could've used the spring.
Cornerback Marcus Williamson
Similarly to Harris' situation, Williamson is a senior who hasn't played as much as some of the younger cornerbacks whom he started ahead of when spring practices began. 
Since he began as the first-team slot corner and didn't get overtaken, he'll likely also start preseason camp with the starters. Will he remain there? It's hard to know. Kerry Coombs could move either Cameron Brown or Sevyn Banks inside. But at least in part because spring ended prematurely, there's a good chance Williamson will open August as the starting slot.
Safety Josh Proctor
Really, the entire secondary was harmed more than any other position group due to the cancellation of spring practices. But Proctor might have felt it more than most.
He's expected to step up as the starting safety to replace Jordan Fuller this fall, yet he wasn't full-go when the spring opened, meaning he didn't get much out of the limited practice time. If he had a full spring, he would've played a heck of a lot of snaps both under Coombs and with the first-teamers. He'll now have to wait until August to do so.