You made it.
On Monday, Ohio State football – sort of – returns. The Ryan Day-led Buckeyes open spring practice at the Woody Hayes Athletic Center with the regular season a little more than six months away.
With Ohio State back on the practice field, we're running through the 76 scholarship players currently on the roster (not including freshmen who will enroll this summer) to give a thought or two on where they stand entering the spring. Let's begin with No. 1 Justin Fields and take this all the way through No. 97 Noah Potter.
No. 1 Justin Fields, QB: Last season, he was a Heisman Trophy finalist who took his team to the College Football Playoff. In 2020, he wants to win the Heisman Trophy and a national championship. Hovering over the entire season? A potential rematch with Clemson and Trevor Lawrence.
No. 2 Chris Olave, WR: People not located in Ohio might mostly remember Olave from the late-game interception that sealed the Fiesta Bowl's result. By the end of 2020, he wants those same folks to view him as the nation's best wide receiver.
No. 3 Teradja Mitchell, LB: The third-year linebacker, who has the team's most entertaining Twitter personality of a father, should find himself in line for a step up in responsibility. However, the return of Tuf Borland and Baron Browning might mean he has to wait another year to start. He could change that with a strong month-and-a-half of spring practices. 
No. 3 Demario McCall, WR: Back and forth, back and forth. McCall has yet to find a position, and now in his fifth year he only has one more opportunity to make it work. He was recently pictured with the wide receivers, so it appears likely that he'll get another shot at H-back. With K.J. Hill gone, there's an opening, and it's up to him to make something happen.
No. 4 Lejond Cavazos, CB: He's fast as hell, and his name prescribes success. Most freshmen, though, make most of their impact on special teams, which is where Cavazos might spend most of his freshman season.
No. 4 Julian Fleming, WR: No expectation is too high for the top-rated wide receiver prospect to sign with Ohio State in the modern recruiting era. And with so much turnover at wideout, Fleming has a chance to earn a rotation spot as a freshman.
No. 5 Garrett Wilson, WR: At multiple points in the fall, coaches mentioned they want to see more out of Wilson in practice. Now a projected starter, it's time for the acrobatic sophomore to take a step forward in that area. Even with the infusion of talent, he might still be the most naturally gifted wide receiver on the team.
No. 5 Baron Browning, LB: The 6-foot-3, 240-pound physical marvel might get a chance to replace Malik Harrison as the starting weakside linebacker. His pass-rushing prowess shouldn't be overlooked, though. It would behoove the defensive staff to get creative in order to send him after quarterbacks more often.
No. 6 Jameson Williams, WR: The burner from St. Louis might be the fastest player in the next wave of wideouts at Ohio State. That could make him a big-play, downfield threat for Fields, provided he wins a spot in the rotation.
No. 6 Taron Vincent, DT: It was a big deal when Vincent, a five-star recruit, picked Ohio State. After a year spent recovering from a torn labrum in his shoulder, all eyes will be on him as a possible breakout candidate. He'll first have to get through the offseason healthy.
No. 7 C.J. Stroud, QB: By picking Ohio State, Stroud essentially told the world he wasn't scared of a quarterback battle. Jack Miller did the same when he stuck with the Buckeyes. Stroud, who nearly became a five-star prospect during his late rise, needs to get bigger and stronger, but he already has an impressive arm.
No. 7 Sevyn Banks, CB: All became right in the world when Banks switched jersey numbers from 12 to 7. Sevyn is Seven. And now Sevyn might be a first-time starter. He has a chance to win a job in a depleted secondary. 
No. 7 Kamryn Babb, WR: Since his sophomore year of high school, Babb has had four season-ending leg injuries. Just unfair. But he's healthy now, and he was once a higher-rated wideout recruit than Jameson Williams, Chris Olave and Mookie Cooper. Don't forget about him.
No. 8 Javontae Jean-Baptiste, DE: A physical freak with a frame that Mickey Marotti has compared to former New York Giants pass-rusher Justin Tuck, Jean-Baptiste has the foundation of a stud defensive end. In his third season, he'll aim for more than the 1.5 sacks he managed last year.
No. 9 Jack Miller III, QB: When Miller committed, he might've anticipated he'd be the only quarterback in his class. That, of course, changed with the addition of Stroud. Miller's recruiting ranking then fell over the past year due to injuries while Stroud's rose. Because of that, Miller has become somewhat of an underdog to those outside of the program as the backup quarterback competition begins. He was, though, a top-50 overall prospect when he initially committed, which speaks to his potential.
No. 9 Zach Harrison, DE: Chase Young had 10.5 sacks in his sophomore season. That number might be a target for Harrison, who has similarly freakish athleticism as Young. Expectations couldn't be much higher for Harrison, yet he's the type of ceilingless talent that necessitates them.
No. 10 Mookie Cooper, WR: There might not be anybody on the roster looking forward to spring ball more than Cooper, who had to sit out his senior year of high school due to a transfer. He's about to get thrown into the fire, too, since Ohio State has a wide open depth chart at slot receiver.
No. 11 Tyreke Smith, DE: A popular breakout pick at this point a year ago, Smith's sophomore campaign was marred by injuries. Now healthy, he again has people believing this might be the year he turns into Larry Johnson's next stud pass-rusher.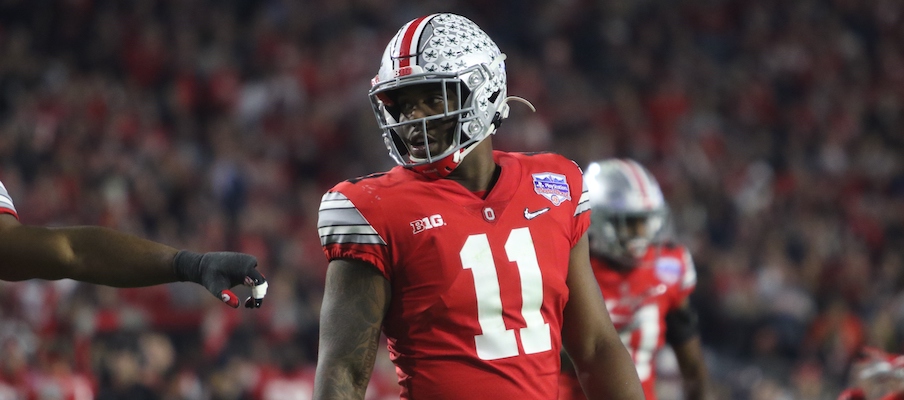 No. 11 Jaxon Smith-Njigba, WR: Smith-Njigba's 104-catch, 2,094-yard, 35-touchdown senior season turned him into a five-star prospect. Brian Hartline did a heck of a job to get him out of Rockwall, Texas, and now he'll see this spring if Smith-Njigba might be the replacement for K.J. Hill in the slot.
No. 12 Gunnar Hoak, QB: Ryan Day tried to sell the world on a Fields-Hoak competition last summer, and then Hoak was the third-string quarterback. Since the coaches have to figure out what they have in Stroud and Miller, he might be an underdog to win the 2020 backup job.
No. 13 Tyreke Johnson, CB: Two years ago, Johnson entered Ohio State as a five-star defensive back. Since then, he's played 59 defensive snaps in two years. A possibly intriguing position for him? Slot cornerback. He's about the same size and from the same high school as Shaun Wade, who had success there.
No. 13 Gee Scott Jr., WR: Marotti compared Scott's frame to that of Austin Mack. He's also a similarly engaging personality with a professional approach not frequently seen from a freshman.
No. 15 Josh Proctor, S: Proctor's teammates compared him to Malik Hooker, Jalen Ramsey and Ed Reed before last season. Those expectations were, uh, just a bit too high. His ceiling remains sky-high, though. The starting safety job will be his to lose.
No. 15 Jaylen Harris, WR: It feels as though Harris only just arrived at Ohio State, yet he's already in his fourth year. The 6-foot-5, 215-pounder has the size of an impact wideout who could replace Binjimen Victor at X receiver, but he has five career catches, and the Buckeyes brought in a star-studded group of freshmen. Harris has the tough task of having to hold them off to earn a spot in the rotation.
No. 16 Cade Stover, TE: He's gone from linebacker to defensive end to now tight end, and Stover hasn't even gone through his first spring practices as a Buckeye yet. Having enrolled less than a year ago, his position movement shouldn't concern anyone. But by the end of the spring, it'll be important that Stover finds a position at which Ohio State thinks he'll thrive in the long term.
No. 16 Ryan Watts, CB: He doesn't have overwhelming speed, having clocked a 4.59-second 40-yard dash at an Opening regional in 2019. But at 6-foot-3, he's the tallest cornerback on Ohio State's roster. That length gives Coombs a frame to work with.
No. 18 Jonathon Cooper, DE: He couldn't have expected this outcome at this point a year ago, but injuries led Cooper to return for a fifth season at Ohio State. Since he played hurt in 2019 and only had 2.5 sacks the year before, he might go somewhat under-the-radar. But he's still trying to have the breakout year some eventually expected when he signed a near-five-star prospect.
No. 19 Dallas Gant, LB: Mitchell had a higher recruiting ranking, and K'Vaughan Pope grabbed a pair of interceptions last year. But Gant – the other third-year linebacker – shouldn't be forgotten. He played more snaps than either of them in 2019. On almost any other team, he'd be a projected starter. Ohio State's depth at linebacker might limit him in 2020, though.
No. 20 Pete Werner, LB: In his second season as a starter, Werner simultaneously killed and became the bullet. The coaching staff loves him, which is why he played the second-most snaps among all linebackers in 2019. He'll be the favorite to play the most in 2020.
No. 21 Marcus Williamson, CB: So far, Williamson has had a remarkably quiet career. Yet as the senior heads into his final spring practices, he's reunited with the coach who recruited him – Kerry Coombs – and is staring at a wide-open defensive backfield depth chart. 
No. 22 Steele Chambers, RB: Sometimes overlooked, Chambers has a prime opportunity ahead of him. Going through spring camp for the first time at Ohio State, he's one of a few options as Tony Alford figures out how to replace J.K. Dobbins.
No. 23 Marcus Hooker, S: Somebody named Hooker laying claim to a starting safety spot in his third year? Yeah, that story's been told before. Marcus will try to follow in Malik's footsteps this offseason.
No. 24 Shaun Wade, CB: Imagine this team's secondary situation had Wade decided to leave for the NFL. Oof. That would've been rough. Moving to outside cornerback, he's the cornerstone around which Kerry Coombs can build everything else in the defensive backfield.
No. 24 Marcus Crowley, RB: His freshman season ended prematurely with a leg injury in November, then he was seen at a basketball game in January with a sling on his left arm. A month ago, Mickey Marotti said he wasn't sure of Crowley's status for spring practices. We'll find out on Monday.
No. 26 Jaelen Gill, WR: Ohio State preferred to use multi-tight end sets rather than use Gill as a backup H-back to K.J. Hill last year. In 2020, Gill needs to make a significant leap to have a shot to replace Hill as the starter. He's in the spotlight now.
No. 26 Cameron Brown, CB: Physical gifts have never been an issue for Brown, who says he clocked a 4.3-second 40-yard dash last year. The converted wide receiver began to show his coverage skills last season, and he'll now have to translate his progress under Jeff Hafley to the Kerry Coombs era. Ohio State needs everything it can get from him.
No. 28 Ronnie Hickman, S: Life hasn't exactly been fair to Hickman. The New Jersey native tore his ACL as a senior in high school; committed to Greg Schiano, who left Ohio State soon after Hickman signed; then last season, while rehabbing from his injury, didn't get to play a snap for Jeff Hafley, who left for Boston College. Finally, as the Kerry Coombs era commences, he's expected to be healthy.
No. 29 Kourt Williams, S: Is he a safety? Is he a linebacker? Is he a bullet? Does the bullet even exist? Nobody seems to have a definitive answer to those questions right now.
No. 32 Tuf Borland, LB: Because nobody outside of the program sees what he does behind the scenes on a day-to-day basis, it's easy to breeze past Borland's leadership. But he's about to join J.T. Barrett as Ohio State's second-ever three-time team captain. That has to mean something.
No. 33 Master Teague III, RB: The odds-on favorite to replace J.K. Dobbins had 135 carries for 789 yards and four touchdowns last year. However, he averaged 2.1 yards per rush in the season's final four games. Was that a mirage or a concern? One way or another, we'll find out in 2020.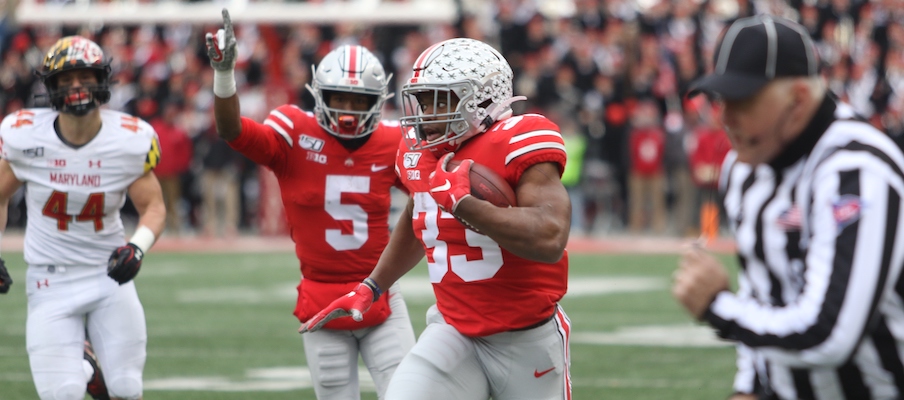 No. 36 K'Vaughan Pope, LB: If his quality of play can reach the quality of his beard, Pope will be in business. He snagged a pair of interceptions last season as a sophomore, but the presence of four senior linebackers could cap his snap count.
No. 37 Craig Young, LB: Ohio State's decision not to redshirt Young might lend a bit of insight into its belief in Young, a superb athlete. It's not exactly optimal for him, though, that seven upperclassmen – including two returning starters – return at linebacker. He could end up spending most of his time on special teams again as a sophomore.
No. 38 Bryson Shaw, S: If Ohio State plans to continue playing one safety at a time going forward, the position's about to get overcrowded quickly. The former Maryland lacrosse commit in his second year at Ohio State finds himself in the midst of a jumble of safeties.
No. 41 Tommy Eichenberg, LB: Some forget, but Eichenberg was Ohio State's first commit after Urban Meyer announced his retirement. The St. Ignatius graduate remains a potential future starter at middle linebacker. Seven upperclassmen at linebacker will limit his playing time in 2020, though.
No. 47 Justin Hilliard, LB: Now in his sixth year, Hilliard has everybody rooting for him. Injuries robbed him of the collegiate career he anticipated. Undeterred, though, he sought one more year of eligibility from the NCAA and got it. Long removed from being a five-star recruit out of Cincinnati St. Xavier, he'll do whatever he can to contribute in 2020.
No. 52 Antwuan Jackson, DT: From Auburn to junior college to Columbus, Jackson has taken the long way yet he has finally arrived in his fifth-year senior season at Ohio State. Along with Tommy Togiai, Jackson's well-positioned to be part of the rotation at nose tackle. 
No. 52 Wyatt Davis, OG: He might have been the best guard in college football a year ago, and he'll make his case again in 2020. Enjoy Davis now, because soon enough he'll begin what's sure to be a lengthy NFL career.
No. 54 Tyler Friday, DE: After playing eight games in his first two seasons, Tyquan Lewis broke out in Year 3 with eight sacks. Why does that matter? Friday earned the nickname "Baby Tyquan" as a recruit due to a body frame reminiscent of Lewis. He might be in line for a third-year step up in production, too.
No. 55 Matthew Jones, OG: Has any once-top-ranked recruit at a position flown as under-the-radar as Jones? He rarely gets discussed, yet he was the top-rated center prospect in the class of 2018. He's probably a future starter for the Buckeyes.
No. 55 Jerron Cage, DT: Three defensive tackles graduated, but the returns of Vincent and Haskell Garrett could still limit Cage's playing time as a redshirt junior. Gaining some ground this spring will be important.
No. 58 Luke Wypler, OL: Like most freshmen at his position, Wypler will likely redshirt in 2020. As the second-ranked center in his class, he adds to Ohio State's remarkable interior offensive line depth that should keep Greg Studrawa's unit humming for years ahead.
No. 59 Darrion Henry-Young, DL: Both before and since enrolling, Henry-Young has been effusive in his belief that he'll end up at defensive end despite being projected by some as a defensive tackle. He'll have to show Larry Johnson that's his best long-term position this spring.
No. 61 Gavin Cupp, OG: Already in contention for best beard on the team, Cupp will now contend to start at left guard. After spending the first four years of his career as a backup, the Leipsic graduate – and one-time Michigan State decommit – has one final chance to win a starting job.
No. 66 Enokk Vimahi, OG: Nobody who redshirted last season has as interesting a story as Vimahi. The Hawaiian has gained more than 40 pounds since joining the team in June, put off his initial plans of taking an LDS Church mission until after college and will now find himself in the starting left guard competition. 
No. 68 Ryan Jacoby, OG: The Mentor native spent his first year at Ohio State in the weight room, adding 20 pounds. Ohio State isn't hurting for depth or top-line talent on the interior of its offensive line, so Jacoby remains a bit down the depth chart.
No. 69 Trey Leroux, OT: Even though he enrolled last month, Leroux has no shortage of doubters. The 6-foot-7, 335-pound freshman lineman from Norwalk was the No. 1,136 overall recruit in his class. His journey to prove his detractors wrong has already begun.
No. 71 Josh Myers, C: At one point in his life, he dreamed of just playing for Ohio State. Now having started at Ohio State for a season, he can look at a bigger goal that feels just as attainable: Winning the Rimington Trophy.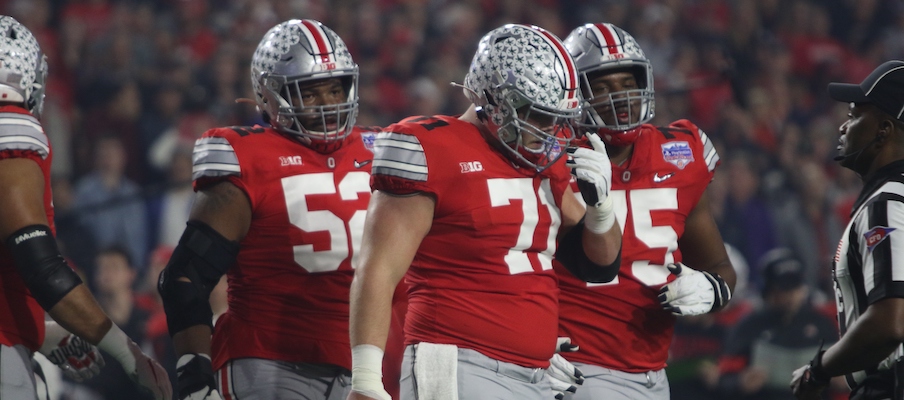 No. 72 Tommy Togiai, DT: The strength staff had Togiai stop bench pressing 225 pounds after repping the weight 36 times last year since he didn't have anything to gain by trying to increase that mark. With that in mind, he might do alright as Ohio State's starting 1-technique in the fall.
No. 74 Max Wray, OT: A top-150 overall recruit in 2018, Wray's still looking to play his first snap as an offensive lineman in an Ohio State uniform. His younger brother Jake, also at one point an Ohio State commit, is about to go through his first-ever spring practices at Colorado.
No. 75 Thayer Munford, OT: When he's healthy, Munford's one of the nation's best left tackles. Unfortunately for both him and Ohio State, he's had trouble staying healthy each of the past two seasons. Munford's back for a third – and final – year as the Buckeyes' starting left tackle. He's blocked for a Heisman finalist in both seasons as a starter.
No. 76 Harry Miller, OL: He eschewed an opportunity to enroll early last January so he could become the valedictorian at Georgia's Buford High School. That decision didn't slow down his development one bit. Going through spring practices for the first time, he now has a chance to win the starting left guard job. 
No. 77 Paris Johnson Jr., OT: He hasn't been shy about his goals of becoming a Freshman All-American, All-American, national champion, first-round pick and NFL draft entrant after three years. Yet that doesn't keep Johnson from being an underdog in the competition to start at right tackle in 2020.
No. 78 Nicholas Petit-Frere, OT: It's go time for Petit-Frere, who was once the top-ranked offensive lineman in his recruiting class. He got over the 300-pound hump with an 8,000-calorie diet, was the backup at right tackle last season after losing a preseason competition with Branden Bowen and is now in line to start at right tackle – provided he has a strong spring camp.
No. 79 Dawand Jones, OT: Meet Big Thanos. Or Triple D. Or Big Greasy. Or Big Diesel. Or you can just call him an under-the-radar candidate to start at right tackle. Ohio State deciding to not redshirt him as a freshman last season tells you everything you need to know about what the coaches think of his potential and how soon he can impact games.
No. 80 C.J. Saunders, WR: Will his waiver get approved? If the NCAA allows him to, Saunders will join Hilliard as the team's second sixth-year senior. He'd also likely become a second-time team captain and another option to replace K.J. Hill's production in the slot. 
No. 81 Jake Hausmann, TE: The third of three veteran tight ends, Hausmann's entering his final year as a Buckeye. A fifth-year senior from Archbishop Moeller in Cincinnati, he's currently behind Luke Farrell and Jeremy Ruckert on the depth chart.
No. 83 Cormontae Hamilton, DL: It would've been interesting to see how Kevin Wilson planned to use Hamilton as a tight end/fullback, but he was recently pictured with the defensive line. We'll learn where to expect him on Saturdays in the fall when spring practice opens on Monday. He didn't play a snap as a freshman in 2019.
No. 87 Ellijah Gardiner, WR: It's now or never for the Texan who has one reception in three years. It's been a quiet few years from him on the field, and with four top-100 freshmen pushing for early roles at wideout, Gardiner has to prove he deserves a job this spring. 
No. 88 Jeremy Ruckert, TE: No, this isn't the year Ohio State goes wild with passes to tight ends. Thanks for asking. But it would be a misuse of resources to not get Ruckert more involved in the passing game in 2020. He had 14 catches for 142 yards with four touchdowns last season.
No. 89 Luke Farrell, TE: Farrell does his job well. He does his job quietly. He does his job consistently. Block. Block. Block. Block. Catch a pass. Block. Block. Catch a pass. Block. Block. Block. He's everything Ohio State asks for in a tight end.
No. 90 Jaden McKenzie, DT: Ohio State's a little thin at defensive tackle after losing three fifth-year seniors from last season, giving McKenzie a shot to earn a role after playing only 11 snaps as a freshman.
No. 91 Drue Chrisman, P: Columbus gets one more year of Chrisman's punts and bottle flipping. The one-time top-ranked punter recruit has developed into one of the top collegiate punters. He broke a bottle-flipping record off the field already this offseason. No word yet about what on-field record he has his eyes on.
No. 92 Haskell Garrett, DT: The non-Tate Martell 2017 graduate of Las Vegas' Bishop Gorman High School has reached his last year at Ohio State, and he might become a first-year starter. To do so, the team's most experienced defensive tackle has to hold off Vincent at the 3-technique position.
No. 93 Jacolbe Cowan, DL: He joins McKenzie as the next North Carolinian on Larry Johnson's assembly line of defensive linemen. Defensive end? Defensive tackle? He and Henry-Young will figure that out this spring. It's his preference – and expectation – to remain on the edge.
No. 95 Blake Haubeil, K: Haubeil wasn't around the first time Kerry Coombs was in Columbus. As a kicker, he'd better watch out. 
No. 97 Noah Potter, DE: For the first time since 2012, nobody wearing this number had a sack last season. In his second year as a Buckeye, Potter will try to start a new streak in 2020. He first has to make his way up a congested depth chart.