The 2019 college football season is now officially over, and teams throughout the country – including Ohio State, which began winter conditioning workouts this week – have started their preparations for 2020.
Ohio State's 2020 recruiting class is nearly, if not already, complete – the Buckeyes signed 24 new players in December, 14 of whom have already arrived as early enrollees, and aren't expected to sign more than one or two more players in February – and its potential professionals have made their NFL draft decisions, with Chase Young, Jeff Okudah and J.K. Dobbins opting to leave early but all other draft-eligible players choosing to stay in school for another year. 
With that in mind, it's time for us to take a comprehensive look at how Ohio State's 2020 roster currently stacks up at every position.
The Buckeyes are currently over the 85-man scholarship limit – counting unsigned commitment Cameron Martinez, they'd be at 87 scholarships for 2020, even without counting C.J. Saunders (who applied to the NCAA for a sixth year of eligibility but isn't guaranteed to be back next season) and grayshirting kicker Jake Seibert – which means they're anticipating a few transfers between now and the fall. By and large, though, we know what Ohio State's roster will look like this fall, save for any surprise signings in February or incoming transfers this offseason.
Below, we take a look at which scholarship players Ohio State has returning and newly arriving for 2020, as well as how many snaps they've played as Buckeyes, and assess the experience and depth that they will have at each position going into this fall.
(Note: The snap totals are based on Eleven Warriors' snap count data for Ohio State, which dates back only to 2017, and therefore do not include how many snaps Jonathon Cooper, Justin Hilliard and Demario McCall played in 2016, nor do they include snaps that transfers played at their previous schools.)
Quarterbacks (4)
Returning Players: Justin Fields (917 career snaps at Ohio State), Gunnar Hoak (48)
Newcomers: Jack Miller, CJ Stroud
Ohio State has a returning starting quarterback for the first time in three years, and for that matter, one of the best quarterbacks in all of college football. While there was uncertainty surrounding Fields as he entered last season as a first-time starter, he'll enter 2020 as the face of the Buckeyes and one of two frontrunners – along with Clemson quarterback Trevor Lawrence – for the Heisman Trophy.
The Buckeyes don't have much experience behind him, as Hoak appeared in only five games last season as Ohio State's third-string quarterback, but Stroud and Miller – both four-star recruits – are major additions that will significantly increase the talent behind Fields in the quarterback room and set them up for their future after Fields, which will likely begin in 2021.
Ohio State is now back to four scholarship quarterbacks, which Ryan Day considers to be the optimal number. Hoak should also be more ready to play as needed now that he will have the opportunity to go through a full offseason with the Buckeyes after arriving as a graduate transfer last summer.
Running Backs (5)
Returning Players: Master Teague III (294), Demario McCall (189*), Marcus Crowley (36), Steele Chambers (33)
Newcomers: Miyan Williams
After J.K. Dobbins took the lion's share of snaps in the backfield in 2019, running back is now the least experienced position on Ohio State's offense going into 2020. Master Teague played in all but one game this past season, but he's never started a game for the Buckeyes, and now he's in line to be their lead ballcarrier next season.
The Buckeyes will likely take a committee approach at running back in 2020 rather than leaning as heavily on Teague as they did Dobbins, but the other running backs behind him are also unproven. Crowley and Chambers are both candidates for second-year breakouts, but neither has seen regular playing time at Ohio State yet, while Williams will likely need some time to develop after he arrives this summer.
McCall, who has bounced back-and-forth between running back and H-back as a Buckeye, could end up in either position group in 2020 but theoretically could offer the most value as a complement to Teague in the RB rotation.
Wide Receivers (11)
Returning Players: Chris Olave (676), Garrett Wilson (450), Jaylen Harris (178), Jameson Williams (151), Jaelen Gill (78), Ellijah Gardiner (25), Kamryn Babb
Newcomers: Mookie Cooper, Julian Fleming, Gee Scott Jr., Jaxon Smith-Njigba
Ohio State's receiving corps won't be nearly as experienced in 2020 as it was for each of the past two seasons, when the Buckeyes were led by a trio of seniors who were returning members of the rotation, but they'll have plenty of talented playmakers to work with.
Olave, the Buckeyes' leading receiver in 2019, and Wilson, who had 30 catches for 432 yards and five touchdowns as a true freshman, give the Buckeyes two returning stars to lead their receiver rotation. Williams, who played the most snaps among receivers that weren't in the regular rotation last season, is a strong candidate for increased playing time, while Harris, Gill, Gardiner and Babb (who has missed both of his first two seasons at Ohio State due to knee injuries) are all third- or fourth-year receivers who will be looking to finally earn their way into the rotation this spring.
They'll face heavy competition for playing time, though, from Fleming, Smith-Njigba, Scott and Cooper, all of whom are top-100 overall prospects in the recruiting class of 2020 and already on campus as early enrollees, giving them legitimate opportunities to vie for spots in the Buckeyes' receiver two-deep during spring practices.
Tight Ends (5)
Returning Players: Luke Farrell (1,206), Jeremy Ruckert (533), Jake Hausmann (255), Cormontae Hamilton
Newcomers: Joe Royer
Of the four tight ends who saw regular playing time for the Buckeyes in 2019, three of them are back for 2020, including the two who played the most this past season in Farrell and Ruckert. Given that, it's likely that Ohio State will continue to feature a healthy dose of multi-tight end packages within its offense next season, with Farrell starting for a third year but Ruckert also rotating in for substantial playing time and Hausmann seeing a share of snaps, as well.
Hamilton didn't play at all as a true freshman after missing time with an ankle injury, but the departure of Rashod Berry could open the door for him to earn some snaps as a role player in 2020, while Royer will add depth for the upcoming season when he arrives this summer.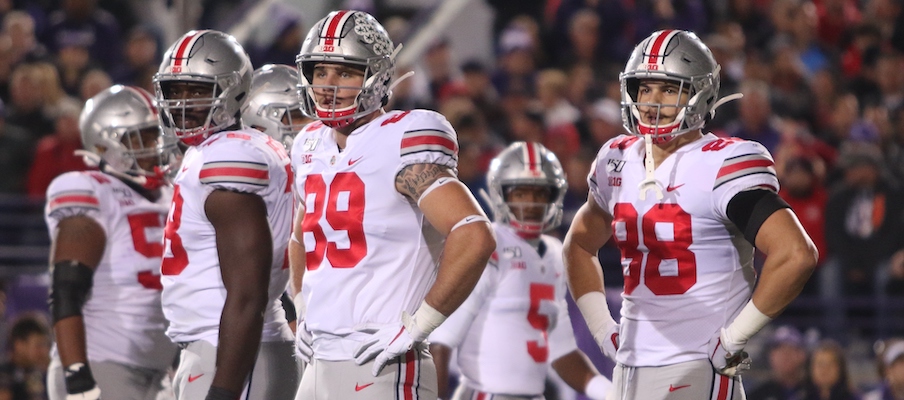 Offensive Linemen (17)
Returning Players: Thayer Munford (1,922), Wyatt Davis (1,164), Josh Myers (997), Nicholas Petit-Frere (312), Gavin Cupp (221), Harry Miller (181), Matthew Jones (114), Dawand Jones (90), Enokk Vimahi (62), Ryan Jacoby, Max Wray
Newcomers: Josh Fryar, Jakob James, Paris Johnson Jr., Trey Leroux, Grant Toutant, Luke Wypler
The Buckeyes' 2020 offensive line got a huge boost when Munford, Myers and Davis all decided to return for another year instead of entering the NFL draft, giving Ohio State an excellent trio of experienced starters at left tackle, center and right guard.
Petit-Frere and Miller, who played the most snaps among non-starting offensive linemen this past season and were both five-star prospects in their respective recruiting classes, are the presumed frontrunners to join the three returning starters in the lineup next year, with Petit-Frere in line at right tackle and Miller a candidate to fill the vacancy at left guard.
Cupp, Matthew Jones and Vimahi are also all potential candidates to compete for the left guard job or provide depth at guard, while Dawand Jones could also be in the mix at right tackle after playing more than expected – forgoing a redshirt – as a true freshman.
Among the new freshmen, Johnson (at tackle) and Wypler (center) are the strongest candidates to compete for spots on the two-deep in their first year at Ohio State. Fryar, James, Leroux and Toutant are less likely to significant playing time as true freshmen, but with 17 scholarship offensive linemen currently on their roster, the Buckeyes go into 2020 with the strongest depth up front that they've had in years.
Defensive Ends (10)
Returning Players: Jonathon Cooper (925*), Tyreke Smith (426), Tyler Friday (305), Zach Harrison (284), Javontae Jean-Baptiste (201), Noah Potter (37), Cade Stover (35)
Newcomers: Jacolbe Cowan, Ty Hamilton, Darrion Henry-Young
While the Buckeyes lose superstar defensive end Chase Young, they return all but one of their other scholarship defensive ends from last season, including Cooper, whose decision to redshirt this past season gives Ohio State a huge boost of experience and senior leadership at the position for 2020.
Smith and Friday are also in line to be veteran leaders of the defensive end rotation entering their third seasons at Ohio State, while Harrison already played the second-most snaps among Ohio State defensive ends as a true freshman and will be in line for an even bigger role in 2020 now that he has a year at the collegiate level under his belt. 
Jean-Baptiste, who saw playing time in all but the final game of this past season, should also have a role in the rotation. Potter and Stover, who are now redshirt freshmen, are also likely to be more ready for increased playing time in 2020.
Cowan, Hamilton and Henry-Young are all versatile defensive linemen who could potentially play outside or inside for the Buckeyes. It's likely that at least one of them will end up at defensive tackle for at least this season, as Ohio State currently has a much deeper roster at end than tackle, but each of them primarily view themselves as ends and expect to at least get a shot to start their careers on the edge.
(Note: This article was edited to reflect Wednesday's news that Alex Williams has entered the transfer portal.)
Defensive Tackles (6)
Returning Players: Haskell Garrett (406), Tommy Togiai (364), Antwuan Jackson (225), Jerron Cage (105), Taron Vincent (98), Jaden McKenzie (11)
Ohio State loses its three most experienced defensive tackle from 2019 – Jashon Cornell, DaVon Hamilton and Robert Landers – who were all fifth-year seniors, leaving the Buckeyes somewhat unproven at defensive tackle, though they still have several players at the position who have seen their share of regular playing time.
Garrett has mixed into the defensive tackle rotation for each of the past three years at the 3-technique position, while Togiai has rotated in at nose tackle for the past two seasons. Jackson gained valuable experience lining up at both spots this past season, while Cage also saw occasional playing time in 2019. 
At a position where Larry Johnson likes to rotate at least two or three players at both spots, depth is a concern as the Buckeyes currently have only six scholarship players who are sure-fire defensive tackles. They don't have any established stars at the position either, as none of their returning defensive tackles have ever started a collegiate game.
Togiai and Vincent, who missed the entire 2019 season with a torn labrum in his shoulder, are potential breakout stars as third-year players for the Buckeyes. Garrett, Jackson and Cage are all upperclassmen, so Ohio State will have a veteran presence in the defensive tackle room. Their back-end depth at the position, where McKenzie played in only two games this past season and is the Buckeyes' only second-year scholarship player, is a real question though.
Linebackers (13)
Returning Players: Pete Werner (1,463), Tuf Borland (1,336), Baron Browning (752), Jahsen Wint (267), Justin Hilliard (245*), Dallas Gant (126), Teradja Mitchell (101), K'Vaughan Pope (79), Craig Young (15), Tommy Eichenberg (5)
Newcomers: Mitchell Melton, Cody Simon, Kourt Williams
A position that had been one of Ohio State's biggest question marks entering the past couple seasons is suddenly one of the Buckeyes' strongest and deepest positions going into 2020. Werner and Borland, who have both already been starters at Ohio State for the past two seasons, are the second- and third-most experienced players on the entire team (behind Munford), while Browning has also seen substantial playing time over the past two years and could potentially slide over to weakside linebacker to replace Malik Harrison and start alongside them as a senior.
Hilliard adds more experience to the group after seeing regular playing time in four-linebacker packages this past season and receiving a sixth year of eligibility from the NCAA. Wint, who saw substantial playing time at safety in 2018 before moving to bullet this past season, is another player who adds experienced depth in the linebacker room entering his fifth year at Ohio State. 
Gant, Mitchell and Pope, meanwhile, are a talented trio of juniors who have been blocked on the depth chart for the first two years of their Ohio State careers, but have flashed in limited playing time and should be ready to play bigger roles in the rotation as needed in 2020.
Young and Eichenberg, who both played mostly on special teams as true freshmen, and incoming freshmen Melton, Simon and Williams (who could also end up at safety) give Ohio State a strong stable of young linebackers who will probably be blocked on the depth chart this year but will prepare to become the Buckeyes' next wave at the position behind their eight upperclassmen.
Cornerbacks (8)
Returning Players: Shaun Wade (1,042), Amir Riep (285), Cameron Brown (278), Marcus Williamson (205), Sevyn Banks (170), Tyreke Johnson (59)
Newcomers: Lejond Cavazos, Ryan Watts
Ohio State's secondary received an enormous boost earlier this month when Wade announced his decision to stay at Ohio State for another year, giving the Buckeyes a returning star at cornerback with two years of substantial playing experience under his belt. After starting at slot cornerback this past season, Wade is expected to move to outside cornerback in 2020, filling one of the spots vacated by the departures of Jeff Okudah and Damon Arnette.
Outside of Wade, however, experience at cornerback remains a significant question mark entering 2020, as none of the Buckeyes' other DBs have started more than one career game. Brown and Banks mixed in for some meaningful snaps at outside cornerback in 2019, while Riep filled in admirably at slot cornerback in two of the biggest games of the year (Michigan and Clemson), but the Buckeyes now need two of them – or Williamson or Johnson – to step up as full-time starters alongside Wade.
With only six returning scholarship cornerbacks and three starting cornerback positions in Ohio State's new defensive scheme, Cavazos and Watts will have a real opportunity to compete with the veterans for spots on the Buckeyes' two-deep depth chart this spring after arriving earlier this month as midyear enrollees.
Safeties (6)
Returning Players: Josh Proctor (126), Marcus Hooker (82), Bryson Shaw (6), Ronnie Hickman
Newcomers: Lathan Ransom, Cameron Martinez (unsigned)
We save the least experienced position on offense or defense for last, as the departure of three-year starter Jordan Fuller leaves Ohio State with barely more than 200 combined snaps of experience among its entire roster of safeties.
Proctor has star potential and is the frontrunner to replace Fuller in the lineup as the Buckeyes' single-high safety in 2020, but he had some noticeable mistakes in Ohio State's Fiesta Bowl loss to Clemson, the most prominent playing time of his career to date. Hooker is also a third-year Buckeye who mixed in for some snaps in two-safety packages this past season but is unproven as a potential starter.
The Buckeyes are currently slated to have only five or six safeties on their 2020 roster – depending on whether Martinez follows through with his commitment and signs in February – but with their new defense that has only one safety on the field for most plays, that's really all they need. And with Shaw and Hickman entering their redshirt freshman seasons and Ransom and possibly Martinez arriving this summer, Ohio State will have a quality group of young safeties looking to position themselves as the team's future on the back end of the defense.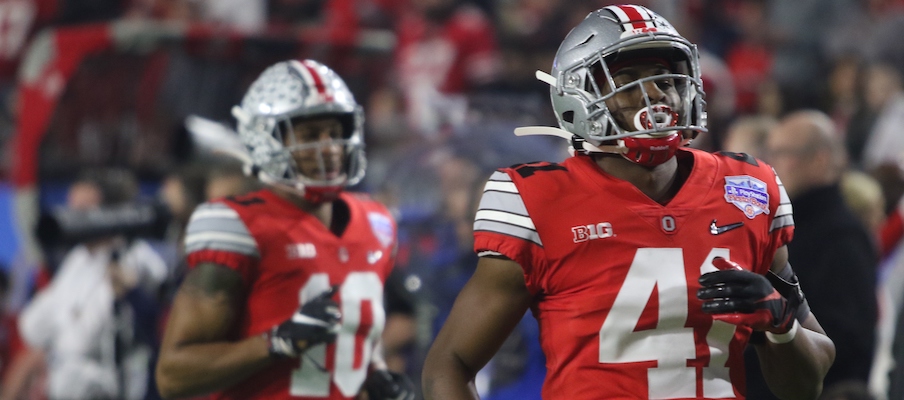 Specialists (3)
Returning Players: Blake Haubeil (kicker), Drue Chrisman (punter)
Newcomers: Jake Seibert (kicker)
Ohio State enters 2020 with reliable seniors it can trust at both kicker and punter, as Haubeil enters his third season as the Buckeyes' starting kicker while Chrisman enters his fourth year as the Buckeyes' starting punter. 
Seibert, who won't officially be on scholarship until 2021 but will nonetheless be with the team as a grayshirt in 2020, will be groomed over the next year to succeed Haubeil as the starting kicker as a redshirt freshman.
The Buckeyes do have to replace their long snapper from the past four seasons, Liam McCullough, who has exhausted his eligibility, and they don't currently have any long snappers on scholarship. They have multiple returning walk-ons who will compete for the job, though, including Liam's younger brother Roen McCullough and Michigan State transfer Bradley Robinson.