Brian Hartline has a lot to be smiling about.
Beginning one's college career is an exciting time. Playing a position of great need and arriving several months before your fellow signees? That has to be a great feeling for Ohio State's latest crop of pass-catchers.
Brian Hartline is currently listed as the top recruiter in the land according to 247 Sports, and that's wonderful news considering the attrition his wide receiver room is going through. K.J. Hill, Austin Mack, and Binjimen Victor's college careers all came to an end on Dec. 28. The trio accounted for over 1,500 yards and 19 touchdowns as seniors in 2019. 
This week's arrival of four heralded 2020 signees means that help is on the way for Justin Fields and the Ohio State passing attack. Chris Olave emerged as a true freshman late in 2018 and Garrett Wilson caught 30 passes and scored five touchdowns this past season. Olave, Wilson, and Jameson Williams will all be featured next year, but they're going to need some help.
Ryan Day and Brian Hartline have some big-time expectations for Julian Fleming, Jaxon Smith-Njigba, Gee Scott Jr., and Mookie Cooper. Each of the new Buckeyes brings a little something different to the table, and at least one or two of them should have the opportunity to shine in 2020.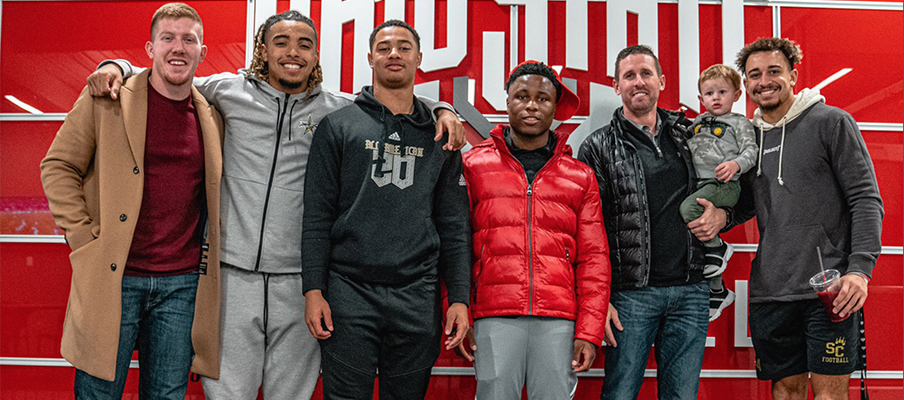 Julian Fleming • 6-foot-2, 200 pounds • Catawissa, PA • ★★★★★
From a physical standpoint, you just don't see many high school receivers that are as gifted as Julian Fleming. The country's No. 1 wideout has the speed to pull away from defenders, tremendous hands, and the ability to out-physical and out-leap corners and safeties. At The Opening Finals in July, he blazed a 4.45 forty time which was faster than the vast majority of his counterparts; including those much smaller in size. 
Fleming best projects as an outside wide receiver in college and has drawn comparisons to both Michael Thomas and Julio Jones (which obviously says a lot). If there's any reason for doubt in regards to early playing time, it likely stems from the offense his Southern Columbia team ran in high school. Due to their option-heavy approach, Fleming may take a bit of time to perfect the art of route running. He didn't have any problems at last week's Under Armour All-America Game, however.
Jaxon Smith-Njigba • 6-foot-1, 188 pounds, • Rockwall, Texas • ★★★★
Jaxon Smith-Njigba was the first wide receiver to commit for 2020, and he's seen his stock soar after a ridiculously productive senior season. Now checking in as the country's No. 5 wideout, the Texan is being considered for a fifth star following his 2,100-yard, 35-touchdown season against some of the country's top competition. Smith-Njigba was also lighting up the All-American Bowl practices before going down with an ankle injury. 
At 6-foot-1 and 188 pounds, he may be the most versatile of the new wideouts and could end up in a number of spots. Smith-Njigba is my personal pick to make the greatest impact in 2020, but there are still some things he can work on. A 4.59 forty is impressive but not a blazing time by any means. He's also going from being the clear-cut star for Rockwall High to being a true freshman at Ohio State, but that's something plenty of guys have to overcome.
Gee Scott Jr. • 6-foot-2.5, 207 pounds • Sammamish, WA • ★★★★
Gee Scott Jr. committed on Christmas Day of 2018, and he too has seen his stock rise after the Buckeyes got involved plenty early in the process. Much like Fleming, he's physically ready for the next level but may have a more polished game than his fellow early enrollee. Despite uncharacteristically dropping a few balls at the All-American game, Scott is another player who's been talked about as potentially earning a fifth star.
Another outside wide receiver, Scott Jr. doesn't have the explosion or top-end testing numbers but his hands and body control are some of the best in America. There aren't too many wide receivers who run in the 4.3 or even the 4.4 range. There also aren't many that are as physically gifted as Scott; at least not at this stage in their careers. 
Mookie Cooper • 5-foot-8.5, 193 pounds • Saint Louis, MO • ★★★★
One can simply look at Mookie Cooper's measurables and realize that he's a much different type of player than the rest of Hartline's new crew. He's also different than just about everything the Buckeyes have on the roster at the moment, and there's little doubt that Ryan Day will make great use of his talents. 
Teriyon (Mookie) Cooper is FAST FAST.

Keep your eyes out this season. @uheardof5 | @trinity_titans pic.twitter.com/NCcR47wXXW

— Hudl (@Hudl) June 13, 2019
Cooper is expected to operate out of the slot and could also even be used in the backfield from time to time. Out of the four early enrollees, he's probably the guy we've talked about the least. That has nothing to do with his talent and is almost entirely because he was forced to sit out his senior season due to Missouri's transfer rules.
This is a shifty and speedy prospect who ran a 4.49 forty even before his junior year began. Ohio State has welcomed some smaller slot/all-purpose type of players in the past, but Cooper is different from someone like Dontre Wilson or Demario McCall. He's much stronger and at 193 pounds has a more college-ready physique. He hasn't seen live action in a while, however, so that's one thing working against him as he looks for early playing time.
---
The utilization of all the early enrollees is going to be a fun item to follow throughout the spring and into the summer. The annual spring scrimmage is now set for April 11, and we'll get the chance to watch the young quarterbacks on display and the pass-catchers trying to make an early splash. 
Which wideout is your pick to make the greatest impact in 2020?