As Ohio State's spring semester gets underway this week, more than half of the Buckeyes' recruiting class of 2020 will already be on campus.
Of the 24 players who signed National Letters of Intent with Ohio State in December, 14 of them are beginning their time in Columbus this week as early enrollees, including two quarterbacks, four highly touted wide receivers, three offensive linemen, two defensive linemen and three additional defensive players.
The size of Ohio State's class of early enrollees is unprecedented – by comparison, the Buckeyes had seven midyear enrollees in 2019, and nine in both 2018 and 2017 – and there's no shortage of quality to match the quantity.
This year's January enrollees include 13 of the top 15 prospects in the Buckeyes' recruiting class of 2020, according to 247Sports' composite rankings, and by arriving on campus in time for winter conditioning workouts and spring practices, they'll all have an opportunity to make an early impression on their new coaches and improve their chances of seeing the field as freshmen.
"We'll be able to grow a bond and get a head start on things that not all teams have," offensive lineman Trey Leroux, one of the 14 midyear enrollees, told Eleven Warriors.
Altogether, they bring an immediate infusion of talent and depth to an Ohio State team that lost 17 scholarship seniors from this past season, as well as three early NFL draft entrants (Chase Young, Jeff Okudah and J.K. Dobbins).
Now that their first week as Ohio State student-athletes has arrived, we take a look at the 14 newest Buckeyes – grouped by their respective positions – and what they could bring to the scarlet and gray as early as this spring.
Two potential future starting quarterbacks
The battle to become Ohio State's next starting quarterback after Justin Fields will begin this spring, as the Buckeyes signed two quarterbacks in the class of 2020 – CJ Stroud and Jack Miller – who are both on campus as early enrollees.
It's rare for Ohio State to sign two quarterbacks in one recruiting class – the last time the Buckeyes did that was in 2015, with Joe Burrow and Torrance Gibson, and Gibson switched to wide receiver shortly after arriving in Columbus – but it was a necessity this year. The Buckeyes have only two returning scholarship quarterbacks from last season in Justin Fields and Gunnar Hoak, and both of them will be gone next season if Fields enters the 2021 NFL draft.
That makes this year crucial for Ryan Day to develop Miller and Stroud into quarterbacks who will be ready to potentially start in 2021, so it's a huge benefit that both of them are already on campus and able to participate in this year's spring practices. And because they are beginning their Ohio State careers simultaneously, Day and new quarterbacks coach Corey Dennis will be able to evaluate their development side-by-side throughout the next year, which should give them a stronger grasp on how their 2021 quarterback competition (which could also feature four-star 2021 commit Kyle McCord) could play out.
Presumably, the Buckeyes will also aim for both Stroud and Miller to be ready to take some snaps this fall – even if only on the back end of a few lopsided games – to get them some real in-game experience before either of them becomes the starter. Hoak will likely enter spring as the No. 2 quarterback on the depth chart, but Ohio State will have incentive to play Stroud and Miller because of their potential as future starters – while they could also offer more upside even this season if anything happens to Fields.
Four potential star wide receivers
Even though Ohio State is losing three of its top five wide receivers from this past season, the Buckeyes' 2020 receiver room will be as loaded with talent as ever, and the four newest additions to the room are a huge reason why.
Five-star recruit Julian Fleming and four-star recruits Jaxon Smith-Njigba, Gee Scott Jr. and Mookie Cooper all rank among the top 82 overall prospects in the class of 2020, per their composite rankings, and because they'll all be in Columbus for practices this spring, any one of them could realistically find their way into the rotation as freshmen.
Chris Olave and Garrett Wilson are in line to be two of Ohio State's starting receivers next season, but the rest of the depth chart will be open for competition, and the four January arrivals will look to follow in Wilson's footsteps – who was also an early enrollee last year – by earning a spot in the first-team rotation right away.
Fleming and Scott could both contend for a spot rotating with Wilson or Olave on the outside, while Smith-Njigba (who could also end up outside) and Cooper are both candidates to help fill the void left by K.J. Hill's departure at slot receiver. Jameson Williams, Jaelen Gill and Jaylen Harris are among the returning wide receivers who should also make serious pushes for spots in the rotation, but any one of those freshmen – especially Fleming and Smith-Njigba – could quickly prove too talented to keep off the field.
Ohio State's limited returning experience at wide receiver could be a bit worrisome going into this fall, but having all four new freshmen in Columbus this spring should go a long way in reducing that concern.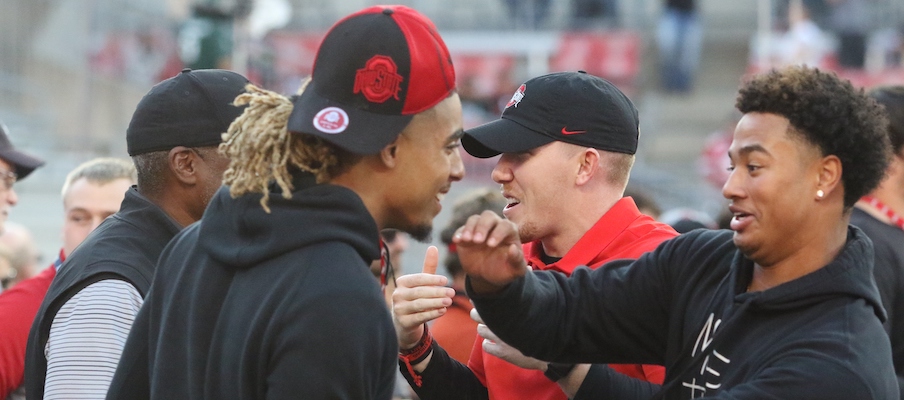 Paris Johnson headlines trio of offensive linemen
Ohio State has six total offensive line signees for the recruiting class of 2020, and half of those players are starting their Buckeye careers a semester early. Among the three midyear enrollees, at least two of them have a chance to potentially earn spots on the two-deep as true freshmen. 
Paris Johnson Jr., the No. 7 overall prospect in the class of 2020, is a sure-fire candidate to climb the depth chart quickly. As a true freshman, he'll most likely be a backup to either Thayer Munford at left tackle or Nicholas Petit-Frere at right tackle, but he's already built like a collegiate offensive lineman and a tremendously gifted athlete for his size, giving him real potential to play right away if needed.
Luke Wypler, the No. 2 center in the class of 2020, is also a candidate to compete for a spot on the two-deep this spring – especially if either Harry Miller or Josh Myers slides over to left guard to replace Jonah Jackson in the starting lineup. That would open up the backup center job, and Wypler would likely be the frontrunner to fill that role – just like Miller did last year, and Wypler will have a semester's head start.
Trey Leroux, the lowest-ranked prospect among the midyear enrollees, will likely need more time to develop before he's ready for significant playing time. Arriving on campus a semester early, though, enables him to get an early start on that development while adding depth this spring for an offensive line that lost four scholarship players from this past season (Jackson, Branden Bowen, Joshua Alabi, Kevin Woidke).
Two versatile defensive linemen
Jacolbe Cowan and Darrion Henry-Young are both listed as defensive tackles on their 247Sports profiles, but if you ask either one of them, they'll tell you they're coming to Ohio State to play defensive end.
Ultimately, where they end up along Larry Johnson's defensive line could depend upon where the Buckeyes need their contributions most, but what they both bring to Ohio State are combinations of size, strength and quickness that give them the versatility to line up both outside and inside. By arriving at Ohio State a semester early, they improve their chances of proving they belong in the rotation at one spot or another and getting on the field as true freshmen.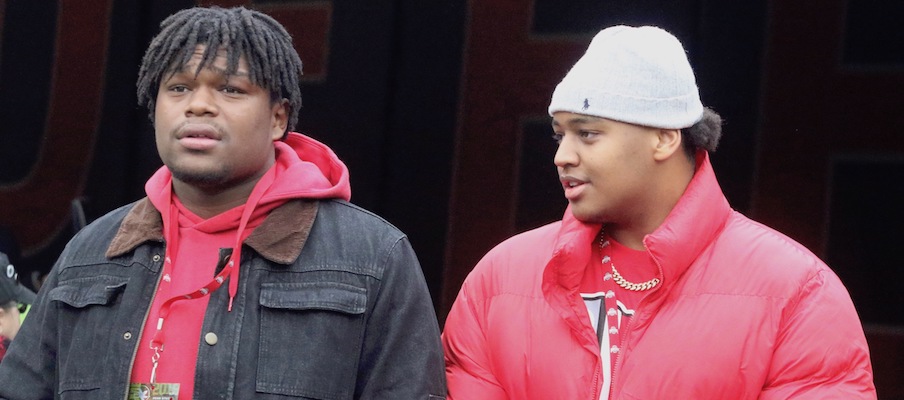 The two defensive linemen are similar in many ways – both of them measure in at 6-foot-5 and are in the same weight range (Cowan is listed as 262 pounds, while Henry-Young told Eleven Warriors he's down to 255), and they're separated by just five spots in the overall composite rankings – so they should come in with a similar chance of playing early, and how well they perform in spring practice will likely go a long way in determining how big their early roles will be.
Hypothetically, there could be a quicker path to the field at defensive tackle than defensive end – the Buckeyes lost three defensive tackles from their rotation this past season, while Chase Young is the only departing defensive end – but they both expect to get a chance to show what they can do on the edge, first, while working with Johnson to determine the best plan for their long-term development.
Two new cornerbacks and another possible DB
Ohio State was expecting to have three new cornerbacks on campus this week until Clark Phillips' flip to Utah during the early signing period, but the two cornerbacks who did end up signing with the Buckeyes last month – Lejond Cavazos and Ryan Watts – are both in Columbus and ready to begin their Buckeye careers, providing crucial reinforcements to a unit that has to replace two starters from this past season in Damon Arnette and Jeff Okudah.
Watts and Cavazos aren't likely to push for those open starting spots right away, but their arrival at Ohio State is important for fortifying the Buckeyes' depth at the position. Even with Shaun Wade's decision to stay at Ohio State for another year, the Buckeyes have only six returning scholarship players at cornerback – a position at which they start three players – so the two four-star prospects, who sit right next to each other (258th and 259th) in the composite rankings for the 2020 class, will have a chance to immediately compete for spots on the two-deep while being groomed to play bigger roles in future seasons.
Fellow early enrollee Kourt Williams could also potentially join Cavazos and Watts in the defensive backs room – or he could start his career in the linebacker corps. He's a versatile player who was listed as a safety in Ohio State's announcement of its December signees, but he also played linebacker in high school and was recruited as a "bullet," a position that remains difficult to pinpoint due to Brendon White's lack of snaps this past season, but one that appears to most closely align with the strongside linebacker position that Pete Werner plays.
"They still plan on using me at the bullet position, but if things change, then things change," Williams told Eleven Warriors at the All-American Bowl. "I'm gonna just roll with the punches, and I'm gonna keep working hard."
Day described Williams at his early signing period press conference as a player who "can do a lot of things" and who he expects to be a future Ohio State captain, so while Werner will likely play most of the snaps that a bullet would play again in 2020, Williams could certainly have a chance to earn a first-year role on special teams or in a situational defensive capacity with eight months on campus before the season starts.