The wait to see which draft-eligible players would declare for the 2020 NFL draft and which Buckeyes would stay in Columbus for another season could have been much more anxious for Ohio State and its fans.
Some of that uncomfortable suspense, though, was eliminated last week when Ohio State left tackle Thayer Munford, center Josh Myers and right guard Wyatt Davis all told reporters at Fiesta Bowl media day that they would stay with the Buckeyes for another year instead of leaving for the league.
Retaining that trio of offensive linemen, who all probably would have been drafted this year if they chose to go that route, was as important as any commitment Ryan Day and the Buckeyes could have received this offseason.
Ohio State's offensive line was one of the best in the country this season – the Buckeyes were named finalists for the Joe Moore Award, which honors college football's best offensive line – and Munford, Myers and Davis were all big reasons why.
Munford and Myers play arguably the two most important positions on the offensive line, while Davis was arguably the Buckeyes' most dominant blocker this past season. Now, the Buckeyes' three offensive line signees from the recruiting class of 2017 will be the undisputed leaders up front in 2020.
Unlike at this time last year, experience and leadership on the offensive line won't be a question mark entering next season. Munford, who was the only returning starter for the Buckeyes up front this past season, will be a third-year starter at left tackle in 2020. Any of the three could potentially be captains for the Buckeyes next season, as Myers and Davis both emerged as team leaders this past fall even though they were first-year starters.
All three of them have the potential to be even better in 2020.
Munford was sidelined for most of last offseason after undergoing back surgery, then suffered an ankle injury in the Buckeyes' sixth game of the season against Michigan State, which affected his play – most noticeably in pass protection – during the second half of the season. He's been an excellent player when healthy during his first two years in the starting lineup, though, and Ohio State will certainly be glad to have a veteran presence on Justin Fields' blind side for another year.
He's going to be motivated to finish his career on a high note, especially with the way the Buckeyes' season ended with a heartbreaking loss to Clemson in the Fiesta Bowl.
"Just know, just know, that it's going to be a different mindset," Munford said after the Fiesta Bowl. "It's going to be the same, kind of like this, what we had this past year, but it's going to be really different."
Love this team with all of my heart. Just know that we are coming back!!

— Thayer Munford (@TMunford75) December 29, 2019
Myers, who became Ohio State's first center since Jacoby Boren in 2014 to start at the position without previously starting at guard for the Buckeyes, immediately proved ready to handle the "apex" position on the Buckeyes' offensive line – as Urban Meyer used to call it – in his first year in the lineup. He was strong as a run blocker, steady as a pass protector and snapped the ball cleanly all season long.
That sets up Myers, if he can continue his improvement and become even more dominant in the middle, as a potential top candidate for the Rimington Trophy, which Ohio State's Pat Elflein in 2016 and Billy Price in 2017 both won as college football's best center.
Davis has already reached rare air in just one season in Ohio State's starting lineup, as he earned first-team All-American honors for the 2019 season. A five-star recruit out of high school, Davis' first season as a Buckeye lived up to the hype, as his ability to punch defenders off the line of scrimmage and open up lanes inside stood out even on an offensive line that excelled across the board in run blocking.
He can still be more consistent, though, and as he now sets his sights on following in Price's footsteps and becoming a two-time All-American, he still believes he's only scratching the surface of his potential.
"There's a lot of stuff here that I still haven't done yet, and I just personally feel like another year through (director of sports performance Mickey Marotti)'s training and going through everything in this program, that I would be a lot better prepared than I would be if I were to leave this year," Davis said.
Although the outcome isnt what we wanted it to be I cant say how thankful I am to be apart of the brotherhood we created! Thank you buckeye nation for your support! Ohio Against the World! pic.twitter.com/Gu4P7hgDEJ

— Wavy Dub (@wyattdavis53) December 29, 2019
Both Myers and Davis should benefit from having each other by their sides once again in 2020.
"It'll definitely help a lot," Davis said. "Now we got the game experience, and the only thing we can do next year is just enhance it."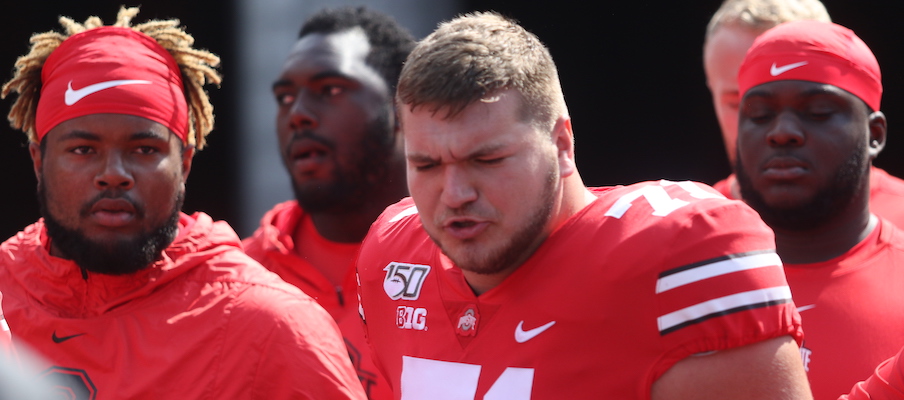 The annual excellence of Ohio State's offenses so far under Day – since he first joined the Buckeyes' staff as an offensive coordinator in 2017, they've ranked in the top 10 in both total offense and scoring offense every year – and the return of Fields at quarterback are perhaps the most obvious reasons to be optimistic about the Buckeyes' offense once again in 2020. 
There's no shortage of excitement surrounding the weapons Fields will be throwing to next year, headlined by Chris Olave and Garrett Wilson with a superb quartet of incoming freshmen set to join them. Elite offensive play, though, was a huge reason why the Buckeyes' offense was so successful this past season, and their play up front will perhaps be even more important next season now that they'll be replacing J.K. Dobbins at running back.
Ohio State will still have to replace two key pieces from this past season's offensive line, left guard Jonah Jackson and right tackle Branden Bowen, who were both seniors. But they have talent to feel good about being next in line to replace them.
Redshirt sophomore Nicholas Petit-Frere, a five-star recruit in the class of 2018, competed with Bowen for the starting job at right tackle before last season and has star potential of his own after two years of development. Other candidates to push for playing time at tackle include true sophomore Dawand Jones, who impressed his coaches enough that they opted not to redshirt him this season, and incoming freshman Paris Johnson Jr., another five-star recruit.
Left guard, like at this time last year, is the biggest question mark, but the Buckeyes aren't expected to seek a transfer this time around. Harry Miller, a five-star recruit in the class of 2019 who backed up Myers at center this past season, made a strong and immediate impression on his coaches and teammates as a true freshman and should be ready to compete for a starting spot this spring. Redshirt sophomore Matthew Jones and redshirt freshman Enokk Vimahi could also push Miller for the left guard job.
Regardless of who ends up starting at the other two spots, the veteran presences of Munford, Myers and Davis will provide stability to the offensive line in their return, and they should be able to use their experience and leadership to make the younger players around them. 
Because of that, and the talented prospects the Buckeyes have waiting in the wings, there's no reason to expect a big drop-off for Ohio State's offensive line next season. With Munford, Myers and Davis all back in the fold with another year of experience under their belts, the Buckeyes' offensive line could be even better – particularly in pass protection, where there is definite room for improvement.
With Fields, Olave, Wilson and many other talented players at the skill positions, Ohio State will have the potential to have an elite offense again in 2020, and that all starts with the returning talent it'll have up front.