The feeling last offseason, as Shaun Wade recalls, was that Ohio State had to return the defensive backfield to "Best In America" status. At some point after the 2018 season, with Damon Arnette having decided to stick around for a fifth season and Jeff Okudah also back for a third year, Wade remembers the three cornerbacks having a conversation about getting back to being viewed as the top secondary in the country.
"I thought we gave too many balls up, too many big balls, too many touchdowns," Wade said a week ago. "That wasn't us. So we had to get back to that repertoire."
Along with Jordan Fuller at safety, the Buckeyes got there. 
They turned into a scuffling secondary into one fully able to compete against the best passing offenses in the country, including Clemson's that has Trevor Lawrence, Tee Higgins and Justyn Ross. They allowed nine passing touchdowns and a completion rate of 50.9 percent while coming down with 15 interceptions. Opponents simply couldn't throw on them with any degree of consistency.
And now the four players and the secondary coach – new Boston College head coach Jeff Hafley – who spearheaded the return of "BIA" might be gone. 
Arnette and Fuller were seniors, and Okudah announced on Wednesday that he'll forgo his final year of eligibility, as expected, and leave for the NFL where he'll become a top-10 draft pick. Wade is the last hope for the team to return a starting defensive back. He'll make his decision of whether to remain at Ohio State for a fourth season or head to the NFL on Saturday during a ceremony in his hometown of Jacksonville.
Strictly Business "The Decision" YouTube lived streamed by Letterman's Row. Noon Est, January 4th, 2020. pic.twitter.com/nN4ue271PO

— Randy L Wade% f@Ly..... (@gslsff) December 31, 2019
Whether Wade leaves or not, whoever replaces Hafley as secondary coach will have the difficult task of figuring out how to replace a secondary that loses to many key, experienced pieces. As much deserved praise as Hafley received, it's undeniable that he walked into a situation set up to succeed given his inheritance of such talented returning starters. His replacement won't have such a luxury. The next wave of cornerbacks – Cameron Brown, Sevyn Banks, Tyreke Johnson, Amir Riep and Marcus Williamson – hasn't had an abundance of playing time, and nor have Josh Proctor and Marcus Hooker, the next-in-line safeties.
Given the situation, the possibility of Wade fortifying a soon-to-be depleted 2020 secondary has earned deserved attention. 
Wade spent most of his redshirt sophomore season as a nickelback, covering slot receivers as Arnette and Okudah covered wideouts on the outside. As seen during the time he missed in games against Michigan and Clemson, he was arguably the most important player in the defensive backfield as someone with athleticism to cover all types of wideouts from the slot, yet also the physicality at 6-foot-1 and 194 pounds to make a difference against the run. Even though Wade has said he prefers to play on the outside, he found success as a nickelback. The third-year cornerback had 25 tackles, four tackles for loss, two sacks, eight pass breakups and an interception in 2019.
Should he return, it's assumed that he'd move to the outside, replacing either Okudah or Arnette in the position he'd play in the NFL. But Wade might not need that draft stock boost of playing on the outside.
If he leaves, he could end up as a first-round draft pick in a few months, though that's not a guarantee. Wade has a decently wide pick margin. The Athletic's Dane Brugler has him going 21st overall to the Dallas Cowboys in a recent mock draft, though ESPN's Todd McShay does not have him in the first round of his mock draft. Bleacher Report's Matt Miller has him as the No. 34 overall prospect, and ESPN's Mel Kiper Jr. has him as the sixth-ranked cornerback, placing him outside of his big board of the 25 top draft prospects.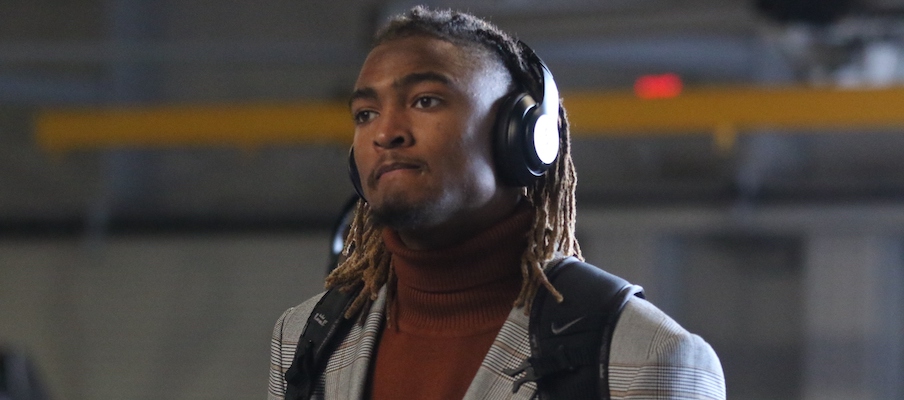 The pitch from Ohio State could be to return for a fourth year, play cornerback in his natural spot on the outside, increase his draft stock and become a pick in the first half of the first round. Players picked in the top 10 of last year's NFL draft got contracts worth at least $18 million, including bonuses of more than $10 million. Comparatively, Georgia cornerback Deandre Baker was picked 30th overall and received a $10.5 million contract with a $5.7 million bonus. 
But remaining in school, even with the chance to get picked higher in the 2021 draft, still means turning down the possibility of signing an eight-figure contract this spring. That's tough for anybody to do.
Ohio State, given the questions permeating the rest of the secondary, hopes he has given it some deep thought, though. 
Wade could offer a degree of stability to a defense that will have a first-year starting safety and either two or three first-year starting cornerbacks. Sure, the Buckeyes saw notable progress from Banks, Brown and Riep this season, and Proctor impressed throughout the fall enough to earn a significant role in the Fiesta Bowl. But none of them are former five-star prospects or sure-fire eventual first-rounders. There'll be some bumps along the way, especially with a new secondary coach, and with so much turnover, Ohio State's BIA status will once again hang in the balance.
On Saturday, the Buckeyes will learn whether Wade plans to stick around, which would quell some of the concern surrounding what'll be the most uncertain position group on Ohio State's defense this offseason.