Ohio State opens fall camp at 9:30 a.m. Friday. So before then, we're answering all of your questions about the football team. Let's go.
Who is J.K. Dobbins' backup running back game 1? Barring injuries, who is his backup game 12? — Txsbuckeye
Master Teague seemed to have the inside track this spring, so I'll give him the edge to start the season as Dobbins' backup, and he's also my pick to end 2019 as the backup running back.
Demario McCall is another option, but I'm not even completely sure whether he'll play running back or H-back – though my suspicion is he sticks at running back. Plus, McCall dealt with an undisclosed injury that held him out of the majority of spring practice. There's too much uncertainty there to project him as the No. 2 running back.
Marcus Crowley early enrolled and could be a factor, but Tony Alford seemed content to treat him with patience this spring. Steele Chambers will enter the mix in preseason camp, too. It would be surprising for him to win the backup job, though.
Shoulder stripes, CHH...what camp are in you in? — Hovenaut
I'm so out on the uniform debate that I told the indomitable Kevin Harrish to send me examples of both. It took me approximately 2.3 seconds to join Team Gray. 
Every single off season we hear two comments come from the Ohio State beat: (1) DeMario McCall is poised for a breakout year and (2) Ohio State is going to utilize the TE's more in the passing game. Of these two things that are going to happen every year but never do, what do you believe is most likely to actually happen and what is most likely to be just another thing to add to the 2020 off-season? — Flying-Banana
Increased tight end usage is the safer bet than a McCall breakout season.
As much as everybody wants to make the jokes, the Buckeyes legitimately have three tight ends that will press the coaches for playing time this season. Luke Farrell is a classic big-bodied tight end who won't burn defenses with his feet but has solid hands. Jeremy Ruckert has the athleticism to potentially play in the slot. Rashod Berry will primarily block, but his fourth-down catch to move the chains in overtime against Maryland showed he has some hands if the coaches go to him.
Don't get me wrong: nobody in this group will catch 50 passes. There won't be any major jump. But I expect a modest improvement in receptions due to Ruckert playing more snaps, a possible increase in two-tight end sets and improvement from Farrell.
McCall, conversely, remains a wild card. Is he healthy? What's his position? Is he big enough for running back? We're still asking the same questions that were relevant two years ago. Maybe he'll shine throughout preseason camp, but I want to see that happen before making any predictions about him.
On a related note: McCall might be my favorite player on the team to interview. He has an infectious personality. 
Any chance the QB lines up under center in short yardage situations? — GlassCityBuckeyes
We haven't heard much about the possibility of going under center since Ryan Day threw that possibility out months ago. So I wouldn't bank on it.
Is it possible Ohio State has a package or two under center? Sure. But I'd be surprised if they even used that look semi-frequently.
Championship or no championship for the 2019 Buckeyes? — Byaaaahhh
No national championship.
*ducks and runs*
We saw the trouble that Tuf Borland had at times at the MLB position, is there any chance that there is a true competition for that spot with him being a returning captain? — Magruder80 To piggyback a little: Is Borland healed completely (hopefully more than last year when he returned)? — Grand Lake Celina
Believe what Ryan Day has said: it's a competition. 
With that said, you obviously have to factor in Borland's 20 starts and season as a captain into the equation. Al Washington won't exactly be looking for excuses to bench him in favor of Teradja Mitchell or Baron Browning. However, the Buckeyes seem completely open to turning to either Mitchell or Browning if they prove to be the correct choice. They could split time or rotate situationally, too, if Washington doesn't want to fully hand over the job.
From what we know, Borland will enter preseason camp healthy. He would never say whether the Achilles injury hurt his production in 2018, but it's not particularly difficult to draw a line between the two.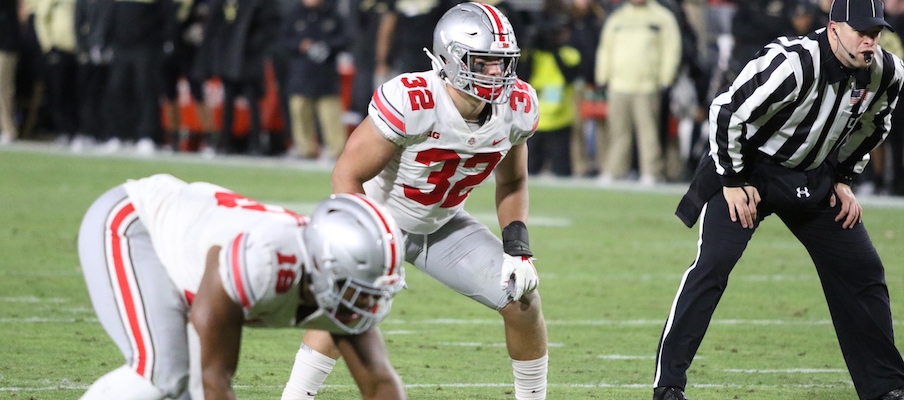 Who loses their black stripe first? — Keze
Both Garrett Wilson and Zach Harrison lost their black stripes in the spring, so the top two options are already off the board.
Among the incoming freshmen, I have my eyes on Noah Potter, Harry Miller, Ryan Jacoby, Marcus Crowley, Cade Stover and Jameson Williams as black stripe removal candidates. Among them, I'll go with Miller to get it off first. Greg Studrawa and Ryan Day both mentioned giving him an opportunity to win a starting spot as a true freshman. While that's unlikely, it shows the kind of faith they have in him. Of course, it doesn't hurt that he's also a five-star prospect.
Guess as to what Liam McCullough's t-shirt will look like this year, will his brother Roen continue the theme? — Grand Lake Celina
After this and this and this, I have a pretty good feeling we'll be seeing more of the same from Liam McCullough. But I wouldn't be opposed to him showing up with this photo on a shirt, either. 
As for his brother and fellow long snapper, freshman Roen McCullough? Who knows. I think we all hope Liam passes down the inception t-shirt to his younger brother next year, though.
To those looking forward to the riveting coverage of college football players walking into a hotel from a mishmosh of reporters taking subpar photos and videos, stay locked in to Twitter and this website between 5 and 7 p.m. on Monday. I'll be there along with Dan Hope and Taylor Lehman. 
What will the receiver rotation be like at the end of camp? I remember seeing that Mack had played some at the Z in spring, allowing him and Victor to be on the field together. Does that continue, or do they continue to rotate those two at the X, and allow more playing time for guys like Olave and Wilson? Additionally, does Gill or CJ end up getting more time behind KJ? — JTFor President2016
At Big Ten media days, Day said he hopes to have a wide receiver rotation of six or seven players, and I think he sticks to that. 
Here's what I think it'll look like exiting camp:
X receiver: Binjimen Victor, Garrett Wilson
Z receiver: Austin Mack, Chris Olave
H-back: K.J. Hill, Jaelen Gill
As you wrote in your question, Mack has played both Z and X since returning from his injury. Day said both he and Victor will likely start, meaning Mack probably starts at Z. I'm not sure that affects the playing time of Olave and Wilson, though. In a heavy rotation like Day and Brian Hartline hope to have, they can start someone and play somebody else more snaps.
At H-back, I think Gill finds a way to maneuver his way onto the depth chart behind Hill, earning more playing time than Saunders and, thus, becoming the sixth receiver in the rotation. 
Jaylen Harris, Saunders and Jameson Williams are the three most likely candidates to work their way into the rotation. 
Who is your pick to win the West division? Most overrated and underrated opponents on OSU's schedule this year? — Mastro16
With such a wide open Big Ten West, essentially every team but Illinois has a chance to claim the division title. I'm picking Iowa to advance to the conference title game.
Most overrated opponent? I don't think anybody is getting wildly talked up in a way I don't understand , but I'll go with Penn State. Most underrated opponent? Cincinnati. Just because Ohio State hasn't lost to the Bearcats since the 1800s doesn't mean they won't pose a threat. 
Rank these players in order of the number of meaningful, non-ST snaps during the season (that is, snaps before a game is out of hand): Teradja Mitchell, Baron Browning, Josh Proctor, Isaiah Pryor, Zach Harrison, Tyler Friday, Taron Vincent, Tommy Togiai, Garrett Wilson, C.J. Saunders, Jaelen Gill, Demario McCall, Jeremy Ruckert. — Minnbuck
Wow. Talk about a complicated question with tons of factors. I'll take a shot, though.
From most snaps to fewest snaps:
Teradja Mitchell
Garrett Wilson
Taron Vincent
Jaelen Gill
Baron Browning
Jeremy Ruckert
Josh Proctor
Tommy Togiai
Tyler Friday
Zach Harrison
C.J. Saunders
Isaiah Pryor
Demario McCall
My brain hurts trying to figure out that order. Here's a quick explanation.
I think Mitchell either starts or plays significant snaps in a rotation. Wilson, Vincent and Gill rotate. Browning plays multiple positions off the bench. Ruckert would be higher, but he's vying for playing time with two other veteran tight ends. Proctor finds his way onto the field somehow. Togiai rotates but plays limited snaps behind two fifth-year seniors. Friday plays backup defensive end. Harrison is eased into unit. Saunders plays behind Gill. Pryor is still fighting for backup snaps. McCall still has to find a position that will maximize his skills.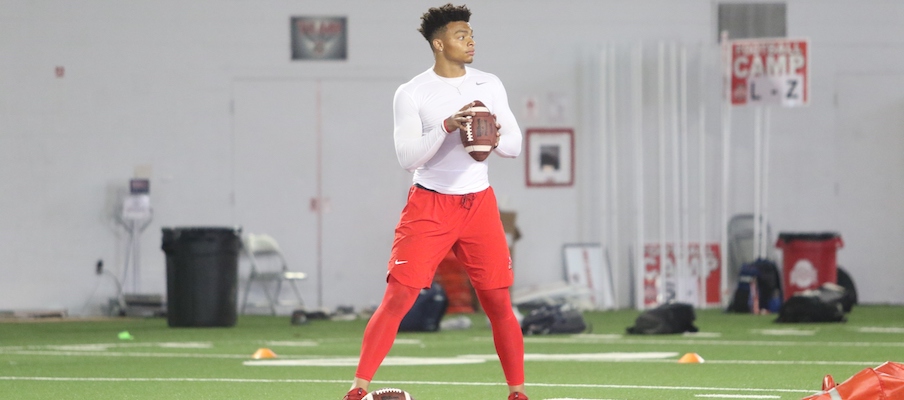 What % of snaps is Fields going to be getting?  The old 'haven't settled on a QB' could have a negative effect if he's not getting most of the work. — KBonay
He'll play 100 percent of the meaningful snaps during games this season.
In fall camp until Day names him the starter? Fields will likely take the majority of first-team reps but not all of them. Gunnar Hoak will get a shot with the starters for a bit at the beginning of camp.
I'd be surprised if the quarterback competition lasted more than two weeks. I'll recklessly speculate and take a guess that Day officially names Fields the starter on Aug. 14.
Does Ellijah Gardiner have a chance at some playing time this year? Is Tyreke Johnson going to make any noise? — Yankeescum
I don't see Gardiner cracking the rotation or playing any non-special teams snaps unless a game is out of reach. All has been quiet on his front. I'm more interested in the other third-year wideout who hasn't made much of a splash yet: Jaylen Harris. There's a path to playing time if he shows he deserves more.
As for Johnson, I'm not sure how often he'll play meaningful snaps. With Damon Arnette, Shaun Wade and Jeffrey Okudah ahead of him, there's no reason to force him onto the field. We'll keep our eyes and ears open for talk of him during preseason camp, but he's still blocked on the depth chart. His main goal should be to secure the fourth cornerback spot, which would make him an injury or broken chinstrap away from getting onto the field.
Is Branden Bowen or Nicholas Petit-Frere the likely starter at RT (gonna assume Thayer Munford at LT, flip sides otherwise)? — Stxbuck
Munford will stick at left tackle regardless of who start across from him.
Opinions on this differ, but I'm of the opinion that Petit-Frere exited the spring with a lead over Bowen and Joshua Alabi. He's now a year removed from entering the program as the No. 1 offensive lineman in his class, and he has put on the necessary weight to succeed in the Big Ten. Petit-Frere might not be as polished as a veteran, but he has the physical potential to develop into a top-flight tackle.
This is the most important position battle on the offensive side of the ball. It's either the redshirt freshman who was recently a five-star prospect or the fifth-year senior who has finally recovered from a broken leg that led to multiple surgeries. Intrigue remains high.
With a big year could Shaun Wade leave after this year? — 1983Buckeye
Am I predicting Wade leaves for the NFL after this season? No. But is it possible? Absolutely.
Wade has gone a bit under the radar as draft analysts have spent the offseason gushing over Okudah, but it's certainly possible both third-year cornerbacks go to the NFL.
Last year, Wade played a bevy of positions, spending most of his time at nickelback but also playing safety and cornerback. Under Jeff Hafley, his role might change a bit. But he's still behind Okudah and Arnette on the depth chart, meaning he'll use his versatility to impact games elsewhere.
One thing to keep in mind: if he returns for his senior year, Wade would be guaranteed a starting outside cornerback spot. That might be an intriguing option, even if he has a strong 2019 season that leaves him considering a jump to the NFL.