Do you feel it? Do you feel it in the air?
Football has nearly returned.
Ohio State opens preseason camp at the Woody Hayes Athletic Center on Friday morning, giving Ryan Day and a staff partially filled with new coaches their first opportunity to mold the team this fall. It also gives everybody a chance to learn more about the Buckeyes as they near the 2019 season opener.
Here are 25 things we'll be paying attention to in fall camp throughout the next month.
1. How quickly does Ryan Day name a starting quarterback?
We know who will start at quarterback. That's no longer a question, and it hasn't been one for many months. But it's not yet clear when Day will name Justin Fields as Ohio State's starting quarterback. He said he hopes to have a starter by the end of the second week of fall camp; if that hasn't happened, it will be because the competition is too close to call or not progressing as expected. With camp beginning on Friday, he'll put that to the test.
2. How does Justin Fields look both as a passer and runner?
All eyes will be on Fields. Every throw he makes will be scrutinized, and onlookers will be evaluating him every time he runs. How he performs could be the difference between a nine-win season and an 11-win season. Nobody doubts his arm talent or athletic gifts, but he hasn't yet started a game in college, which leaves a degree of mystery about his current readiness.
3. Who lines up at H-back other than K.J. Hill?
Hill will start at H-back. Behind him? Good luck guessing. Fifth-year wide receiver C.J. Saunders and Jaelen Gill, who redshirted last year as a freshman, play the position. But the coaching staff has wondered aloud about the possibility of Demario McCall, Jeremy Ruckert or other tight ends taking reps in the slot. The Buckeyes could show a sneak peek of their plans in preseason camp.
4. How does Kevin Wilson utilize the trio of game-ready tight ends?
Luke Farrell, Rashod Berry and Ruckert all need snaps, and the coaches leaned into the idea of more multi-tight end sets in the spring. Will they follow through with the claim? Wilson said in order for that to happen, the tight ends will need to earn the snaps during preseason camp. 
5. Does Gunnar Hoak appear ready to play?
Neither Fields nor Hoak has taken a snap for the Buckeyes, but at least Fields went through 15 spring practices. Hoak joined the team this summer after spending the past three years with Kentucky. Suddenly, he's expected to be the second-string quarterback on a team that will find itself in the preseason top 10. Given Fields' propensity to run, thus opening him up to get hit more often, Hoak has to be ready by Aug. 31.
6. How does the defensive tackle rotation shake up?
Larry Johnson doesn't want to hear the idea that Ohio State has too much depth at defensive tackle. That, he doesn't believe. Still, he'll have a tough task ahead figuring out who to lean on. The Buckeyes have Robert Landers, Davon Hamilton and Tommy Togiai at nose tackle, and they have Jashon Cornell, Taron Vincent and Haskell Garrett at 3-technique. All will rotate, but who will start?
7. Does it feel like they'll be ready to go on Aug. 31?
This one's simple, and people could have differing opinions. But under the new regime, it's worth paying attention to whether it feels as though Ohio State stays on track to finish fall camp strong and smoothly slide into game preparation.
8. Will Ryan Day lean on the returners on defense or allow younger players to supplant them?
Ohio State returns almost the entire defense, but that side of the ball struggled in 2018. Under a new coaching staff, more is expected from all three levels, and some of that increased productivity could come from a new selection of players. Josh Proctor, Teradja Mitchell and Tyreke Smith are among the second-year Buckeyes eager for more playing time, and it'll be up to the coaches to tap into that talent or rely on the returners.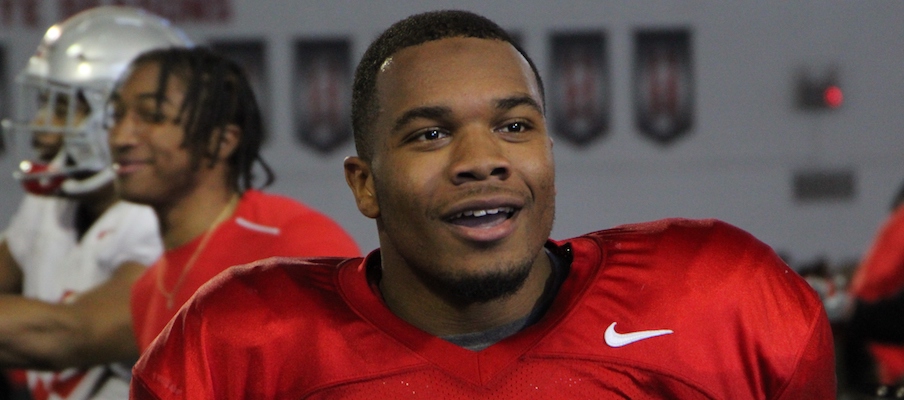 9. Who becomes the backup running back to J.K. Dobbins?
No Mike Weber means Dobbins will take the lion's share of carries among running backs. It also opens a spot for somebody to ascend as his backup, though. Master Teague and Demario McCall are the most likely options. Marcus Crowley and Steele Chambers could edge their way into the mix, too.
10. How is the defensive staff meshing as the season nears?
The coaches will continually say nothing but positives about their working relationships, which is natural at this stage. With the season creeping up and none of them having worked together before, though, we're watching to see the strength of their cohesion. Co-defensive coordinators Jeff Hafley and Greg Mattison, in particular, have to be in lockstep.
11. Will Nicholas Petit-Frere or Branden Bowen win the starting right tackle spot?
Petit-Frere started at right tackle in the spring game, signaling he entered the offseason with an edge on Bowen. Based on how Bowen performed when given a starting spot in 2017, though, he certainly has the talent and experience to challenge the redshirt freshman in preseason camp. This is one of the two most important position battles to watch.
12. Can Jonah Jackson lay claim to the left guard spot?
Jackson transferred from Rutgers to Ohio State to start. Even though he missed spring practice, he enters fall camp with a clear lead at left guard. Now, Jackson must show he's a better option than Gavin Cupp and Bowen.
13. How large of a role does Garrett Wilson earn?
Given how much he impressed this spring, Wilson will absolutely have a role at wide receiver this spring. Still, the former five-star prospect likely won't start, with Binjimen Victor, Austin Mack and Chris Olave also vying for playing time. We'll begin to get an idea of how much the coaches will use him in preseason camp.
14. How does the middle linebacker situation shake out?
Tuf Borland returns with 20 games of starting experience and a season as a team captain under his belt. He's getting "pushed" by Teradja Mitchell, though, and Baron Browning is in the mix, too. Can Mitchell either steal snaps from Borland or take the starting job entirely? Al Washington will have a big decision on his hands before the season even begins.
15. How will the defensive coaches deploy the bullet?
So much talk this spring centered on the bullet, a hybrid linebacker/safety position that will feature Brendon White. Despite the discussion, we're still not certain how exactly Mattison will use White at the position and how often he'll employ the position in games. Though we could be left waiting until the season begins, we should learn more in the coming weeks.
16. Do any younger or overlooked players make moves up the depth chart?
We know about Mitchell, Proctor and Smith making splashes as second-year players. What about Jahsen Wint, Jaylen Harris, Amir Riep, K'Vaughan Pope and Marcus Williamson? Preseason camp is the time for somebody we're not expecting to step up and show they deserve more snaps.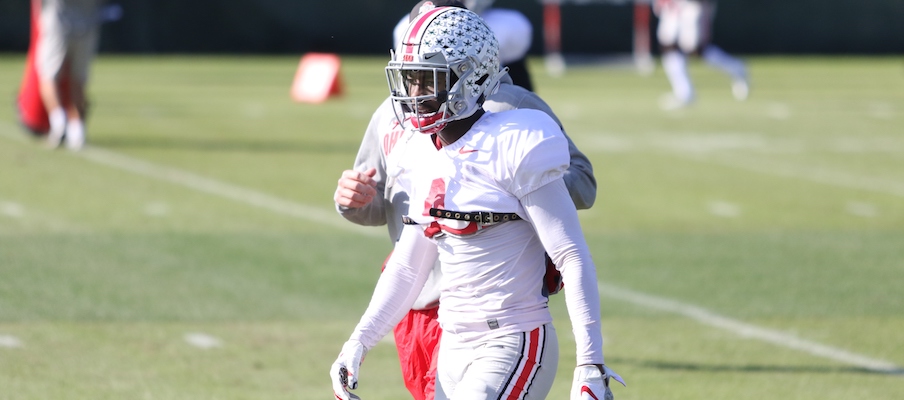 17. Which players step up as leaders?
Borland and Jordan Fuller return as team captains. Who will join them both as captains and leaders who the team looks to in moments of peril? With a new coaching staff, it's imperative that the players have enough veteran teammates to lead them.
18. Who will line up in the Rushmen package?
Johnson's heralded pass-rushing package draws excitement every year. I mean, who doesn't enjoy watching four defensive ends rush the passer at once? During a portion of practice the media watched, Chase Young and Jonathon Cooper lined up outside with Tyreke Smith and Zach Harrison as defensive tackles. That's one iteration of the Rushmen package, but Tyler Friday, Jashon Cornell or somebody else could also earn a spot on the four-man front.
19. Where does Shaun Wade line up and contribute most?
Damon Arnette and Jeffrey Okudah will likely start as the two outside cornerbacks, which leaves Wade in between positions again. Is he a cornerback? Nickelback? Safety? He might line up at all three positions. We'll get an idea in preseason camp.
20. Do the linebackers look like they're playing faster in the new scheme?
The linebackers' struggles in 2018 have been well documented, which led to turnover on the defensive staff. Under Washington, both the coaches and linebackers have discussed a simplified defense that allows them to play faster with fewer in-play reads. But do the results translate from the meeting rooms to the field? We might get some hints in fall camp.
21. Can Josh Proctor maintain his spring momentum and parlay it into playing time?
With Fuller and White both returning as starting safeties, Proctor doesn't have a clear path to the field. He came up in interviews with the coaches this spring, though, as somebody who had played well. If that continues throughout preseason camp, they'll have to find a way to get him on the field.
22. Does Austin Mack look fully healthy and prepared for a major season?
Mack's 2018 season came to a disappointing end due to injury. Before being cut short, he was having his most productive season yet. Mack, now a senior, has one last chance to make the impact he hoped when he signed with the Buckeyes in 2015. 
23. Who will be the kickoff and punt returners?
Usually, we get an idea of who will return kickoffs and punts during preseason camp. McCall and Gill are the likely candidates as kickoff returners and Gill and Hill are the most likely to return punts. 
24. Will Jeffrey Okudah live up to the hype?
Young and Okudah are both being viewed as possible first-round picks in the 2020 NFL draft. Young, who had double-digit sacks in 2018, has produced before. Okudah flashed his potential at the end of the season, but he hasn't looked like a top pick for an entire season quite yet, so he still has something to prove entering fall camp.
25. Do Zach Harrison or any other true freshmen land on the depth chart?
We all know Wilson will find his way on Ohio State's depth chart at receiver. There's a chance he's the only first-year player in the two-deep, though. Harrison, a former five-star prospect, is the most likely candidate. Harry Miller has a chance to serve as a backup on the offensive line, too.