With both K.J. Hill and Parris Campbell in the slot last year, Ohio State had a dangerous duo of H-backs with differing styles of play that complemented each other. 
Hill ran the chains-moving routes and snagged just about every ball that came his way, and Campbell had the back-breaking speed that could change games in a single play. They often traded snaps the past two years. 
But with Campbell now off to the NFL, Brian Hartline will have to fill the void left by the speedster. Considering Hill is the most productive returning receiver by a significant margin, the loss of Campbell could lead to a career-high amount of snaps for Hill. However, the fifth-year H-back laughed at the notion that he won't need a breather this fall. 
"I've got to come off the field. That's too much running," Hill said in March. "We've got C.J. Saunders and Jaelen Gill, so I feel like we all can rotate, especially with how fast we're playing, we need fresh legs on the field at all times. So I feel like that should be a rotation."
The rotation begins with Hill, now a redshirt senior.
Last season, Hill caught 70 passes for 885 yards, scoring six touchdowns. He doesn't have Campbell's top-end speed and ability to turn a five-yard crossing route into an 80-yard touchdown, but he became a top target of both J.T. Barrett in 2017 and Dwayne Haskins in 2018 due to his soft hands, route-running skills and reliability. 
Barrett and Haskins could count on Hill, who sometimes went overlooked by defenses that focused on not letting Campbell, Terry McLaurin and Johnnie Dixon beat them with speed.
He won't have that benefit this year, with all three of those receivers in the NFL. But that won't stop the Buckeyes from rotating. No wideout was on the field for more than 612 of the 1,079 offensive snaps played by Haskins last year – Hill played half as many snaps as the starting quarterback – and that's the offense's plan for this fall, too.
"Notice last year, even though we lost guys, we played so many receivers," offensive coordinator Kevin Wilson said. "Ben Vic is playing, K.J. is playing, Austin Mack is playing, C.J. Saunders is playing. We're rotating guys in there. Why? Well, it keeps Parris and Terry and Johnnie really fresh down the stretch, too. 
"It's going to be the same deal."
Rotating receivers requires Chris Olave, Garrett Wilson, Jaylen Harris, Ellijah Gardiner and Jameson Williams to step up alongside seniors Austin Mack and Binjimen Victor on the outside. Naturally, it also means Gill and Saunders need to step up to fill the snaps vacated by the loss of Campbell.
But in discussing the H-back position this spring, the coaches seemed open to a diverse set of options lining up in the slot, including wide receivers, running backs and tight ends.
"That position, that H position can take on a lot of different roles," Day said. "It can be a third receiver. It could be a second running back or it could be a second tight end based on the body type. We kind of have all those. We have Jeremy (Ruckert). We have Rashod (Berry). We have Demario McCall. We have K.J., obviously. We have C.J., Jaelen Gill."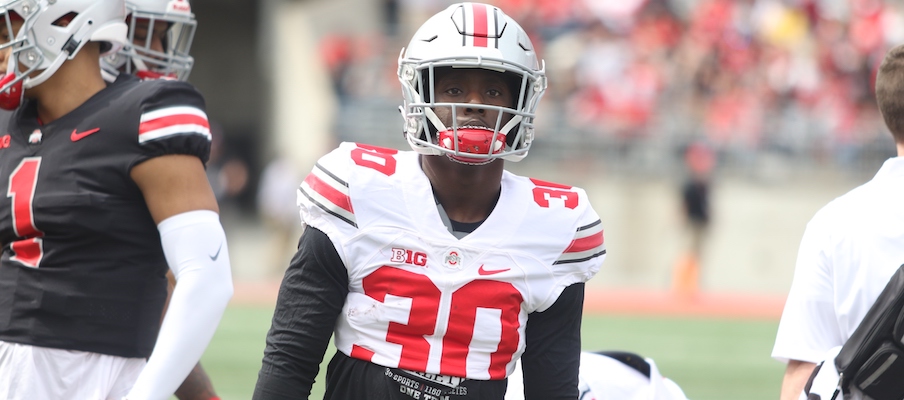 Under Urban Meyer, the H-back ideally played like Percy Harvin or Curtis Samuel. It featured a speedster with quick change-of-direction ability on whom defenses had to key. 
With Day taking charge of the Buckeyes, he doesn't have a strict archetype he hopes to adhere to, instead aiming for his team to have the versatility to attack defenses with different types of weapons at the position depending on the opponent or game plan.
"All those guys are kind of different body types in the same role," Day said. "And then having the ability to bring them into the backfield, bring them in as attached, bring them in motion, keep them split out, those type of things. Just so that defenses can't get a beat on you. We'll put the best 11 on the field to give us the best chance. If it is an extra tight end or an extra running back, we'll do that. But it all kind of depends on how the preseason goes and the identity of the offense."
Both Gill and McCall harken back to Meyer's type of H-back. They played running back their entire lives before heading to Columbus.
Gill teetered on five-star status while starring at Westerville South. Given the presence of Hill and Campbell, he played in just two games and redshirted last year. With Campbell gone, he's expected to take some of those now-available snaps.
McCall was expected to play running back this season, but he recently was pictured with Hartline and the receivers on social media. He's an explosive yet undersized playmaker when given the ball, but his career has been slowed down due to injuries and an inability to find a permanent position.
Saunders, a former walk-on, figures to mix into the H-back rotation, too. He suffered a midseason injury that hindered him last year, but he has 27 catches in the past two years.
The potential of putting Ruckert at H-back leads to previously unseen possibilities. He didn't play much at tight end as a true freshman, only catching a single pass, but he's expected to have a notable uptick in receptions this year, and some could come out of the slot. At 6-foot-5, 250 pounds, he could pose a matchup problem for both linebackers and defensive backs.
"We got a lot of depth at tight end, so that allows me to do that, and learning from the older guys at H, too – K.J., I'm learning a lot from him watching him, C.J. – so it's definitely something I'm learning and it's something I'm willing to do," Ruckert said this spring. "Anything to help the team."
Ohio State won't have the proven duo of H-backs to rely on this fall that it had the past two years now that Campbell is in the NFL. If all goes right, though, Hill and the committee of options that Hartline and Day can situationally turn to will be enough.