Dwayne Haskins left for the NFL, and he took Mike Weber, Parris Campbell, Johnnie Dixon and Terry McLaurin with him.
In Haskins' place stands Justin Fields, a transfer quarterback from Georgia. The Buckeyes' presumed first-year starter backed up Jake Fromm last year, completing 27-of-39 passes for 328 yards and four touchdowns. He added 266 rushing yards on 42 carries.
Now in Columbus, he's surrounded by a set of offensive weapons that looks notably different than it did last year with Haskins.
The Buckeyes will go from a two-back offense, with Weber and Dobbins, to one heavily featuring Dobbins. They'll replace three starting wideouts with a group that collectively has less collegiate experience. 
With a revamped cast of skill position players, we're ranking the running backs, wide receivers and tight ends who Fields will rely on this fall. Urban Meyer and his assistant coaches used to do a similar exercise.
"At the end of spring we'll list our top 20 players in order on offense and defense, and that will determine what kind of style offense and defense we are," Meyer said last spring.
Without Meyer around, it's unclear whether Ohio State's coaching staff will continue the tradition. Either way, we're tweaking it and running with the idea. Let's dive into the ranking of Fields' top offensive weapons.
Honorable Mention: Rashod Berry, Jaylen Harris, Ellijah Gardiner, C.J. Saunders, Master Teague, Jameson Williams, Marcus Crowley, Steele Chambers, Jake Hausmann
This is just a mishmosh of players who don't crack the top 10, though some of them could prove to be ranked too low. So let's run through them with one or two sentences for each player.
Berry is entering his redshirt senior season and will have a significant role as a tight end. But he has had most of his success in Columbus as a blocker, and the Buckeyes have two other tight ends – Jeremy Ruckert and Luke Farrell – who will likely play a bigger role in the passing game, pushing him out of the top 10.
Harris, a third-year wideout, should play a career-high snaps, but he's behind Binjimen Victor, Austin Mack, Chris Olave and, likely, Garrett Wilson on the depth chart. He'll have his first true chance to enter the rotation in 2020 as a redshirt junior. 
Gardiner played just seven snaps as a redshirt freshman last season, and he's not expected to have an expanded role this fall.
Saunders could back K.J. Hill up at H-back, but Jaelen Gill is primed for a larger opportunity after redshirting last season. He had 10 catches last season, and it wouldn't be a surprise if his production this year matches that. 
Teague will compete with Demario McCall to back up Dobbins. Since both Ryan Day and Tony Alford have expressed an interest in Dobbins taking the vast majority of carries, his rush attempts could be limited.
Williams might be the fastest wide receiver on the team, and he has been on campus for less than a month. But given the depth at wideout, his snaps could be capped.
Either Crowley or Chambers could push for snaps, especially if someone ahead of them on the depth chart gets injured. But with Dobbins, Teague and McCall in the backfield, it'll be difficult for either freshman to have much of a role.
Hausmann is in his fourth season, but he's still fourth on the depth chart, which minimizes his opportunities.
10. Jaelen Gill (RS-Fr.)
2018 stats: one catch, 11 yards
Gill entered Ohio State with plenty of talent but not much opportunity at H-back, with Campbell and Hill ahead of him on the depth chart.
The lifelong running back who moved to H-back to begin his college career was the No. 30 overall prospect and second-ranked all-purpose back out of Westerville South. Only three prospects in Ohio State's 2018 recruiting class had higher overall rankings than him.
Gill played in just two games as a freshman, taking a redshirt, but is in line for a steep upgrade in playing time in 2019. He offers a completely different style of play than Hill, the starting H-back this fall, which makes him an intriguing weapon for Day and Brian Hartline. The coaches can move him around, using him out of both the backfield and slot.
He's a dark horse to have a breakout season.
9. Demario McCall (RS-Jr.)
2018 stats: eight rushes, 50 rushing yards, nine catches, 110 receiving yards
The enigma. 
For years, Ohio State fans have waited to see McCall's breakout. He's had his moments, including an 11-rush, 103-yard game against Rutgers in 2017, but he hasn't figured out how to contribute consistently. Injuries have hindered him, and the coaches haven't figured out how to deploy him, either.
He played running back in high school, but he moved to wide receiver early in his Ohio State career. Then, he moved back to running back last year. He was supposed to play running back this spring, but an injury kept him off the field for the majority of the 15 practices. Recently, he was pictured on social media at a team dinner with Hartline and the wide receivers.
What should we expect from McCall in 2019? Who knows. We're not even sure of his position. But, when healthy, he has game-changing speed, so he makes this list.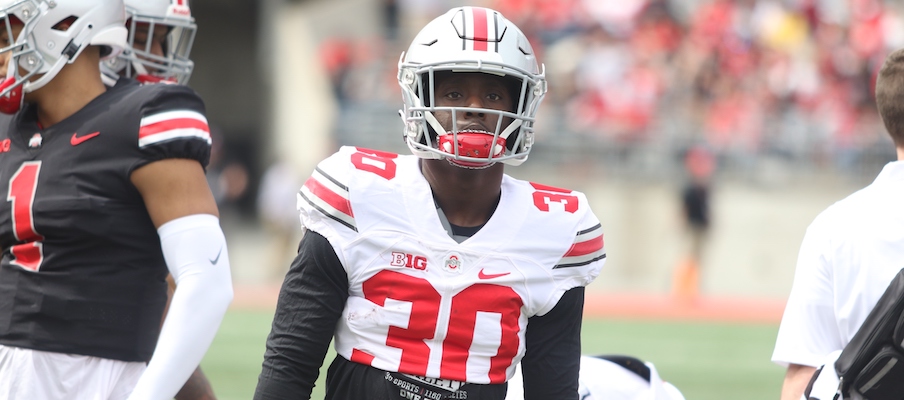 8. Luke Farrell (RS-Jr.)
2018 stats: 20 catches, 205 yards, one touchdown
The complete opposite of an enigma.
Farrell is one of the steadiest, most overlooked players on the roster. Ohio State knows exactly what it will get from the fourth-year tight end: quality blocking and pass-catching ability. He rarely wows onlookers, but he does his job, and he does it well. 
With Day and Kevin Wilson talking about the possibility of more multi-tight end sets, Farrell could have an increased role on the offense that has him playing more snaps than ever before. He won't develop into a prolific downfield target for Fields, but at 6-foot-6, 250 pounds, he has the size and enough athleticism to be a mismatch for defenses.
7. Binjimen Victor (Sr.)
2018 stats: 21 catches, 354 yards, four touchdowns
Victor made a couple of the most spectacular receptions of the season last year, including one catch-and-run that led to a miraculous comeback win against Penn State. If he could make those plays more consistently, the 6-foot-4, 205-pound wideout would rank higher on the list.
But at this point in his career, it's not worth expecting Victor to become that type of receiver. He's a big-play threat and a red-zone target, and Ohio State can absolutely use those skills. Victor has won games with them before. 
6. Jeremy Ruckert (RS-Fr.)
2018 stats: one catch, 13 yards
This could be too optimistic of a ranking for Ruckert, a second-year tight end who had a single catch in his first season in college. But he's talented enough of a receiver to turn into a major downfield threat who can cause mismatches with undersized defensive backs with relative consistency.
Wilson and Day have both tossed his name out as a possible slot receiver. In multi-tight end sets, he'd pair well with Berry and Farrell, both of whom are better blockers but aren't likely to threaten defenses as much as Ruckert as downfield threats.
Meyer once called him the best tight end prospect he has ever seen. Ruckert has a chance to break out in a big way if the coaching staff figures out how to use him to Fields' advantage. 
5. Austin Mack (Sr.)
2018 stats: 26 catches, 331 yards, one touchdown
Mack walked onto campus as a freshman with the reputation of playing a college-ready style, and he was the first freshman in his class to have his black stripe removed. In his first three years, though, he hasn't had more than 26 catches in a season. 
Prior to the 2018 season, he was a popular breakout candidate pick. Mack and Haskins roomed together, and they connected in Ohio State's win against Michigan in 2017. A broken leg prematurely ended his season, though, after eight games and 26 receptions.
Mack has one final season to make the impact he hopes to have on the Buckeyes. He expects to be fully healthy by preseason camp. If Mack fully reaches his potential this fall, he might be ranked too low on this list. 
4. Garrett Wilson (Fr.)
2018 stats: N/A
Few freshman wide receivers have ever arrived at Ohio State with Wilson's expectations. 
He's the second-highest rated wide receiver to commit to play for the Buckeyes in the modern recruiting era, behind only Ted Ginn Jr., who was a cornerback at the time. The five-star prospect was the 20th-ranked overall prospect, the second-highest ranked Ohio State commit and the second-rated wideout in his class.
Wilson doesn't have the best high-end speed on the team or off-the-charts athleticism. He wins with polish, ball skills and route running. He makes plays freshman shouldn't, which he showed off in the spring game by out-leaping Sevyn Banks for a touchdown.
This could prove to be too optimistic of a projection. But Wilson isn't similar to most players his age. He has a chance to be one of Ohio State's most productive wideouts in his first year of college football.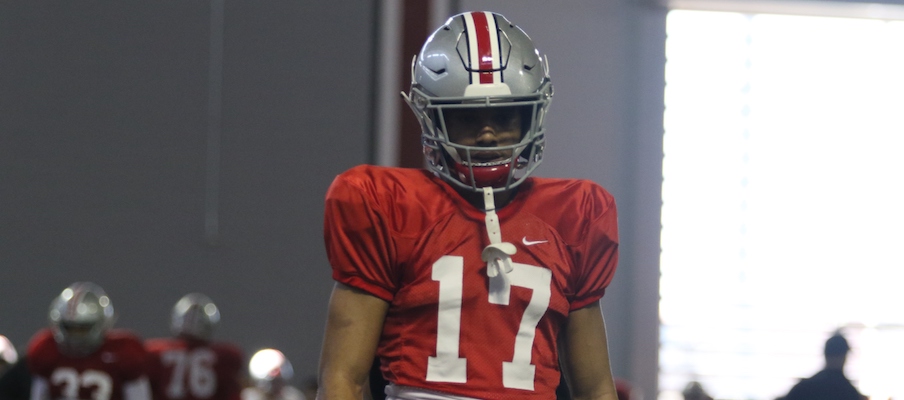 3. Chris Olave (So.)
2018 stats: 12 catches, 197 yards, three touchdowns
Before Nov. 24, Olave didn't have a mainstream name. He was a late take as a three-star recruit from California. Only hardcore Ohio State had him on their radar. In the first 11 games of the season, he had just five catches for 70 yards. 
But after he scored two touchdowns and and blocked a punt against Michigan, the hype train took off. He responded with a five-catch, 79-yard performance featuring a 29-yard touchdown catch in the Big Ten title victory against Northwestern. Now, everybody knows Olave's name.
He will step into a significantly larger role as a sophomore, with Campbell, Dixon and McLaurin off to the NFL, and given what he flashed at the end of the 2018 season, he could be one of Fields' top targets through the air.
2. K.J. Hill (RS-Sr.)
2018 stats: 70 catches, 885 yards, six touchdowns
Hill has cracked 50 receptions each of the past two seasons, and there's no reason to believe he won't extend that streak to a third year. Provided he does so, he'll become the program's all-time leader in catches.
Without the track speed of Campbell and the speed and physicality of McLaurin, Hill beats defensive backs with technique and route running. He doesn't make the game-changing plays of Victor, but he doesn't drop any passes. Everything about his game is consistent.
1. J.K. Dobbins (Jr.)
2018 stats: 230 rushes, 1,053 yards, 10 touchdowns
Welcome to the Dobbins show.
It wasn't difficult to tell after he had 37 carries for 203 yards and a touchdown in Ohio State's win against Maryland in November that he enjoyed his one-time chance to be the lead back. He'll have that opportunity for an entire season this fall. McCall, Teague, Crowley and Chambers could factor into the backfield picture, but they won't take any significant amount of carries away from him.
Fields will give the Buckeyes a running threat at quarterback that they didn't have last season with Haskins. He'll pair up with Dobbins to give them a dangerous duo on the ground.