In the past couple months, we took in-depth looks at each position on Ohio State's roster, beginning with quarterback and ending with safety.
To wrap up the series, we're ranking each of the position groups. And in pure Arbitrary List Season fashion, we called up John Brenkus and added a bit of sports science to the mix. We rated four categories from 1 to 10: quality of projected starters, current depth, recruiting and position coach. Then, we added each of them up and gave the unit a score, indicating the state of each position group.
Here's what we came up with.
1. Defensive Line (37 points)
Quality of projected starters: 8/10 – Chase Young is arguably the best defensive end in the country. Robert Landers, Jonathon Cooper and Jashon Cornell are solid, if unspectacular. Put together, they'll be a productive front four.
Current depth: 10/10 – The Buckeyes go two or three deep at each spot on the defensive line. Tyreke Smith, Tyler Friday, Javontae Jean-Baptiste, Zach Harrison, Noah Potter and Alex Williams at defensive end. Davon Hamilton, Tommy Togiai, Taron Vincent, Haskell Garrett, Antwuan Jackson and Jerron Cage at defensive tackle. Ridiculous depth and young talent. 
Recruiting at the position: 9/10 – Darrion Henry just committed. Ohio State already had Jack Sawyer and Ty Hamilton in the fold. Defensive line recruiting has never been a problem, and it doesn't look like that will change any time soon.
Position coach: 10/10 – Larry Johnson will always earn the highest possible ranking. The only question is how long he'll keep coaching.
2. Wide Receiver (35 points)
Quality of projected starters: 9/10 – With K.J. Hill, Chris Olave and Austin Mack appearing as the most likely starters, Ohio State has a mix of veterans and potential. Hill will become the program's all-time leading pass-catcher this fall. Olave flashed at the end of last season. Mack will be fully healthy this fall after his 2018 season ended prematurely with an injury.
Current depth: 8/10 – Binjimen Victor, Garrett Wilson and Jaelen Gill are expected to each have spots in the rotation. That's a tantalizing trio of talent. Jaylen Harris, C.J. Saunders, Jameson Williams and Ellijah Gardiner are also in the mix.
Recruiting at the position: 10/10 – A trio of top-100 wideouts – Gee Scott, Julian Fleming and Jaxon Smith-Njigba – are already committed in 2020. Not bad for Brian Hartline's first class as full-time assistant coach, eh?
Position coach: 8/10 – Hartline has shown plenty of reason for optimism in Columbus, but he still hasn't spent a season as a full-time position coach. Last season, he walked into a situation where he could rely on Parris Campbell, Johnnie Dixon and Terry McLaurin, three of the most respected leaders on the team. The next couple years, he'll have a chance to show what he can build at the position.
3. Tight End (33 points)
Quality of projected starters: 8/10 – Luke Farrell is nothing if not reliable. He had 20 catches, cracking 200 yards last season, and he's likely in line for an uptick in touches. He's also a solid blocker.
Current depth: 10/10 – Ohio State essentially couldn't have more tight end depth than it has this season. Farrell, Rashod Berry and Jeremy Ruckert are all expected to play significant snaps, and they each offer different strengths. Ruckert's pass-catching ability, in particular, is intriguing.
Recruiting at the position: 7/10 – The Buckeyes are strong favorites for Joe Royer. He's a top-500 prospect. Ruckert, a top-50 prospect, was an outlier as a near-five-star tight end recruit picking Ohio State.
Position coach: 8/10 – Kevin Wilson has head coaching experience and is at the helm of the position for a third year in a row. He'll spend much of his time, though, helping Ryan Day with the offense rather than focusing solely on his position.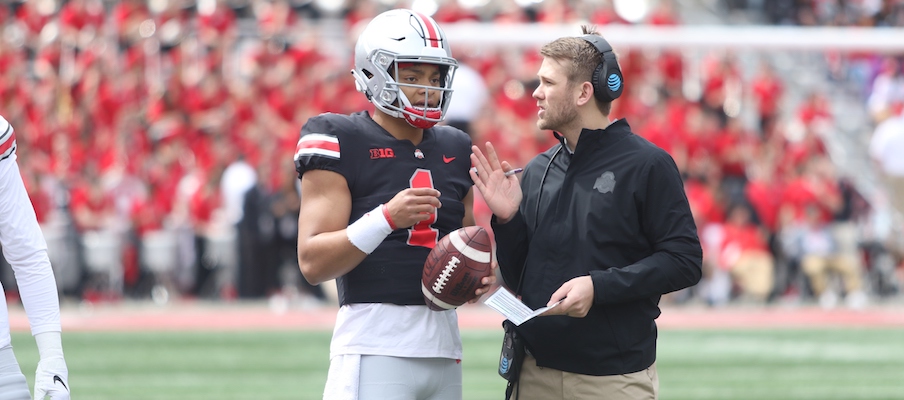 4. Quarterback (33 points)
Quality of projected starters: 9/10 – Perhaps this is a bit of a rating on the high end, considering Justin Fields hasn't started a single game. But the dual-threat Georgia transfer has immense talent was the No. 2 overall recruit in 2018. 
Current depth: 5/10 – Gunnar Hoak enrolled just a month ago, and he's the primary backup. Behind him, there's nothing but Chris Chugunov, a transfer who was added to the roster last summer without the intention ever playing him meaningful snaps. It's not an optimal situation.
Recruiting at the position: 10/10 – With Jack Miller and Kyle McCord already committed in the 2020 and 2021 classes, respectively, Ohio State has locked up its quarterbacks of the future, and both are top-75 overall recruits. 
Position coach: 9/10 – This rating wouldn't be as be high for only Mike Yurcich since he's a first-year assistant, but we're factoring Ryan Day into the equation. He'll still play a major role at the position.
5. Cornerback (31 points)
Quality of projected starters: 9/10 – With Jeff Okudah, Damon Arnette and Shaun Wade back, Ohio State has an impressive trio to rely on. Okudah looked like a potential All-American near the end of his sophomore season, and Arnette has started more games than anyone else at the position. Wade, a former five-star prospect, also has plenty of experience and could be in line for a breakout season.
Current depth: 6/10 – The backups at the position were well-regarded recruits, but they don't have much in-game experience. Marcus Williamson, Tyreke Johnson, Sevyn Banks and Cameron Brown will get tested in 2020 after Arnette leaves for the NFL, possibly along with Okudah and/or Wade. 
Recruiting at the position: 8/10 – Clark Phillips and Lejond Cavazos have already committed. We'll have to see additions of that quality continue with consistency in future years, but Phillips and Cavazos are quite the duo for the new coaching staff.
Position coach: 8/10 – Jeff Hafley has inspired confidence in his first half-year on the job. Can he take that momentum into the fall?
6. Running back (31 points)
Quality of projected starters: 9/10 – J.K. Dobbins had a bit of a down year in his eyes, even though he crossed the 1,000-yard threshold for the second year in a row. Ohio State is happy to rely on him. Without Mike Weber around anymore, he has a chance to get the vast majority of carries.
Current depth: 6/10 – The group of Master Teague, Demario McCall, Marcus Crowley and Steele Chambers is full of youth and inexperience. Someone needs to step up and become a reliable backup to Dobbins.
Recruiting at the position: 8/10 – This is a cop-out. It's a 9 or 10 if Ohio State lands five-star Bijan Robinson, and it's a 6 or 7 if that doesn't happen. We should know fairly soon.
Position coach: 8/10 – Tony Alford has produced plenty of quality running backs, none more productive than Ezekiel Elliott. Can he get Dobbins back to his freshman level of play?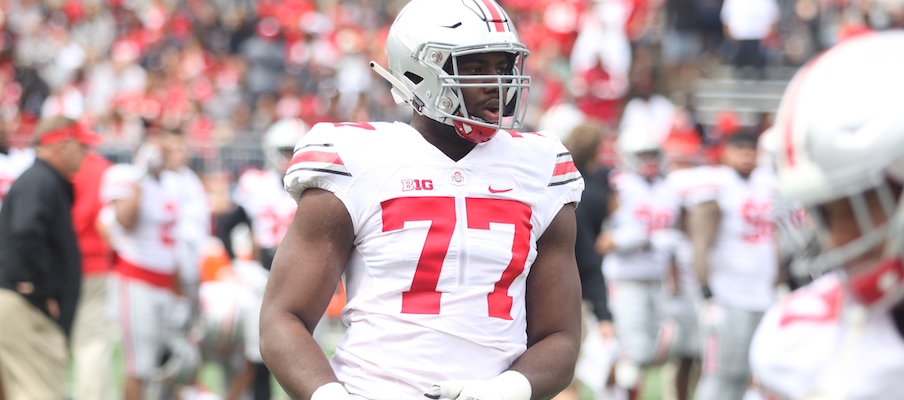 7. Offensive line (30 points)
Quality of projected starters: 8/10 – Ohio State will have four new starters joining Thayer Munford, but the group is filled with formerly highly rated recruits – including Josh Myers, Wyatt Davis and Nicholas Petit-Frere. Jonah Jackson, likely the left guard starter, has nearly two years of starting experience at Rutgers.
Current depth: 7/10 – With Branden Bowen and Joshua Alabi, Ohio State has a pair of backups who have started. But they're still fairly thin elsewhere. 
Recruiting at the position: 8/10 – With Paris Johnson and Luke Wypler committed, Ohio State has the top offensive tackle and top center in the 2020 class, respectively, already committed. It also has pledges from three prospects outside of the top 300, including two ranked below No. 750. 
Position coach: 7/10 – Greg Studrawa was retained by Ryan Day. He was an oft-criticized assistant the past couple years for his in-state recruiting misses, so the pressure's on.
8. Safety (30 points)
Quality of projected starters: 8/10 – Jordan Fuller and Brendon White were solid last year, and they'll try to make more game-changing plays in 2019.
Current depth: 7/10 – Isaiah Pryor and Jahsen Wint had their moments this spring, but both struggled last fall. Josh Proctor is pushing for playing time as a sophomore.
Recruiting at the position: 7/10 – Still waiting for the first commitment at the position, but the Buckeyes are in a good position with Lathan Ransom.
Position coach: 8/10 – If Hafley's Saturdays on the field go as well as his interview sessions in the spring, Ohio State is set. So, we're in wait-and-see mode to find out how his units produce in games.
9. Linebacker (29 points)
Quality of projected starters: 7/10 – Ohio State returns all three starters, but they had a much-maligned 2018 season. Malik Harrison was the bright spot, and he'll return as weakside linebacker. Pete Werner is the likely starter at strongside linebacker. Tuf Borland could start in the middle again, but he must hold off a pair of linebackers pushing for the spot.
Current depth: 8/10 – With Teradja Mitchell, Baron Browning, K'Vaughan Pope and Dallas Gant as backups, Ohio State has plenty of talented linebackers pushing for snaps, though they're all inexperienced in games.
Recruiting at the position: 7/10 – Cody Simon gave the Buckeyes their first commitment under the new regime. Linebacker isn't a recruiting priority in 2020, so the true test at the position won't come until later cycles.
Position coach: 7/10 – Al Washington is view as a riser in the coaching world. He only has two years of experience coaching linebackers, though.