Even though Urban Meyer is no longer running the program, Ohio State's special teams philosophy doesn't sound as though it will change substantially in 2019.
New Ohio State special teams coordinator Matt Barnes said this spring that the Buckeyes will continue to play some of their best players on special teams, but that it will also serve as a proving ground for young players to demonstrate their skills.
"I think you've got to find that happy medium there of playing your best players, but also giving your young players a chance to develop and show themselves," Barnes said.
In recent years, Ohio State has played established players and even starters in some roles on special teams – exhibit A being Terry McLaurin's excellence as a punt gunner over the past couple seasons – but has also used special teams as a prerequisite for earning roles on offense or defense.
That often means that the players who are difference-makers on special teams one year could be playmakers on offense or defense the next, especially at positions like linebacker and defensive back.
As such, we take a look at 12 Ohio State players (plus some honorable mentions) who aren't currently in line to be starters for the upcoming season, but could play key roles in the third phase of the game for the Buckeyes.
Because players who line up further away from the ball on offense or defense typically play bigger roles on special teams, the following list focuses on the running backs, wide receivers, tight ends, linebackers and defensive backs who are most likely to play key roles on special teams this year. Specialists are also not included below, so while kicker Blake Haubeil, punter Drue Chrisman and long snapper Liam McCullough are sure bets to play key roles on special teams this season, this list focuses on potential players to watch on the kickoff, kickoff return, punt and punt return units this season even though they are not primarily special teams players.
Demario McCall, RB
McCall began last season as Ohio State's lead punt returner, but lost that role after some early issues with ball security. By the end of the season, though, McCall took over as the Buckeyes' lead kickoff returner and delivered the most important kickoff return of the season when he had a 42-yard runback that set up a game-tying drive to force overtime in the Buckeyes' nail-biting win over Maryland.
At this time last year, McCall was expected to be both the lead kickoff and punt returner for the Buckeyes and play a more substantial role on offense, so his redshirt sophomore season came as somewhat of a disappointment. He enters this season as the frontrunner to remain the lead kickoff returner, though, and could provide the spark that's been missing for Ohio State in that capacity if he can finally perform up to his potential.
Jaelen Gill, H-Back
While McCall has already flashed some ability to be a difference-maker in the return game – he just hasn't done it consistently yet – Gill is another candidate to emerge as a dynamic playmaker in the return game in 2019.
Gill didn't return any kicks or punts as a true freshman in 2018, but he's a candidate to potentially take over either role this season after redshirting last season. As a former highly touted recruit out of Westerville South High School, Gill offers the explosive combination of speed and agility that playmakers in the return game typically have. Though McCall returns as the lead kickoff returner and K.J. Hill has been Ohio State's lead punt returner for the past two seasons, Gill could possibly replace Hill in the latter capacity and be the secondary kickoff returner alongside McCall if he shows he can be trusted to catch and secure the ball consistently.
Dallas Gant, Teradja Mitchell and K'Vaughan Pope, LB
These three linebackers, all true sophomores, can be grouped together as Buckeyes who rank among the leading candidates to be key players on Ohio State's kickoff coverage and other special teams units this season.
Each of them already saw regular playing time on special teams as true freshmen last year. They're also all competing for spots on the linebacker two-deep – Gant at weakside linebacker, Mitchell at middle linebacker and Pope at strongside linebacker – so if they earn significant playing time on defense, their roles on special teams could potentially be reduced.
With returning veterans Malik Harrison, Tuf Borland, Pete Werner and Baron Browning leading the linebacker depth chart, though, it's still likely that the sophomore linebackers will play their biggest roles this season on special teams in 2019, and all of them have the ability to be fantastic in that capacity.
Cade Stover, LB
With a multitude of returning players on the depth chart at linebacker, Stover probably isn't going to see substantial playing time on defense as a true freshman, but it's easy to see him making an immediate impact on special teams units. A versatile athlete who prides himself on his ability to hit hard, Stover should relish the potential opportunity to run down the field at full speed and make tackles or blow up blocks on kickoff coverage.
Craig Young, LB
Like Stover, Young is an incoming true freshman who probably won't see much immediate playing time on defense this fall, but he has the tools to quickly emerge as an excellent special teams player. As a versatile athlete who lined up all over the field and became a star sprinter on the track, Young offers elite speed at 6-foot-4 and 200 pounds. He'll likely need to grow into whatever position he will ultimately play on defense, but he could be a dangerous playmaker right away on kickoff, punt block and punt coverage units.
Sevyn Banks, CB
Banks already made his mark on special teams for the Buckeyes last season, when he returned a blocked punt for a touchdown in the Michigan game, but he should be a core player in the third phase of the game for Ohio State once again in 2019. The true sophomore is also pushing for playing time at cornerback, but with Damon Arnette, Jeffrey Okudah and Shaun Wade still leading the depth chart at that position, Banks will still likely see his most significant playing time on special teams this year. He was a regular on the Buckeyes' punt block unit in the second half of last season, and should be in line for playing time on more special teams units this season.
Tyreke Johnson, CB
Johnson had a quieter first season at Ohio State than expected last year, appearing in just three total games as a true freshman despite coming in as a five-star recruit, but special teams could be his opportunity to jump-start his career as a redshirt freshman this fall. He still appears to have a way to go in his development before he'll be ready to play significant reps at cornerback, but the traits that made him one of the top defensive back prospects in the class of 2018 – he's 6-foot-1, 195 pounds and has top-notch speed – give him intriguing upside on special teams.
Amir Riep, CB/S
Riep has already been a core player on Ohio State's special teams units for the past two years, playing regularly on the kickoff coverage team while also earning snaps on the kickoff return and punt return units, and that appears likely to continue in 2019. A hybrid defensive back with the ability to play both cornerback and safety, Riep appears likely to serve as Wade's primary backup at slot cornerback this season, but his experience on special teams could thrust him into a leadership capacity in that phase of the game.
Jahsen Wint, Bullet
Like Riep, Wint has been a regular on special teams for the past two years and appears likely to be a mainstay once again in 2019, as he is currently in line to be Brendon White's backup at the bullet position. Should he be called upon to play regularly on defense, his role on special teams could decrease, but his primary role at least to start the season appears likely to be serving as a veteran leader on multiple special teams units.
Josh Proctor, S
Proctor started to emerge down the stretch of last season as one of the top players on Ohio State's kickoff coverage team, while he also contributed to the kickoff return and punt return teams, making him a strong candidate to be one of the Buckeyes' best special teams players once again in 2019. The true sophomore safety is also pushing for significant playing time on defense after a spring in which he was repeatedly praised for his development and playmaking ability, but he still might have to wait his turn behind Jordan Fuller for another year before moving into the starting lineup, which would keep him in position to be a core special teamer this fall.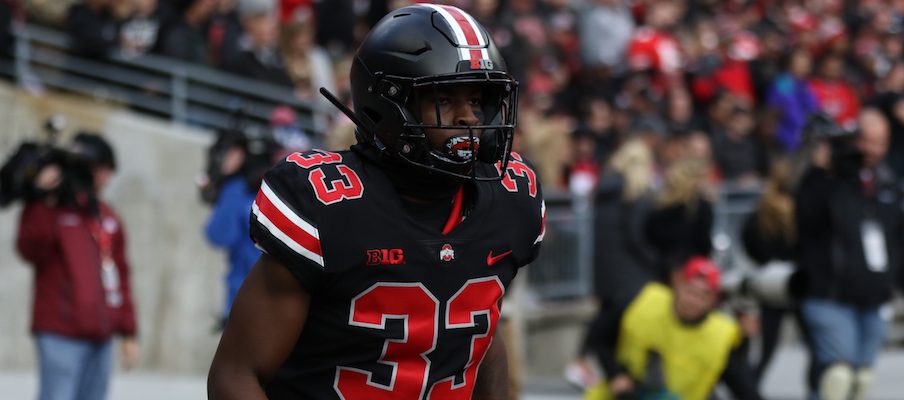 Others to Watch
Ohio State has often had wide receivers who have played substantial roles on special teams units in recent years, and one potential candidate to do so this year is redshirt sophomore Ellijah Gardiner. Gardiner became a regular on the kickoff coverage unit down the stretch of last season, and lined up as one of the Buckeyes' punt gunners in the spring game.
True freshman wide receiver Jameson Williams, who is known for his elite speed, is another candidate to make an immediate impact on special teams, potentially even in the return game.
Other incoming freshmen who aren't likely to see much playing time on offense or defense this year but could potentially carve out roles for themselves on special teams include tight end Cormontae Hamilton, linebacker Tommy Eichenberg, safety Bryson Shaw and running backs Marcus Crowley and Steele Chambers. Ronnie "Rocket" Hickman would be a prime candidate to make his mark on special teams this year after enrolling early, but a redshirt year could be more likely as he recovers from a torn ACL suffered during his senior year of high school.
Other defensive backs who have seen some playing time on special teams and seem most likely to contribute in that area again this season include cornerback Marcus Williamson and safety Marcus Hooker, who were both sidelined by injuries this spring, and cornerback Cameron Brown.