Will this be the year that Demario McCall finally plays a significant role in Ohio State's offense?
Ranked as the No. 44 overall prospect in the recruiting class of 2016, McCall was expected to have already emerged as a playmaker for Ohio State's offense well before now. An explosive athlete with an outgoing personality, McCall has been hyped as a potential breakout player for the Buckeyes for the past three years.
That hasn't happened yet. After he carried the ball 49 times for 270 yards and three touchdowns and caught four passes for 84 yards and a touchdown as a true freshman, McCall has had just 22 rushing attempts for 161 yards and a touchdown and nine catches for 161 yards and a touchdown over the past two seasons. He took a medical redshirt in 2017 after playing in only four games following offseason hernia surgery, and played only 63 offensive snaps in 2018.
Going into his redshirt junior season, though, McCall appears to have his best opportunity yet to earn significant playing time. With Mike Weber's departure for the NFL, McCall is the most veteran running back on the roster, which could make him the frontrunner to be the Buckeyes' No. 2 running back behind J.K. Dobbins. The departure of H-back Parris Campbell could also open up the opportunity for McCall to see some playing time as a slot receiver, though McCall is back in the running back room this spring after moving to the wide receiver room last spring.
Running backs coach Tony Alford is adamant that McCall will be on the field regularly for Ohio State this season, and he expects McCall to perform well.
"Demario's going to play a lot of football this year," Alford said on Thursday. "A lot of football. And he's going to play really, really well. Extremely confident in him. The energy and the positivity that he brings every day is great."
McCall is anxious to get on the field more. If it was up to him, he would have been playing regularly for the past three years, and he believes he's been ready.
"A lot of people say patience is the key, but to be honest, I don't go by that," McCall said. "I feel like if it's time, it's time. And I know some stuff takes time, but then again, some stuff you got to go get.
"To be honest, I feel like every opportunity I had, I took advantage of it," McCall said of the past three years. "That's all I can do. Once I do get the opportunity to do it, just show what I got, and I feel like I did."
At the same time, McCall acknowledges that there areas in which he had to improve. While he's had the ability to make big plays with the ball in his hands since he stepped foot on Ohio State's campus, he's had to learn the intricacies of playing at the running back position at Ohio State – particularly, pass blocking.
"Pass blocking plays a big role in our offense, and at tailback, period," McCall said. "When I first came in, I was terrible at pass blocking. That's what kind of held me back from even playing tailback. So that's part of the reason I went to (H-back), but I definitely got a lot better at pass protection."
With Dobbins and Weber entrenched as Ohio State's top two running backs last season, the Buckeyes moved McCall to the receiver room, giving him a chance to compete for playing there. But after Antonio Williams chose to transfer from the team following spring and Brian Snead's career with the Buckeyes lasted just two games, Ohio State moved him back to running back with a need for depth there.
Moving back and forth between positions didn't exactly help McCall's cause for earning playing time sooner, but he believes it ultimately made him a better player for the future.
"It helped my game a lot," McCall said. "Not just as a tailback, but as a receiver. Ball skills, catching, route running. Thanks to (wide receivers coach Brian Hartline) and (quality control wide receivers coach Keenan Bailey)."
Down the stretch of last season, Ohio State began using McCall as a passing-down back – sometimes lining him up in the backfield, other times lining him up as a slot receiver – on third-and-long situations.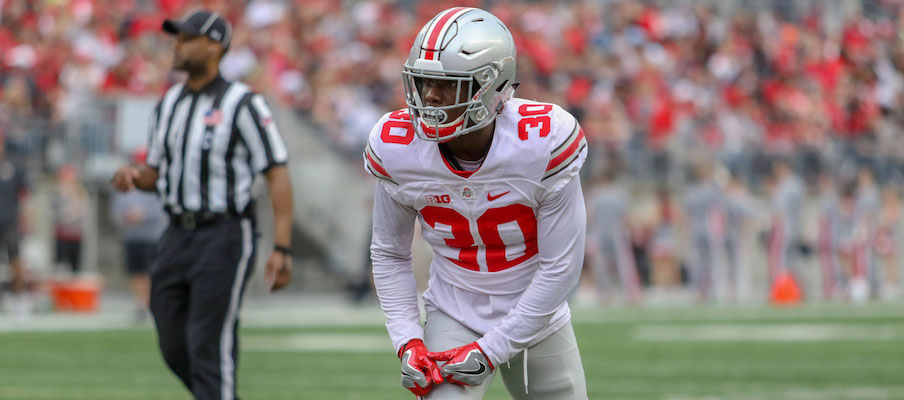 His time spent playing receiver, coupled with his speed and agility, make him a natural fit for that role. Alford says the Buckeyes can use McCall to exploit mismatches in opposing defenses.
"There's a guy who's adept at running routes, understands the concepts, truly understands the ins and outs and the concepts of the receiver position. Obviously understands it from a running back perspective, as well. Had to gain some weight, which he's done and doing. But he can be a matchup nightmare," Alford said. "All of a sudden, you put him in the backfield and shift him out in some empty sets, some things of that nature, with the linebackers out there in coverage, that's a matchup problem."
"Demario's going to play a lot of football this year. A lot of football. And he's going to play really, really well."– Ohio State running backs coach Tony Alford
McCall also took over as the Buckeyes' lead kickoff returner down the stretch of last season, and he expects to continue in that role, too.
He wants to be more than just a situational player, though. There's an opportunity in front of him to be the Buckeyes' No. 2 running back and potentially split time with Dobbins this season, and he wants to prove he deserves it, though redshirt freshman Master Teague and true freshman Marcus Crowley are also competing for that role this spring.
McCall's spring has started with another setback, as he's been battling a calf injury that has limited him through the Buckeyes' first five spring practices. In order to prove he should be the Buckeyes' No. 2 running back or play in any other significant capacity, he has to get healthy and on the field regularly.
"We'd like to get him a role," Day said Saturday. "We want to get him out on the field so we can get him a role. He's got a lot of versatility. You saw at the end of the season, we used him in a lot of different ways to get matchup problems for our defense. So we'd like to get that going, but he's got to get through this calf injury. Which I think he's close to getting back."
The injury hasn't dampened the confidence of McCall, however, who believes it's his time to shine. He's added about 20 pounds since he's arrived at Ohio State, he's learned the technique needed to play running back for the Buckeyes, he's now settled back in at that position and there's a spot in the running back rotation open for him to seize.
Three years of waiting for his time to shine has only made McCall more motivated to earn a big role within the offense.
"It made me a lot hungrier," McCall said. "And now I'm ready. I've been ready, but I'm ready. I got something to prove."
Alford believes McCall is ready, too, because he's seen the way McCall has matured since he began recruiting him five years ago, when McCall was a junior at North Ridgeville High School.
"He's like a grown-ass man," Alford said. "I've watched him immensely mature … It's fun to watch. Not just him, but all our guys. But he's one of my favorites on this football team."