"They make my job easy. All credit to them. They just tell me, 'Just put her around me, and I'll get it down.' And that's what we just did. They've been solid all year. I couldn't ask for anybody better." - Ohio State Punter Drue Chrisman on the performance of the punt team gunners.

While Urban Meyer worked a great deal to change the culture during his tenure at Ohio State, one focus area in which he mirrored his predecessor, Jim Tressel, was a sincere focus on special teams. In his 'Plan to Win,' Meyer stressed four key areas as critical to finding victory: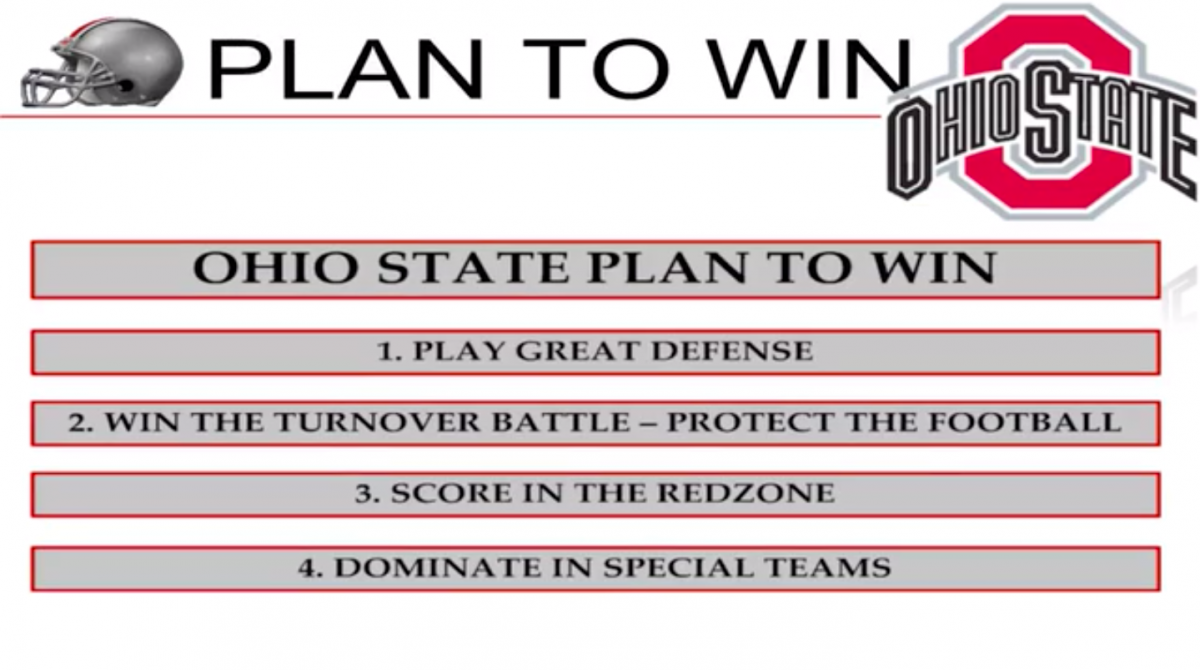 During his seven seasons in charge, his teams were sometimes inconsistent with their execution in this third phase of the game, however. Yet in his final season at the helm, his team produced perhaps their best performance of any Meyer-coached squad in this regard.
This may come as a surprise to many, given that unlike the Tressel years, the Buckeyes featured no award-winning kickers like Mike Nugent or B.J. Sander, or All-American return men like Ted Ginn. Instead, OSU's dominance on special teams came from stellar performances in other areas, producing top-10 units nationally in punt coverage, kickoff coverage, and blocking kicks.
The punt team was crucial to the team's 11-1 record in 2018, playing massive roles in the TCU, Penn State, and Rose Bowl wins. But the most visible effort, of course, was the 26-6 victory in East Lansing in which Drue Chrisman punted nine times, pinning the Spartans inside their own six-yard line on five of them.
While Chrisman was the player-of-the-game to many, famously remarking that he had no idea the post-game press conference room 'even existed,' the standout for many was wide receiver Terry McLaurin. The senior captain was often found at the other end of Chrisman's kicks, downing one at the one-yard-line (which led to a recovered MSU fumble in the end zone for a Buckeye touchdown a few plays later), and preventing a touchback on another thanks to a perfectly-timed leap."It's with great reverence I say that, because you go back all the way to Brad Roby to Devin Smith to Denzel Ward, Gareon Conley (other gunners that Meyer has had at Ohio State) … Terry's as good as there is," Meyer said. "Terry's taken over the title as the best as I've ever had."
That ability was noticeable at the Senior Bowl a few months later, as captured by Tony Gerdeman of TheOzone.net:
Here's a comparison for you. Terry McLaurin goes untouched in punt coverage drill. pic.twitter.com/tdhm1MU4VX

— Tony Gerdeman (@TonyGerdeman) January 23, 2019
But it wasn't just Ohio State media members who fell in love with McLaurin's effort in the kicking game. National scouts took notice as well, paving the way for the former Buckeye captain to hear his name called in the third round of last month's NFL Draft.
Ohio State WR Terry McLaurin... Helping wherever he can @TheTerry_25

No ones wants to talk about special teams & punt gunning around draft time. But when it comes August and roster spots filling up - everyone suddenly interested!

McLaurin will do the dirty work too! pic.twitter.com/8J1Qoqr9lT

— Ben Fennell (@BenFennell_NFL) March 20, 2019
Led by Chrisman and McLaurin, the Buckeye punting unit was exceptional in 2018, allowing an average of just 3.31 yards-per-return, the eighth-lowest average surrendered in the nation. Perhaps even more impressive, however, was the longest return they allowed all year: a 12-yarder from Minnesota's Demetrius Douglas back in October, his only return of the game.
Though Chrisman tallied 61 punts throughout the course of the season, Buckeye opponents returned only 13 of them. While Chrisman landed 29 punts inside of the 20, the second-most in school history, returners consistently found themselves waving for fair catches as McLaurin and fellow gunners Johnnie Dixon III, Jeffrey Okudah, Isaiah Pryor, and Chris Olave consistently beat press coverage off the line before streaking downfield.
"I think, at the end of the day, you want to be able to do anything for the football team," Okudah said. "Me and Terry have kind of been having a little friendly competition all year over who's the best gunner on the team. We've kind of been going at it. Just getting down there, it's like I know if I'm there, Terry's right behind me or if he's there, I'll be right behind him."
The punt team is made up of more than just the punter, long-snapper, and a few gunners, of course. The core of the unit was made up entirely by the linebacking corps last fall, as there were no tight ends, running backs, or offensive linemen to be found on the line and or in the backfield. Dante Booker and Pete Werner lined up at tackle, Justin Hilliard and Malik Harrison played the guard spots on either side of the snapper, and Tuf Borland and Teradja Mitchell manned the two 'protector' spots just in front of Chrisman.
Gone were the 'spread' punt looks that saw gaps of two or three yards between each blocker, replaced by a more traditional approach in which all six blockers worked to prevent any inside pressure and create the longest path possible for oncoming rushers.
The biggest moving piece on this unit became the lone 'wing' gunner, often manned by Pryor. Though the safety struggled at times in his defensive role at safety, he was a critical component to the punt team's success.
Sometimes lined up next to the tackle, but also capable of splitting out into a 'slot' look, Pryor and the outside gunner to his side often played games with the defenders assigned to them, creating rubs and picks to free one another and switching responsibilities between inside and contain responsibilities downfield. When Pryor did split out, the protectors inside tweaked their alignment as well, with Werner dropping deeper into the backfield and playing next to Borland and Mitchell at the second level.
The final piece of the puzzle, of course, is the snapper. Junior Liam McCullough has been outstanding in his first three seasons handling long-snapping duties at Ohio State and is poised to compete for an NFL roster spot next summer after some outstanding performances along the specialist camp circuit.
The first job of the snapper is obviously to hit the target, but with the Worthington native that was never a worry. Instead, McCullough was able to change his aiming point to lead Chrisman towards different spots on the field the same way a quarterback might lead his receiver to avoid defenders.
As Washington made a valiant comeback effort in the second half of the Rose Bowl, the Huskies were able to tip a Chrisman punt as they overloaded the right side of the line, resulting in great field position and an eventual touchdown. But when the OSU punt team went back out on the subsequent possession, McCullough and Chrisman adjusted their launch point the other way, countering the same UW overload rush from the right.
The result was a clean pocket from which the punter could boom a 48-yard kick that allowed McLaurin and Pryor to clean up downfield.
Long before Chrisman, McCullough, McLaurin, and the rest of the punt team ever walked onto the field that afternoon in Pasadena, their coach had long been confident in their abilities to flip the field and change momentum in a game. While many fans remember Ohio State's 52-51 overtime win over Maryland for the offensive fireworks, it was a decision to take his offense off the field that Meyer credits for ultimately securing that victory.
"I just had a chat with our players about that, really tough decision on 38-yard line, fourth-and-5, he said in the days following that game. "And if it wasn't for a guy like Drue I probably would have went for it in that situation, which that's you're putting your defense in bad situation if you don't get it."

"We went, punted the ball down to the 5-yard line. They went three and out. Seven plays later we scored a touchdown and that was because of our punt execution and our gunners and Drue Chrisman."