While Jim Tressel coached Ohio State, punters' collegiate careers blossomed.
B.J. Sander won the Ray Guy Award in 2003, his only season as punter. He had replaced Andy Groom, an All-American on Ohio State's national championship-winning 2002 team. Kyle Turano uncorked a 71-yard punt against Michigan in 2004.
From 2005 to 2008, A.J. Trapasso booted balls. In 2006, he won the Mosi Tatupu Award, which was given to the special teams player of the year. Jon Thoma and Ben Buchanan – a finalist for the Jesse Owens Medal of Honor when he eventually graduated – rounded out the punters during Tressel's 10-year run as Ohio State's head coach.
Though he coached a number of highly regarded punters, he doesn't remember any of them having quite the game-controlling performance of Drue Chrisman that boosted the Buckeyes to a 26-6 win against Michigan State on Saturday.
"I don't think we ever had a game where we had five of them inside the 6," Tressel told Eleven Warriors.
Chrisman, Ohio State's second-year starting punter who was named a Ray Guy Award semifinalist on Thursday, did just that. His six final punts of the game, all of which came in the second half, were downed inside the 6-yard line. He tied his career high with nine punts for an average of 37.8 yards, despite beginning the game with a four-yard shank into the stands.
Ohio State's offense battled freezing, windy conditions and struggled to get into a rhythm against the nation's best run defense. The Buckeyes needed Chrisman, and he came through.
"That's a game-changer," Tressel said. "On a bad night? Oh, man. Bad afternoon? That's hard to overcome for an offense."
Without Chrisman, Ohio State certainly would not have won with a 20-point margin, and there's a chance that Michigan State could have taken advantage of field position. His punts led directly to points.
After a 39-yard punt pinned the Spartans at the 1-yard line, Rocky Lombardi threw three incompletions in a row. Mark Dantonio opted to take a safety rather than risk a mishap with a backup punting deep in his team's territory while trailing by one. Then, one play after Chrisman's final punt of the game forced Michigan State to begin its drive at the 2-yard line, Dre'Mont Jones recovered a fumble in the end zone to extend Ohio State's three-point lead by seven points.
Chrisman took the podium after the game and quipped he didn't even know the media room for interviews existed. Jenny Taft even pulled him aside for the on-field post-game interview typically reserved for quarterbacks, skill players or defensive players who scored touchdowns.
"I'm not sure I've seen it, but I'm sure it was warranted," Tressel said of the punter being selected for the television interview.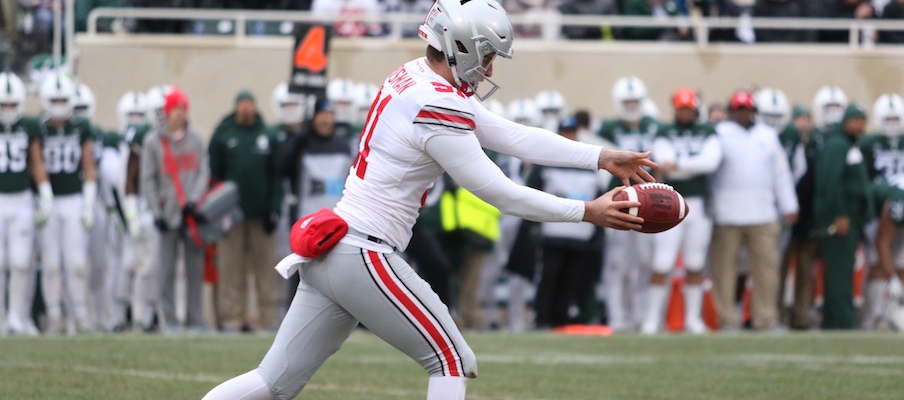 It's no secret that Urban Meyer is enamored by the punt. On Monday, he called the punt gunners "my peoples," and he called the punt team "my baby" on Thursday. He continued Tressel's run of punters with a season of Buchanan, then four seasons from Philadelphia Eagles punter Cameron Johnston, whom Tressel remembered as being "good."
But Tressel's fondness for the punt predates Meyer's tenure at Ohio State. When Chrisman pinned the Spartans near their end zone time after time, some people wondered whether he was tuned in. Tressel, now the president at Youngstown State University, didn't see the Chrisman performance. Instead, he watched the Penguins defeat Northern Iowa at home, 31-10.
Even though he would have enjoyed seeing Chrisman's punts, he didn't mind missing the Ohio State-Michigan State matchup. It pitted his former team against the Spartans, whose defensive coordinator is Mike Tressel, Jim's nephew.
"It's just as well that, as it worked out, I didn't have to punish myself and watch it," Tressel said. "Just like when I coached against all those guys, all I wanted was the game to get over. That's kind of the way I feel now when I'm watching it."
It didn't take long for the reports to trickle in to Tressel after Chrisman helped propel Ohio State to victory. Soon, he heard "the punt had a big impact and was probably the difference in the game." He had heard – and witnessed – that before.
Chrisman's nine-punt game reminded Tressel of Sander's performance in a 19-10 win against Iowa in 2003.
The Buckeyes entered the Week 8 matchup averaging the ninth-fewest yards per game in the nation, and they managed just 185 total yards on offense against the Hawkeyes. Sander ensured Iowa would not win the field-position battle, though, and had eight punts for an average of 44.8 yards.
"His impact was unbelievable in the outcome of the season because we were struggling on offense and very, very good on defense," Tressel said. "We had to keep the ball. Like coach Meyer said, we had to make a couple first downs and make sure they always had the ball way down there. That's the way we were going to win, and our defense would eventually create a mistake."
Ohio State's defense had three turnovers, but the offense never got going. Instead, the punt return unit single-handedly out-scored Iowa. On the second punt return of his career, Michael Jenkins raced for a 54-yard touchdown. Then, Donte Whitner recovered a blocked punt from Iowa's 13-yard line and scored second special teams touchdown of the game.
"Because mentally, when a punt's getting ready to happen, the team that's receiving feels as if they've got the momentum. If they block the punt, then they've just grabbed your jugular vein. If they return the punt for a touchdown, they've made a huge turnaround."– Jim Tressel
Besides the 14 points from special teams, Ohio State mustered just a 53-yard field goal and a late-game safety.
Given how much a close game can swing on a punt, Tressel felt anxious every time the unit took the field.
"I was probably more concerned every time there was punt play than any other play, especially when we're punting," Tressel said. "When the other guys were punting, I'm just hoping we catch the ball. When we're punting, the impact of a blocked punt or them running a punt back on us is just game-changing."
---
How does a punter bounce back from an early game mishap, such as Chrisman's four-yard punt? Does it typically get in their head?
Tressel: "You'd hope not. I'm not sure how veteran he is, I'm not sure what class he's in. If you're worth your salt as a punter or kicker or really a quarterback or a corner when you're covering someone, you've got to have a short memory. You've got to focus on your fundamentals. I'm sure that's just what he did. He obviously didn't execute on the bad punt, and I'm sure he went back and did a little autopsy of his mechanics and I'm sure had a little bit of extra desire to make up for that."
How much does wind affect a punter, especially on the first punt? Are punters typically able to regroup after their first punt in the wind?
Tressel: "I think the punters do a good job in pregame trying to assess going each direction what it's going to be like. I think they know going into their first attempt, whether it be first punt or first field goal, how they think it's going to be. Sometimes it has shifted or they didn't read it correctly or whatever. Having that ability to learn from it and to adjust and to bear down a little bit, obviously the young man did that and it paid great dividends."
Was Dre'Mont Jones' fumble recovery a prime example of just how much a punt can swing a game?
Tressel: "We always said that if we could punt them inside the 8 anyway and worst-case scenario stop them, we're going to the ball back on the plus side of the field. Best-case scenario, you create a turnover and there's a short field. That's a big difference in starting a drive on the 20 or 25 or whatever. There's more impact that can occur as a result of that great downing of the punt."
What was your mindset in a classic, bad weather Big Ten game with punts going back and forth?
Tressel: "You obviously never wanted to be at the constant wrong end of the field position thing, and a lot of it determined on where is the wind and those kinds of things. I think there is a lot more strategy or whatever involved when you get added to the course of situation, the elements, the wind. Mistakes can really be magnified. Momentum can really be hard to turn around when you're in the wrong end of things from a field-position standpoint in poor weather. I think there's no question. That's why we practiced coming out, which was starting with the ball on our own 1. We practiced that a lot because, 'A,' it's very difficult, and, 'B,' if you could go 99 yards, take a 99-yard drive, that really can have an impact on turning a game. We worked that a lot."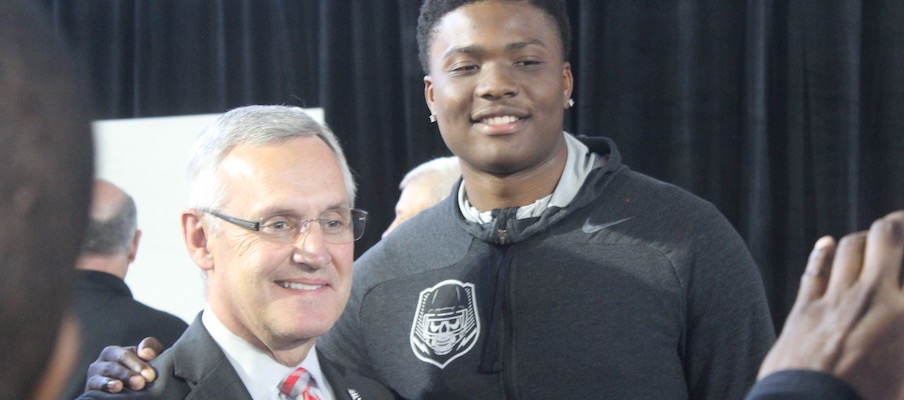 What did you look for in a good punter?
Tressel: "The first thing I want is someone with great hands because the most important thing is the catch. On those windy games, that ball can get affected. On those wet games, the ball can get affected, the snap can be a little off, and really the most important thing on a punt is you get it off, and for you to get the punt off, the most important thing is for you to catch it. I wanted a guy with good hands. I always liked a guy who was a pretty good athlete. Andy Groom was a great high school player. A.J. Trapasso was a 1,500-yard running back. B.J. Sander was a good athlete. I wanted a good athlete back there because you never know what's going to happen when you're standing back there on an island. You can have a big leg. You could have the most powerful leg in the world, but if you can't catch, it doesn't matter, or if you can't move to adjust to a poor snap or if you can't handle the pressure coming, it doesn't matter how good your leg is. But obviously the best-case scenario is to have all those other qualities, plus a great leg."
How did you find high school punters and recruit them?
Tressel: "We were fortunate. We always had a real, robust youth camp, so we'd have three- or four-thousand people in every summer, and one of the parts of the youth camp was the kicker-punter camp; kicker, punter, long snapper. So, many times, we recruited our punters based upon seeing them live on our practice field, and then we could assess their hands, we could assess what kind of athlete they were and obviously we could assess the pop they had on the ball. So, that was always a way that we tried to get our guys a little good look seeing them live."
Urban Meyer said Terry McLaurin might be the best punt gunner he has ever coached. What makes a good gunner?
Tressel: "He's got to have that escapability, and then he's got to have the ability to stack on top of the guy chasing him and not allow the guy to get next to him and push him out of the way and so forth. Great release, great speed, good technique to stack, then good awareness to the ball. That's important. To know where the ball is, to not get tricked by the returner and that type of thing."
Backed up on the 1-yard line and trailing by one point, Michigan State opted for an intentional safety. Have you ever seen that before?
Tressel: "I've seen people take them. Not necessarily when you're behind. I've seen people take them when you're ahead. But the circumstances in the game and, like you say, the punter, you certainly don't want to give up seven. You certainly weren't counting on your guy kicking it out of bounds then on the kickoff. What appeared to have good logic, sometimes the plays that follow, all of a sudden it doesn't look like as good an idea."
Many Ohio State fans think of you when they think of punts. Do you hear that often from fans?
Tressel: "I don't talk to too many fans right now, but I was always very vocal about the importance of the punt. It just can change the game in a variety of ways. If you ask any coach how often they practice the punt, they practice that punt more than they practice any other single play."
Is the punt the most important play in football?
Tressel: "It is when you're punting. That's the fun of football. Some people say it's third down, some people say it's goal line, some people say it's a two-point play, it's a field goal, whatever. I just grew to believe in the course of a game the game can change more quickly on a punt error or great punt execution, like if you execute a blocked punt, or you execute a punt return. Because mentally, when a punt's getting ready to happen, the team that's receiving feels as if they've got the momentum. If they block the punt, then they've just grabbed your jugular vein. If they return the punt for a touchdown, they've made a huge turnaround. The unusual is when the guy punting thinks they're getting ready to set the momentum because they're going to drop one down inside the 5, and that's going to change the whole world. When you can execute on those game-changing-type things, it has a lot to do with who's going to win."
Is the importance of punts amplified in a cold, windy game like Saturday's?
Tressel: "Sure. When the conditions are tough and people are punting back and forth, you're on edge about who's going to make the first mistake or who's going to make the first big play, who's going to run a punt back. I remember in, I think it was '04 or thereabouts, '04 or '05 maybe, we were up at Michigan State and Teddy Ginn ran two punts back. That was the difference in the game. It looked like a decisive victory, but really it was a victory stemmed because of two plays."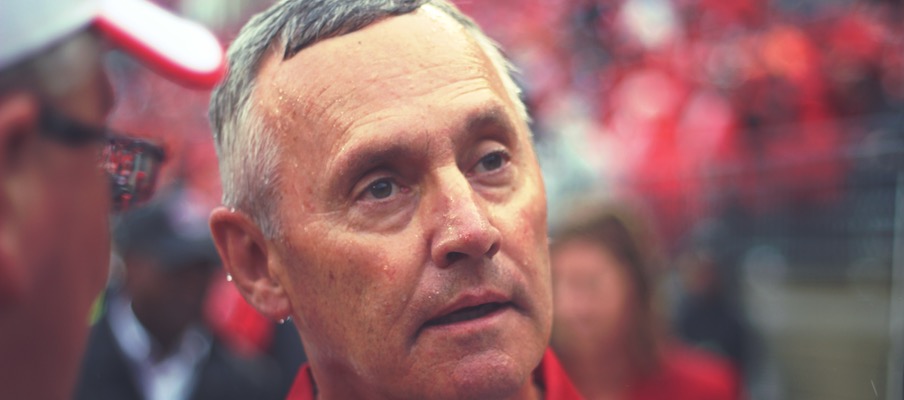 Do you ever remember getting beat, or coming close to losing, due to a punter?
Tressel: "Somebody in the league I remember one time just kept knocking us down and just made it very difficult. But I remember more the times when we were successful. I remember we played Troy in 2008 and I think we might have punted them down inside the 10 like six or seven times, and thank goodness because we weren't stopping them very good on defense. We ended up winning the game I think all because they just have too many long roads to go. But I can't think of one off-hand that really devastated us. But I'm sure if I went back and looked at the film or whatever, I'm sure I'd find some."
Does one punt stand out among the rest during your time at Ohio State?
Tressel: "I remember one time, I can't remember who it was against, but somebody, one of our guys, it might have been Trapasso, I can't remember, but just air-mailed one and we were punting from maybe our own 10 and all of a sudden, the field got flipped just the other way. That type of things. I can't really recall the one. I know we rolled a number of them down in tight. I just can't remember off-hand. I don't think we ever had a game where we had five of them inside the 6."