It's perhaps never been as tough to grade whether the Ohio State football team had a successful season as it is after this past weekend.
Ohio State accomplished one of its biggest goals for the season on Saturday, when it defeated Wisconsin, 27-21, to win the Big Ten Championship Game, bringing a conference title back to Columbus for the first time since 2014.
Ohio State accomplished perhaps its most important goal for the season one week earlier, when the Buckeyes defeated Michigan, 31-20, to earn their sixth straight win over their rival to the north.
Ohio State will not have a chance to achieve its highest goal, however, as the Buckeyes were left out of the College Football Playoff on Sunday, despite winning the Big Ten title, as a result of their two losses earlier in the season to Oklahoma and Iowa.
A season in which a team wins 11 games (with a chance to win 12) and a conference championship should never be deemed a failure. It's also reality, though, that Ohio State is expected to compete for a national championship every year. It's a high bar to achieve, but one by which the Buckeyes currently are – and want to be – measured by. And it's a bar the Buckeyes won't be able to clear this year, no matter how well they play in their final game of the season, the Cotton Bowl, against USC on Dec. 29.
Still, there are plenty of positives to take away from Ohio State's 2017 season – starting with the fact that they won their conference for the first time in three years – and plenty of individual position groups and players whose play has been worthy of praise. And since we last gave the Buckeyes a Report Card after their loss in Iowa City, the Buckeyes have won four straight games, also including blowout wins over Michigan State and Illinois before their wins over Michigan and Wisconsin.
So as we have done on three previous occasions this season, it's time to hand out grades to each Ohio State unit. Once again, these grades are meant to be reflective of the units' performances over the course of the entire season. The only difference this time around is that their grades are close to being finalized, with only a non-playoff bowl game remaining on the schedule.
Quarterbacks: B
I can see the comments now, calling me a J.T. Barrett apologist while insisting that Dwayne Haskins could have led Ohio State to a national title.
It's true that Barrett had some bad games this season, particularly in the losses to Oklahoma and Iowa that cost the Buckeyes a playoff berth. He had another subpar performance in the Big Ten Championship Game, completing just 12 of 26 passes for 211 yards with two touchdowns and two interceptions, but that performance should be kept in perspective, considering that Barrett still made enough plays to lead the Buckeyes to a conference championship despite being just six days from removed from a knee procedure that typically requires multiple weeks of recovery.
The Buckeyes needed Barrett to elevate his game to a grade-A level this season to be a serious national championship threat, and he wasn't able to do that. He still was able, though, to become the first three-time Big Ten Quarterback of the Year in award history, become Ohio State's all-time winningest quarterback and rewrite the school and conference record books in the process.
Even with a couple bad games, Barrett is still tied for third this season among all Football Bowl Subdivision players in total touchdowns (45), ranked eighth in passer rating (162.0) and 12th in total offense (3,671 yards) and was selected as one of three finalists for the Davey O'Brien Award, which honors college football's best quarterback.
All of that, despite the criticism Barrett's play regularly receives, is to say that his senior season has been more successful than not. And Haskins, even though he hasn't started any games, strengthens the quarterbacks' grade too by leading the Buckeyes to a comeback win over Michigan – when Barrett was forced to leave the game early due to a knee injury – while performing all in all well enough in limited action to position himself as a strong candidate to be the team's quarterback of the future.
Running Backs: A
While Ohio State's offensive coaches' grades might be docked for their refusal to consistently rely on their running backs in crucial games, the running backs themselves have had an excellent season, doing about as much as anyone could have expected from them in the opportunities they have received.
True freshman running back J.K. Dobbins grades out as not only one of Ohio State's best players this season, but as one of the best running backs in the country, rushing for 1,364 yards – breaking Maurice Clarett's school freshman rushing record in the process – on only 181 carries. Dobbins has consistently demonstrated an ability to explode for big plays while also consistently gaining positive yardage, with 16 runs of 20-plus yards this season while averaging more than 7.5 yards per carry.
Mike Weber wasn't nearly as productive this year as he was in 2016, in part because of Dobbins' emergence and in part because of a hamstring injury that limited him early in the season, but Weber has still been effective more often than not when he has touched the ball as well. Most notably, Weber had a pair of outstanding games against Michigan State and Illinois, when he combined for 270 yards and four touchdowns, including three touchdowns of 40-plus yards, on just 20 carries.
Weber's performance in those games, combined with Dobbins' consistent excellence throughout his debut season as a Buckeye, is enough to earn this unit an A for the season.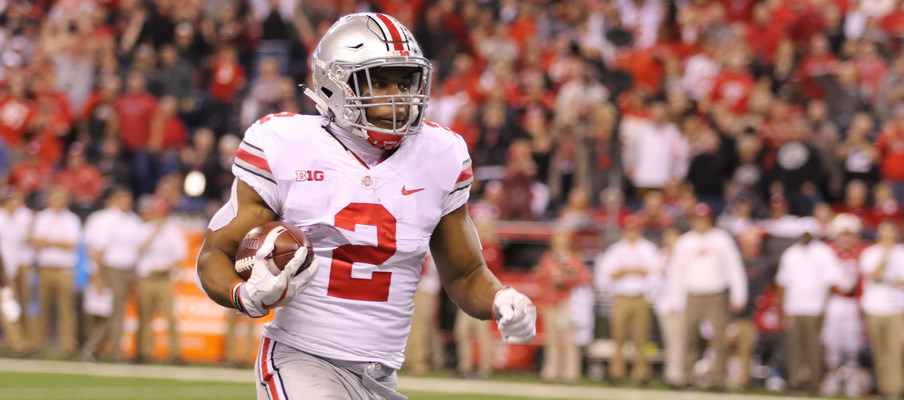 Wide Receivers: C+
To start with the positives, Zach Smith's group of wide receivers has made some legitimate strides for Ohio State this season. All six of the Buckeyes' co-starters at receiver have made their share of plays, giving the Buckeyes a legitimate two-deep at the position with a crop of players that offer a wide variety of skill sets.
Even with that being said, however, Ohio State's receiving corps has still been only a slightly better than average position group this season.
Parris Campbell emerged as a big-play threat to turn a bubble screen into a big play any time the ball is in his hands. K.J. Hill, who leads the Buckeyes with 55 receptions, has been a reliable pass-catcher in the slot. Johnnie Dixon has shown a penchant for big plays, too, scoring eight touchdowns on just 18 catches, while Binjimen Victor emerged as a red-zone threat, catching seven touchdowns. Austin Mack and Terry McLaurin have been strong blockers while making their share of big plays as well in the receiving game.
The problem for the Buckeyes, in another year in which their passing offense was up and down, is that they don't have a receiver with the same playmaking ability as Michael Thomas or Devin Smith, who were crucial to Ohio State's last national championship run in 2014. The receivers who have flashed the most playmaking ability haven't been able to make plays in the downfield passing game consistently, while the entire group has had issues with drops, and the Buckeyes did not have a single first-, second- or third-team All-Big Ten receiver as a result.
While Ohio State's inconsistency in the passing game has been regularly pinned on Barrett – which comes with the territory of being a starting quarterback – the Buckeyes also need their receivers to continue elevating their play in order for the passing offense to perform against top defenses.
Tight Ends: C-
While starting tight end Marcus Baugh has drawn praise for his improvement this season, particularly as a blocker, from Ohio State coach Urban Meyer, his production and the production of Ohio State's tight ends as a whole has been nearly identical this season to that which it was last season.
In 13 games this season, Baugh has caught 24 passes for 264 yards and five touchdowns. In 13 games last season, Baugh caught 24 passes for 269 yards and two touchdowns.
The Buckeyes got slightly more production of their second-string tight end, Rashod Berry (six catches for 100 yards), than they got out of backup tight end A.J. Alexander (four catches for 29 yards) in 2016. Still, Berry has yet to establish himself as a regular playmaker in the Buckeyes offense, leaving them with Baugh – who is solid as both a receiver and blocker, but unspectacular in both areas – as their only consistent presence at the position.
Ohio State's offenses have not been known for having productive tight ends, and the 2017 season will do nothing to change their perception. The Buckeyes' production at tight end has been below average once again this year, and their lack of a consistent threat at the position is one more reason why Ohio State's offense has had some big-game struggles against top competition.
Offensive Line: A
If there's one position group that I did not give enough credit to in our first three report cards of the season, that position group would be Ohio State's offensive line, which performed well all year but emphatically made its case for an A grade with its performance down the stretch of the season.
Ohio State's rushing offense ranks eighth in the FBS this season with 5.9 yards per carry and while the speed and ability of Dobbins and Weber have a lot to do with that success, an equally important factor has been the play of the Buckeyes' offensive line, which has regularly won battles at the line of scrimmage – all the while facing some of the nation's toughest rushing defenses – and opened holes that have enabled big plays to happen.
The Buckeyes' offensive line has also excelled in pass protection, allowing just 19 total sacks in 13 games. And even though the Buckeyes have run 974 offensive plays, the third-most among all FBS teams, they are tied in the 10th in the FBS in tackles for loss allowed per game, with only 54 total tackles for loss allowed for the entire season.
Left tackle Jamarco Jones, left guard Michael Jordan and center Billy Price were all named as first-team All-Big Ten performers, while right tackle Isaiah Prince earned third-team honors. And right guard Demetrius Knox has also been excellent, as the offensive line never missed a beat when he entered the starting lineup in place of Branden Bowen, who began the year as the starting right guard before suffering a season-ending leg injury.
Defensive Line: A-
Ohio State's defensive line has as much talent from top to bottom as any position group on the entire roster, so it's no surprise that it has been a productive group this season.
With the defensive line leading the way, Ohio State's rushing defense has been dominant – ranking seventh in the FBS in yards allowed per game (108.8) and eighth in yards allowed per carry (3.0) – while the Buckeyes have made regular plays in opposing backfields, ranking sixth in the nation in tackles for loss (100), 12th in the nation in sacks (37) and forcing plenty of inaccurate throws by pressuring quarterbacks.
Nick Bosa has been highly disruptive all season, earning Big Ten Defensive Lineman of the Year honors for his efforts, while Tyquan Lewis was also named to the All-Big Ten first team. Fellow defensive end Sam Hubbard received second-team All-Big Ten honors from the conference, while Dre'Mont Jones has also been a disruptive force from the defensive tackle position, earning first-team All-Big Ten honors from the Associated Press. Defensive end Jalyn Holmes and defensive tackles Tracy Sprinkle and Robert Landers have also provided quality play for the Buckeyes.
As talented as that defensive line is, it didn't play up to the hype in the Buckeyes' losses to Oklahoma and Iowa, which is what keeps it from getting a straight A. Its strong showings down the stretch of the year against Penn State, Michigan State, Michigan and Wisconsin, however, were more than enough for the defensive line to still earn high marks despite its couple of mediocre games.
Linebackers: C-
No Ohio State position group's play has been more consistently panned this season than the Buckeyes' linebacker corps, largely because of the position group's play in pass coverage.
Ohio State has had issues all season with covering tight ends and backs out of the backfield. That issue was most prominent in the 55-24 loss to Iowa, when the Buckeyes gave up five combined touchdowns to a pair of tight ends and fullback, but was also an issue in the loss to Oklahoma. The Buckeyes also had major issues with keeping tight ends and fullbacks covered against Michigan, which could have resulted in a loss in that game too had the Wolverines had a quarterback who could hit open receivers with any consistency.
While some of Ohio State's issues in that area can be blamed on scheme and the secondary, the biggest reason why the Buckeyes have struggled against unconventional receivers over the middle of the field has been their linebackers' struggles to consistently stay in position.
The group's play has been a better as a whole since the Buckeyes switched to their current lineup at the position, with Jerome Baker starting at weakside linebacker, Chris Worley at strongside linebacker and Tuf Borland at middle linebacker. Worley and Baker have made more plays around the line of scrimmage as the season has progressed, while Borland has been an improved presence in the middle against the run.
Still, though, the coverage issues have been persistent, and those issues can be directly pointed to as a factor in the Buckeyes losing two games and keeping other games closer than they should have been. Combining those issues with less impact plays from the position than on a typical Ohio State defense, the Buckeyes' linebackers have been atypically below average this year.
Defensive Backs: B
Although Ohio State's passing defense had its aforementioned ups and downs, the Buckeyes' secondary showed steady improvement over the course of the season, and actually played better as a group than it has gotten credit for.
Following a couple bad games to start the season, Ohio State's cornerbacks became dominant by the end of the season. While the Buckeyes have had their issues with covering tight ends, they shut down most opposing wide receivers on a week-to-week basis, and that's because of how well their cornerbacks have played.
Denzel Ward's performance has been well-documented, as he has emerged as one of the most dominant cornerbacks in the country, but Damon Arnette has also had a quietly strong season. Kendall Sheffield looked overmatched early in the season, but Ohio State's third cornerback also ended up winning most of his matchups by the end of the season.
Although some responsibility for the Buckeyes' struggles with tight ends getting open over the middle of the field falls upon them too, Ohio State safeties Damon Webb and Jordan Fuller have also performed well in coverage for the most part – with Webb leading the team with four interceptions – while both have also been regular contributors in run support.
Even with a pair of bad games to start the season against Indiana and Oklahoma and the memorable struggles against Iowa, Ohio State's passing defense ranks 18th in the FBS with only 183.5 passing yards allowed per game, and a big reason for that has been the secondary's development into a unit that has done its job in coverage more often than not and made plays on the ball.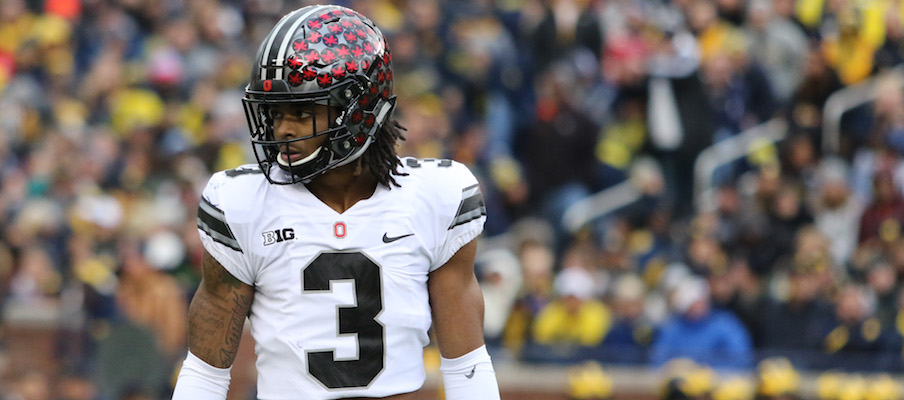 Place Kicking: C
Sean Nuernberger has made 16 of 20 field goal attempts this season while converting all 68 of his extra point attempts, breaking the Big Ten record for most consecutive extra points made in the process. That said, the blocking unit in front of him has struggled at times – allowing two blocked field goals – and Nuernberger has made only one field goal all season of longer than 40 yards. That's not entirely his fault, as he hasn't been given many opportunities to kick field goals from significant distances, but to this point, Nuernberger hasn't been able to prove himself to be a better than average kicker or one who can be trusted to consistently make kicks outside of the red zone.
Punts: A-
Drue Chrisman has had a rock-solid first season as Ohio State's punter, averaging nearly 44 yards per punt while hitting 11 punts of 50-plus yards, downing 20 of his 39 punts inside the opponent's 20-yard line and making very few mistakes. With the exception of its game against Michigan, when it allowed three returns of 54 yards (highlighted by a 42-yard return) to Donovan Peoples-Jones, Ohio State's punt coverage has also had an excellent year, not allowing any returns at all in the Buckeyes' first 10 games and allowing just five returns for 52 yards for the entire season.
Kickoffs: C
You probably wouldn't have guessed this from how much the unit's performance was maligned during the first two months of Ohio State's season, but the Buckeyes actually rank 12th in the FBS with only 17.5 yards allowed per kickoff return this year.
While the kickoff unit was a legitimate weakness for the Buckeyes in their first eight games, allowing two kickoff return touchdowns in that span, it turned a corner in the Iowa game – one of the few bright spots in that game – and was excellent for the Buckeyes' final five pre-bowl games of the year, holding each of its final five opponents to 19 yards per return or less.
Blake Haubeil, who was replaced multiple times as Ohio State's kickoff specialist before finally seizing control of the job from the Iowa game forward, appeared to become more comfortable with Ohio State's coffin-corner kickoff strategy as the season progressed. The kickoff coverage unit around him, meanwhile, began to make stops inside the opponent's 25-yard line with regularity, making Ohio State's high-risk, high-reward kickoff strategy pay off.
Ohio State's struggles in kickoffs earlier in the season cannot be forgotten in its overall grades, and kickoffs out of bounds continued to be a problem even down the stretch of the year, with the Buckeyes tying Penn State for the most kickoffs out of bounds (seven) by any team this season. But the Buckeyes have the potential to re-emerge as one of the nation's best kickoff units next year if they can build upon the progress they made down the stretch of this season.
Kickoff Returns: C
While Ohio State's kickoff unit got significantly better as the season progressed, its kickoff return unit went in the opposite direction.
Campbell was one of the most dynamic kickoff returners in the nation when he handled those duties early in the season, averaging 36.6 yards per return, but he only ended up returning nine kickoffs for the year before being forced to leave back-to-back games against Nebraska and Penn State early due to injuries.
As a result, Weber has taken over kickoff return duties since the Iowa game, and he hasn't been nearly as dynamic, averaging only 15.9 yards per return on nine returns.
Ohio State's decision to take Campbell off of kickoff returns is an understandable one, given the increased risk of injury that comes with returning kicks and Campbell's value on offense, but it turned what was an above average unit into a below average one, as Weber's skill set simply hasn't translated well to the return game.
Ohio State still hasn't returned a kickoff for a touchdown since 2010.
Punt Returns/Blocks: D+
For the second year in a row, Ohio State has failed to make a noteworthy impact in the punt return game, averaging just 5.69 yards per return – tying the Buckeyes for 97th in the FBS in that category. With no punt returns this season of longer than 16 yards, K.J. Hill and the rest of this unit simply haven't posed much of a threat this season – with the exception of Denzel Ward's pivotal punt block against Penn State – making it a unit that grades out well below average.
Overall: B
Ohio State is graded against a high standard, which makes this much true: The Buckeyes have to be national championship contenders, or overcome serious adversity to have an otherwise successful season, to earn an overall A grade.
Considering that their performance against Iowa would have earned them an F, and their performance against Oklahoma would have scored no better than a D, there's a case to be made that the Buckeyes' overall grade should be closer to a C, considering that the Buckeyes didn't exactly have grade-A performances in all of their wins, either.
Ultimately, though, Ohio State's season should still be evaluated as an above average season and a mostly successful season, even by the Buckeyes' high standards. The Buckeyes won a Big Ten championship, and beat some tough opponents along the way, especially in the second half of the year with their wins over Penn State, Michigan State, Michigan and Wisconsin.
No matter how well Ohio State plays in the Cotton Bowl, the Buckeyes won't be able to grade out in the A-range this season – they needed at least one win in the College Football Playoff to do that. If the Buckeyes lose the Cotton Bowl, their overall grade will take a hit, as it would be Meyer's first three-loss season in his six-year tenure as Ohio State's coach.
Nonetheless, though, a conference championship, 11-win season and a continued winning streak over a rival should give the Buckeyes and their fans plenty to celebrate – and makes the Buckeyes' grade for the season to date better than it could have been, considering that they ultimately fell short of a return trip to the final four.