Saturday's trip to Iowa was expected to be another grade-boosting win for the Ohio State football team.
Instead, it ended up being a test that the Buckeyes failed miserably.
While we just gave the Buckeyes a progress report last week, and hadn't planned to give them another report card until after their final regular-season game against Michigan, Saturday's 55-24 loss to the Hawkeyes forced us to immediately re-evaluate our grades for each Ohio State position group.
Although the Buckeyes did what they needed to do to pass their midterm exam against Penn State, winning 39-38, it became clear in the follow-up test that I gave the Buckeyes too much credit – and overlooked some lingering flaws as a result – for one marquee victory and a bunch of wins against inferior teams.
Like last week's report card and the one we gave out after the first four games of the season, these grades are intended to reflect the performance of each Ohio State position group over the course of the entire year, not only in this past weekend's game. That said, the Buckeyes' performances in last week's game – particularly the poor performances that led directly to the blowout defeat – are weighted significantly because of the weight that loss carries for Ohio State's season, effectively knocking the Buckeyes out of the national championship race, and how strikingly substandard the Buckeyes played in a game they should have been able to win.
An updated set of grades for each Ohio State unit, with comparisons to their grades from last week's report card included, are as follows.
Quarterbacks: B- (Previous Grade: A-)
J.T. Barrett followed what might have been the best performance of his Ohio State career against Penn State with one of the worst performances of his Ohio State career against Iowa.
Just one week after a near-perfect performance in which he completed 33 of 39 passes for 328 yards and four touchdowns against the Nittany Lions, Barrett threw a career-high four interceptions – interceptions that directly led to 17 Iowa points – against the Hawkeyes, forcing bad passes into coverage throughout the game and paying the price for it.
While Barrett has been excellent in Ohio State's seven wins this season, throwing 25 total touchdown passes and zero interceptions in those games, he has played poorly in the Buckeyes' two losses, which puts a stain on his entire season and likely eliminates his chances of winning the Heisman Trophy.
Barrett's statistics for the season as a whole remain excellent, as he ranks seventh in the Football Bowl Subdivision in passer rating (168.2) and completion percentage (67.5) and 11th in total offense (321.2 yards per game). Despite calls for Dwayne Haskins to take over earlier in the season, Barrett remains the Buckeyes' undisputed starting quarterback. The expectations for a fourth-year starting quarterback at Ohio State are high, however, so Barrett's two poor performances – which kept the Buckeyes from even being competitive in their two losses – drags his grade down.
Running Backs: A- (Previous Grade: A-)
It's hard to assess the performance of Ohio State's running backs against Iowa because of how sparingly the ball ended up in their hands. The Buckeye running backs' opportunities to make plays have been limited because of the coaches' refusal to commit to the power-running game, but the running backs themselves don't deserve to be downgraded for that.
J.K. Dobbins continued to take advantage of his opportunities on Saturday at Iowa, rushing for 8.5 yards per carry; the problem for the Buckeyes was that he only got six carries. He also demonstrated his ability to make plays in the passing game by catching five passes for 25 yards.
Mike Weber hasn't been as effective with the ball in his hands this season as Dobbins, but even he rushed for 5.4 yards per carry on his limited opportunities – five rushing attempts – on Saturday.
Ohio State's running backs haven't had a bad game this season; they just haven't had enough opportunities to make plays in the games the Buckeyes have lost. They haven't been able to take over a game for the Buckeyes this year, but there's reason to believe they are capable of doing so if given the opportunities.
Wide Receivers: B- (Previous Grade: B)
Although Ohio State's wide receiver group as a whole has made some evident strides this season, it's another group that has failed to make a consistent impact when the Buckeyes offense has struggled in the team's two losses. After failing to get open on a consistent basis against Oklahoma, the wide receivers – with the exception of Johnnie Dixon, who caught two touchdown passes – had a quiet game against Iowa, catching only 10 passes for the entire contest.
Dixon, K.J. Hill, Terry McLaurin and C.J. Saunders were the only Ohio State wide receivers to catch any passes against the Hawkeyes, as Austin Mack and Binjimen Victor were held catch-less while Parris Campbell missed the game due to injury.
While each wide receiver in that group has his own individual strengths, giving the Buckeyes a versatile group of players they can rotate in and out at the position, they still don't have a true go-to target. Hill has been the Buckeyes' most consistently productive receiver (43 receptions for 417 yards and three touchdowns) and Dixon has shown an uncanny knack for making big plays that resulted in points (eight touchdowns in 17 catches), but the rest of the Buckeyes' pass-catchers have been hot and cold in terms of their production.
Had the wide receivers gotten open on a more consistent basis on Saturday, Barrett wouldn't have needed to force as many passes into coverage, which likely would have led to less interceptions. They weren't a primary reason for the Buckeyes' loss on Saturday, but it is clear they still have room to improve as a unit.
Tight Ends: C+ (Previous Grade: B-)
Although Ohio State's tight ends have shown increased promise as playmakers this season, they still haven't gotten over the hump to the point where that promise manifests itself in more consistent production.
Marcus Baugh made one of the most memorable plays of the season when he caught the game-winning touchdown pass against Penn State, but proceeded to catch only two passes against Iowa – while a couple other catchable balls hit at least one of his hands. For the season as a whole, Baugh's per-game production this year (1.9 catches per game, 19.6 receiving yards per game) has been nearly identical to his production from last year (1.8 catches per game, 20.7 yards per game).
Rashod Berry has demonstrated intriguing potential as a big, athletic playmaker, but all of his production to this point has come in blowout games against inferior opponents. His rawness from a technical standpoint showed in his limited playing time against Iowa, as he struggled to be effective as a blocker despite his physical attributes.
Ohio State's tight ends have improved this season, but at some point, their statistics need to show that improvement on a more regular basis if that unit is to finish the season with an above-average grade.
Offensive Line: B+ (Previous Grade: B+)
Unlike most of the Buckeyes' units, Ohio State's offensive line continued to perform well against Iowa. The Buckeyes did not allow a single tackle for loss when all five of their starting offensive linemen were in the game, gave J.T. Barrett time to throw on most occasions and led the Buckeyes to 5.4 yards per carry in the running game.
The one reason for concern with Ohio State's offensive line is the Buckeyes' lack of depth at that position. That lack of depth showed on Saturday when left tackle Jamarco Jones was knocked out of the game briefly due to an injury. While Joshua Alabi was only in the game in place of Jones for four plays, one of those plays resulted in a strip sack, as Alabi failed to pick up an outside rusher who hit Barrett from the blind side.
Ohio State coach Urban Meyer said Monday that the Buckeyes' depth on their offensive line is "not even close" to where it needs to be.
The offensive line still checks in with a B-plus grade, with the potential to rise into the A-range if it finishes the season strong, because of how effective its starting five – the only five the Buckeyes need if all of them can stay healthy – has been, even acquitting itself well amid other units' struggles in the Buckeyes' losses.
Defensive Line: B (Previous Grade: A)
Ohio State's defensive line showed how good it could be against Penn State, but couldn't follow that performance up against Iowa.
The Buckeyes defensive line performed up to the hype and more against Penn State, leading the way as Ohio State recorded 13 tackles for loss and bottled up Penn State star running back Saquon Barkley. Against Iowa, however, the Buckeyes defensive line lost the battle at the line of scrimmage – to an Iowa offensive line starting two freshmen at offensive tackle – as Ohio State recorded just one sack and three tackles for loss and allowed 243 rushing yards.
While Ohio State's defensive line is as talented as any unit in the country, and really should be capable of playing at an A level week in and week out, the defensive line has tended to be underwhelming in big games. Saturday's game certainly qualified, as the defensive line failed to make a noteworthy impact while the Buckeyes allowed the Hawkeyes to score more points than any team led by Meyer had ever allowed in any previous game in his coaching career.
The Buckeyes did lose their best defensive lineman, Nick Bosa, when he was disqualified from the game in the second quarter after incurring a targeting penalty. That's no excuse, though, for a defensive line with more than enough other talent – Sam Hubbard, Tyquan Lewis, Jalyn Holmes and Dre'Mont Jones, to name a few – to still win the battle in the trenches against Iowa, which has a reputation for strong offensive line play but less talent than the players it was going up against on Saturday.
Linebackers: C- (Previous Grade: B)
No unit has played more poorly in Ohio State's two losses this season than its linebackers, which is why that position group checks in with a significantly lower grade than it had last week and the worst grade among all offensive and defensive units.
As our Kyle Jones demonstrated in this week's Film Study, Ohio State's defense was exposed by Iowa on Saturday, and no position group on that defense was exposed in a worse way than the linebackers, who were consistently out of position in pass coverage while also failing to make a noteworthy impact in run defense.
Those same problems plagued Ohio State's linebackers against Oklahoma, and while the linebackers have been better in most of the Buckeyes' other games, none of them have made impact plays on a regular basis over the course of this season.
Outside of spectacular individual performances by Tuf Borland against Army, Dante Booker against Rutgers and Jerome Baker against Maryland, Ohio State's linebacker play has been underwhelming all season and a liability at its worst. The unit had demonstrated improvement over the course of the year before Saturday's debacle at Kinnick Stadium, but had nonetheless gotten too much credit as a unit that simply hasn't performed up to what it should be capable of this year.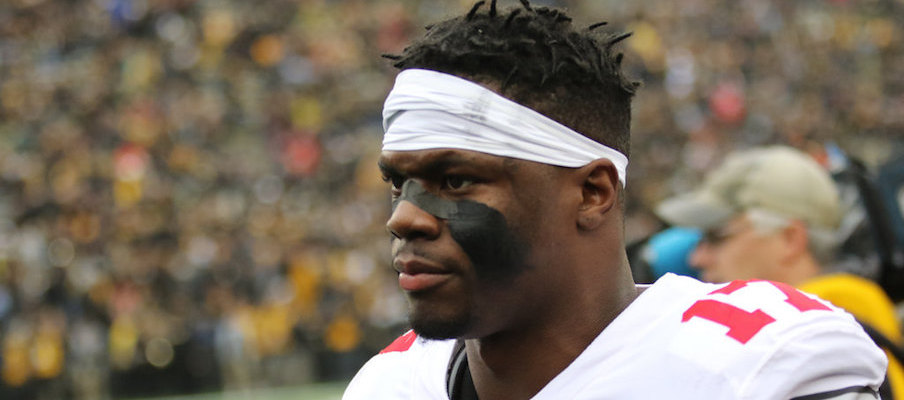 Defensive Backs: C+ (Previous Grade: B-)
Like the linebackers, Ohio State's safeties were too often out of position in pass coverage against Iowa, which allowed the Hawkeyes' tight ends to have a big day. Jordan Fuller, who had emerged as a big playmaker for the Buckeyes defense in recent weeks, failed to make any difference-making plays against Iowa. Damon Webb, who had been much more solid on the back end of the Buckeyes' defense this season, appeared to be plagued by some of the same lapses in coverage that he suffered from as a first-year starter last year.
Ohio State's cornerbacks, the more maligned portion of the Buckeyes' secondary earlier in the season, actually played well against Iowa, allowing the Hawkeyes' wide receivers to catch only seven passes in Saturday's game. Damon Arnette and Kendall Sheffield suffered some beats but still continued to play better on the whole than they did early in the year, especially in the Buckeyes' first loss against Oklahoma.
There's still some reason to be concerned about Ohio State's inconsistency at cornerback and safety – with the exception of No. 1 cornerback Denzel Ward, who has provided shutdown coverage on his side of the field. The Buckeyes' shaky play at safety against the Hawkeyes drops the secondary's grade back into the C-range for now, as they will need to shore up their issues in covering tight ends and other receivers over the middle to prevent other opponents from duplicating Iowa's offensive success.
Relative to their performance over the rest of the season, Ohio State's defensive backs actually had a better showing against the Hawkeyes than the defensive line and linebackers did. But the secondary enters the final quarter of the regular season still having a lot to prove, as it has been one of the Buckeyes' weaker position groups this year.
Field Goals/Extra Points: C (Previous Grade: C)
The place kicking unit's grade remains unchanged as it wasn't really put to the test against the Hawkeyes, but Sean Nuernberger remained consistent on short kicks, converting his only field goal attempt from 27 yards out while also making all three of his extra point attempts, keeping him perfect in the latter category while extending his Big Ten record streak of consecutive extra points made. Nuernberger, whose only two missed field goals of the year came against Maryland, simply hasn't been put in position to make the big kick needed to raise his grade to a higher level.
Punts: A- (Previous Grade: A-)
Ohio State still has not had a single punt returned against this unit all year, a statistic that will likely earn this an unit an A if it can keep that up for the entire season. Drue Chrisman, who is still averaging 42.7 yards per punt for the year, continued to punt the ball effectively against Iowa, downing two of his four punts inside the Hawkeyes' 20-yard line while booting another one of his punts 51 yards.
Kickoffs: D (Previous Grade: F)
One of the few bright spots for the Buckeyes in Saturday's game was the performance of their kickoff unit, which has been the team's weakest unit this season but had arguably its best game of the year at Iowa. After hitting his first kickoff of the game into the end zone for a touchback, each of Blake Haubeil's other three kickoffs in Saturday's game – not including a late-game onside kick – were stopped inside Iowa's 20-yard line.
The kickoff unit must prove it can sustain that success for a string of games in order to improve its grade significantly, but the previously failing unit did appear to make real progress on Saturday with Haubeil back in the kickoff specialist role over Nuernberger and some new participants on the kickoff coverage unit.
Kickoff Returns: B+ (Previous Grade: A-)
Parris Campbell has been one of the nation's most consistently effective kickoff returners this season, while K.J. Hill has also been a solid returner in limited duty, but neither one of them returned a kick against Iowa. With Campbell sidelined due to injury and Hill playing increased snaps on offense in Campbell's place, the Buckeyes turned to Mike Weber to handle kickoff return duties against the Hawkeyes.
This move led to subpar results for the Buckeyes' kickoff return unit, as Weber failed to return a single kickoff past the 23-yard line. The Buckeyes should get back to being one of the nation's best kickoff return units once Campbell gets healthy – though the unit need to break its touchdown drought to earn an A for the season – but Saturday exposed an apparent lack of depth for Ohio State at the kickoff returner positions, as Weber does not offer a skill set that is likely to lead to big plays in the return game.
Punt Returns/Blocks: C- (Previous Grade: C-)
Ohio State didn't make any plays on punt returns against Iowa, but it's not as though punt returner K.J. Hill had many opportunities, as the Buckeyes only forced three Hawkeyes punts – one of which was a pooch punt by quarterback Nate Stanley that landed in the end zone. For the season as a whole, though, Ohio State's punt return unit hasn't made many plays, with the exception of Denzel Ward's tide-turning punt block against Penn State.
Overall: B- (Previous Grade: B+)
When we filed our report card last week, Ohio State appeared to be a national championship contender and was trending toward being one of college football's elite teams once again. But now, after losing to a then-unranked team by 31 points, the Buckeyes appear to be out of the national title race and a tier or two below the sport's upper echelon this season.
Having lost two games this season, both by 15 points or more, Ohio State certainly hasn't performed at a grade-A level this year. Expected to be one of the best teams in the FBS this year, the Buckeyes have fallen short of expectations, and it remains unclear – because most of Ohio State's wins have come against clearly inferior opponent – whether the Buckeyes are even as good as their underwhelming 7-2 record indicates.
That said, the fact that the Buckeyes defeated Penn State and won by at least 28 points in each of their other six victories indicated that they are, at least, an above-average team. Ohio State still controls its own destiny with the potential to win a Big Ten championship, and should be favored – barring another loss – to win each of its remaining regular-season games.
Ohio State's overall grade at the end of the season will hinge on whether the Buckeyes can bounce back and win out in the rest of their games. If they continue to lose to teams they shouldn't, their grade will drop further. But while the Buckeyes and their coaching staff need to be better on both sides of the ball than they have been in their losses, and better on special teams than they have been in some of their other games, they still have a chance to finish the year strong and assert themselves as one of the better teams in college football this year if they can win a conference championship and earn a berth in a New Year's Six bowl.