A lopsided score in the fourth quarter of a game is typically an opportunity for Ohio State's seldom-used backups to get on the field for some playing time.
That wasn't the case on Saturday, however, when the lopsided margin on the scoreboard wasn't in the Buckeyes' favor.
Although the Buckeyes' chances to win Saturday's game evaporated well before the game clock hit zeroes, Ohio State played only 58 players – less than it had played in any previous road game this season, leaving 12 members of the travel roster on the bench – in its shocking 55-24 loss to Iowa at Kinnick Stadium.
With a few exceptions, Ohio State left most of its starters on offense and defense in for the entire game, even though it became clear the Buckeyes would not be victorious before each unit's final series in the game.
Ohio State used 19 players on offense and 21 players on defense – both slightly more than the Buckeyes used in their down-to-the-wire battle with Penn State one week earlier – but only one more total player saw the field against the Hawkeyes than against the Nittany Lions.
We take a look at which Buckeyes played, how much each of them played, what their roles were and finally, the overall playing time of every Buckeye who has seen the field this season in this week's edition of Snap Counts.
Author's note: All snap counts listed in this article were tracked by Eleven Warriors through film review and should be considered unofficial, as Ohio State does not release its official snap counts. The players listed with each special teams unit are the players who were on the field with those units most frequently, but exact special teams snap counts are not included because it is not always possible to identify all 11 players on a special teams unit from TV camera angles.
Quarterbacks
J.T. Barrett: 68 snaps
Although Ohio State was down by 31 points by the time it took the field for its final possession, the Buckeyes never took Barrett out of the game, leaving their starting quarterback in along with the rest of the first-team offense as they ran out the clock and conceded defeat. Saturday's game was the second consecutive game and fourth overall game this season in which Barrett was the only quarterback to see the field.
Running Backs
J.K. Dobbins: 43
Mike Weber: 22
Antonio Williams: 4
After playing slightly less snaps than Weber in each of Ohio State's last four games, Dobbins played nearly twice as many snaps as Weber on Saturday. Neither running back saw more than six carries in the game, as the Buckeyes chose to not hand the ball off to them regularly on Saturday, but Dobbins clearly took on the bigger role in Saturday's game plan, also catching five passes while Weber caught only one.
Williams' only offensive playing time came on the Buckeyes' final possession, when he ran the ball on four straight plays to end the game.
Fullbacks
Zach Turnure: Special teams only
Turnure played on only special teams for a second week in a row after seeing offensive playing time as a fullback in the Buckeyes' previous two games against Maryland and Nebraska.
Wide Receivers
K.J. Hill: 61
Johnnie Dixon: 41
Austin Mack: 35
Binjimen Victor: 31
Terry McLaurin: 29
C.J. Saunders: 6
Elijaah Goins: Special teams only
With Parris Campbell sidelined by an injury, Hill played the vast majority of the game's snaps at slot receiver, with Saunders – a walk-on who is usually the third-string slot receiver – rotating in only occasionally. Dixon also played one snap at slot receiver, scoring a touchdown on his only play from that position.
For the rest of the game, Dixon rotated with McLaurin at his usual position of Z receiver, while Victor – who made his first career start alongside McLaurin and Hill – rotated with Mack, who did not start for the first time this season yet played more total snaps than Victor, at the X receiver spot.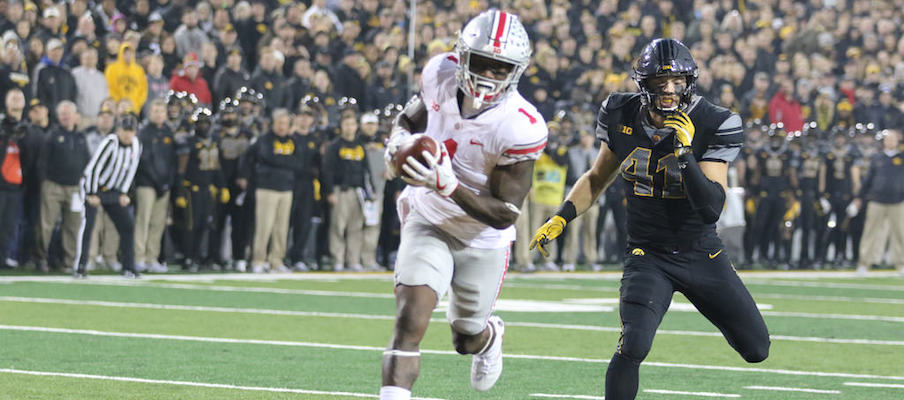 Tight Ends
Marcus Baugh: 56
Rashod Berry: 12
Baugh played more than 80 percent of Ohio State's offensive snaps for the second week in a row on Saturday, as Berry only rotated in occasionally – and most often for only one or two plays at a time – against the Hawkeyes. The Buckeyes did not break out their two-tight end packages on Saturday as frequently as they had in their past two games, only putting Baugh and Berry on the field simultaneously for two plays against Iowa.
Offensive Linemen
Michael Jordan: 68
Billy Price: 68
Isaiah Prince: 68
Jamarco Jones: 64
Demetrius Knox: 64
Joshua Alabi: 4
Matthew Burrell: 4
Thayer Munford: Special teams only
Malcolm Pridgeon: Special teams only
Brady Taylor: Special teams only
Kevin Woidke: Special teams only
Jones and Knox each missed four snaps after suffering injuries on back-to-back plays in the second quarter, putting Alabi on the field at left tackle and Burrell in at right guard simultaneously for a brief stretch in the game. Both Knox and Jones were able to return to the field by the Buckeyes' next possession, however, and remained in for the rest of the game. Jordan played every snap of the game at left guard, while Price did the same at center and Prince did the same at right tackle.
Defensive Ends
Sam Hubbard: 49
Jalyn Holmes: 47
Tyquan Lewis: 43
Nick Bosa: 17
Chase Young: 7
Jonathon Cooper: 6
Bosa was ejected from Saturday's game in the second quarter after being penalized for targeting. That shortened the Buckeyes' usual defensive end rotation for the rest of the game from four to three, as Hubbard, Holmes and Lewis all rotated in and out with one another instead of switching off in pairs as they usually do. Bosa's ejection also opened the door for Young and Cooper to get a few snaps with the first-team defense, though most of those came near the end of the game, when Iowa already had a win well in hand.
In addition to rotating in and out at defensive end, Holmes also played three snaps at 3-technique defensive tackle – a position at which he started two games in place of Dre'Mont Jones earlier this season – during the fourth quarter of Saturday's game.
Defensive Tackles
Dre'Mont Jones: 62
Tracy Sprinkle: 34
Robert Landers: 31
Michael Hill: 6
Jashon Cornell: 4
Jones set a new season high for snaps played in Saturday's game, as he was on the field as the Buckeyes' 3-technique defensive tackle for all but seven plays – four of which were played by Cornell and three of which were played by Holmes – when Ohio State was in its 4-3 base defense. The Buckeyes rotated much more regularly at the nose tackle position, with Sprinkle and Landers splitting the bulk of the snaps but Hill also being worked into the rotation for occasional repetitions.
Linebackers
Jerome Baker: 74
Dante Booker: 54
Chris Worley: 42
Tuf Borland: 26
Malik Harrison: 20
Baron Browning: Special teams only
Justin Hilliard: Special teams only
Keandre Jones: Special teams only
Pete Werner: Special teams only
Baker was on the field for every one of Ohio State's defensive snaps against Iowa, making him the only Buckeye defender to finish with that distinction for Saturday's game. Worley played every snap at middle linebacker in the Buckeyes' base defense until the third quarter, when he left the game with an apparent injury and was replaced by Borland. Booker played every snap at strongside linebacker in the base defense until the fourth quarter, when he was replaced by Harrison – who also played alongside Baker as the Buckeyes' second linebacker in their nickel defense – after Booker was beaten on a touchdown reception by Iowa fullback Drake Kulick.
Cornerbacks
Denzel Ward: 59
Damon Arnette: 55
Kendall Sheffield: 34
Jeffrey Okudah: Special teams only
Amir Riep: Special teams only
Ohio State stuck with its usual three-man cornerback rotation of Ward, Arnette and Sheffield for Saturday's game, with Ward and Arnette each playing a majority of snaps as the outside cornerbacks in the Buckeyes' base defense. Ward was on the field for nearly every snap until the Buckeyes' final couple of defensive series, when they took the opportunity to give Arnette and Sheffield – their cornerbacks who need more work – more playing time. As has been the case all season, Arnette moved inside to the slot cornerback position when all of the Buckeyes' top three cornerbacks were on the field together in the nickel defense.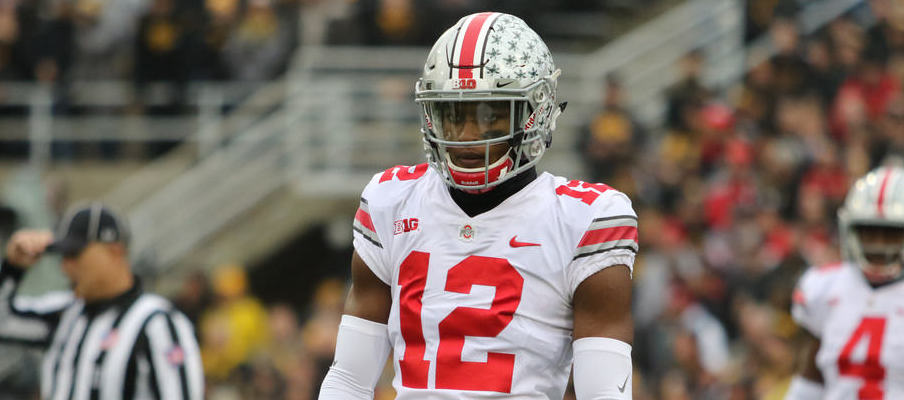 Safeties
Damon Webb: 73
Jordan Fuller: 71
Isaiah Pryor: Special teams only
Erick Smith: Special teams only
Webb and Fuller were the only Buckeyes to take any snaps at the safety position for a second game in a row on Saturday. Both safeties were on the field for every play except three, when the Buckeyes put in a goal-line package that utilized seven defensive linemen, three linebackers and only one defensive back – that one defensive back being Webb for two of those three plays.
Field Goals/Extra Points
Sean Nuernberger (kicker)
Drue Chrisman (holder)
Liam McCullough (long snapper)
Rashod Berry (blocker)
Matthew Burrell (blocker)
Jonathon Cooper (blocker)
Michael Hill (blocker)
Thayer Munford (blocker)
Malcolm Pridgeon (blocker)
Brady Taylor (blocker)
Kevin Woidke (blocker)
Ohio State had no issues on its place kicking unit against Iowa while using an identical lineup to that which it used one week earlier against Penn State.
Kickoffs
Blake Haubeil (kicker)
Dante Booker or Tuf Borland (gunner)
Baron Browning (gunner)
Malik Harrison (gunner)
Justin Hilliard (gunner)
Austin Mack (gunner)
Jeffrey Okudah (gunner)
Amir Riep (gunner)
Erick Smith (gunner)
Zach Turnure (gunner)
Pete Werner (gunner)
After being benched in favor of Sean Nuernberger last week, Haubeil resumed his duty as Ohio State's kickoff specialist at Iowa. Booker made his debut on the kickoff coverage unit in Saturday's game, but was replaced after the Buckeyes' first two kickoffs by Borland, who also had not previously played on the kickoff unit this year. Mack remained on the kickoff unit in place of Elijaah Goins, who he replaced in the second half of last week's game against Penn State. Harrison was also a new addition to the kickoff coverage unit against Iowa, while Keandre Jones and Jahsen Wint were removed from the kickoff unit after playing on it in previous weeks.
Kickoff Returns
Mike Weber (returner)
Antonio Williams (blocker)
Tuf Borland (blocker)
Johnnie Dixon (blocker)
Malik Harrison (blocker)
Justin Hilliard (blocker)
Keandre Jones (blocker)
Jeffrey Okudah (blocker)
Isaiah Pryor (blocker)
Erick Smith (blocker)
Zach Turnure (blocker)
With regular primary kickoff returner Parris Campbell out for Saturday's game and regular secondary kickoff returner K.J. Hill on the field for nearly every offensive play, Ohio State turned to Weber to take over primary kickoff return duties at Iowa while Williams took Hill's usual spot as the secondary kickoff returner. Pryor and Smith were also both added to the kickoff return unit for Saturday's game, replacing Jordan Fuller and Elijaah Goins, who were each on the unit in previous games.
Punts
Drue Chrisman (punter)
Liam McCullough (long snapper)
Tuf Borland (upback)
Jonathon Cooper (upback)
Malik Harrison (guard)
Zach Turnure (guard)
Jerome Baker (tackle) or Isaiah Pryor (gunner)
Sam Hubbard (wing)
Elijaah Goins (gunner)
Terry McLaurin (gunner)
Jeffrey Okudah (gunner)
After lining up as one of the Buckeyes' upbacks in punt protection in their first eight games, Hubbard moved into a role playing on the line of scrimmage in Saturday's game, with Cooper replacing him in his previous role alongside Borland in the backfield. While Baker was on the field for the Buckeyes' first two punts of the game, Pryor replaced him on the punting unit as a fourth gunner for their latter two punts of the game. Every player who saw snaps on the punting unit in Saturday's game had previously been on the punting unit in at least one other game this season.
Punt Returns/Blocks
K.J. Hill (returner)
Damon Arnette (rusher/blocker)
Rashod Berry (rusher/blocker)
Dante Booker (rusher/blocker)
Jonathon Cooper (rusher/blocker)
Justin Hilliard (rusher/blocker)
Terry McLaurin (rusher/blocker)
Kendall Sheffield (rusher/blocker)
Denzel Ward (rusher/blocker)
Damon Webb (rusher/blocker)
Pete Werner (rusher/blocker)
Ward was added to the punt return/block unit for a regular role on Saturday after blocking a punt in his only snap with the unit one week earlier against Penn State. Berry was also a new addition to the punt return unit from the Penn State game, though he had previously been on the unit in most of Ohio State's other previous games this season. Malik Harrison and Keandre Jones, who were both of the punt return/block unit against Penn State, did not play with the unit against the Hawkeyes.
Snap Tracker: Offense

| POS | PLAYER | @ IU | OU | ARMY | UNLV | @ RU | MD | @ NEB | PSU | @ IOWA | TOTAL |
| --- | --- | --- | --- | --- | --- | --- | --- | --- | --- | --- | --- |
| QB | J.T. BARRETT | 88 | 71 | 59 | 33 | 53 | 70 | 76 | 85 | 68 | 603 |
| QB | DWAYNE HASKINS | DNP | DNP | 10 | 50 | 14 | 22 | 8 | DNP | DNP | 104 |
| QB | JOE BURROW | DNP | DNP | DNP | 5 | 7 | DNP | 5 | DNP | DNP | 17 |
| RB | J.K. DOBBINS | 76 | 44 | 41 | 38 | 23 | 35 | 36 | 39 | 43 | 375 |
| RB | MIKE WEBER | DNP | 27 | 17 | DNP | 28 | 38 | 37 | 48 | 22 | 217 |
| RB | ANTONIO WILLIAMS | 12 | DNP | 10 | 38 | DNP | 8 | 16 | ST | 4 | 88 |
| RB | DEMARIO MCCALL | ST | DNP | DNP | 8 | 21 | 7 | DNP | DNP | DNP | 36 |
| RB | JORDAN LEASURE | DNP | DNP | 1 | 10 | DNP | DNP | DNP | DNP | DNP | 11 |
| RB | JARED DRAKE | DNP | DNP | ST | 4 | 1 | 3 | DNP | DNP | DNP | 8 |
| FB | ZACH TURNURE | ST | ST | ST | ST | ST | 8 | 2 | ST | ST | 10 |
| WR | K.J. HILL | 58 | 55 | 32 | 36 | 25 | 45 | 50 | 66 | 61 | 428 |
| WR | TERRY MCLAURIN | 49 | 41 | 52 | 25 | 41 | 54 | 54 | 51 | 29 | 396 |
| WR | BINJIMEN VICTOR | 47 | 43 | 29 | 38 | 32 | 39 | 41 | 37 | 31 | 337 |
| WR | AUSTIN MACK | 41 | 19 | 41 | 31 | 34 | 38 | 48 | 47 | 35 | 334 |
| WR | JOHNNIE DIXON | 39 | 39 | DNP | 41 | 33 | 36 | 34 | 34 | 41 | 297 |
| WR | PARRIS CAMPBELL | 47 | 38 | 32 | 11 | 28 | 30 | 6 | 3 | DNP | 195 |
| WR | C.J. SAUNDERS | 7 | DNP | 9 | 31 | 23 | 18 | 27 | 8 | 6 | 129 |
| WR | JAYLEN HARRIS | DNP | DNP | DNP | 19 | 7 | 17 | DNP | DNP | DNP | 43 |
| WR | TREVON GRIMES | DNP | DNP | 14 | 18 | DNP | DNP | DNP | DNP | DNP | 32 |
| WR | ELIJAAH GOINS | ST | ST | ST | ST | ST | ST | ST | ST | ST | ST |
| TE | MARCUS BAUGH | 49 | 49 | 41 | 25 | 43 | 53 | 49 | 74 | 56 | 439 |
| TE | RASHOD BERRY | 4 | ST | 15 | 24 | 22 | 17 | 33 | 18 | 12 | 145 |
| TE | LUKE FARRELL | 11 | DNP | 9 | 37 | 9 | 11 | 12 | DNP | DNP | 89 |
| TE | JAKE HAUSMANN | DNP | DNP | 2 | 4 | DNP | 3 | DNP | DNP | DNP | 9 |
| TE | DERRICK MALONE | DNP | DNP | DNP | ST | DNP | DNP | DNP | DNP | DNP | ST |
| OL | MICHAEL JORDAN | 88 | 71 | 59 | 41 | 60 | 74 | 76 | 85 | 68 | 622 |
| OL | ISAIAH PRINCE | 88 | 71 | 59 | 41 | 60 | 74 | 76 | 85 | 68 | 622 |
| OL | JAMARCO JONES | 82 | 71 | 59 | 41 | 60 | 74 | 75 | 85 | 64 | 611 |
| OL | BILLY PRICE | 83 | 71 | 59 | 33 | 53 | 70 | 76 | 85 | 68 | 598 |
| OL | BRANDEN BOWEN | 88 | 71 | 59 | 88 | 60 | 23 | DNP | DNP | DNP | 389 |
| OL | DEMETRIUS KNOX | ST | ST | 10 | 30 | 13 | ST | 76 | 82 | 64 | 275 |
| OL | BRADY TAYLOR | 5 | DNP | 10 | 55 | 21 | 22 | 13 | ST | ST | 126 |
| OL | MATTHEW BURRELL | 6 | ST | DNP | DNP | 14 | 69 | 13 | 3 | 4 | 109 |
| OL | JOSHUA ALABI | DNP | DNP | 10 | 47 | 14 | 18 | 14 | DNP | 4 | 107 |
| OL | THAYER MUNFORD | DNP | DNP | 10 | 47 | 14 | 18 | 13 | ST | ST | 102 |
| OL | MALCOLM PRIDGEON | ST | ST | 10 | 17 | 1 | 18 | 13 | ST | ST | 59 |
| OL | KEVIN WOIDKE | DNP | ST | ST | ST | DNP | ST | ST | ST | ST | ST |
| K | SEAN NUERNBERGER | ST | ST | ST | ST | ST | ST | ST | ST | ST | ST |
| K | BLAKE HAUBEIL | ST | ST | ST | ST | ST | ST | ST | DNP | ST | ST |
| K | BRYAN KRISTAN | DNP | DNP | ST | DNP | DNP | DNP | DNP | DNP | DNP | ST |
Snap Tracker: Defense

| POS | PLAYER | @ IU | OU | ARMY | UNLV | @ RU | MD | @ NEB | PSU | @ IOWA | TOTAL |
| --- | --- | --- | --- | --- | --- | --- | --- | --- | --- | --- | --- |
| DE | JALYN HOLMES | 59 | 48 | 28 | 25 | 36 | 29 | 29 | 40 | 47 | 341 |
| DE | TYQUAN LEWIS | 48 | 43 | 29 | 23 | 33 | 28 | 29 | 47 | 43 | 323 |
| DE | SAM HUBBARD | 51 | 43 | 30 | 25 | 29 | 28 | 29 | 38 | 49 | 322 |
| DE | NICK BOSA | 62 | 47 | 25 | 27 | 28 | 20 | 31 | 50 | 17 | 307 |
| DE | CHASE YOUNG | 13 | DNP | 9 | 35 | 34 | 22 | 26 | DNP | 7 | 146 |
| DE | JONATHON COOPER | 16 | 1 | 11 | 31 | 33 | 19 | 24 | ST | 6 | 141 |
| DE | NICK SEME | DNP | DNP | DNP | ST | DNP | 9 | DNP | DNP | DNP | 9 |
| DT | DRE'MONT JONES | 54 | 59 | 42 | 17 | DNP | DNP | 19 | 46 | 62 | 299 |
| DT | TRACY SPRINKLE | 34 | 34 | 28 | 17 | 19 | 12 | 9 | 30 | 34 | 217 |
| DT | ROBERT LANDERS | 25 | 27 | 28 | DNP | 21 | 16 | 24 | 16 | 31 | 188 |
| DT | JASHON CORNELL | 14 | 10 | 9 | 22 | 25 | 14 | 17 | 3 | 4 | 118 |
| DT | DAVON HAMILTON | 6 | ST | 12 | 26 | 19 | 17 | 13 | DNP | DNP | 93 |
| DT | HASKELL GARRETT | 6 | DNP | 4 | 14 | 10 | 11 | 8 | DNP | DNP | 53 |
| DT | MICHAEL HILL | DNP | DNP | DNP | DNP | DNP | DNP | 7 | 5 | 6 | 18 |
| DT | MALIK BARROW | DNP | DNP | 9 | 7 | DNP | DNP | DNP | DNP | DNP | 16 |
| DT | DYLAN THOMPSON | DNP | DNP | DNP | 11 | DNP | DNP | DNP | DNP | DNP | 11 |
| LB | JEROME BAKER | 89 | 77 | 60 | 42 | 42 | 35 | 42 | 69 | 74 | 530 |
| LB | DANTE BOOKER | 48 | 46 | 6 | 35 | 37 | 25 | 46 | 44 | 54 | 341 |
| LB | CHRIS WORLEY | 87 | 77 | 25 | DNP | DNP | DNP | 21 | 48 | 42 | 300 |
| LB | TUF BORLAND | ST | ST | 41 | 22 | 26 | 17 | 26 | 7 | 26 | 165 |
| LB | MALIK HARRISON | 19 | 17 | 4 | 21 | 20 | 22 | 13 | 14 | 20 | 150 |
| LB | BARON BROWNING | 6 | ST | DNP | 30 | 23 | 23 | 7 | ST | ST | 89 |
| LB | KEANDRE JONES | 6 | ST | ST | 23 | 16 | 12 | 9 | ST | ST | 66 |
| LB | PETE WERNER | DNP | DNP | DNP | 12 | 14 | 9 | ST | ST | ST | 35 |
| LB | JUSTIN HILLIARD | ST | ST | ST | 3 | 13 | 8 | ST | ST | ST | 24 |
| LB | HAYDEN JESTER | DNP | DNP | DNP | ST | DNP | DNP | DNP | DNP | DNP | ST |
| CB | DENZEL WARD | 77 | 59 | 44 | 38 | 35 | 5 | 42 | 63 | 59 | 422 |
| CB | DAMON ARNETTE | 63 | 66 | 54 | 30 | 34 | 35 | 13 | 59 | 55 | 409 |
| CB | KENDALL SHEFFIELD | 62 | 39 | 30 | 41 | 48 | 37 | 51 | 42 | 34 | 384 |
| CB | JEFFREY OKUDAH | 7 | ST | 4 | 28 | 23 | 27 | 17 | ST | ST | 106 |
| CB | MARCUS WILLIAMSON | DNP | DNP | DNP | 17 | 13 | 17 | 13 | ST | DNP | 60 |
| CB | AMIR RIEP | ST | ST | ST | ST | 7 | 7 | 11 | ST | ST | 25 |
| CB | TREVON FORTE | DNP | DNP | DNP | ST | DNP | ST | DNP | DNP | DNP | ST |
| S | DAMON WEBB | 89 | 77 | 62 | 42 | 42 | 39 | 53 | 69 | 73 | 546 |
| S | JORDAN FULLER | 54 | 51 | 62 | 25 | 54 | 39 | 53 | 69 | 71 | 478 |
| S | ERICK SMITH | 42 | 26 | 66 | 43 | DNP | DNP | 29 | ST | ST | 206 |
| S | ISAIAH PRYOR | 6 | ST | 4 | 27 | 29 | 17 | 13 | DNP | ST | 96 |
| S | JAHSEN WINT | ST | ST | ST | ST | 2 | 17 | ST | ST | DNP | 19 |
| S | WAYNE DAVIS | DNP | DNP | DNP | DNP | 10 | ST | DNP | DNP | DNP | 10 |
| S | BRENDON WHITE | DNP | DNP | DNP | ST | 5 | ST | DNP | DNP | DNP | 5 |
| P | DRUE CHRISMAN | ST | ST | ST | ST | ST | ST | ST | ST | ST | ST |
| LS | LIAM MCCULLOUGH | ST | ST | ST | ST | ST | ST | ST | ST | ST | ST |