The Ohio State football team's grades have certainly improved during the second trimester of its 2017 regular season.
When we here at Eleven Warriors gave the Buckeyes their first report card of the season after their first four games of the year, Ohio State was very much a team unknown. While the Buckeyes had won three of their first four games, and each of them by convincing margins, the dark cloud of the team's 31-16 loss to Oklahoma still cast a shadow over everything positive the Buckeyes had done to that point.
Since then, however, the Buckeyes have earned three blowout wins over Big Ten opponents – Rutgers (56-0), Maryland (62-14) and Nebraska (56-14) – before earning their biggest win of the season this past Saturday when they defeated Penn State, 39-38, handing one of the nation's best teams its first loss while re-establishing themselves as the team to beat in the Big Ten.
That's why, with the exceptions of a few units, Ohio State's grades have gotten significantly better as we give the Buckeyes their second report card of the season, with eight games – including what you could call their big midterm exam – under their belt.
With the toughest test of the regular season likely behind them, the Buckeyes appear to be on track to earn a passing grade – which at Ohio State, really means winning the Big Ten and making the College Football Playoff or bust – but there are still some areas in which the Buckeyes have room to improve over their next four games.
The following grades for each Ohio State unit are meant to reflect each unit's performance over the course of the entire season, not only the last game and including the games that were already graded in the first trimester. With that being said, though, these grades also seek to reflect how each unit has improved over the course of the season and performed in comparison to preseason expectation, while giving weight to big performances in big games, as the Buckeyes' most recent game against Penn State certainly was.
Quarterbacks: A-
If Ohio State's quarterback was being graded solely on his performance against Penn State, J.T. Barrett would receive an A+. The Buckeye senior had arguably the best game of his career, and one of the best games by any quarterback in college football this season, when he completed 33 of 39 passes for 328 yards and four touchdowns – including three straight touchdown drives in the fourth quarter – and ran for an additional 95 yards to lead the Buckeyes to a season-saving victory.
That performance was Barrett at his best, and proved to the nation that he could carry a team to victory on his back against top competition, but it was truly a continuation of what Barrett's been doing all season. Barrett has thrown 25 touchdown passes to just one interception and ranks third in the Football Bowl Subdivision in passer rating (176.2), fifth in the FBS in completion percentage (69.5) and ninth in total offense (327.5 yards per game).
The only thing that keeps Barrett from getting a straight A is his performance against Oklahoma, when he threw his only interception of the year, did not throw any of his touchdowns and simply could not establish any rhythm in a loss that still leaves the Buckeyes without any margin of error for the rest of the season. But giving Barrett an A-minus despite his poor performance in the Buckeyes' second biggest game of the season to date is intended to be a reflection on just how well he's played since.
If Barrett can continue to play at that level at the next month – which could move him to the head of the class in the Heisman Trophy race – he'll be well on his way to earning an A for the season, even with the Oklahoma blemish, before it comes to an end.
Running Backs: A-
Although he wasn't used as heavily in the second trimester of the season as he was in the first, J.K. Dobbins has continued to take advantage of his touches when he gets them, averaging more than 7.6 yards per carry. With 863 rushing yards along with eight catches for 64 yards, Dobbins still has more than twice as many yards from scrimmage as any other player on the Buckeyes offense.
Mike Weber, on the other hand, played a bigger role in the second trimester of the season after taking only seven carries – a result of being limited by a hamstring injury – in the first four games of the year. Weber has re-emerged as a significant player for the Buckeyes, scoring five touchdowns in their last four games, but he still hasn't shown as much pop as he did as a freshman, averaging just 4.5 yards per carry this year compared to 6.0 yards per carry last year.
Even still, Dobbins and Weber have combined to average more than 6.6 yards per carry as a duo, showing the ability they have to give the Buckeyes an elite one-two punch.
For the Buckeye running backs to finish the season with an A grade, Weber needs to show that he can shift his game up into another gear, Dobbins must continue to take advantage of his opportunities and perhaps most importantly, the coaches must give them opportunities to shine, particularly by continuing to feed them and giving them red-zone scoring opportunities when they are moving the chains down the field. There's been a lot to like, though, about how productive the Buckeye running backs have combined to be productive with the opportunities they've had.
Wide Receivers: B
As the 2017 season has progressed, Ohio State's wide receivers have truly started to emerge into what head coach Urban Meyer and wide receivers coach Zach Smith envision that group to be: a six-man rotation full of players who each bring their own strengths to the table and can be valuable playmakers for the offense.
Parris Campbell has been a yards-after-catch weapon, leading the Buckeyes with 410 receiving yards on just 29 catches. K.J. Hill, who leads the Buckeyes with 40 receptions, has proven to be a reliable target with some open-field playmaking ability of his own in the slot. Johnnie Dixon has been the big-play guy, with 332 yards and six touchdowns on just 13 catches this year. Terry McLaurin, the star blocker of the group, has also been significantly more productive as a pass-catcher than he was in the past. True sophomores Austin Mack and Binjimen Victor, the youngest receivers in the rotation, haven't had as much consistent production as their elders but have both flashed downfield receiving skill when the ball has come their way.
Early in the season, there were questions about the Ohio State wide receivers' ability to consistently get open downfield and open passing lanes for Barrett, but they haven't had nearly much as trouble doing that on a regular basis as the season has progressed.
Ohio State still doesn't have a true go-to receiver in its offense, but the legitimate six-man depth of the receiving corps is making it look increasingly less like the Buckeyes actually need a go-to wideout. Drops have been an issue for the Ohio State receivers, as on-target passes off their hands have kept some of them from making as many plays as they are capable, but the collective group has demonstrated enough improvement to push for a grade in the A-range if it finishes the season strong.
Tight Ends: B-
Ohio State's offense will likely never be a tight end-centric offense as long as Urban Meyer's spread offense is in town, but the Buckeyes have gotten steady improvement and emerging playmaking ability out of their top two players at the position in recent weeks.
Senior starter Marcus Baugh has played the best football of his Ohio State career, not necessarily as a receiver – his per-game statistics are nearly identical to last year – but as a blocker. Baugh has drawn repeated praise this season for getting downfield and making open-field blocks, and his performance in that regard might have led to what happened against Penn State, when Baugh caught the Buckeyes' game-winning touchdown.
Converted defensive lineman Rashod Berry, meanwhile, has shown the physical skills to be a mismatch creator and difference-maker for the Buckeyes offense. He's still raw from a technical standpoint, but has evidently looked more comfortable in his new position as the season has progressed.
Through eight games, Baugh and Berry have combined for 21 catches, 261 yards and five touchdowns. That might not seem like much, but those numbers do look significant when compared to Ohio State's top two tight ends having just 28 catches for 296 yards and two touchdowns last season. And with Baugh's improvement along with Berry's beginning to break out, Ohio State now has two threats at the position that opposing defenses have to take more seriously than they had to take any Buckeye tight end last season.
Offensive Line: B+
The play of Ohio State's offensive line this season might not be considered dominant, but it has been consistently solid and a big reason why the Buckeyes rank No. 2 in the FBS in both total offense and scoring offense.
It's no surprise that Billy Price has been excellent at center and Jamarco Jones has been strong at left tackle, but the biggest difference on Ohio State's offensive line from last season has been the performance of right tackle Isaiah Prince, who has played substantially better – especially in pass protection – after being a major liability last season.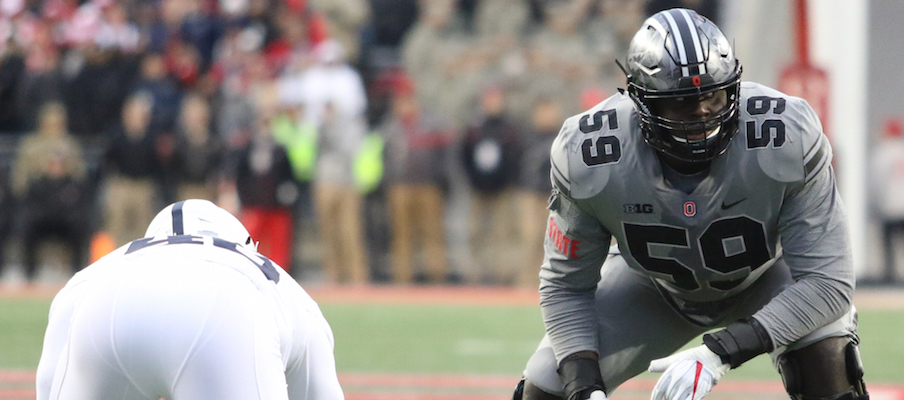 The Buckeyes have allowed only 1.75 sacks per game this year, compared to 2.15 last year, and have rushed for 5.9 yards per carry, an indicator of how effectively the "Slobs" have opened up holes at the line of scrimmage.
Demetrius Knox remains relatively unproven at right guard, having started only two games since Branden Bowen went down with a season-ending injury, but if he and the rest of the offensive line can continue to play the way it has played in his first two games in the lineup, this unit could also be destined for an A grade by the end of the season.
Defensive Line: A
In Ohio State's first report card last month, I wrote that the Buckeyes defensive line had the potential to be the best unit on the team but that it still needed to play up to its ability on the field to earn a top mark:
There's little question that Ohio State has grade-A talent on the defensive line, but that unit still needs to show it can dominate against upper-level competition in order to receive an A grade.
Even going into this past Saturday's game against Penn State, there was still some question as to whether the Buckeyes defensive line could take over and control the line of scrimmage against a top-notch opponent, because they had mostly bullied upon overmatched teams. But the Buckeyes' overwhelming performance on Saturday, in which the defensive line made a constant presence in Penn State's backfield and led the team as a whole to record 13 total tackles for loss, showed that their play on the defensive front is finally matching up with the hype.
Led by a tremendous quartet of defensive ends in Nick Bosa, Sam Hubbard, Tyquan Lewis and Jalyn Holmes, plus a strong rotation at defensive tackle led by Dre'Mont Jones, Tracy Sprinkle and Robert Landers, Ohio State has recorded 71 tackles for loss this season – third-most among all FBS teams – and has held opponents to just 2.9 rushing yards per carry.
The Buckeyes defensive line must continue to perform at that level to earn an A for the season, but this is an experienced and supremely talented unit that appears to be finally playing up to its immense potential.
Linebackers: B
Ohio State's linebacker play has been evidently more sound over the Buckeyes' past four games than it was early in the season. The Buckeyes haven't had the same issues with linebackers being out of position in pass coverage that they had early in the season, while Jerome Baker and Dante Booker have become more consistent defenders against the run.
After failing to make the big plays they were expected to make early in the season, Baker and Booker have both had their moments in recent weeks; Booker recorded his first career sack and interception against Rutgers, while Baker had a strip sack and returned a fumble for a touchdown against Maryland.
On a consistent basis, though, Baker still hasn't been as much of an impact playmaker for the Ohio State defense as he was last year, and no one else at the position has emerged with a comparable level of playmaking ability. Middle linebacker Chris Worley is also just getting back to starting and playing in a regular capacity for the defense after missing the better part of five games with a sprained foot.
There's been more good than bad from Ohio State's linebackers this season, as they've made strides over the course of the year to become a more reliable unit, but there is still another level to which they should be capable of elevating their play to become an A-level unit.
Defensive Backs: B-
While Ohio State's secondary might still stand out as the Buckeyes' biggest position group of concern on either offense or defense, it is a unit whose play has substantially and evidently improved since the first two weeks of the season.
Ohio State was ranked dead last in the FBS in passing yards allowed per game after its first two games of the year against Indiana and Oklahoma, but the Buckeyes rank 32nd in that category now. The Buckeyes secondary has still had some shaky moments – against Nebraska, for instance, Ohio State allowed some big plays on the back end and the Cornhuskers had 349 passing yards as a result. For the most part, though, Ohio State's defensive backs have started to make as many plays as they're giving up while clamping down on the coverage busts that plagued them earlier in the year.
Damon Arnette and Kendall Sheffield, who drew heat for their struggles at cornerback earlier in the season, have both become much more consistent in coverage as the year has progressed, all the while Denzel Ward has, for the most part, looked the part of the top-notch No. 1 cornerback he was expected to be.
Jordan Fuller has broken out as a playmaker at safety, currently leading the Buckeyes with 42 total tackles, while Damon Webb has taken his play to another level in his second year as a starting safety.

There's still some reason for healthy skepticism with Ohio State's secondary, considering its struggles early in the season and the fact that the Buckeyes haven't played many top passing offenses since. The defensive backs must continue to perform well over the next month to wash away the bad taste left by their early-season miscues. But the secondary has the potential to grade out very well by the end of the season if it continues ascending on its current trajectory.
Field Goals/Extra Points: C
Sean Nuernberger has been mostly solid as a place kicker this year, making nine of 11 field goal attempts and all 45 of his extra point attempts. With that being said, Nuernberger has yet to convert a field goal of 40 yards or longer this season, with his only attempt of longer than 40 yards being blocked in the Buckeyes' special teams debacle of a game against Maryland.
Nuernberger has done a good job consistently making the kicks he is supposed to make, but it remains unclear whether he can make a longer field goal or whether he can make a clutch kick in a pressure situation. That's not Nuernberger's fault, as he hasn't been put in an opportunity to demonstrate whether he can, but it does keep the unit from earning a higher grade, as it leaves doubt about how much the Buckeyes can count on their ability to make a field goal with a game on the line.
Punts: A-
Drue Chrisman's performance has come back down to earth a bit since his excellent start statistically as Ohio State's punter, but he's still been one of the better punters in the country while suffering from a few occasional shanks. Chrisman has downed 15 of his 23 punts inside the opponent's 20-yard line this season, and has averaged a solid 42.7 yards per punt.
The statistic that really stands out about the Buckeyes' punting unit, however, is that they have not allowed a single punt to be returned all season, which is indicative of excellent play by the coverage unit around Chrisman.
Kickoffs: F
After Ohio State allowed its second kickoff return touchdown of the season against Penn State and appeared incapable of executing a kickoff strategy that would pin opponents deep in their own territory, the Buckeyes' kickoff unit can only be deemed as a failure so far this season.
Meyer has expressed that he is struggling to find a solution for the kickoff unit, as he does not believe his kickers can put the ball consistently through the end zone while kickoff coverage has also been substandard. The Buckeyes have switched multiple times now between Nuernberger and Blake Haubeil as kickoff specialists, and have made attempts to adjust their kickoff strategy, but the Buckeyes need to find something that works – and fast – to earn a passing grade for the year.
Kickoff Returns: A-
Ohio State continues to rank among the nation's most consistent teams in terms of taking advantage of its kickoff return opportunities to gain field position. The Buckeyes rank second in the FBS with an average of 28.2 yards per return.
With that being said, Ohio State still hasn't scored a touchdown on a kickoff return since 2010. The Buckeyes haven't had a great deal of opportunities to return kickoffs in recent weeks – given that they allowed Rutgers, Maryland and Nebraska to combine for only five scores between them – but still need to prove they can make a game-breaking play to earn a straight A in his phase of the game.
Punt Returns/Blocks: C-
Ohio State's punt return unit has made a minimal impact this season, with only 15 total returns for 73 yards. This unit is coming off its best game of the season against Penn State, as K.J. Hill had a season-long 16-yard return while Denzel Ward came up with the Buckeyes' first punt block, a play that turned the tide of Saturday's game, of the season. This unit still must produce on a more consistent basis, however, to earn a higher grade.
Overall: B+
The Buckeyes received an overall grade of C on their first report card of the year because quite frankly, they looked like an average team at that time. Their season-opening win at Indiana came up with some bumps in the road, their loss to Oklahoma was ugly and their subsequent victories against Army and UNLV didn't prove much of anything.
If the Buckeyes' overall grade now was based solely on their second trimester, Ohio State would receive an overall grade of A. The Buckeyes couldn't have been expected to do much more than they did in their past four games, as they made quick and easy work of Rutgers, Maryland and Nebraska before earning a momentous win – in a game where a win, no matter how tense it might have been, was all that mattered – against Penn State.
Altogether, the Buckeyes must follow up their last four games with another strong four games, concluding the regular season with a trip to play their rivals at Michigan, to earn an A grade – which is, once again, contingent on the Buckeyes winning their conference and making a run at a playoff berth – for the season as a whole. The Buckeyes' loss to Oklahoma still stands as a potential hindrance to their chances, as it forces them to avoid losing the rest of the way, and being taken to the ropes by Penn State leaves reason to believe that the Buckeyes are still a beatable team.
Overall, though, the Buckeyes are very much trending in the right direction, having demonstrated significant signs of progress since the start of the season through now as they turn the page to November.