It's time for us here at Eleven Warriors to give the Buckeyes their first progress report of the year.
Although it feels like the college football season is just getting started, one-third of the Ohio State football team's 2017 season is already complete. The non-conference portion of Ohio State's regular season is already complete; the Buckeyes wrapped that up with a 54-21 win over UNLV on Saturday.
Ohio State went 3-1 in its first trimester of the season, suffering a 31-16 loss in its marquee non-conference matchup with Oklahoma but winning by significant margins in its Big Ten season opener against Indiana (49-21) and against Army (38-7) one week after the Oklahoma loss.
Now, the Buckeyes turn the page to the second and third trimesters of the regular season, which will consist of eight straight games against Big Ten opponents as the Buckeyes look to contend for their first conference title since 2014.
Eight tests – including at least a couple that will require the Buckeyes to be on their A-game – remain to determine whether Ohio State will pass or fail in its quest to get back to the Big Ten Championship Game and potentially, the College Football Playoff.
With that being said, we take a look today at how where each of the Buckeyes' units grades out through the first four games of the season, with plans to check back in after the big midterm exam on Oct. 28 (Penn State) and the all-important final exam at the end of the regular season on Nov. 25 (Michigan).
Just as a major exam carries more weight than a quiz or a homework assignment in school, each unit's performances in the Buckeyes' true tests (i.e. Oklahoma) carry more weight than the assignments they were always expected to pass (i.e. UNLV). With that being said, these grades also allow for extra credit for exemplary performances while also leaving room for each unit to improve as the season continues on.
Quarterbacks: C
Many Ohio State fans were ready to fail starting quarterback J.T. Barrett for the year – and some still are – after his performance against Oklahoma, in which he completed just 10 of his first 21 passes for 84 yards and an interception. It's true that his performance in that game can be deemed a failure, and he must perform better in Ohio State's other big games for the Buckeyes to have a shot at making a championship run.
With that being said, Barrett has been much better in the Buckeyes' other three games, completing more than 67 percent of his passes for more than nine yards per attempt and 10 total passing touchdowns with zero interceptions in Ohio State's three wins. Accuracy on deep balls has been an issue, but Barrett has shown he can run the Buckeyes' offense in rhythm when the system and play calling is built around the fourth-year dual-threat's strengths.
Ultimately, the quarterbacks' grade for the season will be determined by whether Barrett can continue to move the offense in rhythm against tougher competition than Army and UNLV. While backup quarterbacks Dwayne Haskins and Joe Burrow have flashed in limited action, Ohio State's season still hinges on Barrett's ability to make the plays he needs to make to win big games.
Running Backs: A-
If this grade was for J.K. Dobbins as an individual, he'd get an A+. The true freshman running back has performed as well as anyone could have expected in his first four career games; his 520 rushing yards on 69 carries have him on pace to be the most productive freshman running back in Ohio State history.
Antonio Williams has also been impressive in limited action off the bench, rushing for 131 yards and two touchdowns on just 23 carries.
The only thing that keeps Ohio State's running backs from getting a straight A is that we have yet to see Mike Weber – who already had one of the most productive freshman seasons for an Ohio State running back last year – perform up to his ability due to a lingering hamstring injury. If Weber can get back to running at the level he did last season, and the Ohio State coaching staff can figure out how to use he and Dobbins in tandem, the Buckeyes could have an elite two-headed monster at the position.
Wide Receivers: C-
Like Barrett, Ohio State's wide receivers drew heavy criticism for their subpar performance against Oklahoma. The wide receivers struggled to get open and make plays downfield in that game, as well as in the season opener at Indiana, and were just as responsible as Barrett for the Buckeyes' early struggles to get the passing game going.
There have been some promising flashes, particularly in the last two games, of playmakers starting to emerge at the position. Parris Campbell hasn't shown much ability to make plays on deep balls down the field, but he has proven to be a dynamic playmaker when the ball is in his hands. K.J. Hill and Johnnie Dixon have also shown intriguing playmaking ability, while Austin Mack is starting to breakout as a downfield receiver. Terry McLaurin has excelled as a run blocker while also starting to emerge as an intermediate receiving threat, while walk-on C.J. Saunders flashed as a sleeper to break out at the position with his six-catch, 102-yard performance against UNLV.
All of that said, Ohio State still doesn't have a wide receiver who can be considered a go-to player at the position. While the Buckeyes appear to have more capable playmakers at the position than they did last season, they still don't have a receiver who has proven he can make big plays and consistent plays with a game on the line.
Tight Ends: C-
For all the preseason talk about tight ends playing a bigger role in Ohio State's passing offense this year with Kevin Wilson as offensive coordinator, the Buckeyes still haven't had much receiving production from the position this season, with only 10 combined catches for 140 yards and one touchdown from their tight ends through four games.
Starting tight end Marcus Baugh missed most of the preseason with a toe injury, so it's possible the best is yet to come for him in his senior season. Backup tight end Rashod Berry, who started to show his playmaking potential with three catches for 57 yards and a touchdown against UNLV, is another player who could emerge as a bigger factor for the Buckeyes as the season progresses.
Ohio State has bigger areas of concern than the tight end position, and doesn't necessarily need its tight ends to become regular playmakers in the passing game to win games. But the Buckeyes' play at the position has been below-average so far this year.
Offensive Line: B
As Ohio State coach Urban Meyer said in his latest press conference on Monday, the Buckeyes' offensive line has appeared to make positive progress so far this season.
Offensive tackles Jamarco Jones and Isaiah Prince have both demonstrated improvement in pass protection, while Billy Price has seemingly made a seamless transition to starting at center. The entire line has performed well as a run-blocking unit, leading the Buckeyes to 5.85 yards per carry so far this season.
Guards Michael Jordan and Branden Bowen have been up-and-down as pass protectors, but the Buckeyes haven't had any major liabilities up front this year like they did with Prince last year.
Defensive Line: B
Ohio State's defensive line showed how dominant it could be against UNLV, when the Buckeyes' big athletes up front simply overwhelmed the Rebels' offensive line, put constant pressure on UNLV's quarterback and led the way to a game in which the Buckeyes had 13 total tackles for loss.
The defensive line has been stout against the run all season, particularly in the two biggest games of the season to date against Indiana and Oklahoma, forcing those teams to attack the Buckeyes defense through the air.
For all the hype that Ohio State's defensive line gets, however, the Buckeyes' pass-rush was underwhelming against both of those opponents, just as it was in some of the Buckeyes' biggest games last season. There's little question that Ohio State has grade-A talent on the defensive line, but that unit still needs to show it can dominate against upper-level competition in order to receive an A grade.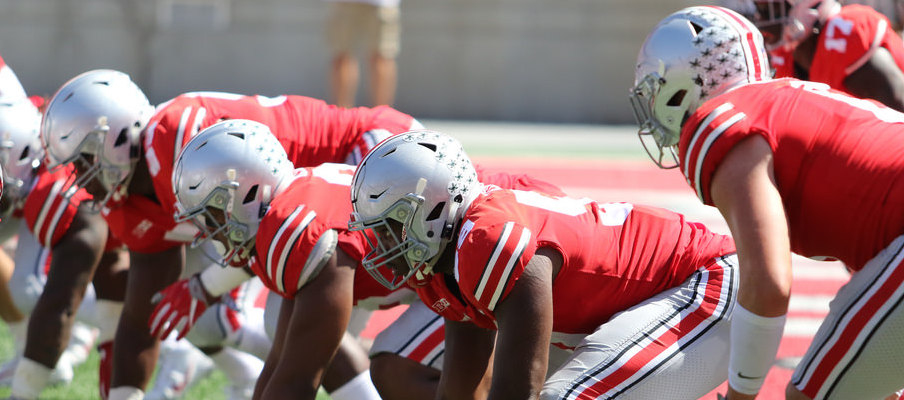 Linebackers: C
A unit that was expected to be among the best in the country at its position going into the 2017 season, Ohio State's linebackers haven't quite lived up to the hype so far this year.
Jerome Baker, the star of the unit, has admitted himself that he hasn't played as well as last year so far this season. Dante Booker, who was projected to be the breakout star of the unit this season, hasn't emerged as a big-play defender yet.
While most of Ohio State's early struggles in pass defense were pinned on the secondary (more on that to come), some of the big plays the Buckeyes have given up to opposing passing games have been a result of linebackers being out of position. The linebackers also haven't proven to be major difference-makers against the run, with the exception of Tuf Borland's 12-tackle performance – as a mid-game replacement for an injured Chris Worley at middle linebacker – against Army.
Defensive Backs: D+
Ohio State's defensive backs would have gotten an F if we handed out a progress report after the Indiana and Oklahoma games. The Buckeyes ranked dead last in the Football Bowl Subdivision in passing yards allowed per game at that time, with poor play by Ohio State's inexperienced secondary to blame for much of that.
The secondary has been much better since then, allowing just 107 total passing yards in the Buckeyes' last two games, but those performances came against a weak passing team in UNLV and an Army offense that rarely ever throws the ball at all. Add in the pass interference penalties that plagued Ohio State against UNLV, and there's still reason to be concerned about this area of the team.
Ohio State's defensive backs have shown ability to make plays on the ball – starting cornerbacks Denzel Ward and Damon Arnette and safeties Damon Webb and Jordan Fuller each have an interception this year – and they have been solid in run support. This unit will ultimately be judged, though, by whether it can cut down on allowing big plays against more prolific passing teams.
Field Goals/Extra Points: Satisfactory
Sean Nuernberger has made all seven of his field goal attempts and all 18 of his extra point attempts this season, but he has yet to attempt a field goal longer than 33 yards. Because he has yet to be truly to put to the test, he gets graded on a pass/fail basis for now.
Punts: A
Drue Chrisman has been nothing short of excellent in his first four games as Ohio State's punter. Few would have expected an unproven freshman to be an upgrade over Cameron Johnston, but the case could be made that Chrisman has been exactly that so far. He has downed 10 of his 14 punts inside the opposing 20-yard line and has not had a single punt returned all season, which is also a credit to how well the rest of the punting unit has performed in coverage.
Kickoffs: D
Prof. Meyer appeared to be on the verge of failing Blake Haubeil for his poor performance on kickoffs after the Army game, but the Buckeyes' head coach said Monday that Haubeil was "much better" against UNLV. Overall, though, kickoffs – both Haubeil's kicking itself and kickoff coverage – have been a weak point for the Buckeyes. They have allowed 24 kickoff returns for 427 yards, including a few that have come dangerously close to breaking free for touchdowns, on just 29 kickoffs.
Kickoff Returns: A
Parris Campbell has been excellent on limited opportunities to return kickoffs this season, averaging 45.6 yards per return – the highest average among all qualified FBS returners. The Buckeyes will need to break their first kickoff return touchdown since 2010 in order to earn an A by the end of the season, but Campbell and his blockers appear to be getting close to making that happen.
Punt Returns: D
Ohio State has attempted to block opposing punts much more often than it has attempted to set up punt returns so far this season, which has resulted in limited opportunities for returner K.J. Hill. So it's not necessarily any fault of Hill or even his blockers that the Buckeyes have only five punt returns for 16 yards this season, but the fact remains that they have not been productive in this area – nor have they blocked a punt – resulting in a low grade.
Overall: C
While Ohio State has won three of its four games by 28 points or more, it was clearly outplayed in its other game against Oklahoma, in which the Buckeyes looked more like a middle-of-the-road team than the elite team they are supposed to be this season.
Ohio State might still well be one of the best teams in college football and the best team in the Big Ten. After all, Oklahoma appears to be among college football's best teams – the Sooners are currently ranked No. 3 in both major polls – and the Buckeyes have taken care of business in the rest of their games, albeit with some first-half struggles against inferior opponents in Indiana and Army.
The Buckeyes have shown enough on offense, defense and special teams to make it believable that they could be great in all three phases of the game, but there remains clear room for improvement in many areas.
Realistically, we aren't likely to have much better idea of whether the Buckeyes can be a great team – barring an unexpected loss to Rutgers, Maryland or Nebraska – until they play Penn State at the end of next month. So we'll check back in with our next report card then.