Thousands of talented high school football players made their way through the Woody Hayes Athletic Center during the month of June to participate in at least one of Ohio State's seven high school football camps this summer.
As top prospects from the recruiting classes of 2023, 2024, 2025 and 2026 made their way to Columbus to put their skills on display and learn from Ohio State's coaches, Eleven Warriors was in attendance for all seven camps to watch those prospects compete.
Now that camp season has come to an end, it's time to wrap it all up by highlighting and ranking the most impressive camp performances we saw this month.
Before we continue, there are a few caveats to note. For one, I couldn't possibly watch every rep from every prospect at every camp – each camp features a multitude of groups of prospects working out simultaneously – which means some prospects might be excluded for no reason other than I wasn't able to watch them as much as other prospects.
Secondly, these rankings are solely based on how impressive each player's camp performance was. They are not intended to be an all-inclusive ranking of the best prospects who camped at Ohio State this month, but a ranking of which players captured my attention – and my colleagues' attention – the most during their camp appearances.
Thirdly, a prospect had to go through a full camp workout that included competitive reps against other prospects in order to be eligible for this list. For that reason, you won't find players like offensive line commits Luke Montgomery, Joshua Padilla and Austin Siereveld, wide receiver commit Carnell Tate and highly touted running backs Stacy Gage and Donovan Johnson – all of whom made camp appearances and went through private workouts with Ohio State coaches but did not go through full camp sessions alongside the rest of the prospects at their positions.
With all that in mind, the following 15 prospects are the ones who made the biggest impressions on me with their on-field camp performances this month.
15. Jakorion Caffey, RB
The running back who impressed me the most as a pass-catcher over the course of the month was Caffey, who had a dominant showing in one-on-one reps against linebackers on June 14. The 2024 tailback from Avon routinely got open against his opponents and caught the ball cleanly, even when he was matched up with Arvell Reese, a four-star 2023 linebacker who holds an Ohio State offer.
2024 Avon running back Jakorion Caffey looking good in one-on-ones. Gets the best of Glenville linebacker Arvell Reese, who has an Ohio State offer, on this rep. pic.twitter.com/lmlKeMABJe

— Dan Hope (@Dan_Hope) June 14, 2022
Caffey left Ohio State without an offer and does not currently have a composite recruiting ranking, but as an in-state prospect who the Buckeyes have been monitoring for some time, it's still possible an offer could come down the line. Even if it doesn't, he's still set himself up to play at the Power 5 level – he currently has offers from Maryland and Pittsburgh – and the 5-foot-11, 190-pound RB showed why with the plays he made at camp.
14. Ian Moore, OT
Although several other four-star offensive linemen also camped at Ohio State this month, Moore was the only one who actually left with an offer from Justin Frye. While defensive linemen tend to have the advantage during the "winner-loser" drills that take place at the end of each big man camp, Moore shut down just about every pass-rusher he faced while lining up at offensive tackle in one-on-ones.
Ian Moore (@IanMoore2024) with a nice rep in one-on-ones. pic.twitter.com/GL7QHf9PvJ

— Garrick Hodge (@Garrick_Hodge) June 15, 2022
At 6-foot-5 and 295 pounds, Moore looks the part of a Big Ten offensive lineman and demonstrated great footwork and technical skill for a high school junior. The New Palestine, Indiana product is ranked as the No. 203 overall prospect in the class of 2024 and already holds offers from two dozen schools including Florida State, Iowa, Miami, Michigan State, Nebraska, North Carolina, Penn State, Tennessee and Wisconsin, among others.
13. Bo Jackson, RB
He might not yet be the most famous running back ever named Bo Jackson, but the 2025 prospect from Cleveland was impressive in his own right during two camp appearances at Ohio State in the span of just three days.
Jackson earned an offer from Ohio State after working out as a running back at OSU's June 14 camp, where the 5-foot-11, 180-pound running back showed impressive route-running ability and pass-catching skill out of the backfield.
Two days later, Jackson returned to Ohio State alongside his Villa Angela-St. Joseph teammates to participate in OSU's 7-on-7 tournament. While his team was eliminated in the first round of tournament play, Jackson was impressive playing defensive back in the loss, intercepting two passes against Philadelphia's Roman Catholic High School.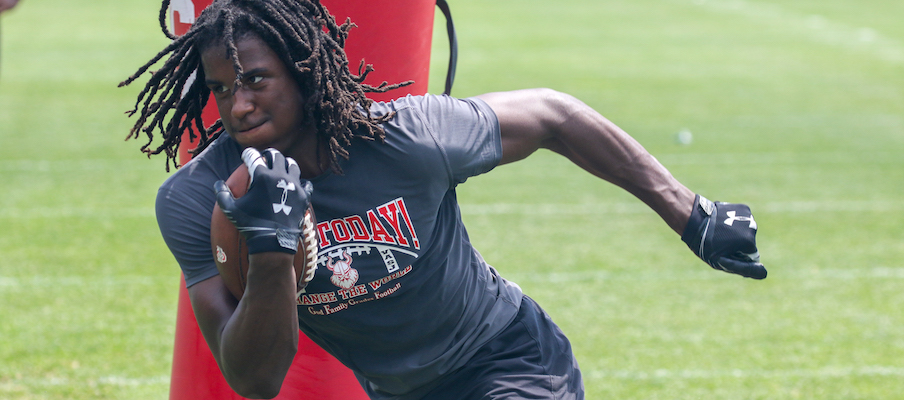 Ohio State was just the second school to offer Jackson after Kentucky, but with the potential he showed as an athlete in those two camps, it won't be a surprise if many more offers come his way.
12. Justin Okoronkwo, LB
PPI Recruits' DreamChasers tour annually brings some intriguing international prospects to Ohio State, and this year was no exception. In particular, the European prospect who impressed me with his on-field performance this year was Justin Okoronkwo, a German linebacker in the class of 2024 who had an excellent camp on June 15.
After running a 4.56-second 40-yard dash at 6-foot-2 and 205 pounds, Okoronkwo excelled in one-on-ones against running backs, where he broke up nearly every pass that came his way.
Okoronkwo didn't leave his camp at Ohio State – which was his first-ever camp in the United States – with an offer, but he looked the part of a Power 5 linebacker prospect. With two more years of high school to go, he'll likely be back in America trying to impress college coaches with another group of international prospects next year.
11. Austin Alexander, DE
Few players drew as much audible praise from an Ohio State coach during their workouts at Ohio State camp as Alexander did from Larry Johnson. On multiple occasions during his camp performance on June 6, Johnson gave Alexander a shoutout to let him know he was performing well.
More defensive line drill work. 2025 Kentucky defensive end Austin Alexander gets a shoutout from Larry Johnson: "You're having a good camp!" pic.twitter.com/YjbqxX8ZdF

— Dan Hope (@Dan_Hope) June 6, 2022
Going into his sophomore year of high school, Alexander's only offers so far are from Akron, Eastern Kentucky and Liberty. The 2025 prospect from Kentucky seems like a player who should end up at a much bigger program, though. The 6-foot-3, 219-pound defensive end looked fluid athletically in drills and won most of his reps as a pass-rusher in one-on-ones, making him a prospect well worth monitoring as someone whose recruiting pedigree should rise over the next three years.
Good rep from Austin Alexander (@AAlexander2025) in one-on-ones. pic.twitter.com/Hf8TYlorWo

— Garrick Hodge (@Garrick_Hodge) June 6, 2022
10. Trever Jackson, QB
While working out in a group of quarterbacks that included 2024 Ohio State quarterback commit Dylan Raiola and highly touted 2025 quarterback Colin Hurley (more to come on them later), Jackson's arm looked to be as strong as any quarterback in the group.
Jackson zipped the ball with excellent velocity down the field, showing why he received his first Power 5 offer from Pittsburgh earlier this week after starting the month of June with zero offers. The 6-foot-2, 180-pound quarterback from Florida doesn't yet have a composite recruiting ranking, but that should change after he held his own while working out alongside the No. 1 quarterback in his class.
Since Jackson is in the same class as Raiola, that will likely keep him from receiving an Ohio State offer. But he appears to have plenty of upside worth evaluating for other schools that still need a 2024 quarterback.
9. Dylan Stewart, DE
Stewart received an offer from Ohio State in January, and it wasn't hard to see why as he went through his camp workout with Larry Johnson on June 6.
In a group of defensive linemen that included an Ohio State defensive line commit (Will Smith Jr.), another top defensive end in his class (Nigel Smith) and the aforementioned Alexander, Stewart stood out as the most athletic prospect while consistently winning his pass-rush reps in one-on-ones.
Ohio State faces plenty of competition for Stewart, who is ranked as the No. 52 overall prospect in the 2024 class and holds offers from more than two dozen schools including Alabama, Georgia, Michigan, Notre Dame, Penn State, Texas A&M and USC, among others. But Stewart described his interest in Ohio State as a "10" after his most recent trip to Columbus, and the Buckeyes certainly have reason to aggressively pursue the 6-foot-4, 220-pound edge rusher.
8. Will Smith Jr., DT
Performance aside, Smith earned a place on this list with his dedication alone. The Ohio State commit was in attendance for all six of the Buckeyes' big man camps this summer; he worked out at four of them, while he was still there to watch defensive line drills on the two camps that came on the second of back-to-back days.
Smith attended every camp because he wanted to learn as much as he could from Johnson ahead of his senior season at Dublin Coffman High School. And he made a good impression in the process. The 6-foot-3, 260-pound defensive tackle showed good explosiveness in drill work and looked better and better with each camp he participated in, winning the majority of his reps in one-on-ones.
Will Smith Jr. draws holding on the offensive lineman: pic.twitter.com/zehSUZIeB8

— Dan Hope (@Dan_Hope) June 14, 2022
The Ohio State legacy wants to be a leader in his class when he begins his career as a Buckeye next year, and he took a big step toward doing so by spending as much time around Johnson and putting in as much work as he could this summer.
7. Ty Lockwood, TE
The first player to commit to Ohio State's 2023 recruiting class went through a full camp workout of his own on July 7, and it was easy to see why the Buckeyes prioritized him as their top tight end target in the cycle.
Lockwood demonstrated natural route-running and pass-catching ability as he was fluid in and out of breaks and consistently caught the ball cleanly during his workout. It was also apparent the 6-foot-5, 225-pound high school senior has the frame to be the in-line blocker he'll be expected to be as an Ohio State tight end, even though he acknowledged in a post-camp interview that blocking is an area he needs to improve in.
As a high school wideout with prototypical length and athleticism for a tight end, Lockwood has drawn comparisons to Jeremy Ruckert, and his camp performance showed his potential to become a Ruckert-esque player for the Buckeyes.
6. Dylan Raiola, QB
In his first of many workouts to come at the Woody Hayes Athletic Center, Raiola showed why he is the No. 1 overall prospect in the 2024 class and why Ohio State chose him to be its leader of that class.
The five-star Ohio State commit went through a full day of workouts with Ryan Day and Corey Dennis and showed his ability to throw the ball accurately and with velocity to all areas of the field. Already sporting a college-ready physique at 6-foot-3 and 220 pounds, Raiola looked comfortable going through every drill Day and Dennis had him go through over the course of the day, showing he is already much more technically sound than the average high school junior quarterback.
Raiola's throws were occasionally a bit off their target, but that's to be expected in a camp setting with unfamiliar receivers. All in all, Raiola made a great first impression on those of us who were watching him in person for the first time – and showed his commitment to working at his craft by flying from Arizona to Columbus to camp at Ohio State even though he's already secured his spot in OSU's 2024 class.
5. Colin Hurley, QB
Picking whether Raiola or Hurley had the most impressive performance in their joint workout at Ohio State's final camp of the summer was pretty much a toss-up, so Hurley slots in just above Raiola in these rankings on the basis of being the younger quarterback who had more to prove when he was in Columbus on Tuesday.
While there are no composite rankings for the class of 2025 yet, Hurley looked destined to be a future five-star quarterback as he went throw-for-throw with Raiola inside the Woody Hayes Athletic Center. The high school sophomore-to-be showed natural passing ability as he threw crisp spirals from the pocket while also performing well in drills where Day and Dennis tasked the quarterbacks with throwing on the run.
Nice deep ball from Colin Hurley: pic.twitter.com/KBgu5T9wPD

— Dan Hope (@Dan_Hope) June 21, 2022
Hurley, who already has nearly 20 FBS offers, became just the second quarterback in the 2025 class to earn an Ohio State offer with his performance. As such, he's positioned himself right alongside Ryan Montgomery (who also made some excellent throws while participating in OSU's 7-on-7 tournament last week) as a top candidate to be the Buckeyes' quarterback in his class.
4. Winston Watkins Jr., WR
Another potential five-star prospect in the 2025 class who shined during his Ohio State camp appearance was Watkins, who had arguably the finest showing of any offensive skill player at the Woody Hayes Athletic Center this month.
Watkins proved to be almost uncoverable in one-on-one drills at OSU's June 7 camp, consistently beating defensive backs with his releases off the line and his speed. He drew multiple pass interference penalties and made a spectacular catch that put his ball skills on full display.
Winston Watkins Jr. (@winstonwatkins_) with a heck of a catch in one-on-ones. pic.twitter.com/D1Vw5EHCCt

— Garrick Hodge (@Garrick_Hodge) June 7, 2022
While Watkins is currently committed to Texas A&M, there's still more than two years to go before he signs his National Letter of Intent, and he told Eleven Warriors after camping at Ohio State that he has real interest in the Buckeyes. As Brian Hartline looks to keep his run of elite wide receiver recruiting going, Watkins is now one of Ohio State's top targets for the 2025 class thanks to his camp performance.
3. Chris Henry Jr., WR
Even though he has yet to play a high school football game, Henry Jr. received an offer from the Buckeyes after camping at Ohio State on June 6. After watching his performance that afternoon, it would have been shocking if he didn't receive one.
Despite being only 14 years old, Henry looked like a man among boys at Ohio State's second camp of the summer. Already 6-foot-3, Henry's size, speed and natural playmaking ability stood out as he burned opposing defensive backs for multiple deep-ball touchdown catches.
2026 wide receiver Chris Henry Jr., son of former Cincinnati Bengals receiver Chris Henry, runs the 40-yard dash at Ohio State camp. pic.twitter.com/ArT2gPz1lq

— Dan Hope (@Dan_Hope) June 6, 2022
The son of late former Cincinnati Bengals wide receiver Chris Henry, Henry Jr. has already picked up eight offers, also including Miami, Penn State and West Virginia. While his recruitment is truly only just beginning, he appears likely to be one of the top prospects in the class of 2026 if his camp performance was any indication of things to come.
2. Jermaine Mathews, CB
Mathews has climbed more than 100 spots in 247Sports' composite rankings, gone from a three-star prospect to a four-star prospect and picked up offers from some of the biggest programs in college football since the beginning of June. That all started with his performance at Ohio State's first camp of the summer on June 1.
He didn't have an Ohio State offer going into that camp, but he left no doubt that he deserved one by the end of it. In fact, Mathews was so blanketing in coverage during one-on-ones that he had his own cheering section of Ohio State players telling their coaches he deserved an offer.
Some of my reps at OSU also ran 4.35 @Garrick_Hodge pic.twitter.com/4AB7iNGlN7

— Jermaine Mathews Jr (@Jr2Maine) June 3, 2022
Mathews – who has also received offers from Oklahoma, LSU and Alabama over the past month – has emerged as one of Ohio State's top cornerback targets in the 2023 class as a result of his camp performance. The Cincinnati native could potentially join the Buckeyes' 2023 class one week from now, on July 1, when he is set to announce his commitment.
1. Tyler Atkinson, DE
Atkinson became the first player in the class of 2026 to receive an Ohio State offer when he was offered by the Buckeyes in May before he had even finished the eighth grade. When he participated in Ohio State's first camp of the summer, he showed exactly why the Buckeyes pulled the trigger on offering him so early.
Out of all the players I watched at Ohio State this month, no one wowed me more than Atkinson, who you'd never guess is as young as he is if you didn't already know it. In a group of defensive linemen that included two others who received offers after that camp (Jalen Thompson and Elias Rudolph) as well as Will Smith Jr., Atkinson was the clear standout as he put his spectacular athleticism and raw pass-rushing ability on display in both drill work and one-on-ones.
Why did Ohio State offer @Tyler16Atkinson before hes even started high school? These clips from Ohio State camp this morning should give you an idea: pic.twitter.com/v9bBhoxssN

— Dan Hope (@Dan_Hope) June 2, 2022
Twitchy, explosive and long, Atkinson appears to have all the tools to develop into an elite pass-rusher. He became the first eighth-grader ever invited to the All-American Bowl and already has double-digit offers, also including Auburn, Florida State, Georgia, Michigan State, Ole Miss and Texas A&M in addition to Ohio State.
Atkinson's class is still two years away from having composite rankings, but all signs are pointing toward Atkinson being one of the top prospects – maybe even the No. 1 overall prospect – in the 2026 class. And with the most impressive performance I've seen at an Ohio State camp from a player who hadn't even started his freshman year of high school yet, Atkinson takes the top spot on this year's list of the biggest standouts from Ohio State's recruiting camp season.