If you've paid attention to the commitments Ohio State has landed this week, you already know the simple truth: Brian Hartline is good at recruiting.
That fact became crystal clear over the last three days as Ohio State landed three commitments in a row from wide receivers who are all ranked among the top 50 prospects in the 2023 class: Carnell Tate, Brandon Inniss and Noah Rogers.
It's not as if Hartline's recruiting prowess was any secret before this week, though. Ohio State has brought in elite recruiting classes at the wide receiver position year in and year since Hartline became Ohio State's wide receiver coach midway through the 2019 recruiting cycle. Those classes have consistently been among the best in the country, creating a stockpile of talent that has set Ohio State up for excellence at the wide receiver position for years to come.
In his first five recruiting cycles as Ohio State's wide receivers coach, Hartline has landed 17 wide receiver commits, and all but three of them have been ranked within the top 100 prospects in their respective recruiting classes 
Now that Ohio State has likely wrapped up its 2023 recruiting class at the wide receiver position, and done so in spectacular fashion, it's worth taking a look at each of Hartline's first five recruiting classes as a full-time assistant coach and why each of them has been cause for celebration. For those whose participants have actually started their Ohio State careers, we also take a look at how those classes have fared so far.
2019: Garrett Wilson, Jameson Williams
The first recruiting class of Brian Hartline's tenure as Ohio State's wide receivers coach included only two wideouts, but both of those receivers have already gone on to be top-12 overall picks in the NFL draft.
Hartline was still just a quality control coach when Wilson committed to Ohio State, but he helped ensure Wilson remained committed to the Buckeyes after the departures of Zach Smith and Urban Meyer. As the No. 20 overall prospect in the 2019 class, Wilson was the highest-rated wide receiver Ohio State had ever signed at the time, and he became exactly the player he was expected to be. In three seasons as a Buckeye (one of which was shortened due to the COVID-19 pandemic), Wilson caught 143 passes for 2,213 yards and 23 touchdowns.
Williams, who became the first wide receiver to actually commit to Hartline in September 2018 while Hartline was Ohio State's interim wide receivers coach, was a one-year starter for the Buckeyes in 2020 but did not fully realize his potential until he transferred to Alabama, where he was a Biletnikoff Award finalist in 2021. Hartline still had a hand in Williams' development, though, and his emergence as a first-round draft pick is only aiding Hartline's efforts to continue recruiting top wide receivers to Columbus.
The only wide receiver from the class of 2019 selected higher than them in this year's NFL draft was USC's Drake London, who was not offered by the Buckeyes as the No. 247 overall prospect in the cycle.
2020: Julian Fleming, Jaxon Smith-Njigba, Gee Scott Jr., Mookie Cooper
Hartline quickly proved his ability to recruit at an elite level in his first full recruiting cycle on the job by bringing in the most talent-rich wide receiver class in Ohio State history. Ohio State became just the second school (following Alabama in 2017) in the composite rankings era to land four wide receivers who were all ranked within the top 100 overall prospects in the same recruiting class, and Hartline was ranked by 247Sports as the nation's top recruiter among assistant coaches.
Fleming, the No. 3 overall prospect in the class, became the highest-rated wide receiver signee in Ohio State history (a title he still holds). Smith-Njigba was the No. 29 overall prospect, pairing with Fleming to become the first duo of five-star wide receivers to sign with Ohio State in the same year, while Scott was 66th and Cooper was 93rd in the final composite rankings.
So far, the actual on-field results for this class have been mixed. Fleming's first two years at Ohio State have been plagued by injury, Scott transitioned to tight end after one season and hasn't yet played much and Cooper transferred to Missouri after just one year.
Of course, Smith-Njigba has proven to be everything he was recruited to be and then some with his record-setting sophomore season in which he caught 95 passes for 1,606 yards. And Fleming and Scott still have plenty of time to make good on their potential, although Scott's position coach is now Kevin Wilson rather than Hartline.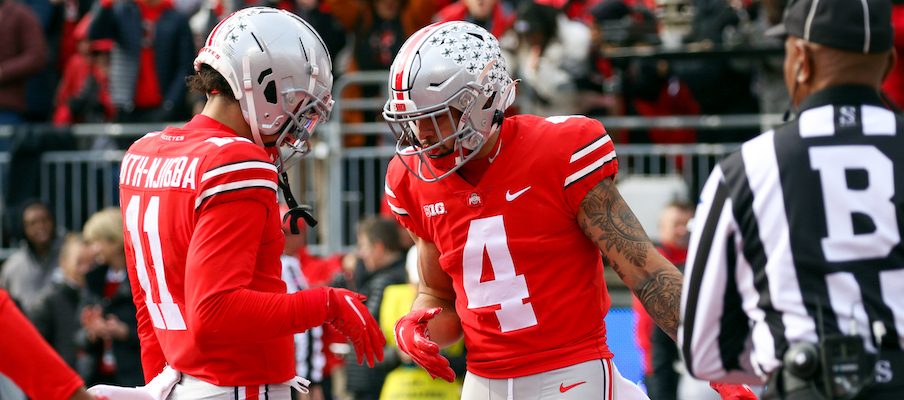 2021: Emeka Egbuka, Marvin Harrison Jr., Jayden Ballard
Hartline hit another home run in the 2021 recruiting class, when Ohio State landed the three receivers it pursued most aggressively in that class and continued its run of only signing receivers who were ranked within the top 100 prospects in the class. It marked the second year in a row that Ohio State landed the top-rated wide receiver in the class, as Egbuka was ranked as the No. 1 wideout and No. 10 overall prospect in the 2021 cycle.
While Ohio State's class wasn't quite the top wide receiver recruiting class on paper that year – Alabama signed four receivers who were all ranked within the top 75 – there's already evidence to suggest the Buckeyes' 2021 class of receivers could end up being the best from that year when all is said and done.
Egbuka showed flashes of star potential in his first season as a Buckeye. So too did Harrison Jr., who caught three touchdowns in his first career start and already looks like he was underrated as just the No. 97 overall prospect in his class. Ballard, who remains the only in-state wide receiver Ohio State has signed in Hartline's tenure, didn't play much as a true freshman but garnered plenty of praise for his performance in his second spring as a Buckeye.
2022: Kaleb Brown, Kyion Grayes, Caleb Burton, Kojo Antwi
The most recent recruiting class to arrive at Ohio State was the first one of Hartline's tenure that didn't include a five-star wide receiver and also the first that included receivers ranked outside the top 100 overall prospects in their class. But that doesn't mean the Buckeyes' new freshman class of receivers lacks talent.
Ohio State's Wide Receiver Commits Under Brian Hartline

| Year | Player | Stars | Ovr Rank | WR Rank |
| --- | --- | --- | --- | --- |
| 2019 | GARRETT WILSON | ★★★★★ | #20 | #2 |
| 2019 | JAMESON WILLIAMS | ★★★★ | #82 | #13 |
| 2020 | JULIAN FLEMING | ★★★★★ | #3 | #1 |
| 2020 | JAXON SMITH-NJIGBA | ★★★★★ | #29 | #5 |
| 2020 | GEE SCOTT JR. | ★★★★ | #66 | #10 |
| 2020 | MOOKIE COOPER | ★★★★ | #93 | #16 |
| 2021 | EMEKA EGBUKA | ★★★★★ | #10 | #1 |
| 2021 | MARVIN HARRISON JR. | ★★★★ | #97 | #14 |
| 2021 | JAYDEN BALLARD | ★★★★ | #99 | #15 |
| 2022 | KALEB BROWN | ★★★★ | #79 | #13 |
| 2022 | KYION GRAYES | ★★★★ | #88 | #14 |
| 2022 | CALEB BURTON | ★★★★ | #132 | #21 |
| 2022 | KOJO ANTWI | ★★★★ | #151 | #26 |
| 2023 | BRANDON INNISS | ★★★★★ | #18 | #2 |
| 2023 | CARNELL TATE | ★★★★★ | #28 | #3 |
| 2023 | NOAH ROGERS | ★★★★ | #50 | #9 |
| 2023 | BRYSON RODGERS | ★★★★ | #270 | #32 |
As has consistently been the case in Hartline's tenure, Ohio State landed the receivers it pursued most heavily. Brown and Grayes were both ranked among the top 88 overall prospects in the class, with Grayes soaring up the rankings during his senior year after his commitment to Ohio State. Burton was rated as a five-star prospect at the time of his commitment to the Buckeyes before sliding to 132nd in the final rankings, while the Buckeyes beat out heavy competition from Georgia to land Antwi, the No. 151 overall prospect in the final composite rankings.
They have not yet played any snaps for Ohio State, and with all the talent that came in with the two recruiting classes in front of them, there might not be a lot of playing time available for the new freshmen in 2022. Any one of them could prove to be a star in time, though, and they bring a diverse group of skill sets that should complement each other well as they each look to earn their way into the rotation in different roles.
2023: Brandon Inniss, Carnell Tate, Noah Rogers, Bryson Rodgers
As impressive as Hartline's recruiting classes at Ohio State have been year in and year out, the class he's now assembled for 2023 is arguably his finest work yet.
The rankings for this recruiting cycle won't be finalized until after they play their senior seasons, but if Inniss (currently 18th overall), Tate (28th) and Rogers (50th) all remain within the top 50 prospects in the class, Ohio State would become just the third school to sign three top-50 overall prospects at the wide receiver position in the same class, along with Alabama in 2021 (Ja'Corey Brooks, Agiye Hall and JoJo Earle) and Texas in 2000 (B.J. Johnson, Roy Williams and Sloan Thomas).
Get to Know the 2023 Commits
While it is possible any of their recruiting rankings could drop by the end of the cycle, it's also possible any of them could move up the rankings, particularly Bryson Rodgers, who would currently be the lowest-ranked wide receiver signee of the Hartline era as the No. 270 overall prospect in the 2023 class. It seems likely his final ranking will ultimately be higher, though, considering Ohio State made him a priority and accepted his commitment before landing any other wideouts in the class.
More importantly than the final rankings, Ohio State has once again landed the receivers it wanted most with the exception of top-ranked 2023 receiver Zachariah Branch, who committed to USC. With the No. 2 and No. 3 receivers in the class committed, though, Ohio State is set to sign the best class of wide receivers in the country once again. And Hartline is currently on track to be 247Sports' top recruiter of the year for the second time in four years.
As long as Inniss and Tate maintain their five-star status, Ohio State will become the second school in the composite ranking era to sign multiple five-star wide receivers in two different recruiting classes (along with Texas), and they've accomplished that goal entirely within Hartline's first four years as Ohio State's receivers coach.