Just two practices into his second spring at Ohio State, Jayden Ballard has already made a big impression on his Buckeye coaches and teammates.
After Ohio State's first practice of the spring on Tuesday, Ryan Day said Ballard had been recognized as one of the most improved players during winter workouts. Day described Ballard as "somebody that could provide a huge, huge boost to our offense," and offensive coordinator Kevin Wilson also brought up Ballard unprompted when talking about the different lineups Ohio State could use on offense this year.
"We really like the way Jayden Ballard's come on," Wilson said. "He's had a nice offseason, he's knocking on the door, starting to show flashes."
Ballard already started making an impression last season on his teammates like now-former Ohio State wide receiver Chris Olave, who predicted big things for Ballard during his press conference at last week's NFL Scouting Combine.
"Jayden Ballard's my guy, and I can't wait to see him take off," Olave said. "His speed is off the charts. He's 6-3, he's probably like 200 pounds now, so he's got that body frame and he's a deep threat. Once he develops his route running, he's going to be one of the best in the country."
The wide receivers who are still at Ohio State, though, have already seen Ballard become a different player this year than he was as a true freshman.
"When you look at the receiver room, the biggest growth from last year to this year is definitely Jayden Ballard," fellow second-year receiver Marvin Harrison Jr. said Thursday. "We all know he has the speed and he can run probably the fastest on the team right now, but the route-running ability he's improved on since last year."
Ranked as the No. 99 overall prospect in the recruiting class of 2021, Ballard had a quiet first year at Ohio State. With Olave, Garrett Wilson, Jaxon Smith-Njigba, Harrison, Julian Fleming and Emeka Egbuka all ahead of him on the depth chart, Ballard appeared in only three games for 34 total snaps and caught just one pass for four yards.
That said, Ballard believes he grew from taking a redshirt last season and said he was motivated by Egbuka and Harrison's immediate impact, which has driven him to work harder this year in hopes of joining his recruiting classmates in the receiver rotation in 2022. Even before spring practices started this week, Ballard was putting in that work not only in winter workouts but also by participating in extra throwing sessions at the Woody Hayes Athletic Center with Harrison, Egbuka and their recruiting classmate Kyle McCord.
"I feel like I've grown to be a better person on and off the field," Ballard said Thursday. "I obviously redshirted, so just coming back every day with my teammates Marvin, Emeka and Kyle just getting better from there and plus in the weight room too with Coach Mick, every day, just getting my body right, just trying to be the best version of myself."
With four years of eligibility still remaining after taking a redshirt last season, Ballard has the potential to make a big impact in the years to come. Possessing an excellent combination of size and speed and the ability to make big plays downfield, Ballard often draws comparisons to former Ohio State wide receiver Devin Smith – who also played at Massillon Washington High School like Ballard – and Ballard is welcoming those comparisons as he's changed numbers this year to No. 9, the same number Smith once wore as a Buckeye.
"I feel like I do see me being a deep threat like he was," Ballard said. "But I also want to build up my smaller routes too, like the medium ones and stuff like that, instead of just being a deep threat."
Going into his second year, Ballard feels like he has a better understanding of Ohio State's playbook and has become a better route-runner than he was a year ago. Perhaps most importantly, he's become more confident in his own ability, which is something his teammates have taken notice of, too.
"I would say last year there was the uncertainty of being in a new spot and being in a new place and scared to make mistakes," senior walk-on receiver Xavier Johnson said of Ballard. "This year, he's more comfortable … I tried to take him under my wing and now he's excelling and he's trying to be that great player that he can be, so I would definitely say he's bought in."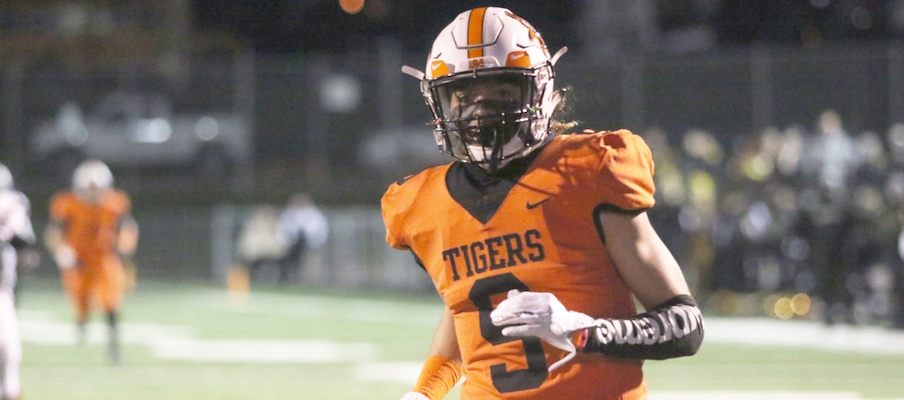 While he still faces plenty of competition on Ohio State's receiver depth chart, the departures of Olave and Wilson should open the door for Ballard to earn at least some playing time this year. Right now, Ballard says he's running behind Julian Fleming at Z receiver – the position Olave played last year and which Smith also once played for the Buckeyes. But Day said Tuesday that the Buckeyes want to have a rotation of five or six receivers if that many receivers prove they belong in the rotation, and Ballard appears to have early momentum to potentially become one of them.
Ballard said his biggest goal for this year is to earn a consistent role on special teams and make an impact in that phase of the game, which is often the first step to earning more playing time on offense for an Ohio State receiver.
"Really just play my role and not trying to be too much and just do what I can do, like probably on special teams the most, and make plays on special teams, so I can build my way up into a bigger role," Ballard said. "When you get here, you have to get on special teams in order for you to get on offense and make plays on special teams and make your way up to the top."
The possibility of Ballard playing a bigger role on offense as a redshirt freshman, though, is one that is seemingly becoming increasingly real. Smith-Njigba is Ohio State's clear-cut No. 1 receiver entering the 2022 season while Harrison, Fleming and Egbuka are the top contenders for the other two starting jobs, but with the departure of last season's top deep threat in Olave, Ballard is a candidate to fill some of that void on the outside.
Even on a team full of highly recruited receivers and elite athletes, Harrison said Ballard's speed is standing out in practice.
"He's flying past everybody at this point," Harrison said. "The defense gotta back up. I think his route-running ability now, he can push off vertical and then snap it down, like we all can. So he's coming."
In order to play a lot this year, Ballard thinks the biggest things he needs to do this spring and summer are "being more vocal, being a leader and working harder every day." And that's what his teammates are seeing from him.
"He's come to work out, doing extra work, working on routes and things like that," Harrison said. "He's came a long way and I'm so proud of him. He's going to have a big year this year."