Ohio State has been an annual stop on the PPI Recruits' DreamChasers tour since it began in 2017. For PPI Recruits founder Brandon Collier, however, this year felt different.
For the first time since he started the nationwide camp tour to help international prospects land opportunities to play college football in the United States, Collier got to see a former participant on the tour as a current Ohio State football player.
After participating in the DreamChasers tour last June, German-born defensive tackle Hero Kanu recently arrived in Columbus to begin his freshman year at Ohio State. It brought great pride to Collier to see Kanu at the Woody Hayes Athletic Center as this year's DreamChasers participated in Ohio State's high school football camps on Tuesday and Wednesday.
"It was kind of a surreal moment. I was almost in tears seeing Hero walk up to me and just kind of hug me, like 'Man, thank you for helping me get here,'" Collier said. "It's only a few schools in the world like Ohio State. You got Alabama, Georgia, Ohio State, Clemson. I mean, they are the cream of the crop type of schools. And just to see Hero, these guys say 'OK man, if Hero came from the same pedigree as us, we can do the same.'"
Nearly 50 players from Europe and elsewhere around the world hoping to follow in Kanu's footsteps camped at Ohio State on Tuesday and Wednesday. Kanu was a constant presence on the sidelines both days, cheering on this year's crop of PPI participants – some of whom were also on the tour with him last year – as they went through their workouts hoping to impress Ohio State's coaches just like he did.
Seeing what Kanu has accomplished by becoming a Buckeye and having him there to support them inspired this year's participants to believe they have a chance to follow in his footsteps.
"For him to come out here and play with one of the top programs in the world is absolutely amazing," said Kofi Taylor-Barrocks, a linebacker from England. "I just like his work ethic and the type of person he is. He's a real guy. He's a genuine guy."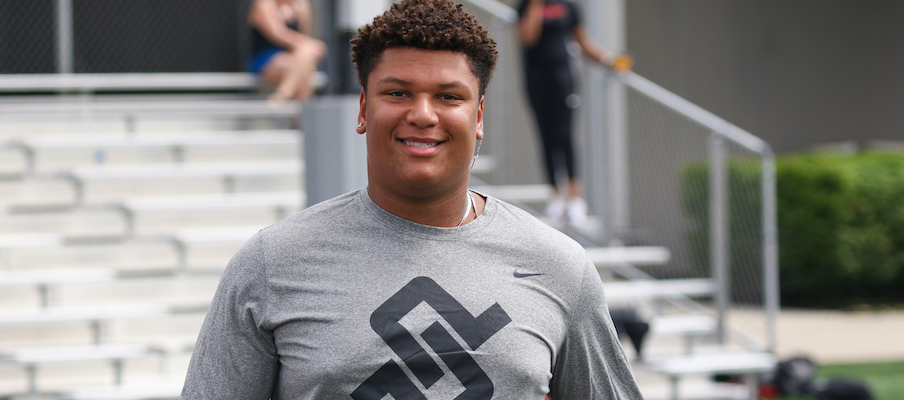 None of the prospects on this year's tour arrived at Ohio State with as much hype as Kanu did last year, as Kanu was already rated as a composite four-star prospect and had an offer from Ohio State before he camped there. While two participants in last year's tour landed Ohio State offers – Kanu and Swedish tight end Theodor Melin Öhrström, who ended up signing with Texas A&M – none of PPI's prospects left Columbus with an offer this year.
There were several prospects in attendance, though, who will likely play at Power 5 schools even if they never get offers from the Buckeyes. 
Taylor-Barrocks, who has been rated as a four-star recruit by ESPN, holds Power 5 offers from Michigan State, Ole Miss, Colorado and West Virginia. Although Ohio State did not offer him on Wednesday – because it runs a 4-2-5 base defense, OSU is being selective about how many linebackers it offers – defensive coordinator and linebackers coach Jim Knowles told Collier that Taylor-Barrocks was one of the best linebackers he's seen at this summer's camps and that Ohio State would continue to recruit him.
Taylor-Barrocks said camping at Ohio State on Wednesday made him a better football player.
"In Europe, we don't really get coached on the small, specific techniques, so being able to work with a defensive mastermind such as Coach Jim Knowles is absolutely a privilege for me," said Taylor-Barrocks, who plays at the NFL Academy in London.
Another linebacker who turned heads on Thursday was Justin Okoronkwo, a 2024 prospect from Germany. While Okoronkwo has not yet earned any offers, as he just arrived in the United States on Tuesday to participate in his first camp of the summer at Ohio State on Wednesday, he stood out in linebacker drills. The 6-foot-2, 205-pound linebacker ran a 4.56-second 40-yard dash and broke up nearly every pass that came his way during one-on-ones against running backs.
Like Taylor-Barrocks, Okoronkwo left without an offer on Wednesday but was told by Knowles that he "did a great job" and Ohio State liked his performance.
"I think he was the best linebacker that I've seen out here," Collier said. "I've actually been at a lot of big-time camps and he was the best linebacker I've seen this summer. He's 6-2.5, ran a 4.56. Dominated the one-on-ones vs. very top linebackers. I thought his position drills was very good, and I think he's an Ohio State, Georgia, Alabama type of talent."
Okoronkwo and Taylor-Barrocks pushed each other to perform at their best while going through linebacker drills together.
"Me and Justin, we thrive off each other's energy," Taylor-Barrocks said. "We saw how each other worked, push ourselves to the limit, picked each other up when we're down. So I'm just excited to see where the road takes Justin."
The international prospect who got the most attention from Ohio State during the morning session of Wednesday's camp was Aymeric Koumba, a defensive end from France whose offers include Michigan, Georgia Tech and Colorado. A 6-foot-4, 228-pound defensive end with a 7-foot-1 wingspan who runs a 4.7-second 40-yard dash, Koumba certainly looks the part of a Power 5 defensive end physically.
Participating in his sixth camp in nine days, Koumba said he was disappointed in his performance on Wednesday, as he felt he did not perform up to his potential. But Koumba loved having the opportunity to work with Ohio State defensive line coach Larry Johnson, who he described as "the best coach in the world." He was excited to camp at Ohio State not only because of Johnson and Kanu but also because he has been looking up to former Ohio State defensive end Chase Young since he started playing football four years ago.
"I get the passion of Ohio State from him because I really want to be as great as him and what he did in college," Koumba said. "For his college career, he was like the perfect end player."
More camps are ahead for Taylor-Barrocks, Okoronkwo, Koumba and the rest of the players still on the tour over the next week. They're camping at Michigan on Thursday, while they're also planning to attend a mega-camp at Kent State and a camp at Florida. Taylor-Barrocks said he'll also be traveling to Colorado for an unofficial visit before he returns to England.
While Collier would have liked to see Okoronkwo, Taylor-Barrocks and Koumba leave Ohio State with offers on Wednesday, it's a safe bet PPI will be back in Columbus for a stop on next year's DreamChasers tour. By offering and ultimately signing Kanu last year, Ohio State showed it will recruit international players if it believes they are Ohio State-level talents. And there are numerous other factors – including location, the competition Ohio State attracts and the media coverage Ohio State receives – that also make OSU an appealing annual destination for his prospects.
"I'm from Cleveland, so I get to see my family, so Ohio State gets a little lucky in terms of that. But I will say, one of the second biggest reasons, the staff always brings in a lot of talent," Collier said. "Because we go to a lot of mega-camps, there will be a lot of coaches but the top-level talent don't normally camp at the mega-camps. So you know when you come into Ohio State, you're gonna face some four- or five-star recruits, which is very good for our guys to kind of size them up."