Ryan Montgomery's first visit to Ohio State this summer came as a basketball player.
Montgomery was at the Schottenstein Center on Friday along with the rest of the Findlay High School boys' basketball team to participate in the second day of Ohio State's basketball team camp. The rising high school sophomore made the trip to Columbus just hours after wrapping up a visit to Michigan State, where he participated in a football camp on Thursday.
As he is set to play a key role on Findlay's basketball team during his sophomore year, Montgomery thought it was important to participate in Friday's camp with his Trojans teammates.
"We're going to be a young team this year, so I'm gonna have to step up in a position for basketball, and I'm ready for that," Montgomery said after his team's second game at the Schottenstein Center on Friday.
Ryan Montgomery hits a 3 for Findlay: pic.twitter.com/jBYrXKPzZU

— Dan Hope (@Dan_Hope) June 10, 2022
Montgomery's future as a college athlete, however, will be on the football field.
After just his first season of high school football, Montgomery already has 11 Division I offers, including some of the top programs in the country – Georgia, Michigan, Michigan State, Notre Dame, Penn State, Tennessee and Wisconsin, to name a few. And he's the only quarterback in the 2025 class who currently has an offer from Ohio State.
With three more years of high school still to go, Montgomery has plenty of time to explore his options, and that's what he's doing this summer. He and his dad will be making a trip around the Southeast later this month to visit Virginia, North Carolina, Clemson, Georgia and Tennessee.
Excited to check these programs out in June! @Birm @On3Recruits @ChadSimmons_ @JeremyO_Johnson @samspiegs @GHamilton_On3 pic.twitter.com/HnCuNMweba

— Ryan Montgomery (@RyanMonty2025) May 23, 2022
"As of right now, I'm just trying to see as many places as I can, as possible, because you never know," Montgomery said. "I could fit somewhere where I haven't been more than some place I have been."
That said, there's reason to feel good about where Ohio State stands with Montgomery right now.
For one thing, his brother Luke is already committed to Ohio State. Luke Montgomery, a four-star offensive lineman ranked as the No. 42 overall prospect in the class of 2023, made his pledge to the Buckeyes in February and has been actively recruiting other players to join him in Columbus ever since. His brother is no exception.
"Whenever I wear another shirt of a school around the house, he's like 'Take that sh- off,'" Ryan said, censoring himself from saying an expletive.
The younger Montgomery has been in regular communication with Ohio State's coaching staff. He named Ohio State head coach Ryan Day and quarterbacks coach Corey Dennis – along with Michigan co-offensive coordinator Matt Weiss and Notre Dame offensive coordinator Tommy Rees – as two of the coaches he's built the closest relationships with. 
Dennis, offensive coordinator Kevin Wilson and offensive line coach Justin Frye all stopped by the Schott on Friday to watch Montgomery play basketball, and he appreciated them taking the time to come see him.
"It's awesome," Montgomery said. "Especially with how young I am. I'm still a couple years behind of when I'm gonna go to college. So just to see that, because I know how busy they are, they never have a dull moment, so it's pretty cool."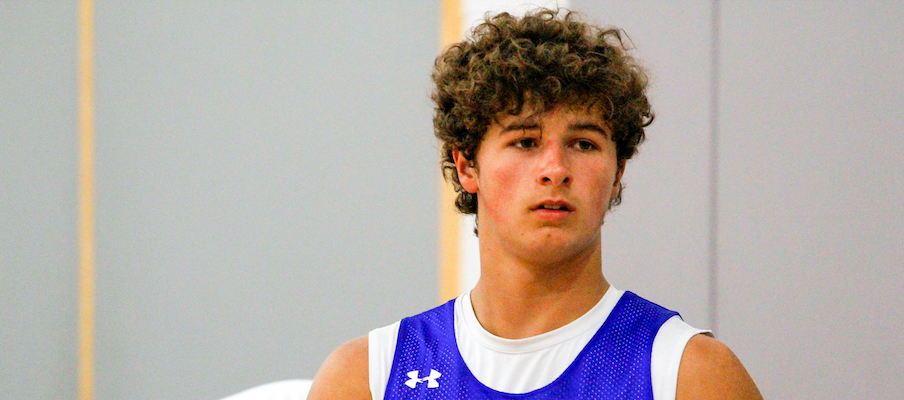 Montgomery will be back in Columbus with members of the Findlay football team Thursday to participate in Ohio State's 7-on-7 camp. He's also planning to return to OSU for another visit in July.
It's not only his in-state upbringing and brotherly connection that make Montgomery heavily interested in the Buckeyes. He also loves what he's seen from Ohio State's quarterbacks in recent years under Day's tutelage, which might be the biggest reason OSU is a frontrunner to eventually land Montgomery's commitment.
"As a quarterback, obviously the dream school is Ohio State. Why wouldn't you want to go to Ohio State?" Montgomery said. "You've seen the quarterbacks they've developed. Why wouldn't you want to go there?"
Montgomery says relationships with the coaching staff and offensive schemes are two of the biggest factors he will consider once he starts narrowing down his options.
"I'm looking at the offense they run, just what I think of the coaches there and how are they gonna treat me," Montgomery said.
"As a quarterback, obviously the dream school is Ohio State. Why wouldn't you want to go to Ohio State?"– Ryan Montgomery
As he said after his brother's commitment in February, Montgomery wants to commit before his junior year of high school. He wants to make a decision early so he can recruit other players to join him in his class at whatever school he chooses, just like his brother is doing for Ohio State's 2023 class.
He'll hold off on his decision if he feels like he needs to, though, because he doesn't want to make a commitment before he's entirely certain where he wants to go.
"You don't really want to commit somewhere where you're not fully 100% sure you want to be there," Montgomery said. "You have to be 100% sure you're gonna be there, and when I'm committed, I'm committed. I'm not going to go anywhere else."