It's never too early to look ahead.
Ohio State wrapped up its 2018-19 season on Sunday with a loss in the NCAA tournament's round of 32 for the second year in a row. Once again, the Chris Holtmann-led Buckeyes weren't widely projected to make the field of 68, but they eked in as the 41st-overall seed.
Next season, expectations change. With a deep crop of returners and the top recruiting class in the Big Ten, an NCAA tournament appearance will be the assumption, and Holtmann will be challenged to take the group further than it reached the past two seasons.
So, we took an early look at what each player's role could be in the 2019-20 season.
Player-by-player Analysis
Senior forward Andre Wesson
What he's done: The 6-foot-6, 220-pound forward has made steady progress throughout his three years at Ohio State. A versatile, defense-first frontcourt player with experience at small forward, power forward and center, Wesson scored in double figures just once in his freshman and sophomore season. But as a junior, he averaged 8.6 points per game, hitting 43 percent of his shots and knocking down 33.6 percent of his attempts from beyond the arc. The tough-minded veteran started 34-of-35 games last season and played 30 minutes per game after coming off the bench for the majority of his first two seasons.
His role next season: As the sole scholarship senior on Ohio State, Wesson will be looked up to as a leader. He's not overly vocal, but he's respected in the locker room, makes scrappy plays, wins 50-50 balls and will set as good an example as possible for the youth-filled team. Though nothing is certain at this point, he has the inside track to start at small forward. Wesson made noticeable strides last offseason and he'll be expected to further improve in the upcoming months. The frontcourt will be crowded next season, but that won't prevent him from playing extended minutes.
Junior Forward Kaleb Wesson
What he's done: In just two seasons, Wesson has established himself as one of the better post players in the Big Ten. He increased both his scoring (10.2 to 14.6 points per game) and rebounding (4.9 to 6.9 boards per game) from his freshman to sophomore seasons. Last offseason, Wesson worked to extended his game beyond the 3-point line, and he has become a player capable of scoring both inside and outside of the paint. He battled foul trouble again this season.
His role next season: For the third year in a row, Wesson will start at center for the Buckeyes. His 6-foot-9, 270-pound frame makes him a tough matchup to defend, and his interior defense improved last season. As a junior, Wesson should begin to score against physical defenders in the paint with greater efficiency, which both he and Holtmann have discussed. His efficiency should improve, given the added offensive firepower around him on the court. Wesson also needs to figure out how to continue to cut down his foul rate, for the Buckeyes still won't have many other options at center.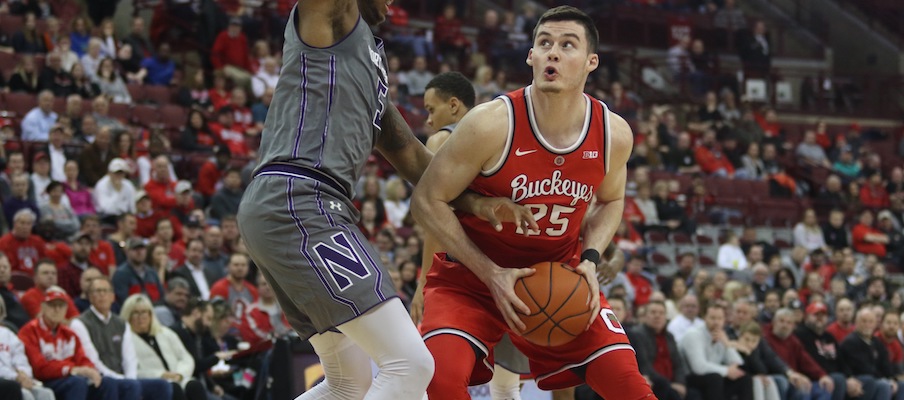 Junior Forward Kyle Young
What he's done: After playing sparsely as a freshman behind Keita Bates-Diop and Jae'Sean Tate, Young averaged 20.5 minutes in 31 games, including 14 starts, as a sophomore. The power forward is an impressive natural athlete – most of his teammates viewed either Musa Jallow or him as the most athletic player on the team – who plays off the ball on defense and contributes with his defense, by staying in motion and grabbing rebounds. He shot 67.2 percent from the field last season, relying heavily on dunks and shots near the basket. 
His role next season: Young started for nearly half of the games last season, but he's no lock to return to the starting five in the fall. The additions of E.J. Liddell and Alonzo Gaffney will crowd the frontcourt and force Young to battle for his minutes. Young will have a role, but his minutes will be partially determined by whether he can become a more dynamic offensive player in the offseason, similar to how Andre Wesson did a year ago.
Redshirt Junior Guard C.J. Walker
What he's done: Walker had to sit out the 2018-19 season after transferring to Ohio State from Florida State, where he came off the bench as a freshman and started in the backcourt as a sophomore. His minutes rose from 12.5 to 23.3 per game as a sophomore, and he scored eight points and had 2.5 assists per game. Walker shot 35.5 percent from beyond the arc last season. The 6-foot-1, 195-pound point guard has two years of eligibility.
His role next season: Gone are Keyshawn Woods and C.J. Jackson. In come Walker and DJ Carton who will man the point guard position next season. Regardless of which player starts, both will play significant minutes in the backcourt. Walker has talked about wanting to be a leader, and as a fourth-year player, he'll be one of the two most veteran players on the team. He's undersized but before the season was described as a "bulldog." Walker will be part of Holtmann's backcourt rotation.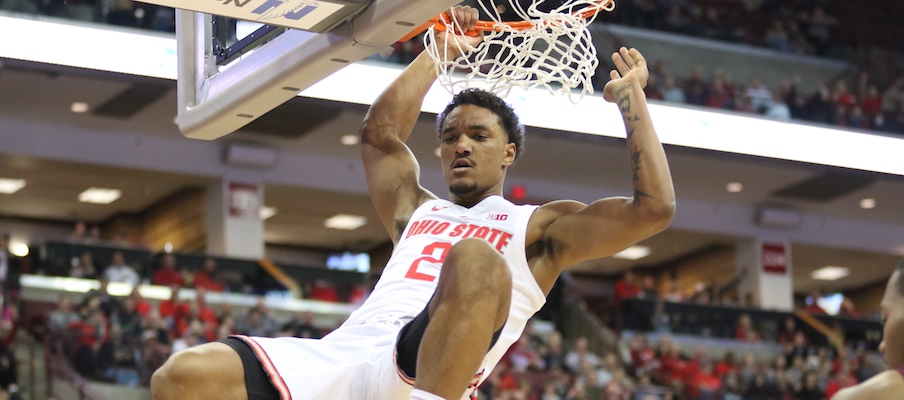 Junior Guard Musa Jallow
What he's done: Jallow has not ascended to becoming a full-time starter, but he has started at least 10 games each of the past two seasons. As one of the two most athletic players on the team at 6-foot-5, 200 pounds, he has blossomed into one of the team's best wing defenders. Jallow isn't an offensive threat, averaging just 2.9 points per game last season, but his 3-point percentage jumped from 25 to 33.3 percent between his freshman and sophomore seasons. He ended the 2018-19 season with four straight starts, which he earned due to his defensive prowess.
His role next season: Unless Jallow makes offensive improvements to become a more efficient scorer and minimize his turnovers in the offseason, his role likely won't change much. He'll still be a wing capable of defending multiple positions with offensive deficiencies that will limit his playing time. With Muhammad and Andre Wesson returning, he's likely to come off the bench once again with the possibility of spot starts.
Sophomore Guard Duane Washington Jr.
What he's done: Some people thought Washington would enter Ohio State as an immediate bench scoring threat, but he struggled to find his shot for much of the season, ending his freshman campaign shooting 30.6 percent from 3-point range and 37 percent from the field. He had defensive lapses at times, which kept him off the floor against some teams. 
His role next season: Washington is one of the most intriguing returners on the team. He wasn't an efficient offensive player, is a bit undersized for a shooting guard and has defensive drawbacks. However, if he can relocate his shooting stroke and improve both physically and as a defender, he could make significant strides in his second year. The Buckeyes will have a deep backcourt, with Luther Muhammad, DJ Carton, Musa Jallow and C.J. Walker, so it'll be imperative for Washington to make the necessary improvements to retain his spot in the rotation.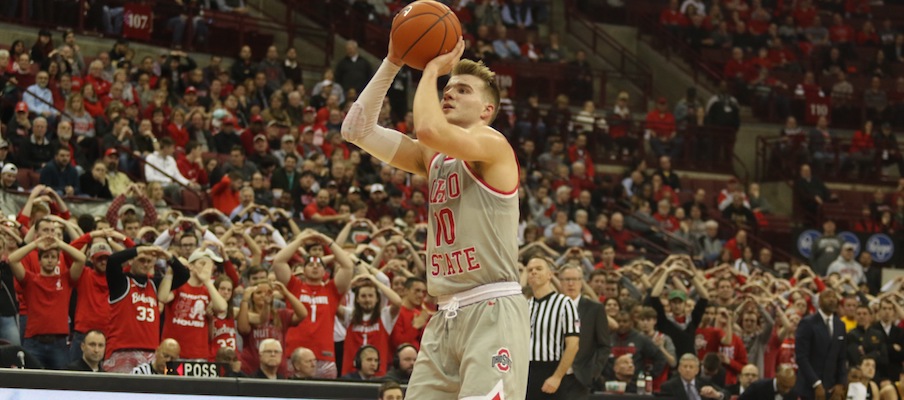 Sophomore Forward Justin Ahrens
What he's done: If you only watched Ahrens splash six 3-pointers and score 29 points against Iowa in February, you might be convinced he's already a star. However, in the other 24 games he played, Ahrens had 50 combined points. He's a tremendously skilled shooter who hit 38.8 percent of his 3-point attempts, but he also was limited defensively and relied heavily for his offensive production to come on spot-up shots. 
His role next season: A year of experience should aid Ahrens as he learns what he needs to improve this offseason, and however much better he gets will certainly impact how much playing time he gets. The additions of Liddell and Gaffney could cut down his potential time on the court. His shooting, though, will continue to make him an asset, and the rest of his skills will determine his ultimate role.
Sophomore Guard Luther Muhammad
What he's done: Muhammad has started since his very first game in college. The freshman 6-foot-5 shooting guard was a solid defender as a freshman, which earned him the early playing time. He also proved to be a better than expected offensive player early in the season, shooting around 40 percent from 3-point range for the first half. However, he hit the infamous freshman wall and ended the year with a 37.4 shooting percentage, shooting more efficiently from beyond the 3-point arc than in front of it.
His role next season: Though the backcourt will look much different next season with Carton and Walker replacing Woods and Jackson, Muhammad's role should stay relatively the same. He's a defense-first off-ball guard with the ability to play and guard three different positions. In order to maximize his playing time, his offense must improve. He showed a solid shot from beyond the arc, but he'll need to figure out how to improve his shot selection and play smarter with the ball in his hands.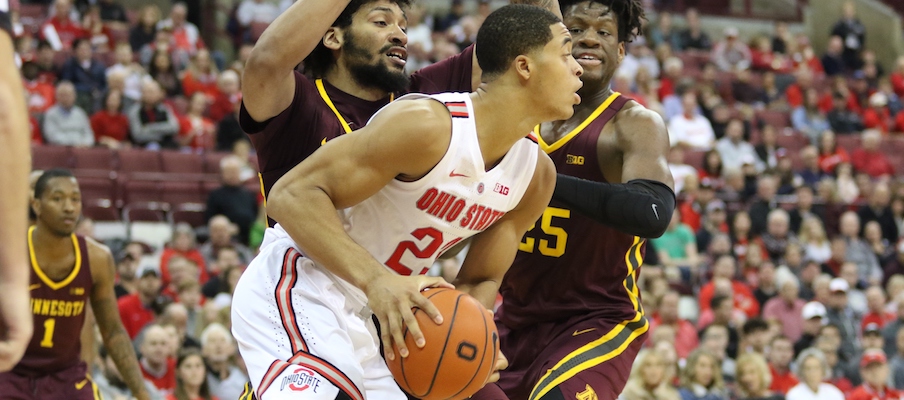 Sophomore Forward Jaedon LeDee
What he's done: LeDee played infrequently as a freshman. His lack of a major role wasn't overly surprising, for Holtmann said before the season that both he and Ahrens needed more time to develop than their freshman guard counterparts. However, he also had to learn how to play center, a position he had never played before. Therefore, his lack of defensive polish minimized his playing time, even though he was a capable offensive player and had the ability to get to the line.
His role next season: Without much depth at center, unless the Buckeyes pick up a commitment from 6-foot-11 big man Ibrahima Diallo, LeDee should slot in once again as the team's backup to Kaleb Wesson. How much he plays will be determined with how he develops defensively. LeDee has the frame and offensive skills to be a force inside, but he remains behind on defense, considering he had never played the position.
Freshman Guard DJ Carton
What he's done: Carton enters Ohio State as the top-rated player in the team's 2019 recruiting class, which was the best in the Big Ten and the 12th best in the nation. He ended the cycle as the highest-rated four-star recruit in the country and was a five-star for the majority of the past year. At Bettendorf High School, he was the top-rated prospect in Iowa.
His role next season: Carton has an exciting blend of athleticism, driving ability and physicality. At 6-foot-1, 190 pounds, he'll challenge to become a starter at point guard from the first game. He and Walker will both man the position, and they possibly could play together in the backcourt at times. Last season, the Buckeyes had two key deficiencies: no player who could consistently drive to the rim and a lack of a point guard who could consistently efficiently run the offense. If Carton is the type of player many people expect him to be, he might be able to ensure those won't be problems any more.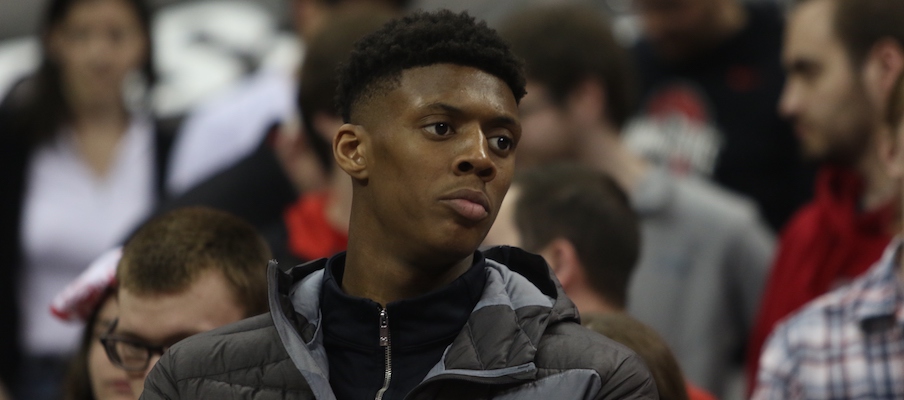 Freshman Forward Alonzo Gaffney
What he's done: Gaffney moved from Villa Angela-St. Joseph to Garfield Heights to Brewster Academy in New Hampshire during his time in high school, morphing into the No. 42 overall prospect in the nation. At 6-foot-9, 190 pounds, he's the 10th-best small forward in his class.
His role next season: Given his athleticism and size, Gaffney's position is uncertain. Ohio State has Liddell and Young to man power forward, so he's likely more of a small forward, but that could change. Gaffney is often considered more raw than Carton and Liddell, but he's so long and naturally athletic that it wouldn't be surprising to see him find his way into the rotation next season. Andre Wesson, Ahrens and Jallow will be his primary competition.
Freshman Forward E.J. Liddell
What he's done: Starring at Belleville West in Illinois, Liddell led his high-school team to a second straight state title. A 6-foot-7, 220-pound power forward, he's the 45th-best player in the country and the top prospect in Illinois. He had 2,508 points, 1,004 rebounds and 500 blocks during his high-school career.
His role next season: Liddell might not have as high of a ceiling as Gaffney and Carton in college, but he should be able to contribute immediately. He's a bit undersized to play power forward, but he's lanky and has a knack for disrupting and blocking shots that will translate to the next level and offer the Buckeyes a skill that no one had last season. Liddell and Young will likely split the majority of power forward minutes, and Liddell might have an upper hand since he can score from multiple levels and isn't lacking for rebounding and defending ability.
Projected Depth Chart And A Look At The Rotation
Let's be clear: the season ended less than a week ago. A lot can change, and a lot will change. This is simply an early projection of what the depth chart could look like in the fall.
| Position | Projected starters | Projected backups |
| --- | --- | --- |
| C | Kaleb Wesson | Jaedon LeDee |
| PF | E.J. Liddell | Kyle Young |
| SF | Andre Wesson | Alonzo Gaffney, Justin Ahrens |
| SG | Luther Muhammad | Duane Washington Jr., Musa Jallow |
| PG | DJ Carton | CJ Walker |
Kaleb Wesson is a lock to start at center. No one will take his role. Both Luther Muhammad and Andre Wesson are heavy early favorites to start for the second year in a row, but neither have their respective positions locked up quite like Kaleb Wesson. 
DJ Carton and E.J. Liddell will enter the program as college-ready players, so they're projected to start. But C.J. Walker could possibly start at point guard, and Kyle Young might start at power forward. 
Regardless of whichever five players start, Holtmann will have to determine how many players to rotate. 
Carton and Walker will both play significant minutes at point guard, and there's a chance they play some minutes together in the backcourt. Muhammad, Andre Wesson and Liddell are expected to play extended minutes. Young also will have a spot in the rotation in the frontcourt. Kaleb Wesson will start at center.
Washington, Ahrens and Jallow each played sporadic minutes during the 2018-19 season, sometimes finding themselves as key cogs in the rotation and playing sparsely at other moments. It'll be an important season for those three players on a young but deep roster. Gaffney is a wildcard. Viewed as the rawest of the three freshmen, he could factor into the rotation at either small forward or power forward, or he could need a year to develop. It's too early to tell. If LeDee makes strides on defense, he could push for more minutes behind Wesson.