Keita Bates-Diop won't be standing on the court in scarlet and gray when Ohio State takes on Cincinnati to tip off the season on Nov. 7. Jae'Sean Tate won't be suited up, and neither will Kam Williams.
In order to replace the lost production, Chris Holtmann and his staff brought in four freshmen — two guards and two forwards — along with graduate transfer Keyshawn Woods and Florida State transfer C.J. Walker, who must sit out this season. 
"It was a lot of new guys," C.J. Jackson said. "It's like split, so there's six returners and six new guys. When it's like that and it's four of them and they live together, they kind of bring that in when them. We accepted it as soon as they walked in. Before they even got on campus officially, we already knew who they were. We already spoke with them multiple times. It wasn't like we were meeting them for the first time or anything like that."
Though essentially half the team is new, it's not a new scenario for either Jackson or the Buckeyes. Just last year, the team had to acclimate three freshmen — Kaleb Wesson, Kyle Young and Musa Jallow — and graduate transfer Andrew Dakich to a team with a first-year coach. 
In order for Ohio State to maximize its potential this season, this year's crop of first-year players must quickly adjust to the next level. They don't only bring basketball skills, but a talkative nature that stood out to every veteran who spoke about them.
"The biggest thing about all of them is they just bring personality to our team, which is definitely needed," Jackson said. "Just having a good time on. But once they're on the court, just all business."
Freshmen Luther Muhammad, Duane Washington Jr., Jaedon LeDee and Justin Ahrens, along with Walker, were not made available for questions during Ohio State's men's basketball media day on Wednesday, but we asked their veteran teammates to describe the newcomers.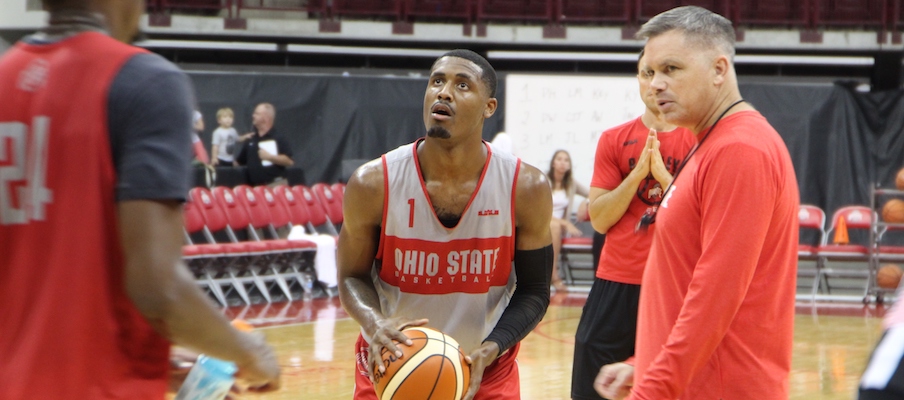 Luther Muhammad
The top-ranked prospect in Ohio State's 2018 recruiting class, Muhammad headed west from his hometown of Jersey City, New Jersey to join the Buckeyes. He opted to join Chris Holtmann's team over Virginia, Xavier, St. John's and West Virginia.
Muhammad ranked as the No. 79 overall prospect and the 14th-best shooting guard in his class. As a senior at Hudson Catholic High School, he averaged 14.6 points, five rebounds and three assists per game.
Here's how Muhammad's teammates describe him:
C.J. Jackson: "Luther's the same way (as Duane Washington). He's going to fight the whole 40 minutes or however long practice is that day or however long he's in the game. And then off the court, he'll make you laugh. You can't really complain about teammates like that."
Kaleb Wesson: "Luther Muhammad, same thing (as Duane Washington). That guy gives you 100 percent effort on every single possession. His defense, he's talking out there and then he's out there telling me what to do. He's a point guard, so he's seeing what the defense is doing and he's telling me he wants me at that spot at this time, and I love it. For a young guy to do that, that gives you a lot of confidence."
Kyle Young: "Luther's a great player. In high school, he was obviously a good player and I think he's ready to make the right transition. They've all been working really hard and, like I said, it's a great personality, which I could say pretty much about everybody. Meshes really well with us."
Musa Jallow: "He's a fighter. You can tell that in open gym and stuff. He has a lot of heart in his game. He's going to definitely bring that out during our games during the season."
Micah Potter: "Doesn't like to shut up. He's a dog and he plays really good defense."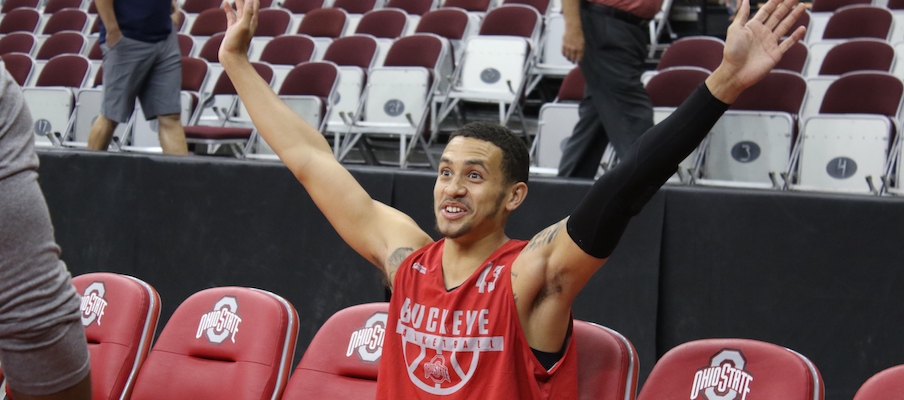 Duane Washington Jr.
A native of Grand Rapids, Michigan, who headed west to play in California for his senior year of high school, Washington opted to return to the midwest to join a backcourt crowded with young, yet mostly inexperienced players.
A 6-foot-3, 190-pound scoring threat from the outside, Washington ranked as the No. 168 overall prospect in his class and the 14th-best player in California. He was first-team all-state at Sierra Canyon (Calif.) High School last season.
C.J. Jackson: "He's a great outside threat. On the court, he's going to give it his all, 110 percent."
Kaleb Wesson: "Duane Washington is a scorer. He's a pure scorer. Right now, he's just learning the game. He's still working on getting through ball screens and everything like that on the defensive end, but he's a pure scorer. He's going to give you everything he's got every play."
Kyle Young: "I would say personality again for him. I would say he brings the most personality to the team. He's a super friendly guy. He's a super good player, brings a lot to us shooting-wise."
Musa Jallow: "He talks way too much. He's goofy. He likes dancing. He talks way too much. Great player."
Micah Potter: "Duane, doesn't like to shut up. Honestly, he's one of those guys where it would be like I honestly, genuinely feel like I could talk to him about anything. He's really open, a really friendly guy and then also has that dog mentality and is super skilled."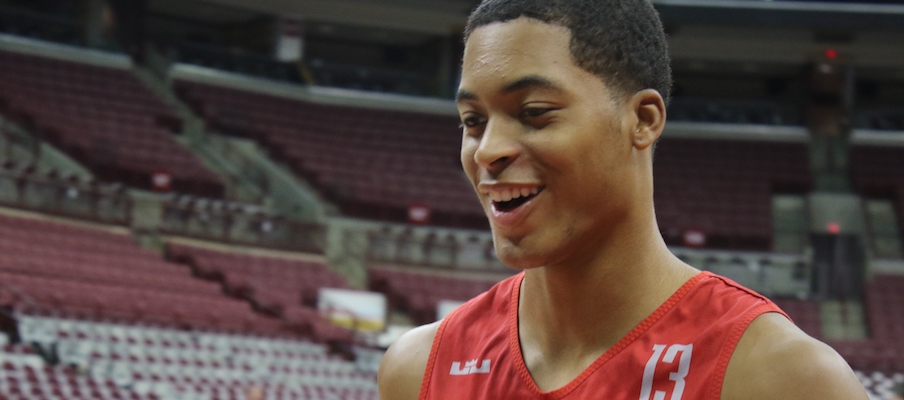 Jaedon LeDee
Practice just recently began, but LeDee is already one of the biggest players on the team. The Houstonian stands 6-foot-9, 230 pounds, which ties him with Kaleb Wesson and Micah Potter as the tallest player on the team.
LeDee was the No. 103 overall prospect in his class and ranked as the 22nd-best power forward. He joins Kyle Young, Wesson and Potter in the Buckeyes' frontcourt.
C.J. Jackson: "Just toughness. I mean, if you just look at him, he looks like a freak. He's just tough and he brings it every day. With him, there will never been an issue or a question if he's going his hardest."
Kaleb Wesson: "Jaedon LeDee might be the best rebounding big that I've ever faced in my life. Jaedon is an ox. Jaedon is strong as all get out. He's just an ox. And he's giving you everything he's got. He's boxing out and then he's athletic. He'd dunk anything."
Musa Jallow: "He's more quiet. He works hard and he's definitely going to be a great asset for us. He's probably the strongest person on the team."
Micah Potter: "JaeDon is a freak of nature physically. I think everyone could just see that with who he is. He plays hard and he's kind of a little bit more mellow, but he's really funny."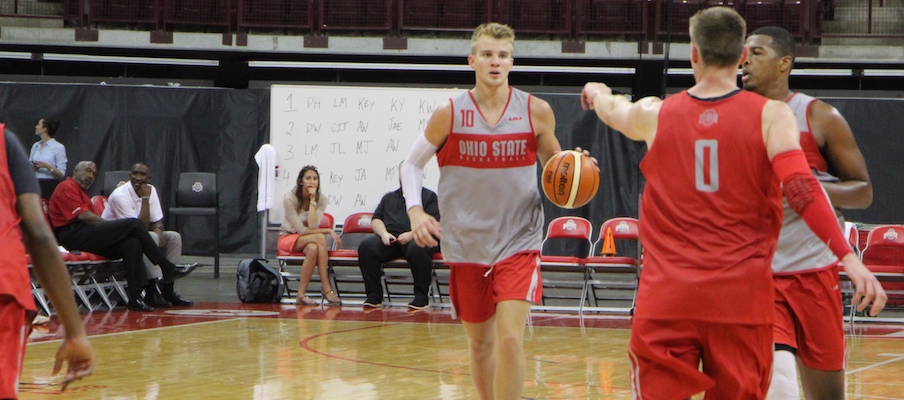 Justin Ahrens
A native of Versailles, Ahrens is the only newcomer to hail from Ohio. He was the state's co-player of the year the past two seasons and leads Versailles High School in career points, rebounds and assists. 
Ahrens ranked as the No. 249 overall recruit in the 2018 recruiting cycle, the lowest-rated in Ohio State's class. The 6-foot-5, 180-pound forward was the seventh-ranked player in Ohio.
C.J. Jackson: "Great offensive player. Like I said with the other guys, they kind of bring this, I can't really describe it, this energy to the locker room that we lost here in the past couple years. It makes it fun and it makes it enjoyable to go in the locker room and see all those faces."
Kaleb Wesson: "Justin Ahrens is a shooter. He's a shooter. Right now, he's working on his defense and getting through ball screens and getting through off-ball screens. Right now, we've got him playing the low post, too, so he's trying to guard me, guard Jaedon. That's tough for him being a little guy. I'm telling him to walk to (Andre Wesson) because Dre's in the same situation. Dre had to guard Isaac Haas last year. I'm just telling him take notes from Dre. Dre is going to tell you what to do and he's listening."
Kyle Young: "I kind of knew him a little bit before coming in here. When he came on his visits and stuff, we meshed really well. Also, another super good player, good kid. Really good shooter. Brings a lot to the table."
Musa Jallow: "Great shooter. Also talks way too much. You could say that for all of them, pretty much."
Micah Potter: "Doesn't like to shut up. Just super loud. Just likes to have a lot of fun. Can shoot the ball really well."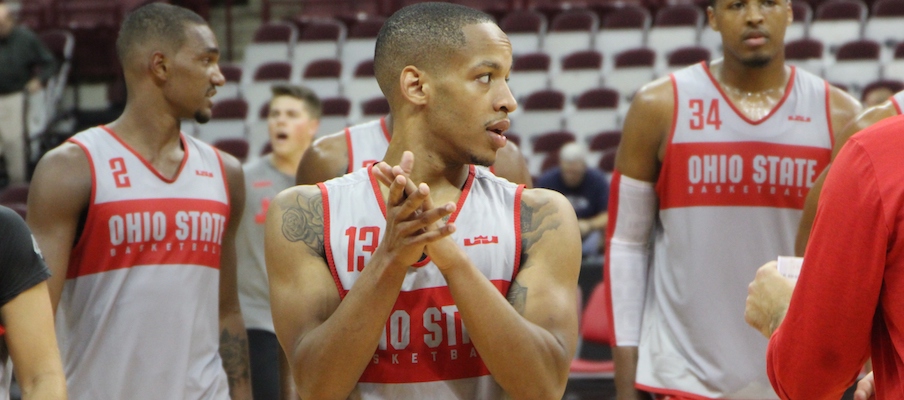 C.J. Walker
Though he won't be eligible to play for Ohio State until the 2019-20 season, Walker can practice with the Buckeyes for the duration of this season. The 6-foot-1, 195-pound point guard will have two remaining seasons of eligibility after redshirting this season.
Walker played two seasons at Florida State and started 34 of 35 games last season. The Indianapolis native averaged 8.0 points and 2.5 rebounds per game as a sophomore. 
C.J. Jackson: "C.J.'s great. He's kind of like, I guess you can look at it as one of the older minds on the team, just because he's been through college for two years and now this is like his technically junior year. He kind of understands how the college game is and he kind of helps with the young guys as well. He brings a competitive spirit to our team that we need."
Kaleb Wesson: "Another pure scorer. He's really fast. He's great coming off the ball screen, dishes, pulling up. His pull-up is crazy and he's giving you everything on defense. He's giving you everything he can take."
Kyle Young: "I could say the same thing personality-wise because I think we all really mesh well together. Him coming from a different school is probably tough. He probably thought it was going to be tough. But, I think right away we meshed."
Musa Jallow: "He's a good addition. He's a great guard, fast and he can finish over anyone."
Kaleb Wesson: "Bulldog. He's little, but he hurts. He hurts you. If he's going at you, it's going to hurt."