TULSA, Okla. – C.J. Jackson felt a pair of conflicting emotions as he considered both the result of Ohio State's first-round NCAA tournament game against Iowa State and how he played.
On one hand, he'd take a 62-59 win to send the Buckeyes into the second round any day. But a two-point, three-assist, six-rebound evening in what easily could've been his final collegiate game had the Cyclones hit a couple more shots down the stretch didn't sit well with him.
"I'm not too happy about my performance today, but my teammates picked me up," Jackson said on Friday. "Musa (Jallow) had a great game, Kaleb (Wesson), Keyshawn (Woods) obviously. Andre (Wesson) made big contributions. So when that happens, that's definitely a sigh of relief."
Jackson responded two days later by tying his season high of four made 3-pointers and scoring a team-leading 18 points. However, the Buckeyes couldn't pull off a comeback, losing by 15 points to Houston in a season-ending loss for his team and a collegiate career-ending defeat for himself.
Sure, Jackson statistically had a better game, but he would've given that up without a second thought if the outcome could've changed.
"We gave it our all," Jackson said. "We had a couple stops that we should've gotten, and then that changed the outcome of the game. But like I said, I'm just real proud of how we performed this year and how we overcame odds."
He embodied everything – both good and bad – about this season's Ohio State team.
Like most players, he committed to becoming a Buckeye with Thad Matta at the helm but quickly bought in to Chris Holtmann's way of running the program when Gene Smith brought him in to take over the team. Jackson battled offensive inconsistency in a similar fashion to his team, which opened with a 12-1 record before going 8-14 the rest of the season.
He frustrated both fans and his coaches at times with his turnovers, but no one ever could dispute his level of effort. The fifth-year point guard put in work, ascending from a little-known junior-college combo guard to a two-year starting point guard in the Big Ten. He averaged double figures each of the past two seasons, finishing second on the team in scoring both years, and led the Buckeyes in assists in both the 2017-18 and 2018-19 seasons.
Ohio State, just like Jackson, overcame low expectations each of the past two years.
"We just pretty much made it about ourselves," Jackson said. "It was not really about what people said or what they project us, because at the end of the day, we control our own destiny. I think we did a pretty good job of that."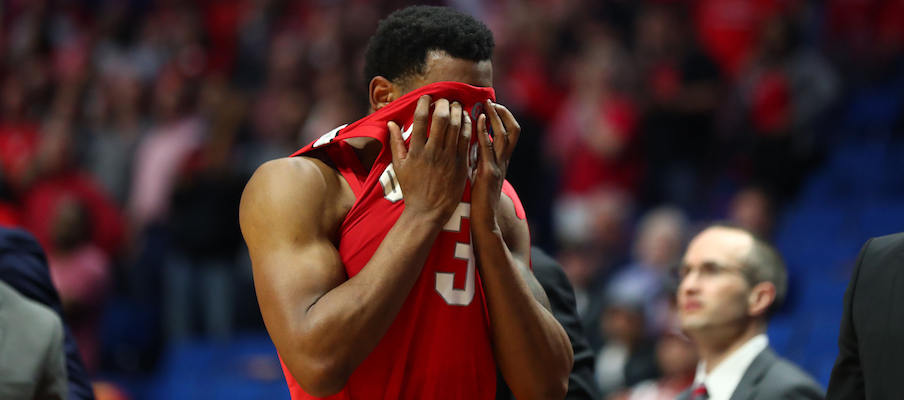 Along the Buckeyes' path to the tournament, Jackson had five 20-point games. His 22 points, five assists and five rebounds in the regular-season finale played a significant role in his team nearly pulling off a 23-point second-half comeback against Wisconsin.
Jackson had 17 points, five assists and five rebounds when Ohio State beat Indiana in the Big Ten tournament to wrap up its at-large bid. He drilled what Holtmann called a "prayer" to tie the Hoosiers in a February matchup with the Hoosiers, en route to an important resume-boosting victory. A year prior, he hit a game-winning 3-pointer to beat Indiana.
After three years as a Buckeye, Jackson doesn't want those shots to be his only legacy.
"My ability to lead got better each year," Jackson said. "Never stayed the same player. Did whatever it took for the team to win, and hopefully that's what I'll be remembered as."
As Jackson exited Ohio State's game on Sunday for the final time, his eyes began to well up with tears and he pulled his jersey up to cover his face. Holtmann, who called a timeout to let him and Keyshawn Woods leave the game and insert Joey Lane into the game for a final time, pulled both his fifth-year senior guards aside on their walks back to the bench to give them hugs.
Next season, with Jackson, Woods and Lane gone, the Buckeyes' backcourt will look noticeably different. And even though he won't be on the team any more, Jackson has heightened expectations.
"I hope they do better than we did this year," Jackson said. "That's just what you want to see from year to year in family. We're really brothers, it's not really cliche. We really mean that. I hope they come back hungry next year and work hard in the offseason and summer and just get better."