TULSA, Okla. – Andre Wesson sounded hurt. Emotions spilled out. He knew Ohio State "really needed" a win, and it couldn't beat Purdue on Jan. 23, suffering its fifth loss in a row. The Buckeyes hadn't tasted victory in nearly four weeks by that point. The 12-1 record to start the season and No. 13 ranking that they rose to in the Associated Press top-25 poll on Jan. 5 felt impossibly far away.
"When you lose four straight, you're desperate, you need it," Wesson said at the time.
Chris Holtmann felt the pressure, too. Seated at the same podium Wesson spoke at just a few minutes prior in the interview room in the bowels of the Schottenstein Center, he called the five-game skid the "hardest stretch" of his coaching career. 
"I believe in our guys, and I'm confident that we've got a group that if we can just stay committed to this process of getting better and learning from this, then hopefully we'll see better days," Holtmann said after the loss on Jan. 23.
Holtmann fell back on what he termed the "process" of building the Ohio State basketball program as the season dragged on.
The Buckeyes ended their losing streak by beating Nebraska three days after the loss to the Boilermakers and cobbled together just enough wins to earn a No. 11 seed in the NCAA tournament. After Ohio State's much-needed 20-point win against Iowa on Feb. 26, a key victory on its tournament resume, Holtmann gave a nod to the process, saying the team wouldn't have been able to put everything together if it didn't stick to its approach.
The process helped turn around the season, the process guided them to the NCAA tournament, and the process that Holtmann has stuck to will be relied upon for the program to take the next step.
"You're not going to mortgage your future for trying to get there in one year. I think there is a process to this," Holtmann said. "But at the same time, we want to stay committed to the process and yet get here as quickly as we could. You hear that all the time with guys who take over jobs. I'm glad I think we stayed committed and true to our process, and yet we were fortunate to be here these first two years."
Holtmann has had two years to build the program's foundation, and along the way, he twice achieved his goal of getting Ohio State a taste of March Madness as fast as possible.
He shocked college basketball by turning the Buckeyes into a top-25 team and Big Ten title contender in the first season while coaching the conference's player of the year – Keita Bates-Diop – and maximizing a roster of players that was nearly completely filled with players from the Thad Matta era. Holtmann followed that up with an NCAA tournament appearance in 2019 despite few predicting Ohio State would dance in March.
"We set the standard, and now these guys get to take over and prove everybody else wrong and make a run next year and be back," Keyshawn Woods said.
So, what's next? It's far too early to know just what next year's group will be able to do, but it's fair to believe the team's expectations should increase notably.
The Buckeyes' first full recruiting class of the Holtmann era consisted of four building blocks for the future: Luther Muhammad, Duane Washington Jr., Justin Ahrens and Jaedon LeDee.
"They're very, very good players," Andre Wesson said. "Obviously they've learned a lot this year with the amount of time that they've been playing. I'm excited to see what they do next year, too."
Kaleb Wesson, the team's leading scorer and rebounder, will return as a junior. His brother, Andre, will be the sole senior on scholarship. Kyle Young and Musa Jallow have starting experience. C.J. Walker, a Florida State transfer, will become eligible after sitting out the 2018-19 season.
"I think if we're going to continue to move forward, it's going to be because those guys in that locker room, this stings, and this stings in a really real way," Holtmann said.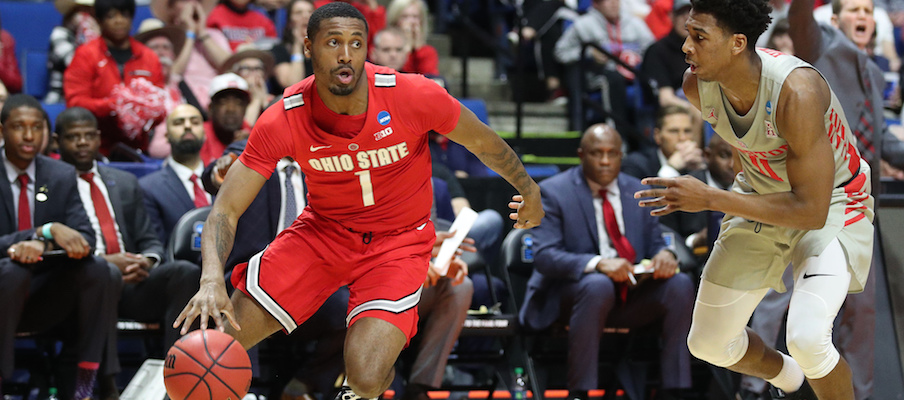 Maybe most intriguing, though, is Ohio State's incoming group of three freshmen who each were top-50 prospects and combine to make up the top 2019 recruiting class in the Big Ten and the 12th-ranked class in the nation.
DJ Carton, a four-star point guard, will provide slashing ability the Buckeyes lacked this season. He and Walker will serve as the point guards, teaming up with Muhammad and Washington for a talented yet young backcourt.
Four-star forwards Alonzo Gaffney and E.J. Liddell will join the Wesson brothers, Young, Jallow, Ahrens and LeDee in a frontcourt suddenly filled with diverse lineup options. Liddell will be a slightly undersized power forward with a penchant for blocking shots and scoring in various ways. Gaffney, standing 6-foot-9 and weighing 190 pounds, adds a mix of athleticism and length. The infusion of size could become even greater with 6-foot-11 center Ibrahima Diallo expected to decide between Ohio State and Pittsburgh this week.
Undoubtedly, the team will have a bundle of potential. As Ohio State experienced this season, though, with youth comes natural growing pains. Holtmann attributed much of the Buckeyes' late-season run to their veterans – C.J. Jackson, Woods, Kaleb Wesson and Andre Wesson – while the four freshmen saw their time on the court drop.
With only one rising senior – Andre Wesson – the Buckeyes will take a stab at another NCAA tournament run with a youth-laden team once again. This time, though, dancing in March won't be an bonus. It'll be an expectation.