This year's Ohio State team is used to ruts, which have often come up at inopportune times.
Maryland scored 10 straight points against the Buckeyes on Friday to increase its one-point lead to an 11-point advantage at the beginning of the first half. Ohio State went from having a 40-38 lead on Rutgers with 15 minutes remaining in a Big Ten matchup a couple weeks ago to trailing the Scarlet Knights 55-45 six minutes later.
Both streaks of poor play came during the Buckeyes' current losing streak, which extended to five games on Wednesday night with a 79-67 defeat against Purdue. What once seemed like such a promising season for Ohio State no longer even seems headed for an NCAA tournament berth.
Ohio State's loss to the Boilermakers featured the worst stretch of play of the season. Seemingly responding well to their 14-point loss to the Terrapins, the Buckeyes jumped out to a nine-point lead nine minutes into the game. Then, disaster ensued. Purdue proceeded to go on a 21-1 run in the following seven minutes to snag a 30-18 lead. Ohio State turned the ball over eight times between hitting field goals.
Even though Kaleb Wesson battled foul trouble and only played 16 minutes, eventually fouling out, the Buckeyes pulled within two points in the second half. They really, truly had a chance to win, despite their struggles in the middle of the first half. But Purdue never lost the lead, hit a few 3-pointers down the stretch and didn't allow the comeback.
"I mean, this is one that we really needed," Andre Wesson said. "We've been on a losing streak. When you lose four straight, you're desperate, you need it. So, that's what you saw."
Chris Holtmann hasn't been through anything like this five-game stretch before as a coach, and it has certainly tested his resolve.
Coaxing development out of players, maintaining high levels of confidence in players and eliminating feelings of doubt and uncertainty certainly isn't as easy this season as it was one year ago, when Ohio State rolled through January with an 8-1 record, including an upset win against Michigan State. Both Nebraska and Michigan will be favored against the Buckeyes in the upcoming week, meaning there's a chance they enter February still seeking their first win of 2019.
Still, despite such persistent struggles, Holtmann maintains his belief in his team.
"I believe in our guys, and I believe in their approach and their willingness to kind of fight through this," Holtmann said. "Listen, the results are the results right now, and they're not what any of us want. It's certainly been the hardest stretch of my coaching career, but I believe in our guys, and I'm confident that we've got a group that if we can just stay committed to this process of getting better and learning from this, then hopefully we'll see better days."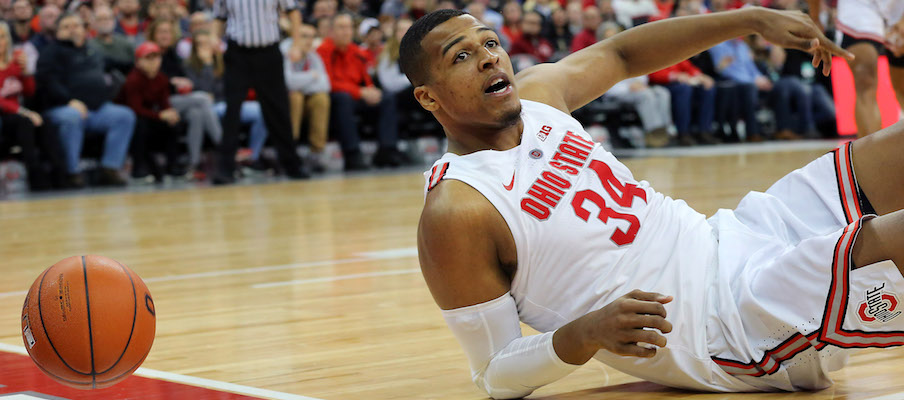 Those better days seem so far away after another loss.
Road dates with Nebraska and Michigan are next. The remaining 13 games of the season also include matchups with Wisconsin, Iowa and Northwestern at home, along with Michigan State, Purdue, Indiana and Maryland on the road.
Ohio State has a tough road to the end of the season, but as was seen in November and December, it has the ability to beat good teams.
"Any time you lose five straight, it definitely sucks," Andre Wesson said. "Especially this one, it really hurts. I mean, the season goes on. They don't stop playing, games just don't stop. So, I mean, we're going to go out there and play as hard as we can at Nebraska."
The Buckeyes received an unexpected offensive output Wednesday from Wesson, who dropped a career-high 22 points, hitting 9-of-10 shots including a half-court buzzer-beater to cut Purdue's lead to 10 points entering halftime. He has now scored double-digits in four of the past six games.
Wesson won't produce that many points on most nights, and Holtmann doesn't expect that from him. But without his brother Kaleb on the court for the majority of the game, he was the most important and most productive Ohio State player. The Buckeyes were already without Kyle Young, who will miss "several weeks" with a stress fracture, so Andre Wesson played more minutes at center than he had in any prior game this season.
Without Young, Musa Jallow played a season-high 31 minutes, adding 12 points, the second-most on the team. He went 5-for-7 from the field and 2-for-4 from beyond the arc. The athletic wing had five steals, which led to multiple fast-break layups and trips to the line, though he couldn't convert any of his three free throws.
"(Wesson and Jallow) did a really good job competing tonight," Holtmann said. "Both guys did, did a really good job competing. It helps when you're making shots, too. I thought they both did a really good job competing, and Justin (Ahrens) did as well. I thought Andre's spirit and competitiveness really carried this group. That was good to see. I do think Andre provides some versatility because he's longer and he's physical. My concern was him getting another foul, and we're in real trouble, which is why I took him out a little bit there in the second half."
Justin Ahrens came off the bench and played a career-high 17 minutes. He tied his career high with six points and added five rebounds, though he turned the ball over three times.
At this point in what looks like it has turned from an NCAA tournament-bound campaign into a rebuilding season, though, the team is just searching for positives.
"Whenever you lose a game like that, you just want to try to find the good out of it and what you can learn from, the mistakes that we made, the things that we can control," Jallow said. "Moving forward, we'll definitely break it down in film. Obviously we'll try to just build off of that going forward."