TULSA, Okla. – Seated in front of his locker Sunday night with a towel draped on his shoulder, Keyshawn Woods paused to ponder the question. Under his breath, he repeated it: "What do I want to be remembered for?"
Woods, whose career finally ended after five years and three universities with Ohio State's 74-59 loss to Houston, had a bundle of memories to unpack. Maybe his 19 points off the bench in a road win against Creighton crossed his mind. Or he could've been thinking about the Red Lobster dinners he had with Luther Muhammad and meals he had when his family came to Columbus. Surely, he considered beating Iowa by 20 points or the win versus Nebraska to end a five-game losing streak. Possibly, the leadership he showed as a senior despite knowing and playing with his teammates for less than a year.
After five seconds of silence, Woods opened his mouth, but closed it without any words coming out, slightly shaking his head. More time to think about his options. Really, though, he had only two things he wants to be remembered for. So, finally, he settled on listing both.
"A guy that was able to take a young group of guys to the NCAA tournament, and more importantly," Woods said with a smile suddenly appearing his face, "I proved my doubters wrong. They said I shouldn't be here or I shouldn't be playing or I should be on the bench. I'm happy I was able to prove them wrong."
How does Keyshawn Woods want to be remembered?

"A guy that was able to take a young group of guys to the NCAA tournament, and more importantly, I proved my doubters wrong. They said I shouldnt be here or I shouldnt be playing or I should be on the bench." pic.twitter.com/m9w3sV6yZr

— Colin Hass-Hill (@chasshill) March 25, 2019
He disproved everybody, even his coach. 
After the Buckeyes' win against Iowa State in the first round of the NCAA tournament, a game in which Woods tied his season high of 19 points, Chris Holtmann admitted he didn't see Woods' late-season push coming. The redshirt senior guard scored in double figures in seven of the final nine games of the season despite reaching double digits just five times in the first 26 games.
Woods, brought to Columbus in part for his scoring ability, had at least 10 points just once from Dec. 18 to Feb. 20. But his "old-man" game came alive in the final 10 minutes of the Buckeyes' game against Wisconsin, playing a key role in a remarkable 23-point second-half comeback that nearly ended with a victory, and that momentum carried into tournament play. He hit 9-of-13 shots and scored 18 points in a must-have Big Ten tournament victory versus Indiana.
With Woods taking control down the stretch in a way Holtmann said he hasn't seen from any of his prior fifth-year players, the Buckeyes reaped the benefits.
Woods chose to transfer from Wake Forest to Ohio State for just one reason: to play in the NCAA tournament. But outside of the team's locker room, few people had loads of optimism about the Buckeyes. The media predicted they would finish eighth in the Big Ten, and NCAA.com's Andy Katz picked them to finish 12th in the conference, in contention for only the NIT.
"No one thought we was going to be in the Dance," Luther Muhammad said. "No one thought we was going to play the way we did at the beginning of the season. Everyone just thought we were just going to be a regular old NIT team, and we proved everyone wrong."
Skepticism about Ohio State entering the season from prognosticators and analysts was warranted, even though the players and coaches didn't enjoy being counted out.
The team lost Keita Bates-Diop, the 2017-18 Big Ten player of the year, to the NBA. Jae'Sean Tate, Kam Williams and Andrew Dakich graduated. Only two returning players averaged more than 4.1 points per game the year prior. Just two days before the opener, Micah Potter announced his transfer, meaning two returners averaged more than only 2.9 points per game the season before.
C.J. Jackson, a former junior-college player tasked with starting at point guard, led the team's trio of seniors, which also included Woods, a graduate transfer, and Joey Lane, a former-walk-on. Holtmann's staff also had to integrate four freshmen – Luther Muhammad, Duane Washington Jr., Justin Ahrens and Jaedon LeDee – into the program.
As preseason forecasts rolled in, the Buckeyes got a sense of the middling expectations.
"They done counted us out since November," Kaleb Wesson said.
When the season kicked off, as Holtmann described it, "stuff" began to happen.
The Buckeyes knocked off Cincinnati on the road to open the year and beat Creighton in Nebraska in November. Aided by a non-conference slate not as strong as Ohio State originally believed, the team improved to a 12-1 record, jumping to No. 13 in the Associated Press top-25 poll. Holtmann called the out-of-conference schedule "fool's gold."
A five-game losing streak to open January meant the Buckeyes didn't win a single game in 2019 until beating the Cornhuskers on Jan. 26, following that up by scoring 49 points in a loss to Michigan, which was a season low at that juncture. Holtmann called the five-game skid the "hardest stretch" of his coaching career. Woods struggled to find his shot. Jackson dealt with turnover issues. Wesson battled foul trouble. Kyle Young got hurt. By mid-February, Muhammad hit the freshman wall.
"You can go down the line," Holtmann said. "I've never had that with a group that much."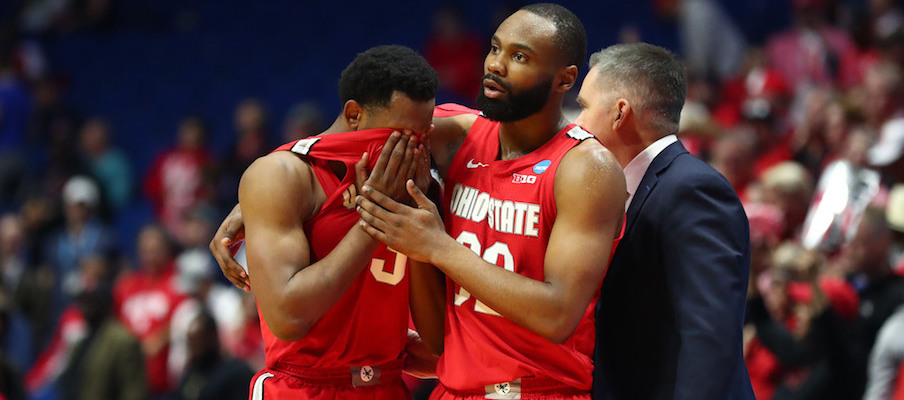 Ohio State trudged to the finish line, winning 5-of-11 regular-season games in February and March to end the year without any certainty of whether it had a good enough resume to make the NCAA tournament. 
Most people assumed the Buckeyes needed at least one win in the Big Ten tournament to claim an at-large bid into the field of 68. And though they entered their first-round matchup against Indiana as underdogs, just as they were against both Iowa State and Houston, they pulled off a four-point win in Chicago.
NCAA tournament bid: clinched.
"Nobody expected us to be here," Woods said. "Nobody expected us to go 12-1 out of conference. Everybody thought this was going to be a down year for us. Everybody thought we was an NIT team or not in the tournament at all. And to be honest, with the young group of guys that we had and the situation that we was in, I feel like we proved a lot of people wrong."
Even when the Buckeyes slipped into the tournament and faced the Big 12-champion Cyclones, most people didn't see an path to the second round.
But as was the case for the final few games of the season, Ohio State defied expectations and pulled off the first-round upset.
"I don't know that I've ever been more proud of a team," Holtmann said. "It's really in light of this last two and a half, three weeks. I mean, it's been a lot of really good stuff. Lot of gutsy performances. It didn't look good there for a while, as we all know."
Nothing looked good in January, and no one would argue any differently.
But Holtmann has every reason to be proud of how Ohio State wrapped up the season.