The exact moment I realized that this 2013 team was measurably not elite this season and there was nothing that could be done about it came on Michigan State's third drive of the Big Ten Championship Game. That was capped by Keith Mumphery's 72-yard touchdown reception on a two-play scoring drive.
It was made possible by decision-making from Corey "Pitt" Brown that was outright unforgivable. Brown's angle to Mumphery on his route was a play you would make if you were a novice video gamer trying to break up that play with a greasy thumb on the joypad. If a fifth-year senior was making that kind of error on that kind of stage, then "the chase" was going to come to a fiery crash eventually. Whether that would be against Michigan State in the Big Ten Championship Game or in a BCS bowl game was the next question to ask. As it turned out, the answer was "both".
The player who took that terrible angle was a "can't miss" prospect from the well-regarded Gateway program in Monroeville, Pennsylvania. A possible either/or prospect at defensive back and wide receiver, Brown had all the features of a star in the making from Ohio State's 2009 recruiting class.
Astute Buckeye fans may also remember that Jim Tressel's staff was actually a bit reticent to offer Corey Brown. It was Dorian Bell, an even bigger prize at linebacker, that lobbied hard for his high school teammate and friend to receive an offer from Ohio State as well. He was eventually offered and joined Bell in Ohio State's 2009 class. Ohio State's 2009 class may have had the best combo deal of high school teammates in the country.
On paper, Ohio State's 2009 recruiting class was as good as it got in the country. Ranked by 247Sports as the tops in the Big Ten and fourth best nationally, the returns from 2009 fizzled almost immediately. In fact, much of Urban Meyer's tenure at Ohio State has been shaped by that recruiting class, both good and bad. It's been more the latter than the former.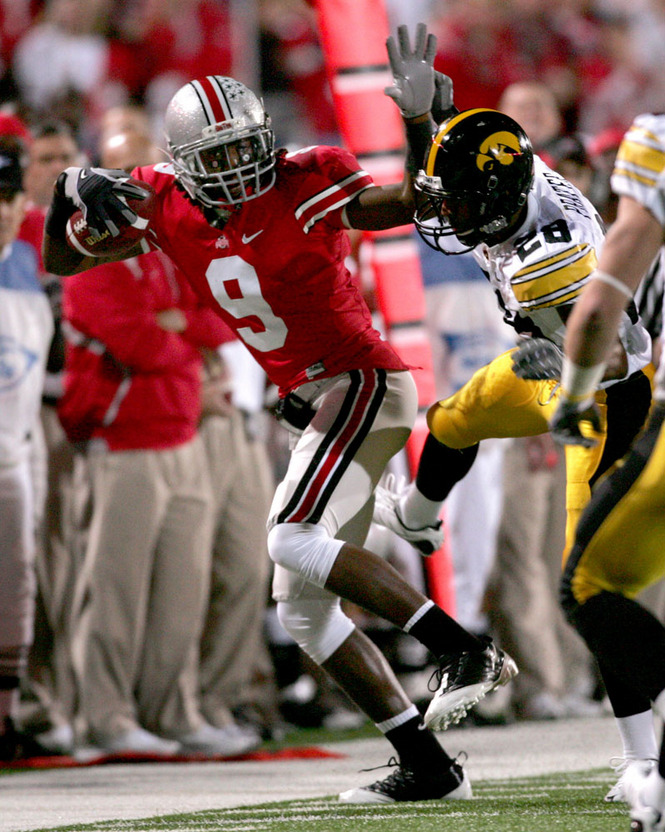 At no other position are the misses in the 2009 recruiting class more prominent than linebacker. Ohio State signed three linebacker prospects, possibly five, contingent on how Zach Boren and Jonathan Newsome are classified. Dorian Bell, Storm Klein, and Jordan Whiting looked like sure things coming from high school. Bell was the biggest prize by far. Klein and Whiting looked like they could develop into dependable linebackers to complement Bell, for whom we expected a career akin to what we observed from Ryan Shazier a few years later.
The careers of all three never really materialized. Bell, of all three, was actually the first to leave the program. Rather than sit through a suspension for the 2011 season for a violation of team rules, Bell, whose Ohio State career was struggling to gain traction, opted to transfer home to Pittsburgh. He later enrolled at Duquesne, an Army All-American five-star prospect playing football for the Northeast Conference.
Newsome, similarly, transferred out the program within a few years of struggling for playing time and struggling to abide by team rules. He landed at Ball State.
Klein and Whiting stayed a bit longer at the fair. After Urban Meyer took the job at Ohio State, Whiting transferred momentarily to Louisville with the idea of playing a senior season of football for Charlie Strong. That never materialized. If I recall correctly, Whiting later returned to Ohio State as a student, and not a student-athlete.
Klein made it four years for the program, but was ignominiously benched in favor of Zach Boren after woeful performances against the likes of Indiana and Purdue.
Yes, the best linebacker from Ohio State's 2009 recruiting class played three and a half years as a fullback only. If only Ohio State's coaching staff were prescient to extend scholarship offers to Chris Borland and Luke Kuechly, both in-state linebacker prospects that found success elsewhere.
The other chest wounds left by that failed recruiting class manifested at both wide receiver and defensive back. Corey Brown's shortcomings have already been highlighted.
I had high hopes for Dominic Clarke when he signed with Ohio State from Frederick, Maryland. He had what I hoped was a break-out moment in the 2011 Sugar Bowl. However, he engaged in some skylarkings in the first several weeks of Urban Meyer's Ohio State tenure when a razor-sharp focus was demanded from the new Ohio State coach. He was dismissed, later landing and finishing his career at Illinois State.
Jamie Wood, an early enrollee in that same recruiting class, had a career mostly cut short due to recurring injuries.
The shortcomings of the wide receiver haul may resonate more with Ohio State fans. Remember Duron Carter? Of course, you do. Duron Carter looked the part in his freshman season, suggesting that Ohio State's faith in him was justified notwithstanding his meager star ranking. He did all the little things right on the field to affirm belief he was a pro-caliber talent. Regrettably, he did important things wrong off it. Unable maintain academic eligibility, he bounced to community college, Alabama, and later Florida Atlantic before plying his craft in the CFL. He's doing well in Canada right now. He would've been a phenomenal split end for Ohio State.
James Jackson may not ring a bell, but he had high hopes at Ohio State as well. His high school highlight reel suggested that he could mature into a crisp route runner with fluid hips to make plays with the ball in his hand. No part of that materialized. Jackson later transferred to Wayne State in his native Michigan.
The Class of 2009

| Pos. | Player | Notes |
| --- | --- | --- |
| DB | C.J. Barnett | Multi-year starter at safety |
| LB | Dorian Bell | Finished career at Duquesne |
| DT | Adam Bellamy | Left program |
| RB | Jamaal Berry | Dismissed from team |
| FB | Zach Boren | Starter at FB and LB |
| DB | Corey Brown | Backup safety |
| WR | Duron Carter | Academic casualty |
| CB | Dominic Clarke | Dismissed from team |
| DE | Melvin Fellows | Knee injury derailed career |
| TE | Reid Fragel | Moved to tackle, flourished |
| QB | Kenny Guiton | Best bullpen QB in history |
| RB | Jordan Hall | Solid contributor at RB |
| OL | Marcus Hall | Multi-year starter on line |
| FB | Adam Homan | Special-teamer for OSU |
| WR | James Jackson | Transferred to Wayne State |
| LB | Storm Klein | Backup LB contributor |
| OL | Corey Linsley | Multi-year starter on line |
| OL | Sam Longo | Transferred to Cincinnati |
| OL | Jack Mewhort | Multi-year starter on line |
| DE | Jonathan Newsome | Transferred to Ball State |
| DT | John Simon | Multi-year starter on DL |
| LB | Jordan Whiting | Left program |
| DB | Jamie Wood | Injury derailed career |
Chris Fields and C.J. Barnett hung around as fifth-year seniors, concluding their careers in the Orange Bowl. Both were serviceable. Fields had his career moment from the Purdue game last year in a season in which he momentarily quit the team after a rough practice.
The rest of Ohio State's 2009 class can resemble a veritable "who's who" of "remember these guys?" Adam Bellamy had a great 2011 Sugar Bowl before leaving the program when Urban Meyer arrived. I think he just stopped playing football. Jaamal Berry showed some flashes before faltering off the field. He transferred to Murray State and will enter this year's NFL Draft.
Melvin Fellows was the subject of an intense recruiting battle with Ron Zook's Illinois program. He flipped to the Buckeyes as a promising strongside defensive end prospect. He never fully recuperated from a foot injury suffered as a senior in high school. A forgotten part of the corollary 2011 scandal involving Bobby DiGeronimo, Fellows was en route to retiring from football anyway.
Adam Homan stuck around for four years as a backup fullback to Zach Boren, even when Boren had transitioned to linebacker midway through his senior season in 2012. Sam Longo transferred to Cincinnati as an underclassmen, finishing his career there this season.
That's not to say all was terrible from that recruiting class. Of all possible positions, the offensive line haul was stellar. Marcus Hall, Corey Linsley, and Jack Mewhort all had good to great careers for Ohio State. Reid Fragel became a great eleventh hour right tackle in 2012. Jim Bollman picked them. Ed Warinner got the most from them.
Carlos Hyde, who signed with Ohio State but deferred enrollment for a year, had a similar exceptional career for Ohio State down the stretch. John Simon was great the moment he stepped foot on campus. Jordan Hall had a good career for Ohio State as well.
Maybe our favorite player from that recruiting class was the one we added at the last minute. Kenny Guiton should be the subject of Bunyan-esque tall tales for years to come.
Not everyone from that 2009 recruiting class was abjectly terrible. However, the returns from the country's fourth best recruiting class dissipated almost immediately, targeting several key positions at wide receiver, defensive back and, especially, linebacker. Even the returns at offensive line were deferred to the future and a new coaching staff.
The last remnants of that recruiting class have now concluded their careers for Ohio State as redshirt seniors. They're no longer valid excuses for Ohio State football's shortcomings. Nevertheless, the 2013 Ohio State football team is in part a function of that 2009 recruiting class, good and bad, but mostly bad. It's difficult to observe the 2013 team and not ask what it would've looked like if Jordan Whiting had rounded into form as a redshirt senior, or if Dominic Clarke could've been available to spell Doran Grant, or if James Jackson could've given our receiver corp an extra dimension had he panned out.
Those questions are no longer relevant in 2014, but they lingered in 2013.