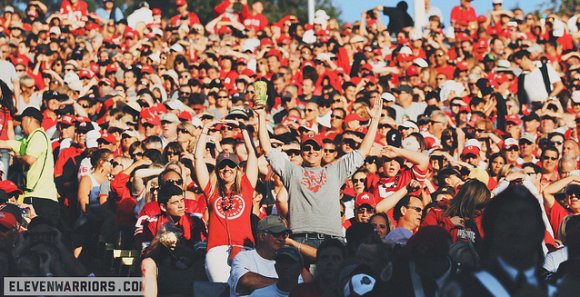 On a Saturday when virtually the rest of the B1G teams was embarrassing the conference, once again Ohio State carried the flag as the Buckeyes employed their backup quarterback and still scorched Cal for 608 total yards, including a ridiculous 332 on the ground, in a 52-34 road win, improving to 3-0 on the young season. 
Luckily for Ohio State, Kenny Guiton chose the Buckeyes over Prairie View all those years ago. Making his first career start, Guiton dismantled an admittedly horrific defense in place of an injured Braxton Miller, giving Buckeye fans even more confidence in the unflappable captain. 
Meanwhile, a Buckeye defense still trying to replace nine starters from a year ago illustrated that they, not the backup quarterback, represent the biggest question mark as to whether or not this team has the potential to play for a national championship. 
Ohio State rounds out the non-conference slate with a layup next week in Florida A&M but before we turn our attention to the Rattlers, here are Five Things that made yesterday's win a memorable one. 
CAPTAIN CLUTCH
Again, Cal's defense is definitely a joke but I'm to the point where there's no such as thing as hyperbole when it comes to Kenny Guiton. He's like the anti-Johnny Football which is refreshing to at least a few of us left on this planet. 
While they'd never admit, some backup quarterbacks would be anywhere from nervous to terrified at the thought of making their first start on the road – against a junk defense or not – knowing a loss or potentially even a close/sloppy win might be enough to knock his team out of contention for a national title yet Guiton was in total control even as the quarterbacks came out to warm up. Dude was rocking a grin and bouncing around like he was a middle schooler who'd finally made it to 2nd base. 
Less than two minutes into the game, it was obvious why Guiton's pregame swagger was on swole as he found Devin Smith for a 90-yard touchdown which just so happened to be the longest play from scrimmage in Ohio State Football History. In history. And this was from a guy who is a backup for a reason.
Film says he doesn't have a strong arm and particularly struggles with the deep ball yet he made an absolutely perfect throw on the his 2nd snap of the day after taking just three previous road snaps in his career. 
Amazingly, the throw was merely an appetizer as Guiton went on to produce 276 yards and four touchdowns through the air with another 92 yards on the ground, giving him 368 total yards – the 6th best day by a QB in OSU history – against a defense that actually spent time preparing for him.
He seemingly did everything well, running the option to perfection, most notably when he kept the rock and raced 33 yards run on 4th and 1 to the Cal 5-yard line setting up a touchdown on Ohio State's first possession of the 2nd half to make it 38-20 good guys. 
Besides the pinpoint strike to open the scoring, he hit Smith again for a 47-yard touchdown, Chris Fields in stride on a rollout to his right, and finally Philly Brown for a 6-yard score on another perfectly placed ball toward the back left pylon. 
Even a few of his incompletions were beautiful as he smartly threw away a ball on 1st and Goal instead of forcing the issue allowing the Bucks to score three plays later. The only real blemish on his afternoon was a botched read/option in which he got a little to greedy attempting to recoil a handoff to Jordan Hall resulting in a fumble but even that didn't hurt the team as Christian Bryant recorded an interception on Cal's ensuing play from scrimmage. 
Urban heaped much deserved praise on KG following the game, going as far as to say Guiton will still see the field when Miller is healthy. It's hard to tell when Meyer is speaking emotionally versus factually so it will be interesting to see how the situation plays itself out over time. As for yesterday, Kenny was King and it was fun to watch his on-field greatness nearly match his greatness off it. 
A DIVINE O-LINE
With Guiton stealing the show, a dominant performance by the offensive line didn't quite generate the buzz it deserved. 
Tackles Jack Mewhort and Taylor Decker will surely grade out well as they helped guys like Dontre Wilson gain the edge but to my untrained eye, I felt like LG Andrew Norwell, C Corey Linsley and RG Marcus Hall played out of their minds, repeatedly creating Volkswagen sized holes on inside runs by Guiton and Hall. Linsley did have a few janky shotgun snaps (channeling senior year Mike Brewster?) but the group yielded zero sacks while triggering a rushing attack that piled up a stellar 332 yards on 55 carries, good for 6.0 yards per pop.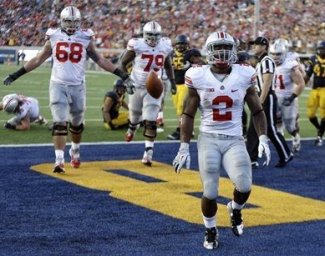 After having paved the way for 137 rushing yards (6.2 ypc) in the 1st half, the group was even more impressive in the 2nd half. 
With the Buckeyes up 31-20 at the break and Cal very much aware Urban and Tom Herman might look to run the ball more often to keep the Sketchy Bullets off the field, the Bears still had no answer. 
Ohio State would score touchdowns on three straight possessions to open the 2nd half, running the ball on 21 of 32 total snaps. The three drives totaled 196 yards with an impressive 76% of those yards (148) coming on the ground to the tune of 7.1 yards per carry. 
Bad defense or not, you gotta love those numbers especially when everyone in the stadium knows what's coming. 
As a final tip of the cap to the coaching staff and the hogs up front, as noted by Jason earlier, Ohio State has now four games of 300+ yards rushing under Urban Meyer while the program had seven such games in the previous 10 years. 
A WORK IN PROGRESS
I touched on it earlier but I don't think it's a stretch to say the defense, collectively, is the achilles heel of a Braxton-less Buckeye squad. It's easy to assume Guiton would struggle against top flight competition because we've never actually seen him perform against such a foe, meanwhile the defense has a built in (legit) excuse to struggle early as they work through replacing nine starters from a year ago.
Interestingly, a veteran secondary that returns three starters showed that last week might have been a bit of fool's gold as freshman QB Jared Goff lit up the Buckeyes for 371 yards through the air with three touchdowns against just one interception in 53 attempts.
That's not to say the Cal offense, and Goff especially, won't make a lot of defenses look silly at times this season but no matter what Meyer says positively about the Bullets' performance, he can't be pleased.
The secondary did register five pass breakups but had their fair share of missed tackles and bone-headed plays highlighted by Bradley Roby playing two-hand touch on WR James Grissom, allowing him to race 61 yards to paydirt.
Upfront, Michael Bennett, who is enjoying a spectacular season thus far, jumped offsides to negate a Pittsburgh Brown interception and Cal capitalized on the following play burning Ohio State for about the 10th time in the game on either a bubble or throwback screen cutting Ohio State's lead to 24-14 late in the 1st quarter.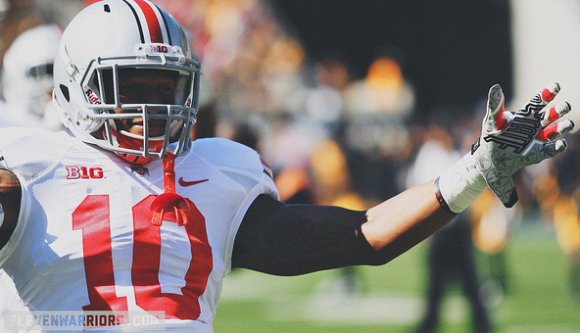 Other lowlights included Ryan Shazier (who did make 11 stops, forced a fumble and recorded a sack) being whistled for a personal foul for destroying Goff as he pulled up near the sideline. It was a slightly questionable call but RDS knows better especially on the road and Roby playing what felt like one of his least impressive games as a Buckeye. 
In the 1st half alone, the Bullets surrendered 291 yards, 20 points and scoring drives of 74, 82, 64 and 60 yards. 
The good news is that guys like Joey Bosa, Noah Spence, and Bennett appear to be creating a surge and the defense even picked up three sacks and a couple hurries against an attack that often employed 0-2 step drops on a bevy of screens and other assorted quick hitters. 
The bad news is that only the most rose-colored glasses see more than one linebacker playing above average football over the first three games (I know only 1 saw the field much of yesterday) and this year's team won't receive a boost in the form of a high-caliber guy suddenly emerging via a position switch to solidify things in the middle. 
I'm not saying this defense can't emerge into an above average unit considering the amount of guys seeing their roles and responsibilities greatly expand but without making tremendous strides, they could eventually put too much pressure on the offense to carry the team to victory. 
COMING OUT SWINGING...TWICE
The Buckeye offense continued its 1st quarter dominance piling up 24 points on its first 24 plays. In fact, the offense led 21-0 just six minutes in, running just 11 plays. 
The outburst gave Ohio State 68 total points in three combined 1st quarter's this season while the Bullets have surrendered just 14 points giving OSU a crazy +54 mark in the opening 15 minutes of their first three games. 
Ohio State 52, Cal 34
In the first two games however, that out-of-the-locker-room intensity didn't carry over after intermission with Ohio State playing both Buffalo and San Diego State to a 7-7 draw in the 3rd quarter. 
Yesterday, behind their backup QB, it was totally different story as the offense posted three scores on three possessions in the 3rd quarter, stretching a 31-20 lead at the break to 52-27 entering the 4th quarter. 
As noted above, this lack of sleepwalking after the break was even more sexy as it was obvious Ohio State intended to lean on the rushing attack to pad the lead and keep the defense on the sidelines. The back breaking drives effectively took the few Cal fans in attendance completely out of the game and put that much pressure on the Cal offense to try and keep pace. 
Maybe it was the Guiton factor and/or maybe it was the simple fact of playing on the road in a game much tighter than they'd experienced to date but it was great to see the Buckeyes come out with some fire – and sustain it – for the balance of the quarter. 
THE BEST DAMN FANS IN THE LAND
Though the collective fanbase can sometimes be guilty of doing or saying some pretty derpy things, which is common among any fanbase as they do represent a cross section of society, the passion and support offered up by Buckeye fans truly is second to none.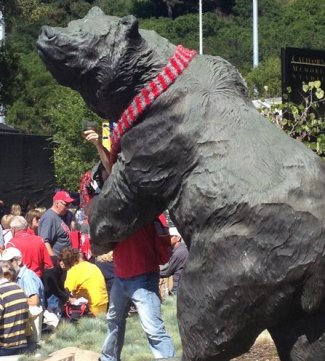 Yesterday was just the latest example as Ohio State fans invaded Berkeley, filling 50% of a stadium situated some 2,400 miles away from Columbus. 
Though a large contingent was expected, it looked as if even those expectations were exceeded as a scarlet-clad stadium rocked O-H-I-O to the delight of Urban Meyer and company. 
As he should, Meyer gushed about the contingent on hand:
"I'd like to thank our fans. I expected it just from years ago I remember on the road trips there would be a bunch of Buckeyes in the stadium. But hats off to all those scarlet and grays who travelled across the country. I've got the feeling there's a bunch of California Buckeyes out here, too.

"What an environment... That was fun to watch."
It's easy to take such a following for granted but yesterday was a great reminder not to do so, no only because of how OSU fans turned out but also in comparison to, for instance, the type of inconsistent and embarrassing support other historically relevant programs like Michigan are forced to endure. Props, Buckeye fans.