When Urban Meyer became head coach of Ohio State, I don't think it took anyone by surprise that the Buckeyes would be taking a more national approach to recruiting.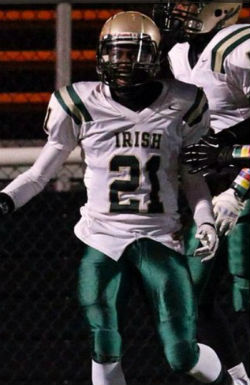 Meyer has certainly delivered on his reputation of going across the country to grab elite talent, landing players from 13 different states in his first two classes, but that doesn't mean he's going to ignore his own backyard.
The state of Ohio is one of the deepest year in and year out in terms of talent and it's not a shocker that the Bucks have been able to keep most of that talent within state borders. Since 2002, OSU has had at least 9 players from the state in each of their recruiting classes (2008 and 2010 being the low years) and that doesn't appear to be changing from the Jim Tressel Era to the Urban Era.
Many try to predict that the new regime will not focus on Ohio as much as the last one, but that is not the case. The Vest and Urban certainly differ in terms of style of recruiting, but what people often fail to realize is that both coaches used and will use Ohio as a base for their classes, with the main difference lying in where they get the other half of their yearly haul.
Tressel was more inclined to stay in the Midwest with Pennsylvania, Michigan, Indiana, Illinois, and dabble into Florida, while Meyer will go anywhere across the globe to bring in elite talent.
This year's class will be no different. The 2014 prospect group in the state of Ohio is not as deep compared to most years, but if history tells you anything, you can still bank on around 9-10 players in Ohio State's final class hailing from the Buckeye State.
In this segment we take a look at the top 10 rising juniors in the state to give you an idea of who those players might be. Join us after the jump to see "who's next" when it comes to the class of 2014 talent inside state borders.
10. Jimmy Byrne, OL, Cleveland St. Ignatius
Jimmy Byrne was considered amongst the top three players in the class of 2014 for Ohio early on, but as we get more exposure to other prospects, it is clear he probably sits in the bottom half of the top 10.
The 6-4/290 Notre Dame commit had a very good year for St. Ignatius and picked up early offers from the Fighting Irish, Ohio State, Michigan State, West Virginia, Illinois and others.
The Bucks were named the early favorites for Byrne, but a trip to Notre Dame for their contest against Michigan "wowed" the big lineman. He came back from that visit using South Bend as the bar to judge other schools and no other program was able to match the feeling Brian Kelly and his staff gave him, leading to a verbal pledge in December.
Byrne is a nice-looking prospect, but his size likely forces him to move inside to guard at the next level, with right tackle being a slight possibility. Because he is likely pegged for the inside, he slides down a bit on this list, but is certainly a lineman most programs in the country would love to have on their roster next year.
9. Dareian Watkins, ATH, Galion
Dareian Watkins is a very intriguing prospect, as he has tremendous athletic ability, and it will just be a matter of what position he plays in college to fully project his potential.
The 6-2/192 four-star prospect is capable of playing quarterback, wide receiver, or defensive back at the next level and is ranked as the 21st top athlete in the nation by the 247 Composite.
He currently holds offers from schools such as Cincinnati, Georgia Tech, Illinois, Iowa, Kentucky, Louisville, Northwestern, Purdue, West Virginia, and others, with more programs likely extending a scholarship over the next few months.
Watkins had a very nice showing at the Ohio State camp last summer despite being banged up, and impressed the coaches with his skill set. He has not received an offer from the Buckeyes at this point, but stays in touch with the staff and remains on their radar.
I'm not sure how things will shake out with Watkins and OSU moving forward, but he is definitely a prospect to keep an eye on as we head into the summer camp circuit.
8.  Derek Kief, WR, Cincinnati LaSalle
Derek Kief got quite the Valentine's Day gift when he got on the phone with Urban Meyer and learned that he had earned a scholarship offer from the Buckeyes.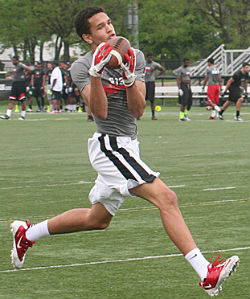 Kentucky, Northwestern, Boston College, Cincinnati, Maryland, Vanderbilt, and others have offered the 6-5/190 receiver, but his latest offer from OSU certainly stands out, as he has been a fan of the school growing up.
It appears the biggest competition for Kief at this point will come from the Wildcats, both Northwestern and Kentucky, but right now it looks like Urban Meyer will be tough to beat.
Ohio State is certainly in need of outside receivers in the class of 2014, and Kief might be as good as anyone with stellar speed and some of the best hands we have seen to date.
If that review isn't enough for you, LaSalle's head coach feels Kief has plenty of growing to do as a player to reach his potential, but has said that when he gets there he may end up better than another product of the program, former Buckeye WR DeVier Posey.
That's certainly high praise for the junior receiver and promising to know if Kief chooses the same college path that Posey did.
7.  Parris Campbell Jr., ATH, Akron St. Vincent-St. Mary
Parris Campbell Jr. was not known in many recruiting circles before last football season, but that changed quickly after a state title performance in which the St. Vincent-St. Mary star rushed for 165 yards and 3 touchdowns on 14 carries in his team's victory. 
Luckily for the 6-1/185 athlete, Ohio State's coaches were on hand for the game that day in Massillon and loved what they saw. After earning scholarship offers from Michigan State and Tennessee, the Buckeyes came through with an offer during Campbell's visit on February 10.
Growing up rooting for the Scarlet and Gray, it was a no-brainer what to do at that point for the speedster, as Campbell accepted Urban Meyer's offer on the spot to join the 2014 recruiting class.
It's a good thing the Bucks got to the talented prospect when they did, as he has the makings of a late bloomer who would blow up over the next couple of months. That process started last weekend when Campbell ran a 4.42 40-yard dash lasered time, showing the blazing speed that helps him on the gridiron and contributed to two state track relay championships.
At just 15 years old, Campbell skipped kindergarten and thus is a year younger than those in his grade. That means he is just starting to hit his potential, which is a very good thing for Ohio State. 
He currently plays running back for the Irish, but it is not out of the question that he could play wide receiver, cornerback, or safety at the next level as he continues to grow.
6. Marcelys Jones, OL/DL, Cleveland Glenville
Marcelys Jones was the first to commit to Ohio State in 2014, when he gave Urban Meyer a surprise gift on Christmas morning.
At 6-5/325, Jones is a massive prospect that is being recruited for offensive guard. He moves extremely well, though, and it is not out of the question that he could end up playing defensive tackle when he gets to Columbus.
Regardless, landing Jones was big for the Buckeyes as they not only get one of the top players in Ohio, but keep the Glenville pipeline flowing. In addition to OSU, Jones has offers from Alabama, UCLA, Florida State,  Michigan State, Kansas State, and others, but says he is firm to Ohio State.
After the staff saw him at the Best of the Midwest Combine this past weekend (videos here), it is certainly clear that there is room for Jones to move up in these rankings. As previously mentioned he is so light on his feet for a player of his size, a rare feat for any offensive lineman.
That athleticism will continue to help him as his career progresses and he gets into the shape the coaches want him to report in at when he gets to campus next year.
5. Kyle Trout, OT, Lancaster
Kyle Trout became the third member in the class of 2014 when he committed to Urban Meyer during his visit on February 10 and has already become a leader in the group for the Bucks.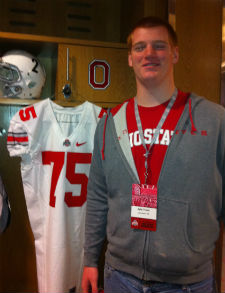 Standing at 6-6/290 and rated as the 247 Composite's 12th-best offensive tackle, Trout has taken the initiative early in helping to recruit other players in his class to Ohio State. That type of leadership ability, his off-field character, and his play on field made him a great catch for Meyer and the staff, who were extremely excited to have him in the fold.
For a while it looked like Trout may not receive an offer from Ohio State, but area recruiter Luke Fickell knew talent when he saw it. Ed Warinner was the coach that had some doubts, but after reviewing more film and seeing Trout up close and personal at a basketball game, the OSU offensive line coach was sold that he had found the most athletic talent at the position on his board.
An offer quickly went out to Trout in late January and while it took two weeks of deliberation, the local product decided to stay close to home, giving the Buckeyes their second offensive line commit in the class.
The best part about landing Trout isn't that he fills a large need at tackle, but rather that while he is already a very good player, his ceiling his extremely high and he can improve on a lot to make him elite at the next level.
Some scheme differences and getting stronger will be things to work on, but the kid has a tremendous work ethic and desire to be great, so I think the move to offer and secure his commitment will pay big dividends for Ohio State.
4. Kyle Berger, LB, Cleveland St. Ignatius
Kyle Berger, very similarly to Parris Campbell, was not a well-known commodity at the start of his junior high school football season, but that quickly changed after a year in which he recorded 44 tackles with 12 sacks.
Berger was rewarded for his play, as well as his physical abilities, with his first scholarship offer from Ohio State back in November. More scholarships quickly followed and now the four-star prospect holds offers from the likes of Michigan, Tennessee, Penn State, Michigan State, West Virginia, Georgia Tech, and others.
Right now it looks like the Buckeyes are in the driver's seat for this recruitment, as the bar was set high after visits for The Game in the fall and then again for the basketball team's contest against Michigan in mid-January. Berger will certainly take visits to schools like Michigan (possibly this coming weekend), Tennessee, Michigan State, and Stanford, but he is expected to wrap up his recruitment some time this spring, possibly late April or early May.
Despite landing Mike Mitchell and Trey Johnson in 2013, the Bucks are going to make a strong play to add four more linebackers in the 2014 class, and Berger definitely sits near the top of OSU's big board.
3. Michael Ferns, LB, St. Clairsville
Michael Ferns was one of the earlier offers to come out of Ohio for the class of 2014, but his flirtation didn't last long, as he committed to Michigan back in August.
Ferns was turned off by the "big city" feel of Columbus and preferred the more laid-back environment he found in Ann Arbor. Urban Meyer and the staff continued to recruit him for some time after his pledge, but it appears that not only will the four-star linebacker be sticking to his commitment, but that he also will be a recruiting leader in his class, even being compared to Shane Morris in this past year's group.
Despite the fact that he'll be playing his college ball up north, there's no arguing Ferns' talent on the gridiron. At 6-3/235 he has great size for a current high school junior, but has the speed and athleticism, along with the instincts, to make big-time plays all over the field.
It looks like Ohio State will do a very good job overall of getting the in-state talent they want in 2014, but Ferns is one that slipped away and he is definitely among the top five players in Ohio.
2. Dante Booker Jr., LB, Akron St. Vincent-St. Mary
Many thought that Dante Booker Jr. would be the first player in 2014 to commit to Ohio State. While that didn't happen, it doesn't mean the Buckeyes still aren't in a good place to land the nation's third-ranked outside linebacker sometime in the near future.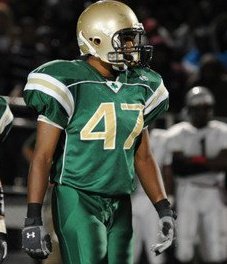 Booker and his father have already come out this winter and said they have been close to pulling the trigger on a verbal, and then when Parris Campbell joined OSU's class, Booker tweeted that he was thinking about joining his good friend and teammate.
It seems like it's a matter of when, not if, when it comes to Booker taking his talents to Columbus, and when that happens the Bucks will be getting a very good player.
At 6-4/210, Booker is currently slated for outside linebacker, but he has a big frame to build on and it's not out of the question that he could one day move down to defensive end or play the hybrid linebacker/defensive end Viper position that Bobby Carpenter once manned and that Tyquan Lewis was recruited for this past year.
With the potential to lose Ryan Shazier after this year, the Buckeyes will need to stock up with talent that can blitz the quarterback from the second level and Booker fits that mold.
Holding offers from Louisville, Michigan, Nebraska, Notre Dame, Oklahoma, Penn State, Tennessee, and others, Booker definitely has some good options to choose from, but as mentioned above, we think it is very likely he ends up in scarlet and gray.
1. Marshon Lattimore, ATH, Cleveland Glenville
Ohio produces top-notch talent year in and year out, but there are always a few players that are the cream of the crop at the national level. Marshon Lattimore is one of those talents and the 6-0/175 athlete is just a joy to watch when you turn on the film.
Even better than the film is seeing him live, which the 11W Staff got a chance to do at the Best of the Midwest Combine on Monday. Lattimore had an outstanding performance, running a 4.48 40-yard dash time, notching a 10-foot broad jump, and dominating 1-on-1 drills on both sides of the ball throughout the day.
The Glenville star says he prefers playing defense, where he shines at cornerback, but most of the attention he has received has been when he is at wide receiver. Lattimore gets to top speed very quickly and many feel that that ability is better suited on offense where he can put points on the scoreboard.
Ohio State has given him the option to play on either side of the ball, and that, along with the chance to play for the home state school, have made the Buckeyes the early favorite for his services. Lattimore won't be deciding anytime soon though, and Urban Meyer will have to fend off current offers from Alabama, Michigan, Tennessee, Penn State, USC, UCLA, West Virginia, and others to land the state's top prospect.
Honorable Mention: WR Thaddeus Snodgrass, DB Darius West, OL Nathaniel Devers, DB Erick Smith, DE Joe Henderson, OL Nick Richardson, DE/LB Verondtae Wilkinson, RB Mikel Horton, TE Ethan Wolf, RB Ashton Jackson, DB Alonzo Saxton, DT Daniel Cage, LB Davonte James, QB DeShone Kizer