The rich history of Ohio State athletics is filled with memorable years, but perhaps no year has been more tumultuous, victorious, catastrophic and memorable than 2011. For Eleven Warriors, 2011 was a transformational year: In January 11W was merely a popular Buckeye blog; by December it had become a destination site with monthly visits well into the millions.
This is part two of an 11-part series reviewing 2011, as experienced by 11W readers and writers.
PREVIOUSLY: January
---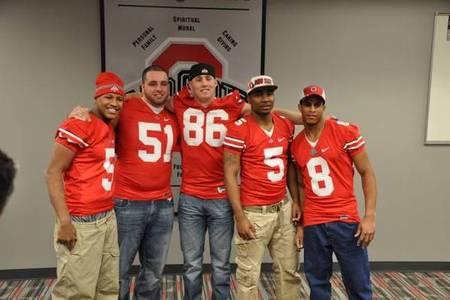 February was a fantastic month for Ohio State sports.
It began with Jim Tressel signing one of the best recruiting classes in the country, featuring now-familiar names like Braxton Miller, Ryan Shazier, Michael Bennett, Devin Smith and Evan Spencer.
The headliner was Curtis Grant, ranked the #1 OLB prospect in the country by multiple recruiting services. As good as Ohio State recruiting had been, one element that had been missing was a positive signing day surprise. Grant's signing day selection changed that pattern for the better.
On the hardwood, where attention was now fully-shifted thanks to the end of the end of football season, the men's basketball team went 5-2 during the month, which only seems like a decent mark until you remember they went a perfect 22-0 in November, December and January.
The football team had reloaded and the basketball Buckeyes were must-see TV. Since Tatgate - publically, in February - was believed to be for all intents and purposes a closed case, it was practically forgotten.
The business of thinking about those first five games with a handicapped squad could be thought of after spring football. In February we were focused exclusively on what appeared to be a serious national title contender, 51 years after the last one.
When Jon Diebler wasn't busy burying 22-foot jumpers, he was getting busy getting engaged. The outgoing senior, along with David Lighty would soon be replaced as both Shannon Scott and Amir Williams learned in February that they had been selected to the McDonalds All-American team.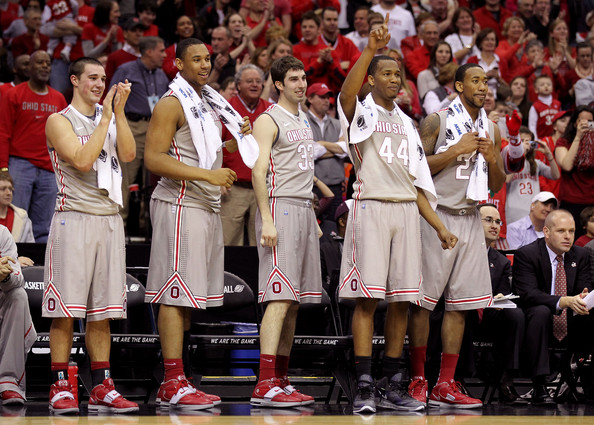 These were innocent, blissful times. The biggest gripe Ohio State fans had outside of LoogieGate was the Big Ten Network's selection of Jesse Owens as its #3 Big Ten Icon of all time; a ranking exactly two spots too low. 
On February 8, less than a week after signing arguably his strongest recruiting class to date, Tressel would admit to both Ohio State and NCAA officials that he had committed an NCAA violation by not reporting what he had known about Tatgate. We wouldn't learn of that admission until March, though it happened this month.
In hindsight, we were waiting for some sort of official closure to the internal investigation that uncovered what Tressel admitted, but that wasn't the closure we were anticipating. Tattoos for trinkets, at least in our hopeful minds, was happening in a vacuum - and it was happening everywhere. Ohio State just got caught. Chalk it up to bad luck.
Still, nothing could get in the way of the love affair with the basketball team: It was barreling toward another Big Ten title - both kinds, regular and tournament - and a #1 seed in the NCAA tournament. Sully the freshman was already a force, WillieBu and Lighty were terrific, versatile wings and freshman Aaron Craft was probably the biggest surprise of all.
It was the best of times, and it was only going to get better. Bring on the national championship, and then bring on spring football!
February's most popular skull sessions
February's most popular 11W stories
2/7: Top 12 for 2012 by Alex, looking at a dozen important prospects for the Buckeyes 2012 recruiting efforts. On (eventual) Buckeye verbal Adolphus Washington:
The hybrid defensive end-linebacker holds offer from the Bucks, Alabama, Boston College, MSU, Texas, Texas A&M, and has drawn interest from other elite programs as well. I won't go as far as to say it's a done deal, but I have a really good feeling that Washington will end up picking the good guys at some point before his senior season. This is definitely a prospect to get excited about if you're an Ohio State fan.
2/12: Collapse at Kohl Ends 24-Game Winning Streak by Chris, who has the pleasure of reliving what was at the time the Buckeyes' worst choke of the year (hello, Nebraska football game) when they blew a 15-point second half lead at Wisconsin:
The 30-8 knockout blow saw the Badgers catch fire as they drained 10/12 shots overall and a ridiculous 6/8 from distance behind the unstoppable exploits of Jordan Taylor. A conference POY candidate, Taylor burned OSU for 18 points during the run hitting 6/6 shots with four of those coming from beyond the arc.

The Buckeyes kept with their typical plan of switching screens but Taylor still got free doing just enough in the paint to keep defenders honest out top, giving him space to unleash daggers into the body of what was once a perfect season.
2/24: Pay Now or Pay Later by Johnny, examining the college sports scandal of the month: Bruce Pearl at Tennessee (only because ESPN completely refused to devote any coverage beyond the absolute bare minimum to Jim Calhoun's problems at UConn):
Last September 10th, Bruce Pearl held a press conference, where he admitted to several acts of wrongdoing and NCAA violations.

"I've put my heart and soul into this program," he said tearfully, "...and I will not let you down again."

Four days later he was at Oak Hill Academy in Georgia, committing yet another violation by talking to a potential recruit before practice.
2/5: What it Means to be a Buckeye by Alex, sharing his own college and post-graduate experiences at The Ohio State University:
Stepping on campus in the fall of 2005, my life completely changed. There was just something about the feeling of walking on a cold fall morning across the Oval that just set the world still. Something about seeing that sea of Scarlet on game day down on Lane Avenue that made you feel a sense of pride.

Something about the hatred I felt for the entire state of Michigan that made me want to jump in a freezing cold lake on a Thursday night in late November, despite being exposed to the greatest rivalry in sports for just seven weeks. I was crazy about my new home - and yes Ohio State and Columbus was my new home.
February's buckshots, gray boxes of doom & miscellany
Coming tomorrow: Remembering March. It was the month we finally found out that Tressel had long known about Tatgate, and that William Buford was capable of defining insanity through poor shooting. There was a Big Ten title and an NCAA #1 seed, but unfortunately those were both enjoyed only briefly before the world came crashing down.