We begin today with the most impressive act of crime I have ever seen:
(Illegal) beer run! Arlington police are searching for this guy who managed to grab five cases of beer from a convenience store and flee the scene. pic.twitter.com/gm4MbtcqUW

— WFAA (@wfaa) October 17, 2018
This man deserves a spot on the Oceans 11 roster.
ICYMI
Word of the Day: Inveterate.
 B1G'S BEST. At the midway point in the season, Ohio State has the highest-rated player in the Big Ten on each side of the ball, according to Pro Football Focus' midseason All-Conference team.
PFF ratings look kindly upon K.J. Hill and Dre'Mont Jones, giving each them the highest grades on their respective sides of the ball (though Hill is tied with Trace McSorley).
From Pro Football Focus:
K.J. Hill, Ohio State

2018 Season Grade: 90.9

Dominant from the slot, Hill is torching opposing secondaries after the catch this season. He currently averages 4.44 yards per route run from the slot, has gained a total of 331 yards after the catch and sees the conference's highest passer rating when targeted at 143.9.

...

Dre'Mont Jones, Ohio State

Week 7 overall grade: 91.8

Pick-6's are not a commonality from interior defensive linemen but that's not to say it can't happen. Jones' pick-6 in the TCU game is just one of the splash plays that he's made this season as he's been dominant from the interior. He has a conference-leading 18 QB pressures that include five sacks and four QB hits.
Jones and Hill were the only Buckeyes on the first-team, but Ohio State had more second-teamers than anyone else as Dwayne Haskins, Parris Campbell, Chase Young, Devon Hamilton, Kendall Sheffield and a lad named "Jacob Fuller" all got second-team nods.
Haskins may be second team, but at least he ain't behind Alex Hornibrook anymore.
 HASKINS FOURTH-BEST QB IN THE DRAFT. Dwayne Haskins' draft stock already has a lot of folks talking after just seven games as a starter, and it'll almost certainly be a talking point until young Simba makes his decision following the season.
His numbers are Heisman-worthy and he certainly looks like an NFL quarterback – he's got an arm like Cam Newton, Aaron Rodgers' confidence, and Broncos Peyton Manning's mobility – but scouts aren't totally sold that he's ready, rating him as the fourth-best quarterback in the draft behind Oregon's Justin Herbert, Duke's Daniel Jones and West Virginia's Will Grier. 
From Pete Thamel of Yahoo! Sports:
There's a legitimate debate as to whether he's ready, as he has started only seven games. He and Tua Tagovailoa could be top picks in 2020 if Haskins sticks around. But Haskins' numbers keep pinballing (28 touchdowns and four interceptions), and NFL executives love that he's being tutored by former Eagles and 49ers quarterback coach Ryan Day. The arm talent is there, as is the size (6-foot-3, 220). But Haskins has to decide if staying another year helps better prepare him for a 10-year NFL career. "He's got a ways to go," one scout told Yahoo Sports. "Throwing into tight windows and ball placement. He's not there yet." The pure arm talent is there, but there's still some big-game production missing after his mediocre performance at Penn State.
Look, if they don't think he's ready, I'll gladly keep him for one more year.
 PAYING IT FORWARD. Gareon Conley appears to have fallen out of Jon Gruden's favor – which, to be fair, puts him in some damn good company – but that ain't going to stop him from making a difference off the field.
During his bye week, former Ohio State and current Oakland Raider defensive back Gareon Conley, donated and personally delivered 100 winter coats, 100 hats and 100 winter gloves to the Refuge of Hope, an organization located in Canton, Ohio that serves hot meals on a daily basis and also provides shelter for homeless men.  Burlington in Canton contributed to the effort by providing the coats, hats and gloves at a discounted rate.   Along with this program, Gareon has been active in supporting his hometown community of Stark County, hosting a free youth football camp at Massillon High School and participating in fundraising initiatives for the Refuge of Hope.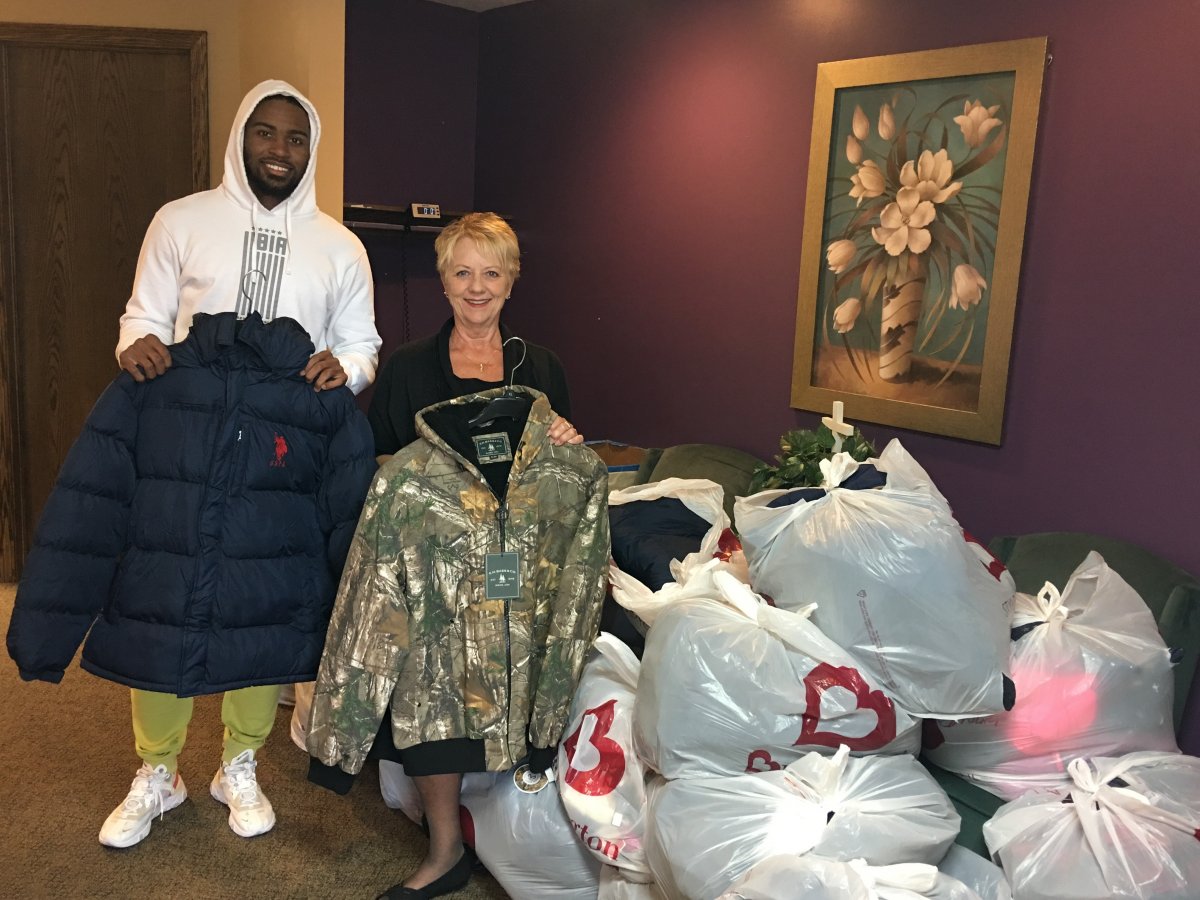 Much respect to Mr. Conley, but I think it would be unfair to give anyone associated with the city of Massillon any more help on the football field after they dropped 101 points on some squad from Pennsylvania last week.
 THEY SHOULD HAVE MEASURED. Remember on Saturday when it looked like Mike Weber was stopped short of the first down, but the officials just spotted the ball and gave Ohio State a first down with no video review or measurement?
Yeah, they were wrong to do that.
From StarTribune.com:
"We should have measured.''

That's the comment P.J. Fleck received from the Big Ten office after the Gophers coach contacted the league about a questionable fourth-down spot during Minnesota's 30-14 loss at No. 3 Ohio State on Saturday.

With the Gophers leading 7-3 in the first quarter, Ohio State faced fourth-and-2 from the Minnesota 44. Running back Mike Weber was given credit for a 3-yard gain, though the ball was spotted ahead of where Weber was down. On the next play, Ohio State quarterback Dwayne Haskins threw a 41-yard touchdown pass to Terry McLaurin for a 10-7 OSU lead.

"I'm checking with the official, and he's like, 'No way, no way.' Almost like, 'Leave me alone,' '' Fleck said Tuesday during his KFXN-FM Radio show. "… We turned it into the officials, and they said, 'Yes, we should have measured.'

"They came back and basically said, 'We're sorry.' ''
Ohio State probably didn't, or at least shouldn't have needed that call to beat Minnesota at home, but I guess we'll take it?
 WELCOME BACK, NBA. Folks, the NBA is officially back, which means Mike Conley is officially back to doing this:
LMAO Mike Conley drops Cory Joesph pic.twitter.com/N97ZEwzlgj

— Grind City Media (@grindcitymedia) October 17, 2018
His Grizzlies lost by 29 to Indiana, but to be fair that move was probably worth 30 points.
 LINK LOCKER. How Manhattan became a rich ghost town... Divers swim through 90 feet of raw sewage to unclog giant, hairy 'fatberg'... Grandparents ashes baked into cookies brought to school... Two men found guilty of killing 16-year-old over sunflowers...