July 26, 2018 was a life-changing day for Brian Hartline.
On that day, Ohio State named him interim wide receivers coach, just three days after former wide receivers coach Zach Smith was fired, and just eight days before the Buckeyes began preseason camp.
Hartline described that day as "a little surreal," as it meant Hartline would have the opportunity to coach the position he once played at Ohio State, less than 10 years after he concluded his own career playing for the Buckeyes.
"I'm very passionate about this particular room," Hartline said Wednesday while meeting with the media for the first time since his promotion. "Just really thinking back on really thinking I'd ever be in this position, I think I'd probably laugh at you."
Quickly, though, Hartline moved past the surreality of his new position and turned his focus to his new responsibility, because he wants his interim role to be only the beginning of his coaching career.
"I'm looking forward to earning past that, so to me, it was an opportunity that I wanted to capitalize on. It was not the end role," Hartline said. "I don't take it for granted."
Before his unexpected July promotion, Hartline was already on Ohio State's staff as a quality control coach, a role he started in the spring of 2017. Now, though, he has much more responsibility on his plate, since he is tasked with overseeing the Buckeyes' wide receiver room while also going to work on the recruiting trail.
While he felt he already had a good relationship with all of Ohio State's wide receivers before his promotion, he says that connection between them has become much closer over the past three months.
"I was building a relationship early on, but it went to another level, once I had more of a direct leadership role in the room," Hartline said. "And I was pretty caught off-guard with probably how connected I became with the players, and probably vice versa."
With the prompt turnaround from getting the job to the start of the preseason, Hartline didn't have much time to get acclimated to his new role before he had to get to work. But he says the people he had around him, both on the coaching staff and among the Buckeyes' experienced group of wide receivers, helped to make it a smooth transition.
"I would definitely say meeting one compared to meeting 30 was a pretty stellar difference, but it was a great opportunity, and again, I was surrounded by a lot of good people," Hartline said.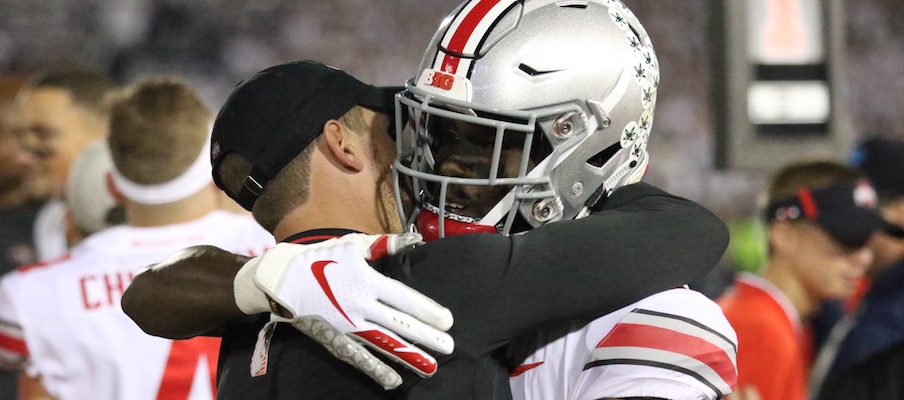 Hartline said he also speaks regularly with Darrell Hazell, who was his wide receivers coach at Ohio State and is now the position coach for the Minnesota Vikings, to get advice on coaching.
"I talk to him all the time," Hartline said. "He's a mentor to me, and again, a lot of times, when things come up, I just really think, 'What would he do?' And that's really what I try to emulate. Because I know the impact he had on my life, and I'm just trying to be half of that, what he's done for me."
"I truly come in every day, and really, when I go home at night, I'm always thinking about how I can get these guys better constantly."– Ohio State interim wide receives coach Brian Hartline
More than halfway through his first regular season coaching Ohio State's wide receivers, Hartline and his position group have drawn rave reviews. The Buckeyes' wide receivers have made clear strides in their performance this season, and while that's partially because of their own experience and because of how Dwayne Haskins has thrown the ball, Hartline has also been praised for how he has helped the receivers grow.
"I love him," Ohio State head coach Urban Meyer said Wednesday of Hartline. "He's doing a great job."
Meyer says Hartline has brought "instant credibility and knowledge" to Ohio State's wide receivers, because of his own experience playing the position at Ohio State and in the NFL, and offensive coordinator Ryan Day has also praised what Hartline has brought to the team.
"His energy's been excellent," Day said earlier this season. "I think he has credibility with the players. I think they respect when he says something that he's been through it before. So energy's been great, and credibility's probably the second thing."
Ohio State wide receiver Terry McLaurin has also expressed appreciation for the energy Hartline brings to the team, while fellow wide receiver Parris Campbell appreciates that Hartline has played the position himself and can show the receivers how to do what he's coaching them to do.
"He's very energetic, and hands-on," McLaurin said before the season. "He's always running around, always critiquing everybody, coaching everybody up, whether you're a starter or you're a walk-on. So he really brings a lot to our room, and we're happy to have him."
"Since he's been at OSU, since he's done what I've done, if he wants me to do something, if he tells me something that I need to do, he can go on the field and actually show me and I can see what it looks like," Campbell said at the beginning of the year.
As well as Hartline has done so far, he's still the interim wide receivers coach, so there's no guarantee that he will be retained for 2019. So far, though, it seems as if Hartline's done all the right things toward shedding the interim label and becoming Ohio State's full-time wide receivers coach after the season.
"He sure could," Meyer said last week when asked if Hartline could become the wide receivers coach on a more permanent basis.
That said, Hartline is trying to prove every day that he belongs on Ohio State's coaching staff – and he says he'd be doing that even if he wasn't just an interim coach.
"We kind of earn our badges and we earn our titles daily," Hartline said. "So whether you're a player or whether you're a coach, I think you're always trying to justify your position or trying to justify a greater position. So to me, I always had that approach as a player. These guys have that approach as players. And I think that hasn't changed, and I don't think that approach will ever change for me."
"He sure could."– Urban Meyer on whether Brian Hartline could become Ohio State's full-time wide receivers coach
Most importantly, Hartline says his goal is to do everything he can to bring value to the players he coaches and the Ohio State football program as a whole.
"I truly come in every day, and really, when I go home at night, I'm always thinking about how I can get these guys better constantly. And on my way in, I'm always making sure I perform at the highest level, because the things I do have ramifications throughout the week, and I just have that approach," Hartline said. "I value every time I have with them, and everything I say isn't said lightly, and I think that's how I would want to be coached, and I try to then relay that to these guys.
"If I just focus on these young men and make them better and keep them healthy and communicate both on and off the field, hopefully the rest will take care of itself."