Two-hundred-twenty-five tackles, 80 tackles for loss, 43.5 sacks, eight passes defended, seven forced fumbles, two fumbles recoveries, two touchdowns, one interception and one national championship later, the Bosa legacy has finally concluded.
Exactly 2,367 days after Joey Bosa committed to Ohio State on April 23, 2012, Ohio State announced Nick Bosa's collegiate career has ended and that his focus will turn to the NFL, once he recovers from the core muscle injury that he suffered during his team's 40-28 win against TCU.
Now, both Bosa and the Buckeyes must move on.
Though there's no doubt Bosa wishes he could spend his final season playing alongside his Ohio State teammates, it might be easier for Bosa than the Buckeyes. He's a likely top-three selection in the 2019 NFL Draft who will be a multimillionaire at this point next year on an NFL team.
Ohio State, on the other hand, hopes to maintain its undefeated record without possibly the best player in college football. The group, led by Chase Young, has some players with upper-echelon talent, but the group doesn't have loads of experience.
And though many have pegged Young as a future high first-round pick, the loss of Bosa stings the Buckeyes. After three games, Bosa had more tackles, tackles for loss and sacks than all of Ohio State's other defensive ends combined.
Still, Urban Meyer gave the unit a fairly positive evaluation on Tuesday's Big Ten coaches teleconference just a bit after the news of Bosa's decision broke.
"I think they've played pretty good," Meyer said. "Obviously, when you take one of the best players in college football out, then that's an issue. But overall, I think they've played pretty good."
Last week, Urban Meyer said he saw room for improvement in Ohio State's pass rush, which he called "average."
"I think we need to get a little better," Meyer said. "That ties in with our pass defense. Today was an excellent practice. To see guys like Tyreke (Smith) and Jashon (Cornell), we need more from him. I think, obviously Chase Young is a very good pass rusher and so is Dre'Mont (Jones). So, we just need a little bit more."
No Bosa certainly damages a unit that, for years, has been viewed as one of the top position groups in college football, and there's no way to fully replace him. But like Meyer said on the teleconference, the Buckeyes simply have to move on.
Meyer expects the same group of players who have filled in for Bosa the past month to step up the remainder of the season. So, let's take a look at each of the five defensive ends who will be counted on to help soften the loss of Bosa.
Sophomore Chase Young
Welcome to the Chase Young Show.
Next year was supposed to be Young coming-out party. The Bosa injury, though, moved that date up a year. A former five-star, top-10 overall prospect, Young has potential to be one of the premier defensive ends in college football, despite being in just his second year on campus. His frame was that of an NFL player before he ever even took a snap last year.
In place of Bosa, Young has flashed at times. Against Penn State, he thrived, sacking Trace McSorley twice and picking up another tackle for loss. He had six tackles, two hurries and two passes defended. Not much more could have been asked of him.
But in the past two games, Young hasn't made nearly the impact he did versus the Nittany Lions. He had seven tackles, two tackles for loss and did not record a sack against either Minnesota or Indiana.
Young doesn't need to have two sacks every game, but he's the team's most important edge rusher with Bosa out, so the Buckeyes will need him to play more like he did against Penn State than he has in the past two weeks. It might be difficult because he takes up more of an offense's focus without Bosa, and he's playing more snaps than he ever has before in his career. But defensive line coach Larry Johnson and defensive coordinator Greg Schiano have to ensure he's fresh enough and healthy enough to wreak havoc.
Redshirt freshman Jonathon Cooper
Without Bosa, Ohio State needs more production from Jonathon Cooper, who has just one sack this season. However, he has played his best in big games, with his sack and all seven of his tackles for loss coming against Penn State and TCU.
The Buckeyes could have used more from him in their other five games. With Young likely garnering more focus from opposing offenses, it'll be up to Cooper to get pressure from the other side.
Saturday's game against Minnesota proved just how important every single defensive end will be down this season's final stretch. With Cooper sitting out with a concussion, Jashon Cornell played nearly double his prior career high in snaps. Haskell Garrett, a three-technique defensive end, even play four snaps on the outside.
Redshirt junior Jashon Cornell
Meyer wants to see more from Cornell, and sans Bosa, the Buckeyes simply can't afford not to get more from the Minnesota native.
The 6-foot-3, 273-pound Cornell, who was converted from defensive tackle to defensive end for depth purposes in the offseason, is the third defensive end in the rotation. He played a season-high 48 snaps against Minnesota. He still couldn't pick up his first sack of the season, though. Through seven games and 141 snaps, Cornell has seven tackles and a single tackle for loss, which came against Tulane.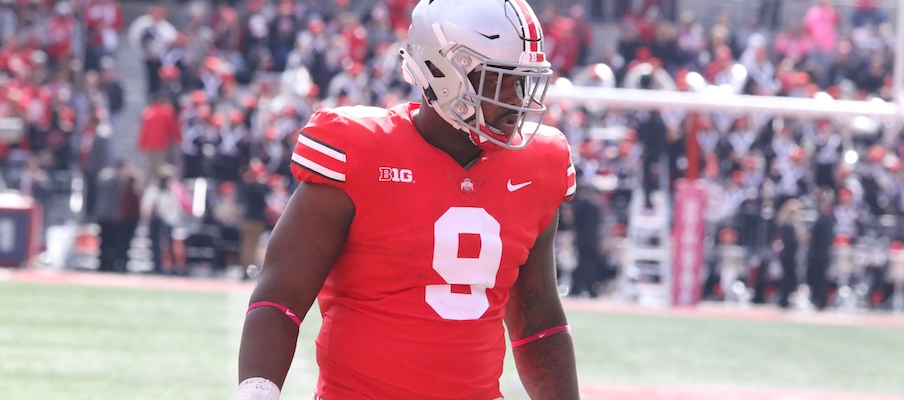 It's unlikely that he'll ever be a premier edge pass rusher due to his build, but he provides important depth. And as the third defensive end, it's pertinent for Ohio State that he both remains healthy and has an uptick in production.
Freshmen Tyreke Smith and Tyler Friday
Defensive line coach Larry Johnson will do anything to avoid putting freshmen in critical spots in close games where they have the chance to make mistakes. He views it as potentially detrimental for players early in their development to be exposed to those situations.
Therefore, it's hard to see a significant uptick in snaps for either Tyreke Smith or Tyler Friday, though both Johnson and Smith are enamored by Smith's potential. Even offensive coordinator Kevin Wilson, a few weeks ago, said Smith's college readiness stood out among the other freshmen.
Smith (120 snaps) has nearly spent as much time on the field as Cornell (141 snaps), and Friday isn't too far behind (71 snaps). But if Johnson has his way, most of Smith's and Friday's snaps won't come at the most high-pressure spots in games.