For the third week in a row, Ohio State played its starters for all four quarters and put exactly 60 players on the field in its 30-14 win over Minnesota on Saturday.
Of the 60 Ohio State players who saw game action one week earlier in its 49-26 win over Indiana, 56 saw the field again versus the Golden Gophers.
Defensive end Jonathon Cooper, linebacker Malik Harrison and kicker Sean Nuernberger did not play against Minnesota due to injuries, while linebacker Teradja Mitchell also did not play. That said, four Buckeyes who did not see the field against the Hoosiers were utilized against the Gophers: running back Master Teague, wide receiver Ellijah Gardiner, defensive tackle Antwuan Jackson and safety Marcus Hooker, with Hooker seeing the first playing time of his Ohio State career.
Additionally, Ohio State had seven players who played every snap of the game on either offense or defense for the second week in a row. Six of them were the same players that did against Indiana – quarterback Dwayne Haskins, left guard Malcolm Pridgeon, center Michael Jordan, right guard Demetrius Knox, right tackle Isaiah Prince and safety Jordan Fuller – but linebacker Pete Werner also played every defensive snap against Minnesota, while left tackle Thayer Munford did not due to leaving the game early with an injury.
Saturday was thought to be a potential opportunity for the Buckeyes to give more playing time to their backups, but they never put the game enough out of reach to make that happen, and as such, how they divided up their playing time looked similar – with the only major changes coming because of injuries – for the third week in a row.
The full details on which 60 Buckeyes saw the field against the Gophers and how much each of them played can be seen in this week's edition of Snap Counts.
All snap counts listed are compiled by Eleven Warriors data analyst Matt Gutridge and should be considered unofficial, as Ohio State does not make its official snap counts public. It is not always possible to see all 11 players on the field from TV broadcast angles, particularly on special teams plays, so exact special teams snap counts are not included and offensive and defensive snap counts could potentially differ from those tracked by Ohio State's coaches.
Quarterbacks
Dwayne Haskins: 77
For the fourth time this season and the third week in a row, Haskins played every snap of the game – with Tate Martell seeing no playing time – as the Buckeyes didn't build a large enough lead to ensure a victory until their final offensive possession.
Running Backs
J.K. Dobbins: 42
Mike Weber: 35
Master Teague: Special teams only
As they usually do, Dobbins and Weber rotated with one another throughout Saturday's contest, taking all of the game's snaps at running back. Dobbins started the game and played more snaps than Weber for the fourth consecutive week, but the split of snaps between them was more even against Minnesota than it had been in the previous three games, and Weber actually finished the game with more carries (13) than Dobbins (10).
Wide Receivers
Austin Mack: 47
Johnnie Dixon: 38
Terry McLaurin: 36
K.J. Hill: 36
Parris Campbell: 34
Binjimen Victor: 31
CJ Saunders: 16
Ellijah Gardiner: Special teams only
Chris Olave: Special teams only
Mack played the most snaps among Ohio State's top six receivers and Victor played the least for a fourth straight week, but the gap between them was smaller than it was in any of the previous three weeks, with Victor coming off of back-to-back games against Penn State and Indiana in which he scored spectacular touchdowns.
Dixon played more snaps than McLaurin at X receiver for just the second time this season, while Hill played slightly more snaps than Campbell for the second straight week, which had not happened prior to the Indiana game.
Saunders played his second-highest snap count of the season – only less than Tulane, when he saw extended playing time with the second-team offense – as the Buckeyes continued to increase their usage of four-receiver sets with Saunders on the field as a second slot receiver.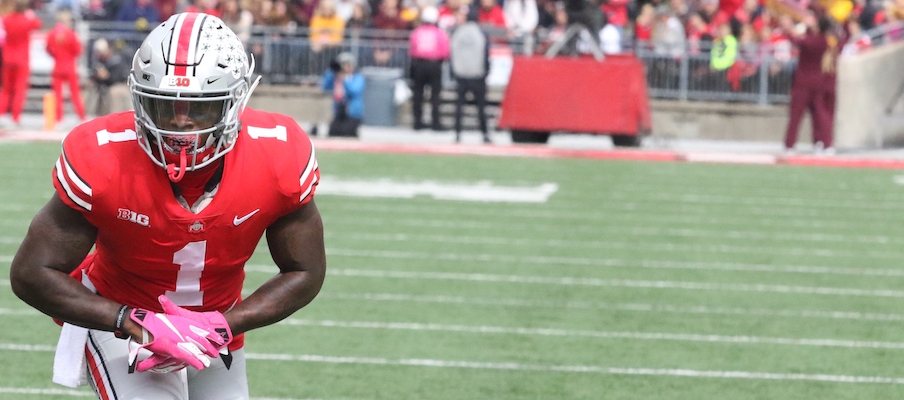 Tight Ends
Rashod Berry: 35
Luke Farrell: 33
Jeremy Ruckert: 2
Jake Hausmann: Special teams only
Berry and Farrell played a nearly identical number of snaps against Minnesota as the Buckeyes continued to rotate their top two tight ends regularly. They didn't play as many combined snaps as they have in the Buckeyes' other four-quarter games, as Ohio State used more four-receiver sets than two-tight end sets on Saturday, but both rotated in and out of the lineup throughout the game.
Ruckert, who saw an increase in playing time with 10 snaps against Indiana, only entered the offensive lineup for a pair of plays against the Gophers.
Offensive Linemen
Malcolm Pridgeon: 77
Michael Jordan: 77
Demetrius Knox: 77
Isaiah Prince: 77
Thayer Munford: 52
Joshua Alabi: 25
Gavin Cupp: Special teams only
Josh Myers: Special teams only
Wyatt Davis: Special teams only
Kevin Woidke: Special teams only
For the first time all season, Ohio State was forced to make a substitution to its first-team offensive line, as Munford was knocked out of the game in the third quarter with an ankle injury after being rolled up on. Alabi replaced him for the rest of the game at left tackle.
Pridgeon, Jordan, Knox and Prince – from left guard to right tackle – all played every snap of the game for the third straight week and the fourth time this season.
Defensive Ends
Chase Young: 55
Jashon Cornell: 48
Tyreke Smith: 13
Tyler Friday: 4
Haskell Garrett: 4
With Nick Bosa still out and Jonathon Cooper also sidelined this past weekend, Cornell played more than twice as many snaps as he had in any previous game this season while Young played all but four of the Buckeyes' 59 defensive snaps.
Smith, Friday and Garrett also saw occasional playing time in the defensive end rotation on Saturday, with Garrett playing exclusively at defensive end instead of his usual position of defensive tackle. Cornell and Smith also saw some snaps at defensive tackle in nickel packages.
Defensive Tackles
Dre'Mont Jones: 52
Davon Hamilton: 29
Robert Landers: 16
Tommy Togiai: 7
Taron Vincent: 4
Antwuan Jackson: 3
Jones continued to be a workhorse in Ohio State's defensive tackle rotation on Saturday, playing all but seven of the Buckeyes' defensive snaps. Vincent substituted into the game for four snaps in Jones' place late in the first half, while Jackson played three snaps in Jones' place on the Buckeyes' final defensive series. Vincent, a true freshman, burned his option of a redshirt in the process, as it was his fifth game appearance of the year.
Landers started Saturday's game for the Buckeyes at nose tackle, but did not play at all in the second half after leaving the game early with an undisclosed injury. Hamilton, who has been rotating with Landers all season, played nearly half of the Buckeyes' defensive snaps with Landers' early exit, but Togiai also rotated in for seven snaps.
Linebackers
Pete Werner: 59
Justin Hilliard: 49
Tuf Borland: 39
Baron Browning: 20
Keandre Jones: 1
Dante Booker: Special teams only
Dallas Gant: Special teams only
K'Vaughan Pope: Special teams only
With Malik Harrison sidelined for Saturday's game after spending time in concussion protocol last week, Werner played every one of Ohio State's defensive snaps while Hilliard started in Harrison's place at the outside linebacker spot. Werner substituted out of the game in nickel packages in favor of Browning, who also rotated in for some snaps at middle linebacker, though Borland played the majority of snaps at the position in the base defense against Minnesota's downhill run-heavy offense.
Jones checked into the game for one third-quarter snap alongside Werner and Browning when Ohio State put its 3-3-5 defense on the field for the only time in the contest.
Cornerbacks
Jeffrey Okudah: 55
Kendall Sheffield: 51
Damon Arnette: 12
Arnette started and played Ohio State's first 12 defensive snaps of Saturday's game at cornerback, but left the game after that and did not return due to an undisclosed injury. With Arnette sidelined, Okudah and Sheffield were the Buckeyes' two outside cornerbacks for every defensive snap for the rest of the game.
Safeties
Jordan Fuller: 59
Isaiah Pryor: 36
Shaun Wade: 33
Marcus Hooker: Special teams only
Josh Proctor: Special teams only
Amir Riep: Special teams only
Brendon White: Special teams only
Jahsen Wint: Special teams only
Wade saw his first extended playing time with the first-team defense at safety on Saturday, rotating in for 23 snaps at that position in place of Pryor, while also playing 10 snaps in his regular role at slot cornerback when the Buckeyes went into nickel packages.
Although he was removed from the lineup in favor of Wade early in the second quarter, Pryor continued to rotate into the defense and still ended up playing the majority of snaps at safety alongside Fuller, who played every one of Ohio State's defensive snaps for the third week in a row.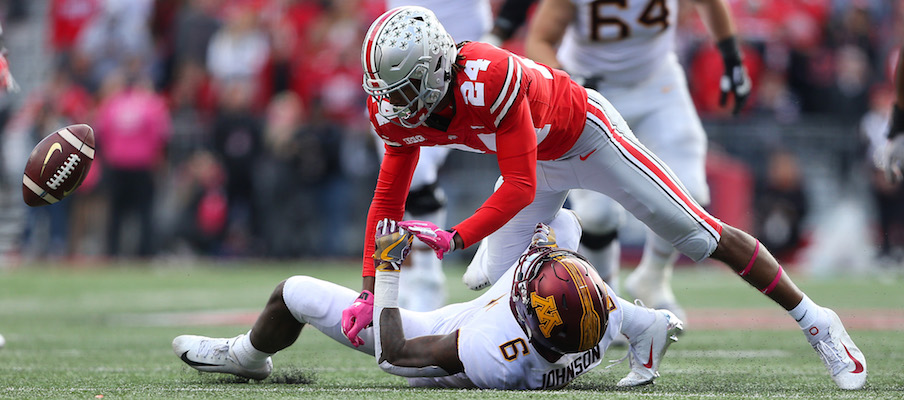 Field Goals/Extra Points
Blake Haubeil (kicker)
Drue Chrisman (holder)
Liam McCullough (long snapper)
Luke Farrell (blocker)
Joshua Alabi (blocker)
Wyatt Davis (blocker)
Josh Myers (blocker)
Davon Hamilton (blocker)
Gavin Cupp (blocker)
Kevin Woidke (blocker)
Rashod Berry (blocker)
With Sean Nuernberger sidelined after straining his groin in warmups prior to Saturday's game, Haubeil kicked field goals and extra points for the first time in his Ohio State career. The rest of the placekicking unit remained the same as it has been in previous weeks.
Kickoffs
Blake Haubeil (kicker)
Jeffrey Okudah or Shaun Wade or Ellijah Gardiner (gunner)
Baron Browning or Dallas Gant (gunner)
Amir Riep (gunner)
K.J. Hill or Chris Olave (gunner)
Josh Proctor (gunner)
Keandre Jones (gunner)
Jahsen Wint (gunner)
Brendon White (gunner)
Marcus Hooker (gunner)
K'Vaughan Pope (gunner)
Hooker made his Ohio State debut as a starter on the kickoff unit on Saturday, while Gardiner also saw his first career special teams playing time after appearing only on offense in two games earlier this season.
Wint returned to the kickoff coverage unit after being removed from the safety rotation, while Justin Hilliard and Teradja Mitchell were removed from the kickoff coverage unit against Minnesota.
The rest of the players on the kickoff unit were also in the lineup in the Buckeyes' previous game against Indiana. Proctor appeared in his fifth game of the season, burning his option of a redshirt.
Kickoff Returns
Johnnie Dixon (returner)
C.J. Saunders (blocker)
Jeremy Ruckert (blocker)
Jake Hausmann (blocker)
Master Teague (blocker)
Binjimen Victor (blocker)
Keandre Jones (blocker)
Dallas Gant (blocker)
Jahsen Wint (blocker)
Shaun Wade (blocker)
Brendon White (blocker)
Teague, who previously played only on offense in three games, made his special teams debut on Saturday, taking Hilliard's place on the kickoff return unit. The rest of the kickoff return unit, which did not actually return any kicks against the Gophers, remained the same as the Buckeyes' previous two games.
Punts
Drue Chrisman (punter)
Liam McCullough (long snapper)
Tuf Borland (upback)
Pete Werner (upback/wing)
Luke Farrell (upback/wing)
Justin Hilliard (guard)
Baron Browning (guard)
Parris Campbell (tackle)
Dante Booker (tackle)
Terry McLaurin (gunner)
Jeffrey Okudah or Chris Olave (gunner)
With Jonathon Cooper and Malik Harrison sidelined, Farrell and Browning took their places on the punting unit. The rest of the punt team remained the same as Ohio State's previous game against Indiana.
Punt Blocks/Returners
K.J. Hill (returner)
Jeffrey Okudah (rusher/blocker)
Kendall Sheffield (rusher/blocker)
Amir Riep (rusher/blocker)
Isaiah Pryor (rusher/blocker)
Shaun Wade (rusher/blocker)
Keandre Jones (rusher/blocker)
Dallas Gant (rusher/blocker)
Jahsen Wint (rusher/blocker)
Brendon White (rusher/blocker)
Johnnie Dixon or Josh Proctor (rusher/blocker)
White, Pryor and Gant all returned to the punt block/return unit on Saturday, while Dixon and Proctor were also each in the lineup for one of Minnesota's two punts. Damon Arnette, Chris Olave, Justin Hilliard and Baron Browning did not play on the unit after doing so against Indiana.
SNAP TRACKER: OFFENSE

| POS | PLAYER | ORST | RU | TCU | TU | PSU | IU | MIN | TOTAL |
| --- | --- | --- | --- | --- | --- | --- | --- | --- | --- |
| QB | DWAYNE HASKINS | 68 | 48 | 84 | 43 | 79 | 96 | 77 | 495 |
| QB | TATE MARTELL | 20 | 26 | DNP | 34 | DNP | DNP | DNP | 80 |
| QB | CHRIS CHUGUNOV | DNP | 4 | DNP | DNP | DNP | DNP | DNP | 4 |
| RB | J.K. DOBBINS | 38 | 26 | 39 | 33 | 51 | 55 | 42 | 284 |
| RB | MIKE WEBER | 34 | 26 | 47 | 12 | 31 | 43 | 35 | 228 |
| RB/WR | DEMARIO MCCALL | 4 | 10 | DNP | 19 | DNP | DNP | DNP | 33 |
| RB | MASTER TEAGUE | 7 | 10 | DNP | 13 | DNP | DNP | ST | 30 |
| RB | BRIAN SNEAD | 11 | 16 | DNP | DNP | DNP | DNP | DNP | 27 |
| WR | AUSTIN MACK | 38 | 31 | 49 | 36 | 48 | 63 | 47 | 312 |
| WR | TERRY MCLAURIN | 35 | 29 | 51 | 19 | 44 | 50 | 36 | 264 |
| WR | JOHNNIE DIXON | 35 | 23 | 33 | 29 | 36 | 45 | 38 | 239 |
| WR | PARRIS CAMPBELL | 36 | 26 | 35 | 25 | 40 | 42 | 34 | 238 |
| WR | K.J. HILL | 22 | 19 | 35 | 21 | 32 | 46 | 36 | 211 |
| WR | BINJIMEN VICTOR | 41 | 25 | 32 | 13 | 27 | 31 | 31 | 200 |
| WR | C.J. SAUNDERS | 14 | 14 | 9 | 29 | 6 | 6 | 16 | 94 |
| WR | CHRIS OLAVE | 18 | 16 | ST | 24 | ST | DNP | ST | 58 |
| WR | JAYLEN HARRIS | 7 | 13 | DNP | 20 | DNP | DNP | DNP | 40 |
| WR | JAELEN GILL | DNP | 6 | DNP | 9 | DNP | DNP | DNP | 15 |
| WR | GARYN PRATER | DNP | 7 | DNP | 4 | DNP | DNP | DNP | 11 |
| WR | ELLIJAH GARDINER | DBP | 3 | DNP | 4 | DNP | DNP | ST | 7 |
| WR | SAM WIGLUSZ | DNP | 7 | DNP | DNP | DNP | DNP | DNP | 7 |
| WR | L'CHRISTIAN "BLUE" SMITH | DNP | DNP | DNP | 4 | DNP | DNP | DNP | 4 |
| TE | RASHOD BERRY | 34 | 27 | 58 | 23 | 37 | 54 | 35 | 268 |
| TE | LUKE FARRELL | 43 | 27 | 30 | 18 | 41 | 33 | 33 | 225 |
| TE | JEREMY RUCKERT | 23 | 23 | DNP | 22 | 2 | 10 | 2 | 82 |
| TE | JAKE HAUSMANN | DNP | DNP | DNP | 9 | ST | 2 | ST | 11 |
| TE | DERRICK MALONE | DNP | 2 | DNP | DNP | DNP | DNP | DNP | 2 |
| TE | MITCH ROSSI | DNP | 2 | DNP | DNP | DNP | DNP | DNP | 2 |
| TE | TATE DUARTE | DNP | 2 | DNP | DNP | DNP | DNP | DNP | 2 |
| OL | MALCOLM PRIDGEON | 70 | 52 | 84 | 49 | 79 | 96 | 77 | 507 |
| OL | MICHAEL JORDAN | 70 | 52 | 84 | 49 | 79 | 96 | 77 | 507 |
| OL | DEMETRIUS KNOX | 70 | 52 | 84 | 49 | 79 | 96 | 77 | 507 |
| OL | ISAIAH PRINCE | 70 | 52 | 84 | 49 | 79 | 96 | 77 | 507 |
| OL | THAYER MUNFORD | 70 | 52 | 84 | 49 | 79 | 96 | 52 | 482 |
| OL | JOSHUA ALABI | 18 | 26 | ST | 28 | ST | ST | 25 | 97 |
| OL | JOSH MYERS | 18 | 26 | ST | 28 | ST | ST | ST | 72 |
| OL | WYATT DAVIS | 18 | 26 | ST | 28 | ST | ST | ST | 72 |
| OL | NICHOLAS PETIT-FRERE | 18 | 26 | DNP | 28 | DNP | DNP | DNP | 72 |
| OL | GAVIN CUPP | DNP | 19 | ST | 28 | ST | ST | ST | 47 |
| OL | BRADY TAYLOR | 18 | 7 | DNP | DNP | DNP | DNP | DNP | 25 |
| OL | KEVIN WOIDKE | ST | ST | ST | ST | ST | ST | ST | ST |
| K | BLAKE HAUBEIL | ST | ST | ST | ST | ST | ST | ST | ST |
| K | SEAN NUERNEBERGER | ST | ST | ST | ST | ST | ST | DNP | ST |
SNAP TRACKER: DEFENSE

| POS | PLAYER | ORST | RU | TCU | TU | PSU | IU | UM | TOTAL |
| --- | --- | --- | --- | --- | --- | --- | --- | --- | --- |
| DE | CHASE YOUNG | 28 | 24 | 51 | 24 | 76 | 68 | 55 | 326 |
| DE | JONATHON COOPER | 25 | 22 | 52 | 24 | 58 | 46 | DNP | 227 |
| DE/DT | JASHON CORNELL | 18 | 9 | 10 | 21 | 15 | 20 | 48 | 141 |
| DE/DT | TYREKE SMITH | 17 | 33 | 6 | 28 | 8 | 15 | 13 | 120 |
| DE | NICK BOSA | 35 | 37 | 41 | DNP | DNP | DNP | DNP | 113 |
| DE | TYLER FRIDAY | 12 | 18 | DNP | 29 | 2 | 6 | 4 | 71 |
| DE | AARON COX | 3 | DNP | DNP | 2 | DNP | DNP | DNP | 5 |
| DE | NOAH DONALD | 3 | DNP | DNP | 2 | DNP | DNP | DNP | 5 |
| DT | DRE'MONT JONES | 33 | 35 | 67 | 27 | 75 | 64 | 52 | 353 |
| DT | DAVON HAMILTON | 14 | 10 | 25 | 17 | 36 | 28 | 29 | 159 |
| DT | ROBERT LANDERS | 18 | 25 | 36 | DNP | 29 | 30 | 16 | 154 |
| DT | TOMMY TOGIAI | 13 | 12 | DNP | 16 | 2 | 10 | 7 | 60 |
| DT/DE | HASKELL GARRETT | 15 | 4 | 10 | 13 | 4 | 9 | 4 | 59 |
| DT | TARON VINCENT | 12 | 14 | DNP | 16 | DNP | 3 | 4 | 49 |
| DT | ANTWUAN JACKSON | 4 | 5 | DNP | 12 | DNP | DNP | 3 | 24 |
| DT | JERRON CAGE | 6 | 3 | DNP | 8 | DNP | DNP | DNP | 17 |
| LB | PETE WERNER | 56 | 48 | 53 | 26 | 79 | 70 | 59 | 391 |
| LB | MALIK HARRISON | 56 | 43 | 76 | 29 | 79 | 56 | DNP | 339 |
| LB | BARON BROWNING | 37 | 17 | 33 | 21 | 31 | 40 | 20 | 199 |
| LB | TUF BORLAND | 9 | 21 | 39 | 15 | 36 | 30 | 39 | 189 |
| LB | JUSTIN HILLIARD | 9 | 17 | ST | 21 | ST | 9 | 49 | 105 |
| LB | KEANDRE JONES | 9 | 12 | ST | 29 | ST | ST | 1 | 51 |
| LB | DANTE BOOKER | 9 | 15 | ST | 27 | DNP | ST | ST | 51 |
| LB | DALLAS GANT | ST | ST | ST | 8 | ST | ST | ST | 8 |
| LB | K'VAUGHAN POPE | ST | ST | ST | 2 | ST | ST | ST | 2 |
| LB | TERADJA MITCHELL | ST | ST | DNP | 2 | ST | ST | DNP | 2 |
| CB | KENDALL SHEFFIELD | 49 | 31 | 65 | 20 | 68 | 60 | 51 | 344 |
| CB | JEFFREY OKUDAH | 42 | 22 | 38 | 29 | 43 | 43 | 55 | 272 |
| CB | DAMON ARNETTE | 34 | 37 | 52 | 30 | 47 | 49 | 12 | 261 |
| CB/S | SHAUN WADE | 9 | 27 | 39 | 25 | 23 | 34 | 33 | 190 |
| CB | MARCUS WILLIAMSON | 1 | 21 | ST | 20 | ST | ST | DNP | 42 |
| CB | CAMERON BROWN | 9 | 5 | ST | 10 | ST | DNP | DNP | 24 |
| CB | TYREKE JOHNSON | DNP | DNP | ST | 2 | ST | DNP | DNP | 2 |
| S | JORDAN FULLER | DNP | 42 | 77 | 29 | 79 | 76 | 59 | 362 |
| S | ISAIAH PRYOR | 53 | 34 | 61 | 42 | 60 | 35 | 36 | 321 |
| S | JAHSEN WINT | 56 | 26 | 16 | 22 | 19 | 33 | ST | 172 |
| S | BRENDON WHITE | 9 | 13 | ST | 25 | ST | ST | ST | 47 |
| S | AMIR RIEP | 12 | 11 | DNP | DNP | ST | 1 | ST | 24 |
| S | JOSH PROCTOR | ST | ST | DNP | 2 | DNP | DNP | ST | 2 |
| S | MARCUS HOOKER | DNP | DNP | DNP | DNP | DNP | DNP | ST | ST |
| P | DRUE CHRISMAN | ST | ST | ST | ST | ST | ST | ST | ST |
| LS | LIAM MCCULLOUGH | ST | ST | ST | ST | ST | ST | ST | ST |